CHARLESTON – Audrey Allman cherished her post-race routine Saturday.
The Glenbard West senior distance runner strayed away from the usual celebrations for first-place winners at the state track meet. She didn't collapse into the arms of a teammate or crash to the ground in agony over a grueling race.
[ Photos: IHSA state track meet ]
The Vanderbilt recruit didn't immediately pose for pictures or dart off away from the rest of the competitors for a moment of reflection.
Instead of those reactions, Allman stuck to one constant after she crossed the finish line at the completion of Saturday's Class 3A 1,600-meter final at the state meet. She kept on smiling after cruising to an easy victory.
Allman flashed an eye-catching smile in the seconds after winning the four-lap race in a personal-record time of 4 minutes, 49.81 seconds. She broke away from the pack to pull away to the win, easily beating the next three placers – Sophia McNerney of Downers Grove South (4:57.13), Oak Park-River Forest's Josephine Wellin (4:57.19) and Lake Zurich's Brooke Johnston (4:57.41).
"I've been dreaming of this since I was a little kid," Allman said. "Just running into injuries and running into sickness and illness and even last cross country season I had the flu and passed out a couple feet before the [finish] line. It's been a long time coming, so I just feel so blessed and also with the amazing competition I had today and being able to run is just amazing."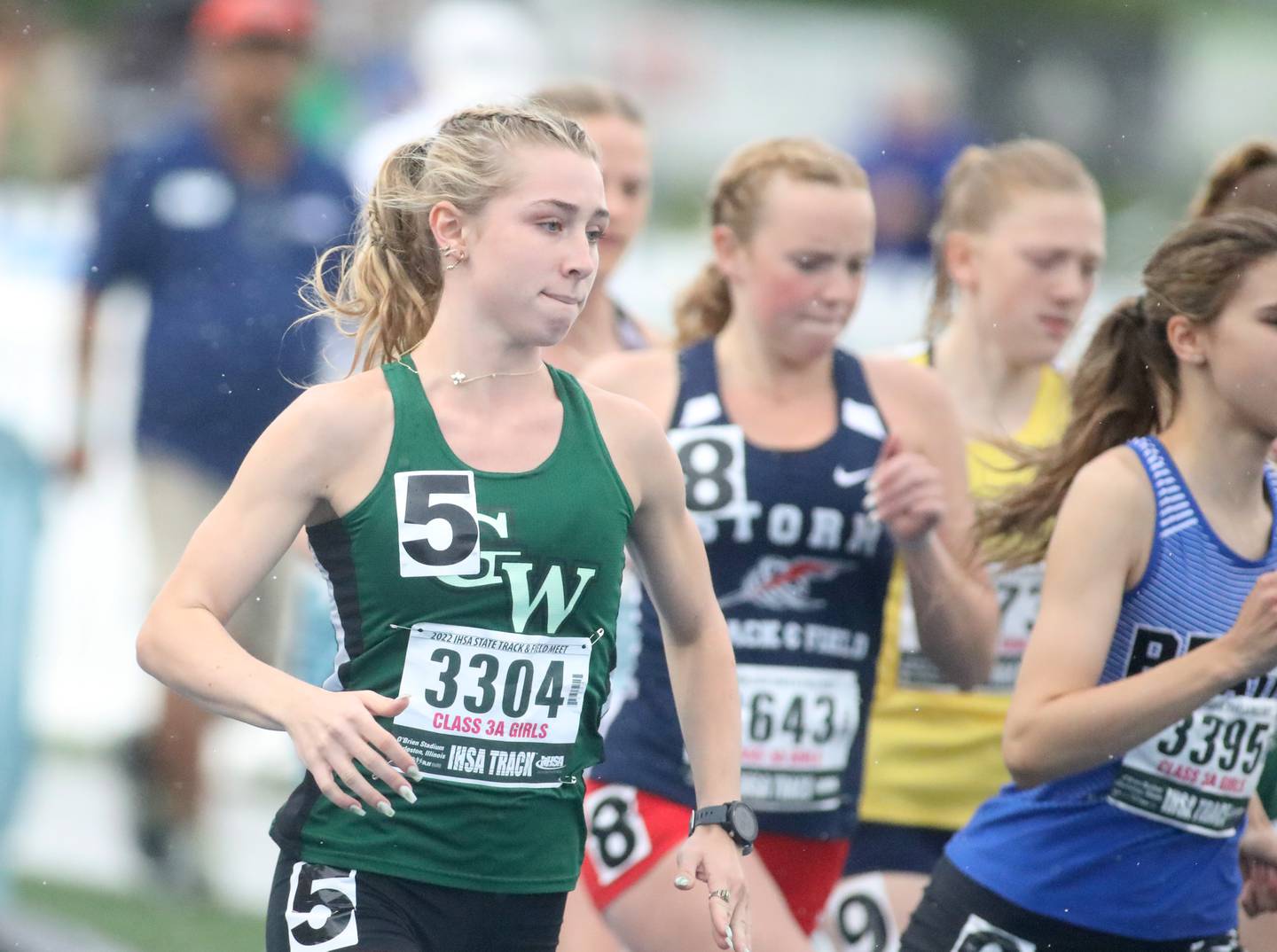 Allman, who placed fifth in the Class 3A state cross country meet in November, was well aware of Glenbard West's rich distance history at the state meet. She joined recent Glenbard West champions Madeline Perez and Katelynne Hart in adding her name to the 3A 1,600 title list at the school. Perez started the 1,600 state championship run by winning the event in 2013. Hart captured first-place medals in 2017, 2018, 2019 and 2020.
Allman said she wasn't bothered by the pressure of extending Glenbard West's tradition of 1,600 excellence at the state meet that began when Nell Shields won the Class AA race in 1996.
"If anything, it has pushed me to be a better version of myself," Allman said. "I have total faith in this program, total faith in my coaches, so that's what really drove me this year especially coming out of the craziness of last year."
McNerney, a senior set to run at Tulane next season, secured a second-place medal for the second consecutive season after taking runner-up honors in the 3,200 in June 2021. She established a personal record by 15 seconds, as well as a school record for a fifth-place medal in Saturday's 3,200 race (10:26.96).
"The whole goal after coming back from the 3,200 was to keep my nose up there and not let them get too far," McNerney said. "I think the pace went out really fast, which was nice. I like to be dragged along and take away every gap formed. The finish wasn't quite the finish as I was trying to hold on. It was nice to get a personal record in the 3,200. At the beginning of my indoor season, I wasn't running very much because I was injured and in physical therapy a lot, so just being down here is special and a nice way to end it."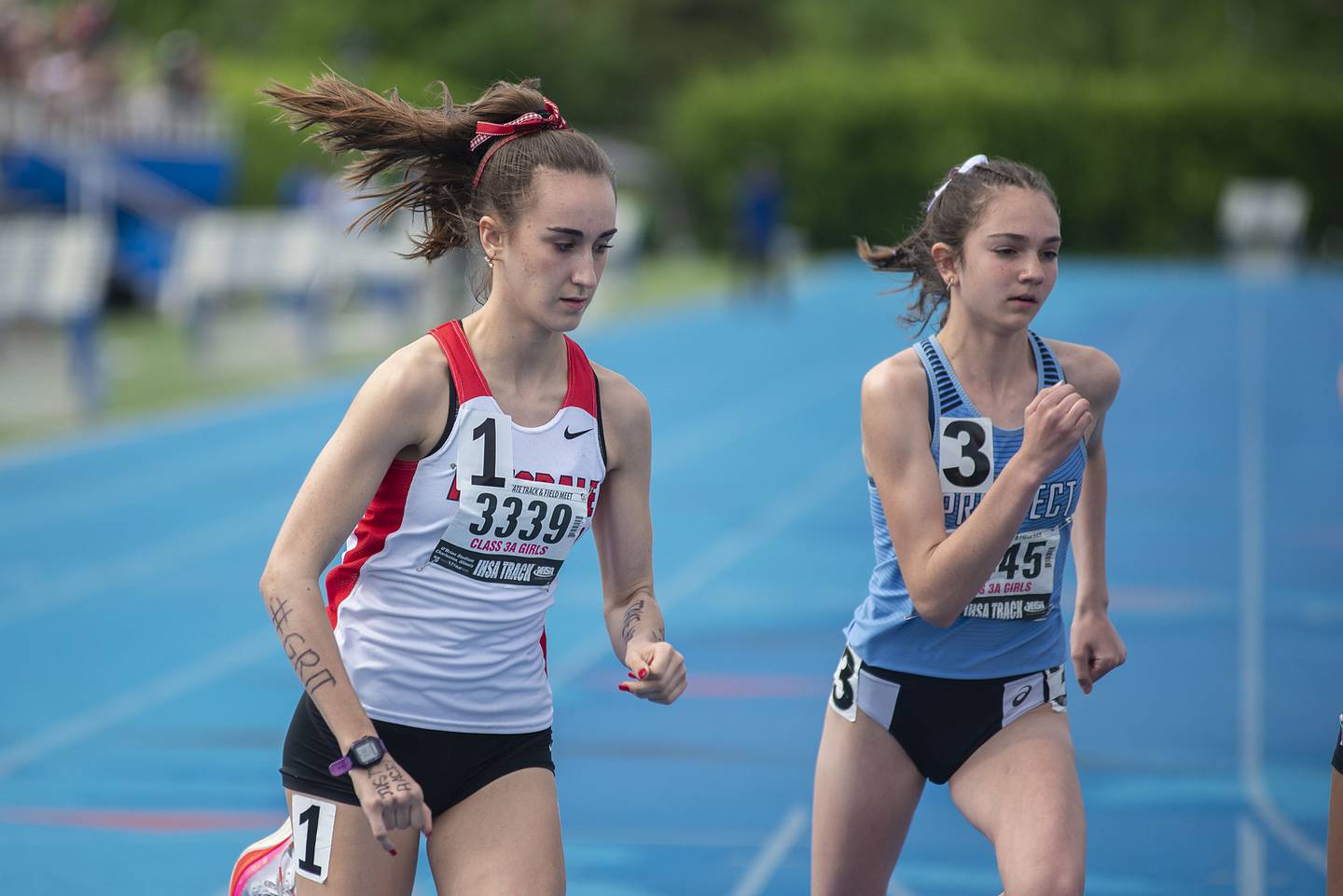 Hinsdale Central's Catie McCabe just missed an individual state title, placing second in the 800 in a time of 2:14.21. Running with numerous handwritten motivational slogans on each of her arms and parts of her body, McCabe said her "Take a risk" on her left arm is among her favorite slogans. She followed her motto by making a move in the final 200 meters that carried her to a second-place medal.
"I pretty much add a new thing, but pretty much have five or six things that I write on my arms," McCabe said. "I shifted gears with 200 to go and I knew everybody was right by me and it was still a close race. I'm really happy because this was basically my goal for the end of the season."
Downers Grove North senior Elle Kowalski, a two-time state qualifier, was forced to compete indoors because of a storm and placed 14th in the long jump (5.41).
"I feel like I did a really good job," Kowalski said. "It was super hectic coming inside. Overall, the energy was good in here and I put my best foot forward. Overall, I feel like I did a great job and it was an amazing season."
Before the meet was delayed, York's 4x800 relay team of Katherine Klimek, Margaret Owens, Allison Fitzgibbons and Brooke Berger put on a show with a strong race for a third-place medal (9:22.78). Berger added a fourth-place medal in the 800 in a time of 2:14.82.
"I was pretty excited to be out there and tried to stay focused on getting a good position and staying with the top pack," Klimek said.
"I wanted to stay calm in the first lap so I could give it as much as I could in the last lap," Berger said. "I just had confidence in myself and believed in myself. This relay medal feels great. We all worked so hard."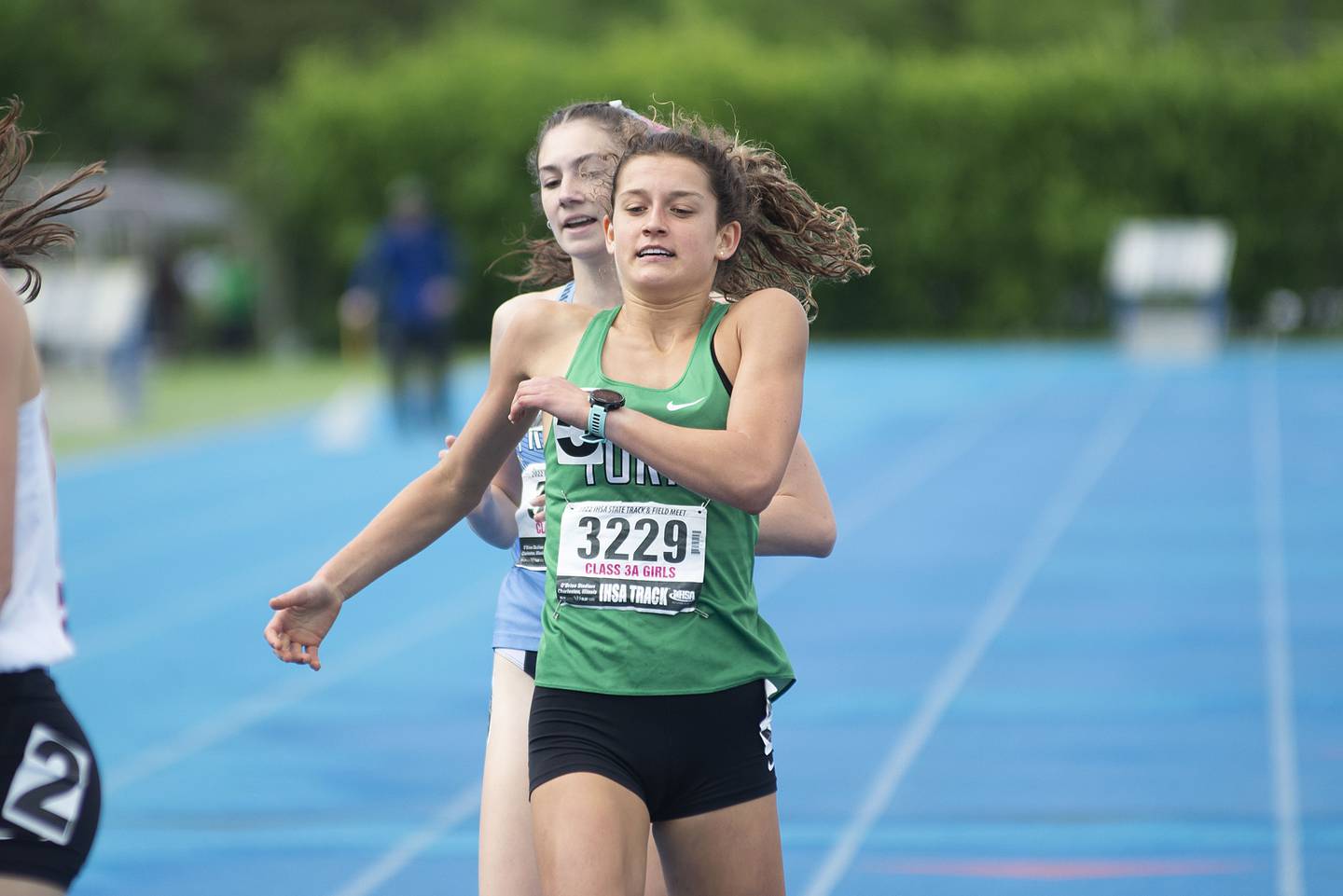 Lyons' 4x800 relay of Scarlett Lestina, Anna Bylsma, Kristina Findley and Shannon Cranny fell a notch below their preliminary placing to end in eighth place (9:32.05) Saturday. Lyons' Catherine Sommerfeld had the school's top individual showing with a seventh-place medal in the 1,600 (5:11.58).
"It was definitely scary knowing I was running against some of the fastest runners on the other teams," said Cranny, a sophomore. "I think overall it went really well and I'm happy with this experience of competing in state. This will definitely help me for my junior and senior year."
Glenbard South's Gianna Huerta had to endure some tough conditions, but she managed two top-six medals. Huerta took third in the 300 hurdles in a time of 44.38 after notching sixth in the 100 hurdles (15.74).
Glenbard East's Keeli Dunaway missed the cut in the long jump, but took advantage of the extra time Saturday to earn fifth in the triple jump (11.45 meters).
In Class 2A, Benet's Nicole Grimes led a large group of state teammates with fifth-place medals in the high jump and pole vault. Teammate Louisa Diamond added seventh-place medals in the 1,600 and 3,200.
IC Catholic's Carly Manchester was solid in Class 1A, earning a fifth-place medal in the 3,200 and placing eighth in the 800.