AURORA – Lenee Beaumont stood alone at center court in the final seconds of Thursday's game and glanced up at the giant scoreboard, with plenty to ponder.
Benet's junior guard could have been replaying an uncharacteristic flurry of missed free throws that set the stage for an anxious finish. She perhaps reflected on exorcising sectional final demons from two years ago.
Mainly, though, Beaumont was just overjoyed to get the win.
The Redwings are moving on – barely.
In a sectional final matchup of two of the top teams in the state, Benet built a 16-point lead on Naperville North on the strength of Morgan Demos' monster first half.
The Redwings weathered a Huskies' comeback, and 11 missed free throws of their own in the fourth quarter, to hold on for a 55-51 win in the Class 4A East Aurora Sectional final.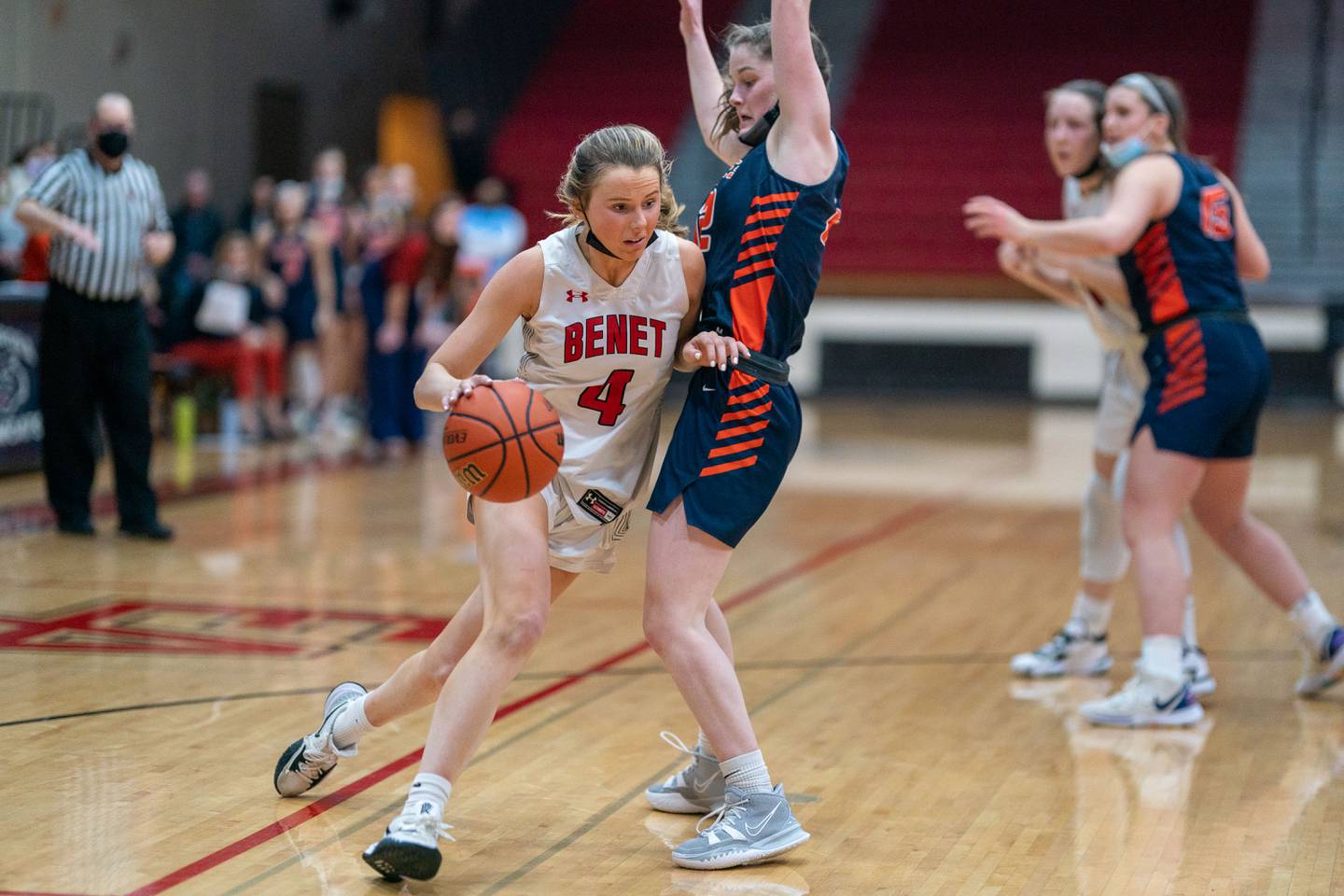 "It was a crazy game, for sure, up and down, a lot of adversity that we had to go through," said Beaumont, who overcame foul trouble throughout the first half to score 14 points but also made just 3-of-9 free throws. "We didn't lose our composure. We got [three] days to prepare for [Monday], get in the gym, start making free throws."
With a portion of the sectional nets draped around her jersey in a mad postgame celebration, Beaumont and the Redwings (29-3) relished the program's fifth sectional title in the last seven postseasons. It sets up a Monday supersectional with Whitney Young, who beat Lyons, at Mother McAuley.
For Beaumont and Demos, who scored 18 points and grabbed 12 rebounds, it put to bed the memory of a stunning sectional final loss on Benet's home floor to Bolingbrook in 2020, the last IHSA postseason.
"From the start of the season, this has been the goal," Beaumont said. "Freshman year, seeing all those seniors after that loss, we were so determined. We were not going to let it happen again."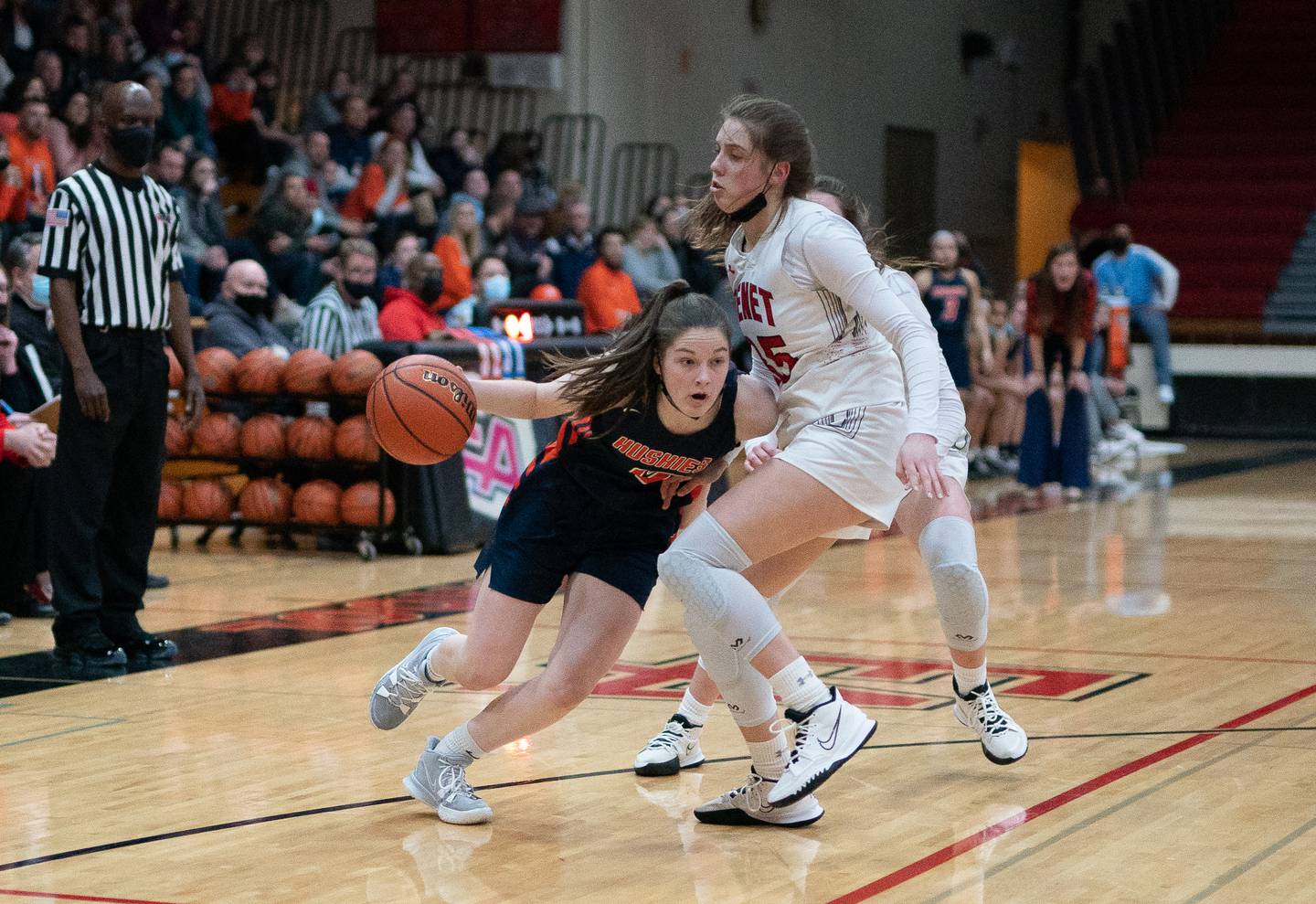 It took a free throw from Benet's youngest starter, sophomore Maggie Sularski, with 0.6 seconds left to clinch it. That came after Naperville North's Abby Drendel missed a corner three-point attempt for the tie.
"Before every game, we always do visualizing, breathe, close your eyes, visualize it going in," said Sularski, who had nine points and five rebounds. "Definitely it was relief, joy, everything."
For Naperville North (30-4), playing for its first sectional title since 1996, the emotion was frustration at a near miss, the thought of a dream season over too soon.
The Huskies went scoreless for the final 5 minutes, 30 seconds of the first half, and it allowed Benet to build a 33-19 halftime lead.
It was 35-19 seconds into the third quarter, but two Drendel threes sandwiched around a Sarah Crossett three-point play quickly cut the margin to seven.
Crossett's 3-pointer with 3:05 left in the third quarter closed Naperville North within 37-34, but the Huskies never made it all the way back. They missed a three for the tie in the third quarter, and Drendel's in the final seconds.
"We had chances," Huskies coach Erin Colletti said. "We dug ourselves a hole, and you can't do that against Benet."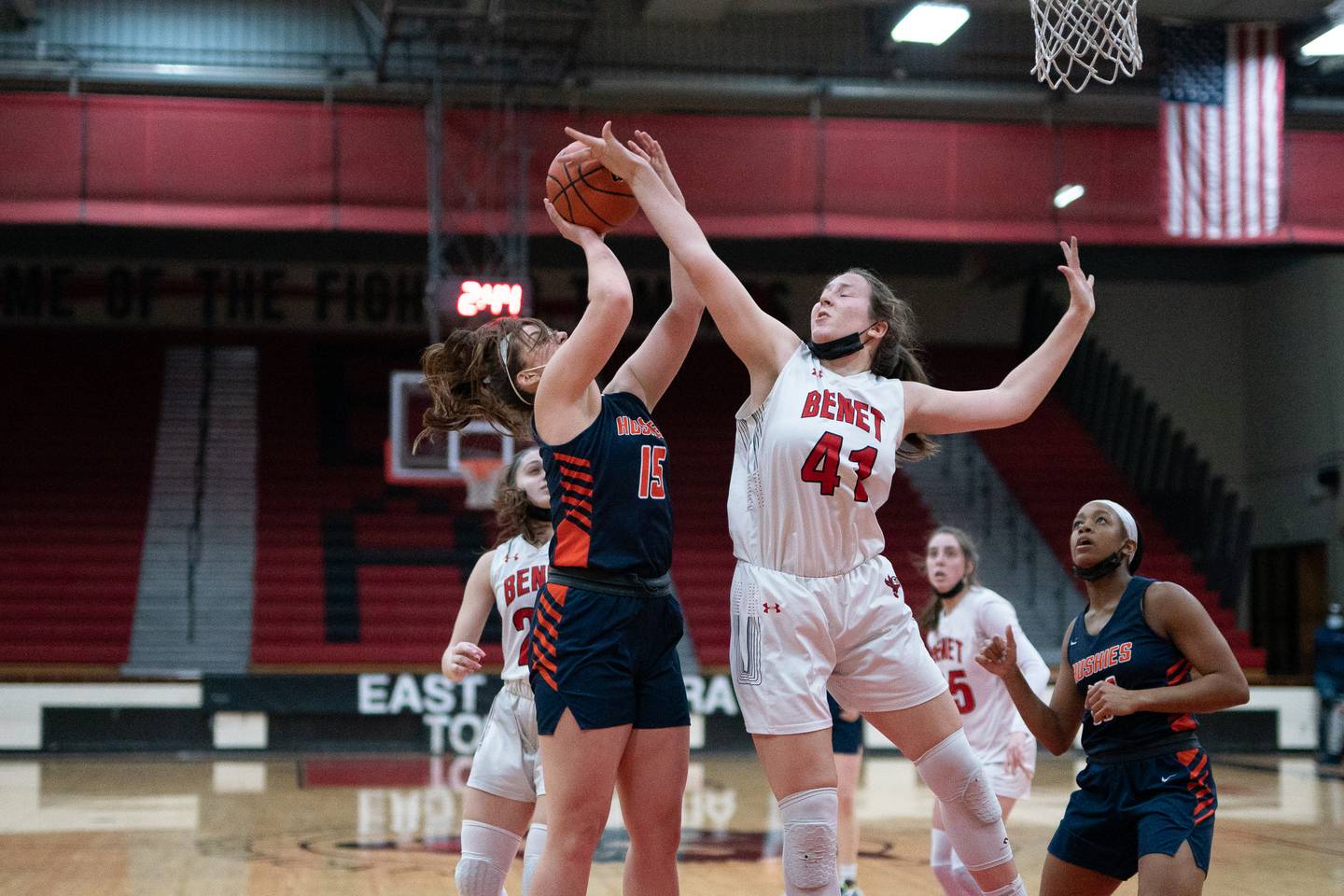 Benet won a December meeting 71-61, and the Redwings came out hot behind Demos. The 6-foot-2 senior center was dominant inside with 12 points and six rebounds in the first quarter alone. Benet, behind Demos, outrebounded Naperville North 18-8 in the first half and shot 52.4%, despite Beaumont sitting for significant time with three fouls.
"She's been a warrior for us, and she was again tonight," Benet coach Joe Kilbride said.
Maggie Sularski, who combined with twin sister Emilia Sularski to hit three threes in the first half, agreed.
"I mean, Morgan was a beast," Sularski said. "They could not guard her."
Maggie Sularski, 6-for-10 from the line, was one of the few Redwings that did not struggle from the free throw line. As a team Benet shot 16-for-34.
Beaumont's struggles did not extend to the 3-point line, where she stuck two big threes in the second half to stem the Huskies' comeback.
"I told them you played very badly in one facet and you still managed to win the game," Kilbride said. "That's life. Things don't always go your way."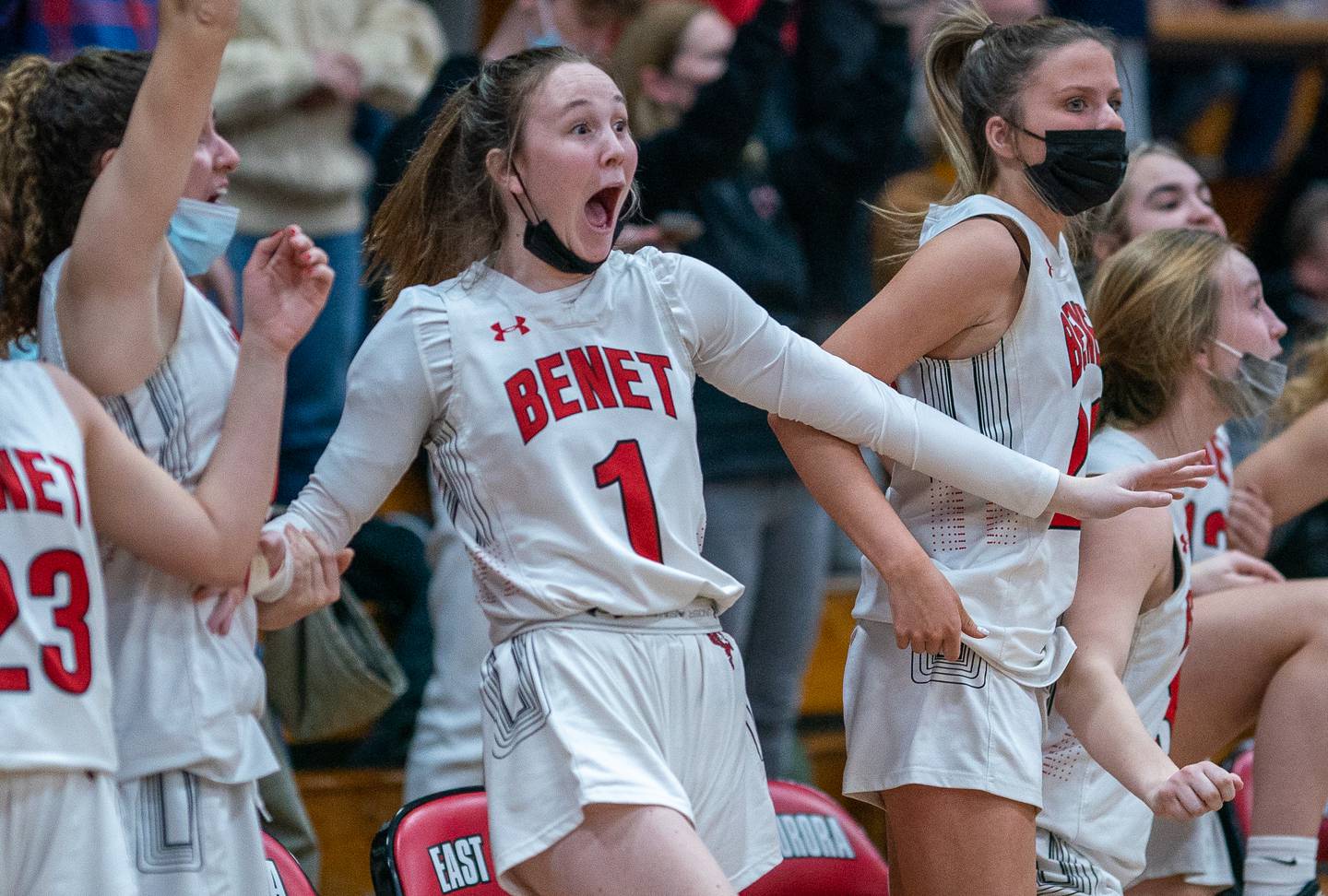 Colletti, her eyes moistening up near tears, reflected on the difficulty of losing a sectional final with a generational team.
Naperville North's Mackenzie Hare, a St. Louis recruit, scored 14 points Thursday to finish her career with 2,494. Crossett, the Huskies' other senior starter, had 13 points and six rebounds.
"This team is incredible, amazing, wonderful – amazing girls to coach. I'm going to miss them," Colletti said. "It sucks that the top two teams in the state, been that way all season, plays in a sectional. But's that's how it works. These seniors are irreplaceable. I felt like they deserved more."