LISLE – Lenee Beaumont didn't get too discouraged when she saw two 3-point shots swirl in and out Monday.
At her coach's behest, she kept shooting.
Good advice.
Benet's 6-foot junior guard missed her first seven shots during Monday's showdown with Nazareth – and then heated up in a hurry. Beaumont hit four of Benet's eight 3-pointers, and the Redwings shook off a cold start to win the matchup of East Suburban Catholic Conference leaders and state-ranked teams, 45-31, in Lisle.
[ Photos: Benet vs. Nazareth girls basketball ]
"First half was obviously a little rough for me shooting-wise, but no matter what coach is always like, 'Keep shooting,' because he knows they're going to fall eventually," said Beaumont, who finished with 16 points on 5-for-14 shooting with seven rebounds and five assists. "[When that shot went in and out] I was like 'are you kidding me?' But it's on to the next play. Shooters have to shoot. Coach has confidence in everyone that the shots will go in eventually."
Morgan Demos added nine points and eight rebounds and Margaret Temple eight points and two threes for Benet (21-2, 5-0 ESCC), which won its seventh straight game. Nazareth (19-2, 4-1), which had a 15-game win streak snapped, was led by Olivia Austin's eight points and six rebounds. Caroline Workman and Grace Carstensen each added six points.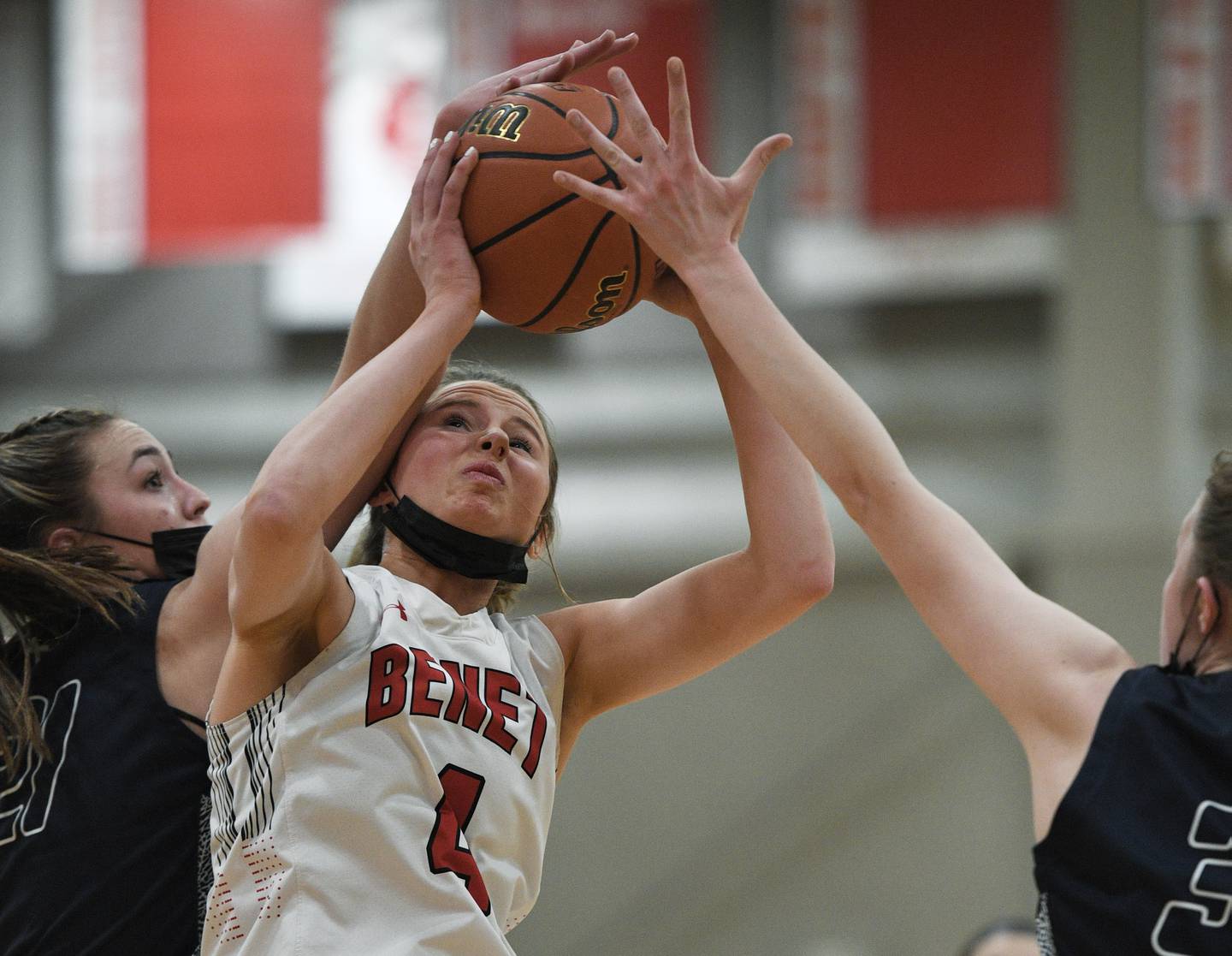 Benet came in ranked No. 1 in Class 4A by the Associated Press, Nazareth No. 4 in Class 3A, while Nazareth and Benet were No. 1 and No. 2, respectively, by MaxPreps. It's the Redwings' third win over a team ranked No. 1 – they previously beat Kenwood and Naperville North – but Beaumont was more concerned with staying on pace for another conference title.
"We don't pay attention to rankings, which I guess is a good thing, but they're a conference team," Beaumont said. "Our goal is to win conference. We've won it the last four years and we want to keep it going."
It looked a little uncertain at the outset Monday. Benet shot an uncharacteristic 1-for-10 from the floor in the first quarter as Nazareth surged out to a 10-2 lead. The Redwings finally found the range from distance with Temple's 3-pointer with 5:54 remaining in the second quarter, and the switch flipped.
Emilia Sularski, Olympia Kokkines and Beaumont all hit threes as part of an 11-0 Benet run to end the half. Beaumont's three in the final seconds, her first, made it 20-14.
"We struggled a little bit early, but we had good shots," Benet coach Joe Kilbride said. "I thought we were getting good looks in the first quarter. We just didn't make them, and I told them they'll go."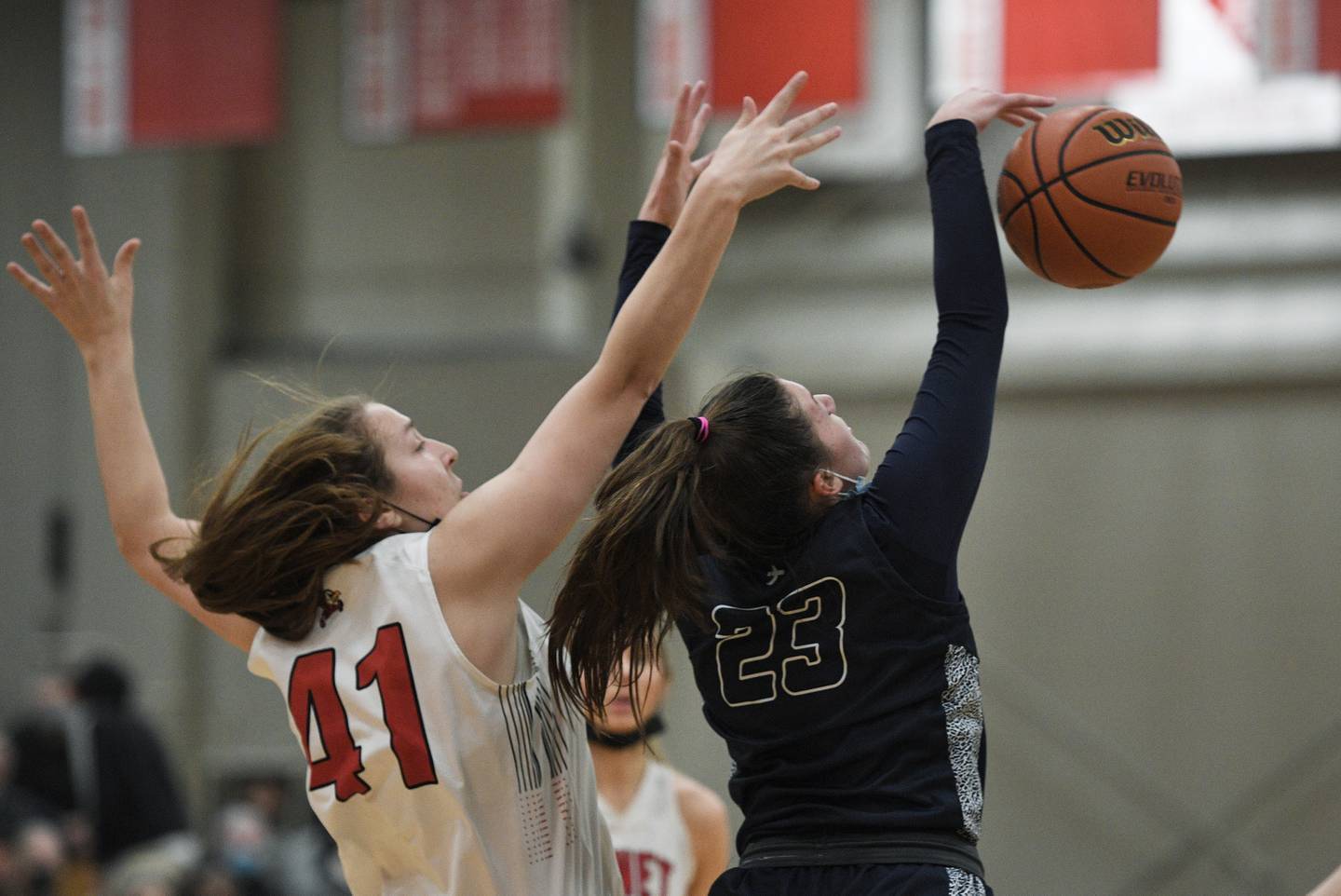 Sularski's 3 from the left corner tied it and Kokkines followed with one from the same spot 27 seconds later to give Benet the lead for good.
"Before the game we were visualizing our shots, trying to imagine us hitting everything," Kokkines said. "We kind of just took that and brought it to the game."
Kokkines' 3 that Beaumont assisted on was her only make of the game, but it was a big one. From there Beaumont hit two 3s and Temple a third during the third quarter.
"That shot Olympia hit was huge," Beaumont said. "Momentum was going our way."
While Benet seemingly couldn't miss in the middle two quarters, making 7 of 12 3-point shots, Nazareth's offense went into a deep freeze. The Roadrunners managed a total of eight points in the middle two quarters on 3-for-23 shooting.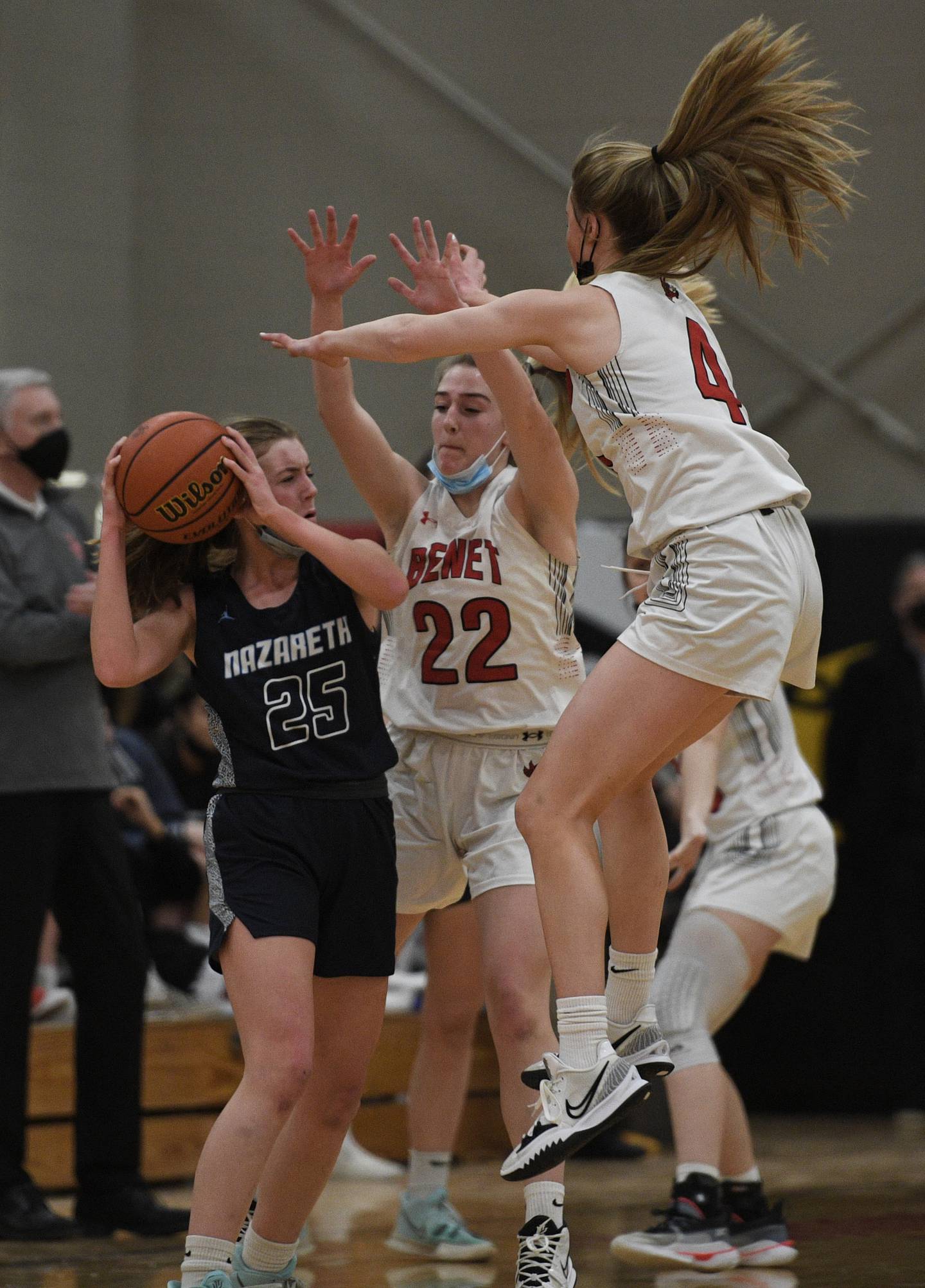 Beaumont's fourth 3 to start the fourth quarter capped a massive 37-8 Benet run that gave the Redwings their biggest lead at 39-18.
"First quarter we competed very highly. We stopped scoring in the second quarter, and then I thought we stopped defending," Nazareth coach Eddie Stritzel said. "I'm praying we get another chance at them in a week and a half."
Indeed, the two teams could meet again in the conference tournament, whose championship game is Feb. 5 on the higher-seeded team's home court.
If so, Stritzel is hopeful of a more typical output offensively from his club.
"I always brag about if you look at the scoring, we have five girls in double digits, but you can't win scoring 30 against Benet," Stritzel said. "We got to get into the 40s. We think we can hold them in the 40s, but we have to get there. We didn't do enough."