Cam Williams is most known in Illinois athletic circles for his football exploits, but track runs deep in the Glenbard South junior's bloodlines.
Williams, a Notre Dame recruit and the No. 2 prospect in the state's junior class, has had aunts and cousins compete in track. Williams' great uncle, Tom Boatright, is the longtime coach and director of the renowned Aurora Flyers Track Club.
"There is a track gene, for sure," Williams said.
Williams is poised to add to that family legacy this weekend.
He has the top long jump mark in the state this spring, regardless of class, of 7.41 meters (24 feet, 3.75 inches) and is one of the favorites to win the Class 2A state championship at this weekend's meet at Eastern Illinois University in Charleston. Preliminaries for Class 1A are Thursday, with Class 2A and Class 3A prelims Friday and finals for all classes on Saturday.
Williams, ninth in the Class 2A long jump and eighth in the 200-meter dash as a sophomore, is set up for a big weekend in Charleston.
He posted the second-best long jump mark of 6.91 meters at sectionals. On the track he ran the sixth-fastest 100 time statewide, of 10.86 last week, and the ninth-fastest 200 time of 21.98 seconds. Williams also anchored Glenbard South's state-qualifying 4x100 relay, leading the Raiders to a sectional title.
The clock is ticking on Williams' track career, too, as he plans to graduate early next school year and enroll at Notre Dame.
"Excited to be here again, with this being my last year of track," Williams said. "I might as well make the best of my opportunity."
Williams certainly has done so this spring.
At the DuPage County meet May 5, he posted that long jump mark of 7.41 meters, top 20 nationally and almost a full meter further than his mark at state last year.
Not bad for a football player who admittedly does "zero" track practice during the offseason.
"But when I'm in track season, I'm in track mode," Williams said. "It's a mental thing. I don't know if it's technique, speed, everything possibly combined. But going from a 6.5 (meter jump) to a 7.4, and just within the span of a year without working on it, it's a little crazy. When I jumped that mark I was as surprised as anybody. I'm looking to maybe improve on that and hopefully be at the top of the podium."
Other top medal hopefuls in Class 2A include Montini's Jayden Leise, who had the second-best triple jump sectional mark of 13.75 meters, and Fenwick's Nathaniel McKillop and Benet's Finn Richards, who had the fifth and sixth-fastest times, respectively, in the 3,200.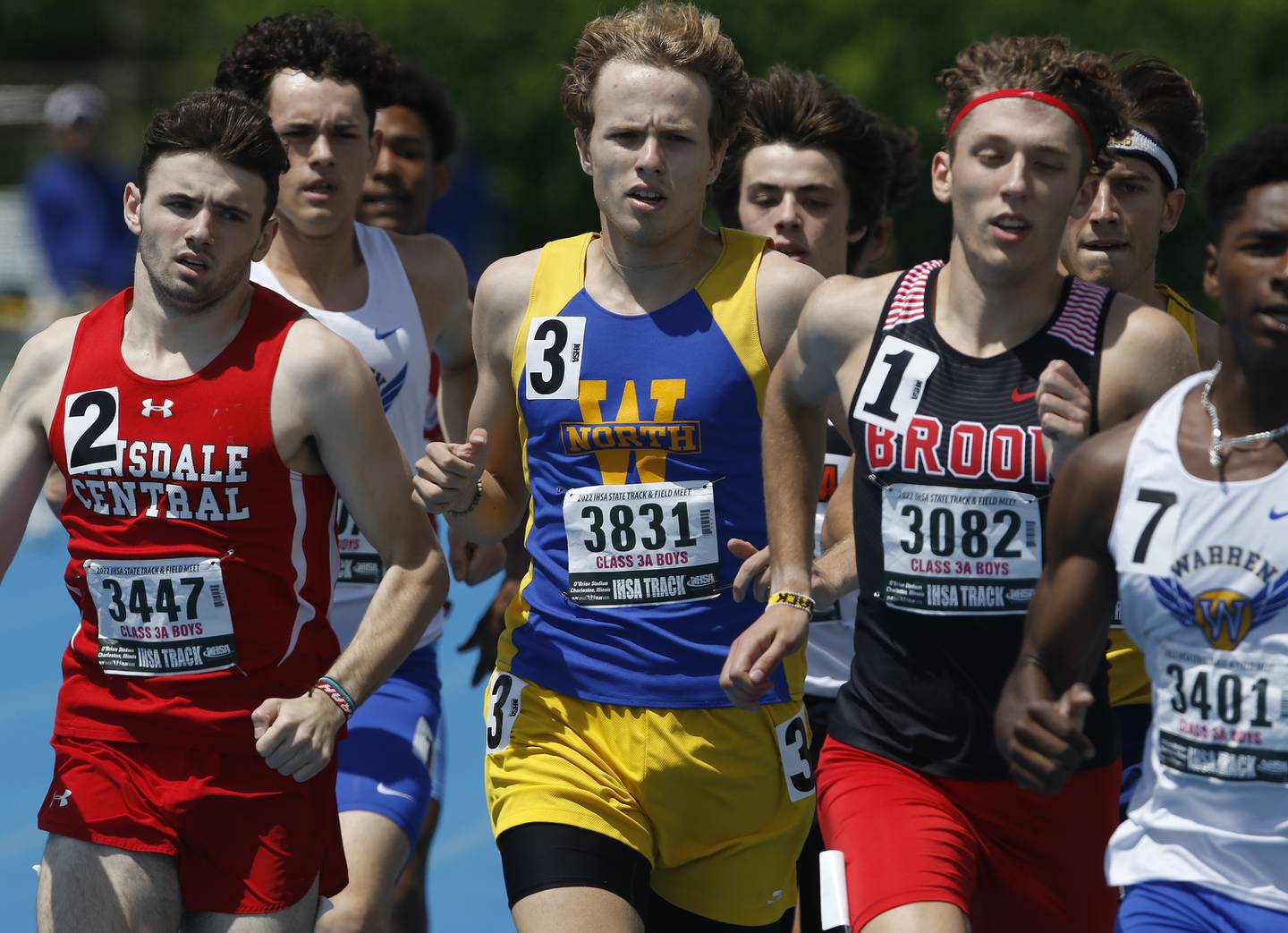 In Class 3A, the West Suburban Silver is poised for a big weekend in the middle-distance open races and relays.
Downers Grove North junior Ryan Eddington, who ran the fastest 1,600 time in the state of 4:07.91 at conference two weeks ago, will be competing in the 800 in Charleston after posting the second-fastest sectional time of 1:54.05. Eddington could get his toughest competition from conference rivals Dan Watcke of Hinsdale Central, the defending state runner-up and 2021 champion who has the state's fastest 800 time of 1:50.68 this spring and ran a 1:55.43 at sectionals, the fifth-best mark. York senior Aidan Hill posted a 1:54.22 sectional time, third-best in the state.
Eddington could also be running the 4x800 relay in both prelims and finals, and Downers Grove North's 4x400 in the finals.
"I think what we have done to get here has prepared us," Eddington said. "It will be like a normal Saturday meet. I'm ready for anything. I think we all feel good with where we stand."
In the 3,200, defending state cross country champion Aden Bandukwala of Hinsdale Central ran the fourth-best sectional time of 9:14.65. And in the 1,600, Downers Grove North's Caden Weber ran the fourth-best sectional time of 4:16.77. His season-best of 4:14.95 is ninth-best in the state.
"Coming off sectionals, where I ran the race pretty much myself, still being able to run that time gives me a lot of confidence," Weber said. "I wouldn't say I feel in awe of the moment. I'm excited to see what I can do when I have guys pushing and pulling me throughout the race."
Other top medal hopefuls include Hinsdale Central's 4x400 relay, who ran the second-fastest time of 3:23.31 at sectionals, the Lyons Township and Downers Grove South 4x800 relays, who ran the third and sixth-fastest sectional times, respectively, of 7:52.42 and 7:53.41, and York's Joey Valeski, who posted the sixth-best 400 time of 49.19 at sectionals. Lemont's Quinton Peterson, seeded eighth in the 110 hurdles, has a middle-of-the-pack 300 sectional time, but his 39.14 run in April is the third-fastest time in the state this spring.