BERWYN – Losing one of the best players in the state to injury would be a death knell for most teams.
That's what Morton was facing when UIC-bound senior forward Max Aquino suffered a sprained knee ligament in the third game of the season.
Aquino has yet to return, but the Mustangs went unbeaten in nine games without him before losing to Naperville North 4-1 on Sept. 21.
A big reason for that is the emergence of midfielder Jonathan Almaguer. In his first year of high school soccer after playing for the Fire academy team for his first three years, the diminutive midfielder leads Morton (10-1-2) in scoring with eight goals and five assists.
"He's a solid player," Morton coach Jim Bageanis said. "His size doesn't show what kind of talent he has."
Indeed, Almaguer is excelling despite taking on added responsibility since Aquino, who is expected back in a week or two, has been sidelined. The normally defensive-minded Almaguer has to look to score more.
"I think he's used to playing in a certain system," Bageanis said. "He's never played high school soccer. He's always played academy ball and it's a little bit different.
"He's starting to find his niche and what he does well at the high school level. For us, he has to do a lot of things in the middle since we're down Max."
Despite the difference in systems, Almaguer is enjoying his experience with the Mustangs, who are perennially one of the top teams in the state.
"I knew it was going to be an experience, an experience for life," Almaguer said. "I don't want to regret it and I don't regret it. I'm taking it day by day and it's a huge role, but I think it's been a good experience."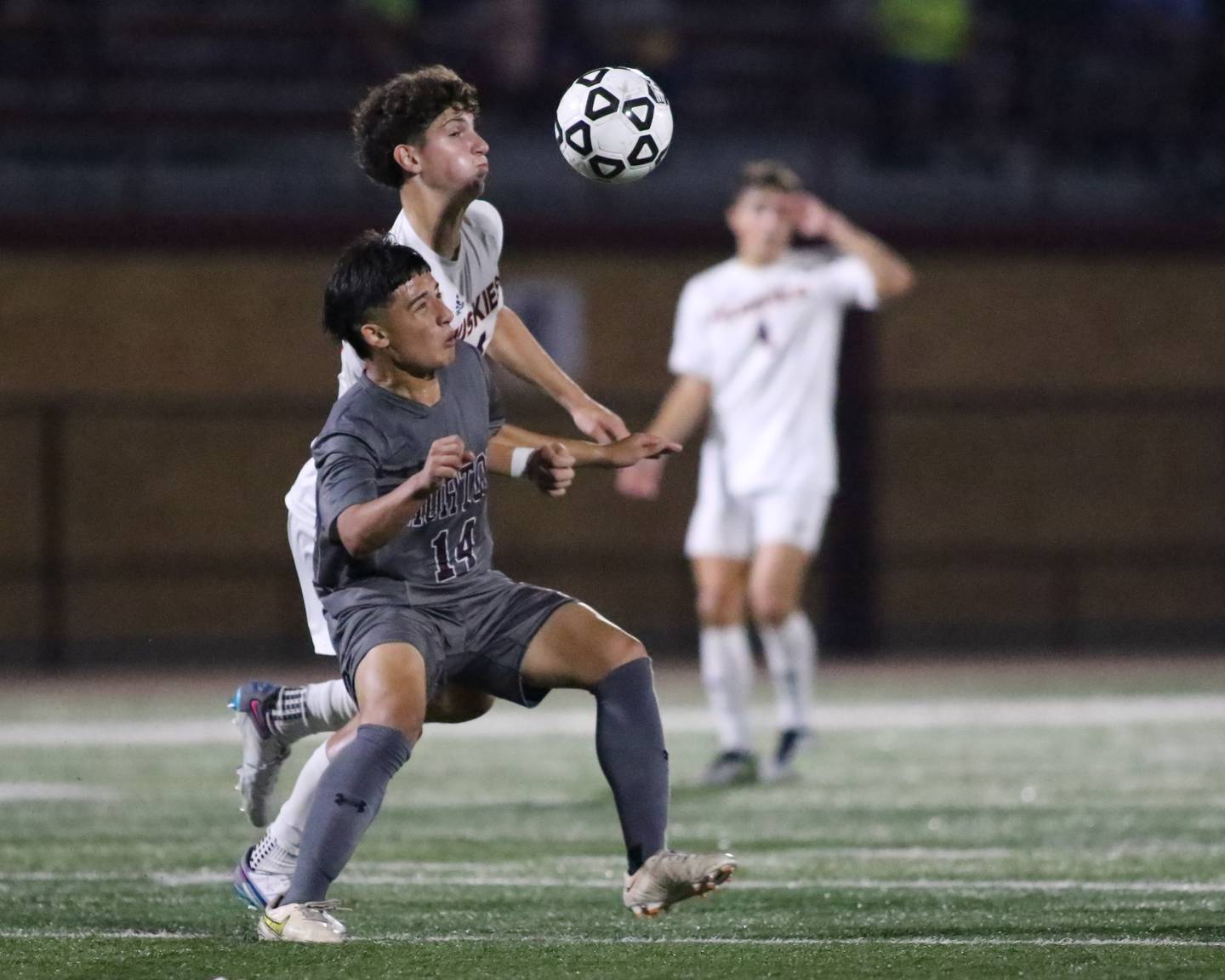 Playing against Almaguer hasn't been a good experience for opponents. He bagged a hat trick against Hinsdale South and since then opponents are paying much closer attention to him. Lane Tech triple-teamed him but still lost 1-0.
"He's been very important," Morton senior defender Ivan Ramirez said. "He's had a big impact. I think he's our top goal scorer right now. We've seen a lot of character from him. He's been an awesome leader on the team."
Naperville North (10-1-1) was the first team to solve Almaguer and the Mustangs this season. The Huskies also were the first team since 2015 to score four goals against Morton. Naperville North got goals in the first four minutes from star strikers Noah Radeke and Jaxon Stokes and made sure Almaguer didn't take any shots by rotating players on him.
"We matched up man-for-man and said, 'Don't dive in, make him pass it,' because he's a dynamic player," Naperville North coach Jim Konrad said. "If he has the ball, that's fine, but let's not let him beat us, so make him pass the ball. Our boys did a nice job of shifting."
The Mustangs averted the shutout when Francisco Barrera scored on a rebound with 19 seconds remaining, but that was small consolation for Bageanis.
"They took it to us today," Bageanis said. "We were not ready for that kind of onslaught. We told the guys the state championship wasn't played today, but we need to learn from this because we have a lot of things that we need to correct. It might be little things, but there's a lot of little things and those add up against these kinds of opponents."
Bageanis hopes to have Aquino back soon and that will give the Mustangs a potent 1-2 punch and take some of the pressure off Almaguer.
"They are both very good attacking weapons," Ramirez said. "Having both of them, they were doing very good in the beginning of the season. We were scoring a lot."
The Mustangs didn't do that against the Huskies, but Ramirez isn't too worried.
"I think it's a wake-up call for all of us to step up," Ramirez said. "Now we know how good we need to be. We'll come back from this and come back strong."