BERWYN – Morton midfielder Max Aquino has added at least two inches in height since last season.
On Monday, the senior was head and shoulders above the opposition.
The 5-foot-11 Aquino rose up and headed home a corner kick from defender Josh Trujillo with 27:22 remaining in the first half.
[ Photos: Morton vs. Naperville Central soccer ]
That was all the host Mustangs needed in knocking off defending state champion Naperville Central 1-0 in the season opener for both teams.
"I've grown a little bit since sophomore year, so I've been getting up there," Aquino said. "I just try to continue off sophomore year, do as much as I can to help the team and sort of create a presence, not just for myself, and make the team better as a whole."
Aquino traditionally has done much of his scoring with his feet, though he's never been poor in the air. But he is bringing a new-found assertiveness to the field.
"He's always had the header thing going," Morton coach Jim Bageanis said. "He's gotten stronger and I think he's just gotten more aggressive as the last couple years have gone on.
"But he's definitely stronger and his skill is more improved than it was two years ago."
Aquino was the best player on the field against Naperville Central, which is rebuilding its offense after graduating the bulk of its scoring. The one big threat that didn't graduate, striker Chase Adams, opted to spend his sophomore year playing for the Columbus Crew's academy program.
The offensive inexperience showed as the Redhawks mustered only two shots and Morton goalkeeper Efrain Farias did not have to make a save.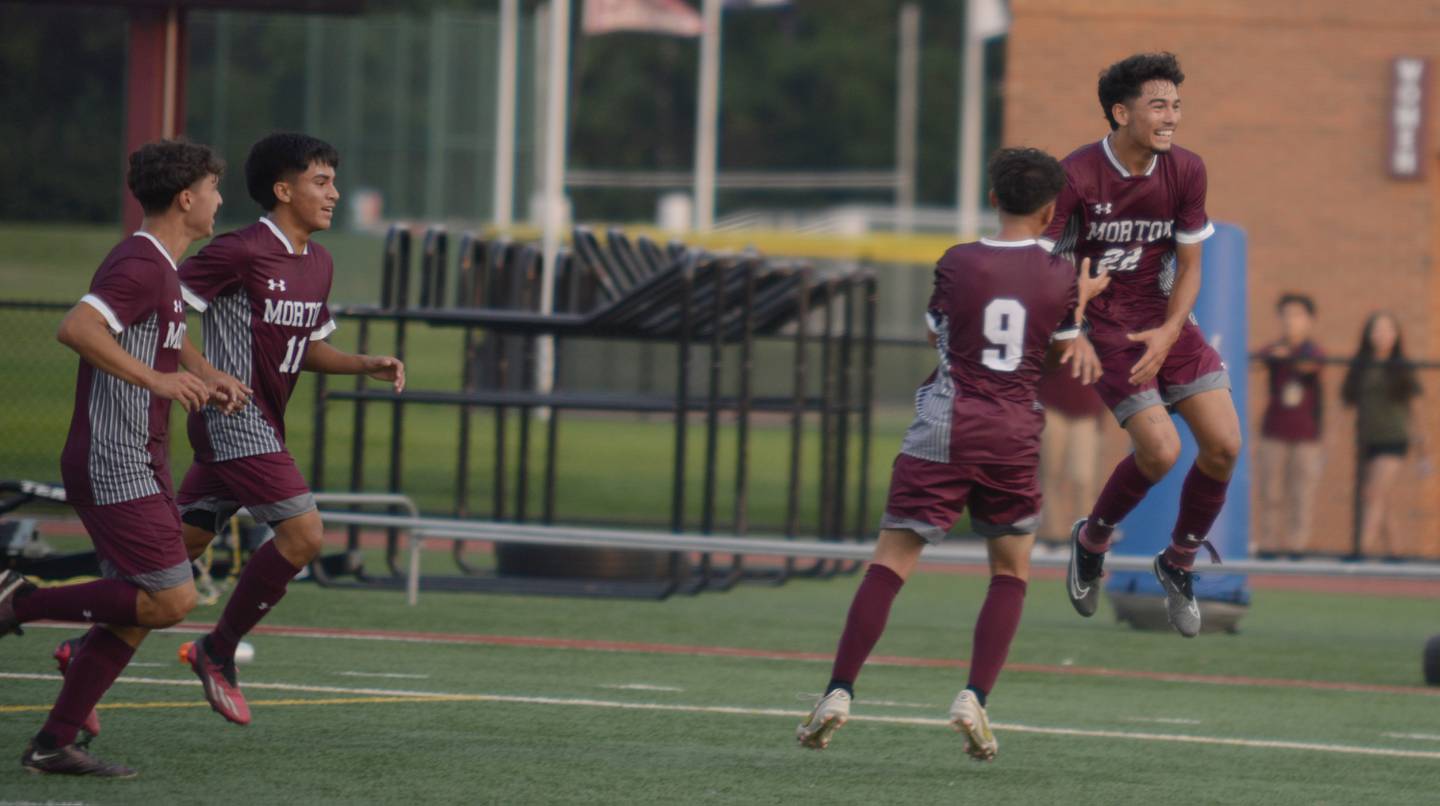 "It's a learning experience," Naperville Central coach Troy Adams said. "We're still trying to figure out what exactly is our best fit.
"The first half we came out one way. The second half we came out theoretically a very different way, and I thought the second half we looked better than the first."
Morton's defense had something to do with the Redhawks' feeble attack. The back line, led by senior left back Trujillo, was in fine form and quickly shut things down.
"We first predict to see where they go and we also tried to shut down all their long balls because we had a feeling that that was their play, to try to isolate us 1-on-1," Trujillo said. "So we had to shut those down."
The Redhawks managed to shut down the Mustangs for the most part as junior goalkeeper Connor Waite made seven saves. But it didn't matter.
"I was happy," Bageanis said. "I think we played well defensively and were able to handle the ball in the back to give ourselves a way to relieve pressure.
"Offensively, we've still got to click a little bit together. We've had some good ideas but we're a step or so off."
That's to be expected in the early going. But the Mustangs have already done something they didn't do last year, getting revenge for a season-opening loss to the Redhawks.
"It feels good, not just because it's the state champions, but first game of the season you want to come out with a good presence and it just feels good to get that first win," Aquino said. "They gave us a good battle, and we just held up in the back."