Lyons senior forward Nik Polonowski opened some eyes with his improved game last season.
He burst on the scene with quality 6-foot-6 size to go with a deadly and accurate perimeter shot. Polonowski averaged 11.2 points and 3.0 rebounds and shot 44% on 3-pointers.
Polonowski said he's motivated to add to his numbers this season and lead the Lions to the top of the standings in the West Suburban Silver Conference. With defending Class 4A state champion Glenbard West losing all five of its starters to graduation, the conference race is wide open.
"Our chemistry is good and I've been playing with these guys almost my whole life, so I'm trying to fill a role and have fun out there playing the game," Polonowski said. "I think I'm ready. I evolved my shot last year, but I'm still trying to get it better and work on my first step and get to the rim more. We all saw what Glenbard West did last year. That's every player's dream."
Polonowski is among a talented senior group that puts the Lions among the teams to watch in the Chicago area. The Lions (26-6, 9-3 last season) lost to Glenbard West six times in a 13-month stretch over two seasons.
"We have three guys coming back who have significant experience in Jackson Niego, Nik Polonowski and Graham Smith," Lyons coach Tom Sloan said. "With three guys like that who played in some big-time games last year, that brings a level of experience you can't replicate in the summer or summer workouts. That's a good set of experience to have."
Sloan said Polonowski is a rare player with quality size and shooting capable of combining his height, length and picture-perfect form to elevate his game to another level next season.
"Nik has really developed as a shooter on the perimeter and improved his ability to score off the dribble and pull-up mid-range game," Sloan said. "He can score on every level, and he can really stretch the defense by shooting a few feet past the 3-point line. He has a high release. He had a good year and has really improved since then."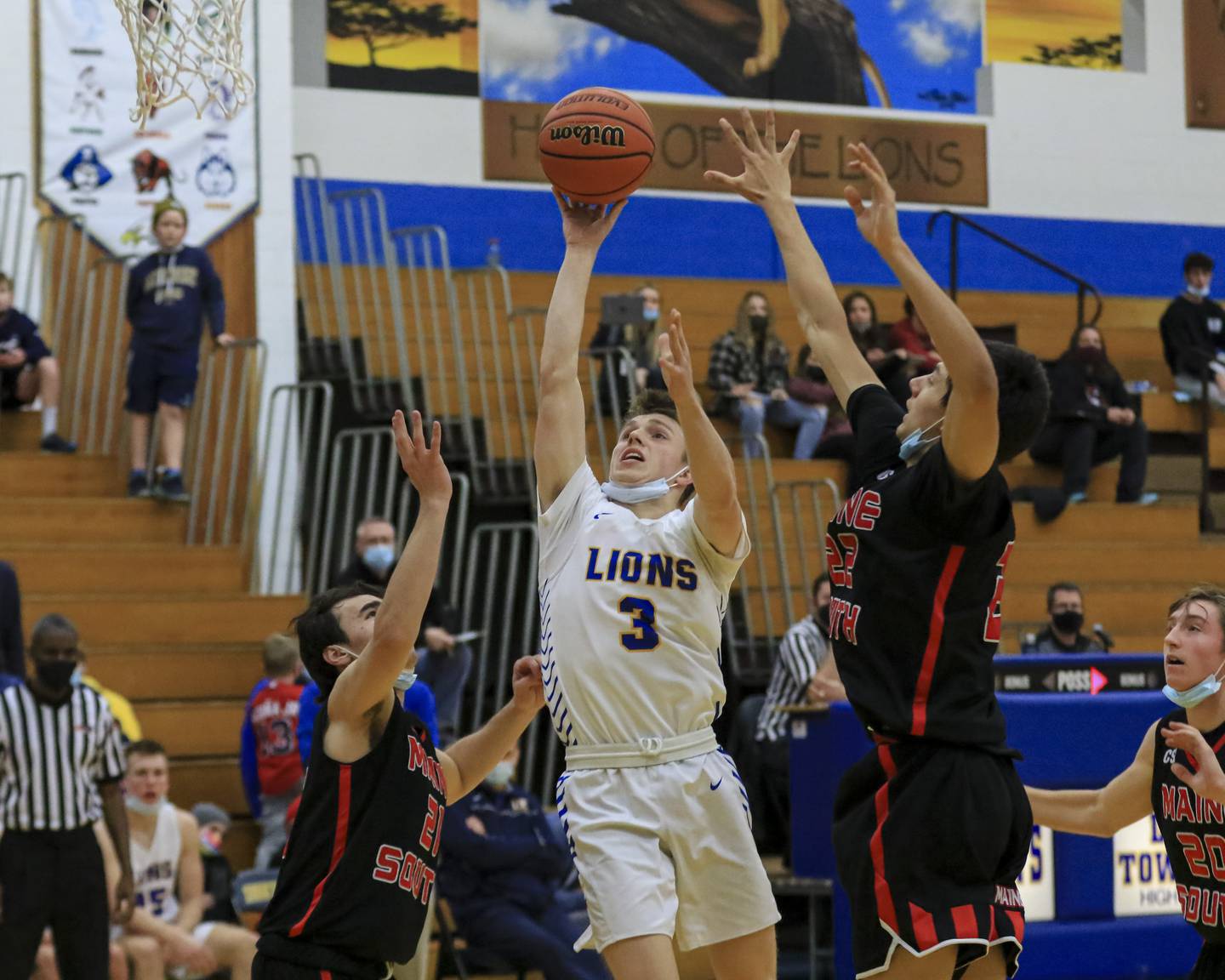 Niego was a key reserve last season, spelling point guard Tavari Johnson, a since graduated Akron recruit, for key stretches.
"We would not have had the success last year if not for Jackson Niego coming off the bench and providing another ballhandler to take the pressure off Tavari," Sloan said. "Jackson is a tough, hard-nosed skilled player who can play both ends of the floor. Last year he looked to distribute the ball a lot, but he has the ability to put the ball in the basket and be a really good on-the-ball defender."
Niego said Johnson aided his development throughout last season. Johnson, who averaged 16.5 points, 4.5 assists, 2.0 rebounds and 2.0 steals, helped distribute the ball and run the offense.
"Last year we had a great year and a great younger core coming up which makes it exciting," Niego said. "We have great chemistry and are flowing well. Tavari was a great mentor, I learned a lot from him. This year I will really have to step up scoring, distributing the rock and other things. I'm excited to lead us. I know how important it is to be the point guard on a winning team and the weight I'll have to carry."
The final piece of the senior trio is Smith. A standout football player, the 6-5 Smith is a punishing player in the paint.
"Graham Smith was our loose ball and rebound kind of guy last year, but hopefully his skills have improved from now to November and he can do more for us," Sloan said. "Against Curie last year, Graham battled physically in that game and really helped us."