In the Class 4A state championship game, Glenbard West senior center Braden Huff stayed true to his unselfish roots on the court.
He entered the state semifinal attempting just 10.4 shots per game, not nearly the high-usage total for a superstar-caliber and multi-skilled player capable of scoring points from all over the court.
Huff, a Gonzaga recruit ranked among the top 150 players in the country for the 2022 class, maintained his team-first attitude throughout Glenbard West's 56-34 victory over Young in the 4A final.
Even in the biggest game of his career, Huff was an efficient 8-for-13 shooting for 19 points to go with five assists. Throughout his illustrious four-year varsity career, Huff kept to his selfless approach of sharing the ball and not chucking shots at the rim to pad his statistics.
Just seconds after the Hilltoppers (37-1) put a bow on the best season in program history with their first state championship, Huff reversed from his normal team-first course to be the first player to clutch the ultimate prize – the state title trophy.
The 6-foot-11 Huff, wearing the first-place state medal around his neck, walked two steps away from his teammates to grab the elusive trophy, lifting it high in the air while walking back toward his teammates to celebrate the historic achievement.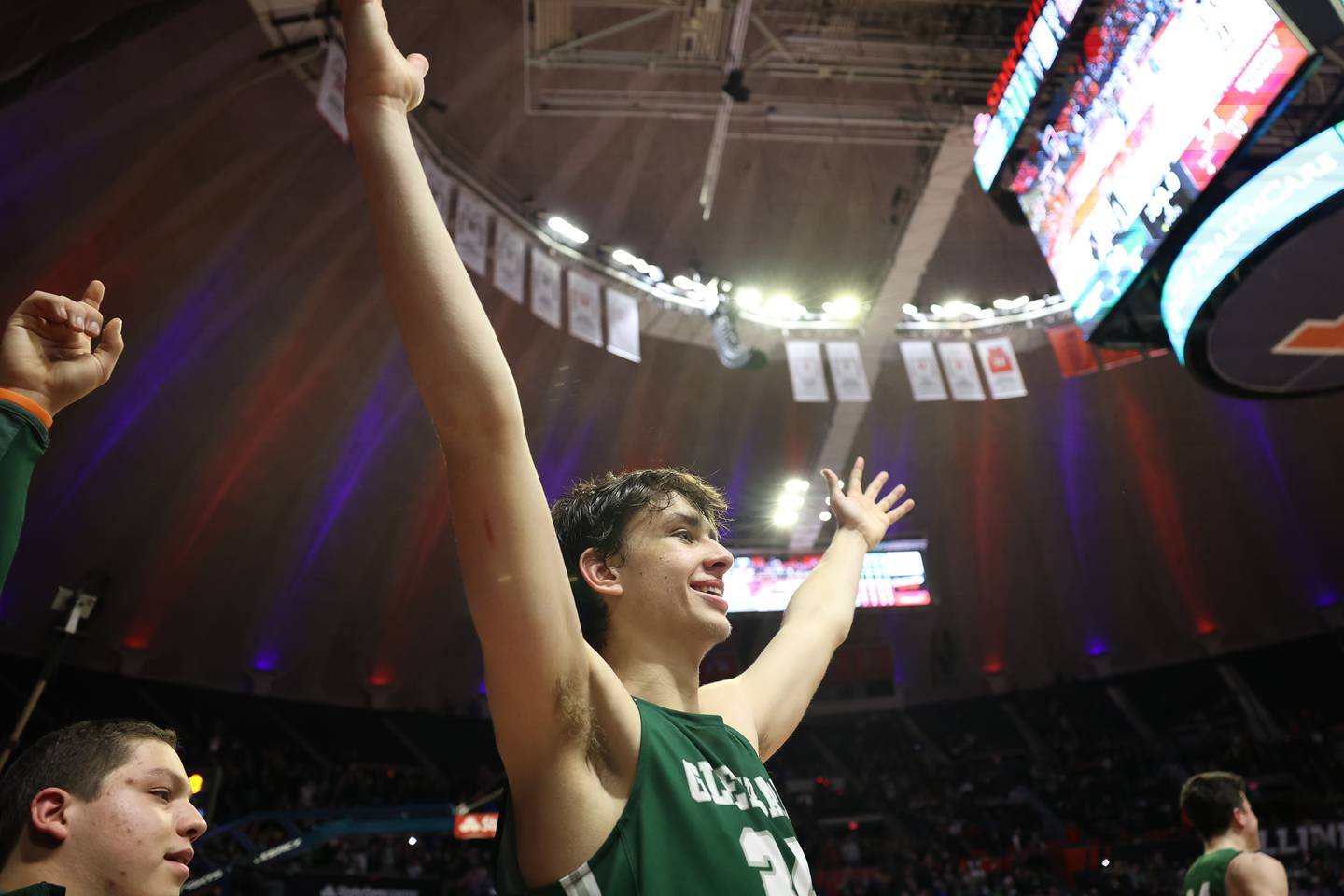 For Huff, the 2021-22 Suburban Life Boys Basketball Player of the Year, it was the culmination of four years of intense work to build himself into the ultimate teammate capable of leading the Hilltoppers to new heights.
He leaves a legacy that extends well beyond statistics, victories or championships in the Glen Ellyn community. Huff is arguably the best player in program history, far surpassing the next-level potential he displayed as a gangly freshman.
"This season was definitely a dream season and a dream career for me to end with a state championship and do it with the guys we had. It was awesome and unforgettable," Huff said.
Huff, who averaged 16.4 points, 5.8 rebounds and 3.2 assists and made 42 3-pointers on a well-balanced team with five Division I starters, said he never cared about individual performance. He wanted his teammates involved, which, in turn, led to one of the most diverse and unstoppable teams in Illinois prep history.
"I'm just focused on the team, just excited for what they do as much as what I accomplish," Huff said. "The personal accolades are really cool, and I'm really grateful for them, but to achieve a state championship as a team and to see all the other guys thrive makes me happy."
Huff credits his height to his mother's side, but he also picked up some other family traits that helped serve him well throughout his burgeoning hoops career.
Off the court, even when groups of kids would hound him for autographs, Huff showed humility rare for an elite athlete set to play for one of the best college basketball programs in the country.
"My parents helped mentor me to be (unselfish) and really instilled a base foundation," Huff said. "They taught me the right way to go about things and how to carry myself."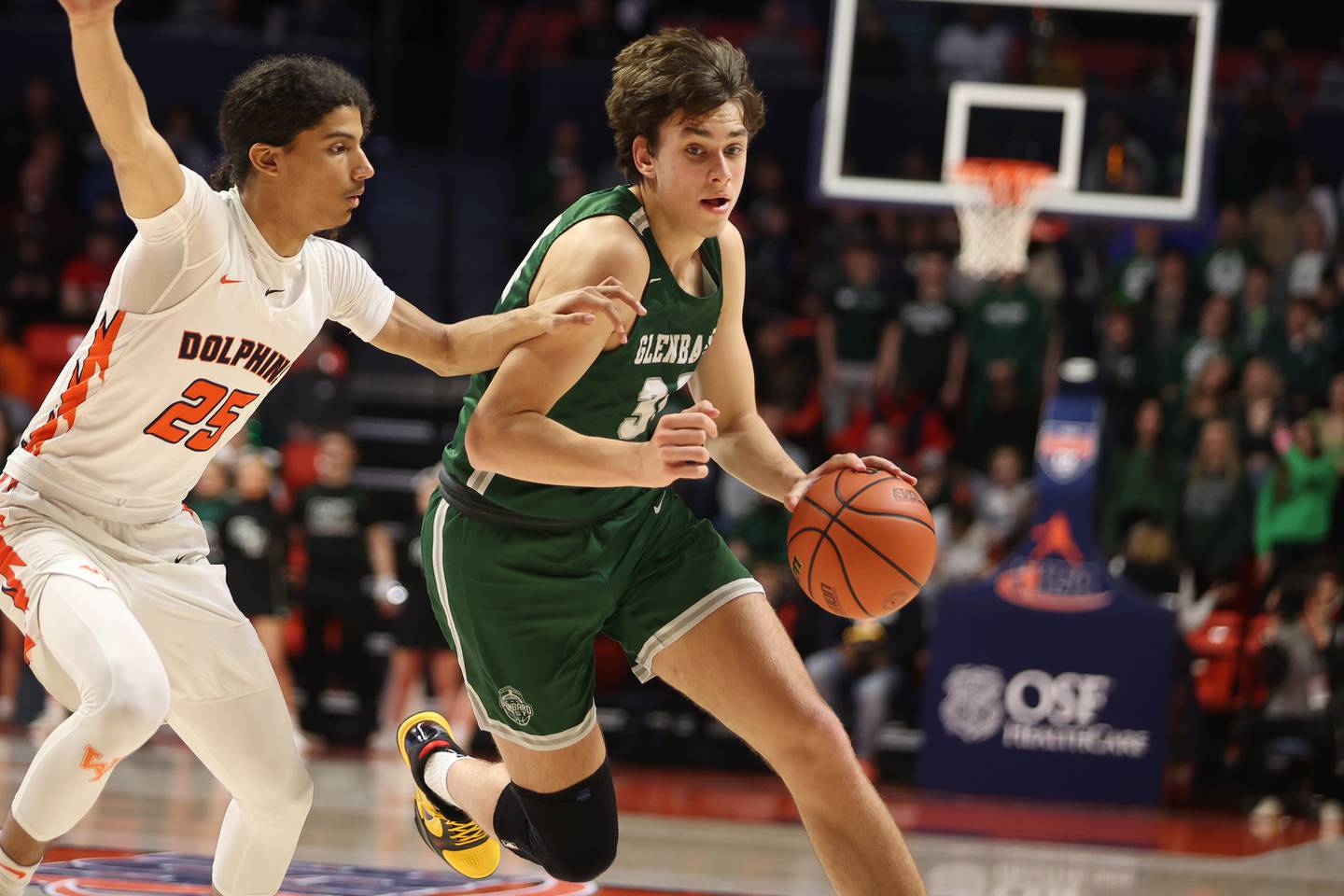 Soon after the title game, Huff strayed from his casual approach for some moments of levity. He posed for pictures on the Illinois court with an old-school brown hat. The next day, he donned sunglasses for a few minutes during the indoor pep rally at Biester Gymnasium.
"The outfit after the game was definitely a bit much, but it was all in fun," Huff said. "It felt great to let loose and have fun with the team. We were locked in the whole season and had our eyes set on one goal, so to accomplish it and enjoy that moment with the team, I'll always remember that."
Senior teammate Caden Pierce, a Princeton recruit, watched his two older brothers develop into star athletes. His oldest brother, Justin, played basketball for William & Mary and North Carolina from 2016-2020. His other brother, Alec, was a wide receiver on Cincinnati's football team that landed a spot in the college football playoffs this season and is a player to watch in the upcoming NFL Draft.
Pierce said Huff possesses all the characteristics of a selfless leader capable of inspiring his teammate with his play and team-first attitude.
"Braden is the ideal teammate," Pierce said. "His leadership and confidence combined with his humbleness makes everyone around him better. He knows he's the best player, but doesn't act like it. It's never about himself. It's always the team first with him."
Glenbard West coach Jason Opoka watched Huff develop his game and body over the last three-plus years to become a complete player, along with an inspiring leader on the court who left a lasting legacy in the Glen Ellyn community.
"Braden has a genuine and fun-loving personality," Opoka said. "He exhibits a confidence and poise about him. He demonstrates winning characteristics on the basketball court that go unnoticed. He only cares about being a good teammate and leaving everything he has on the floor. His professionalism and attitude will impact future Hilltoppers forever."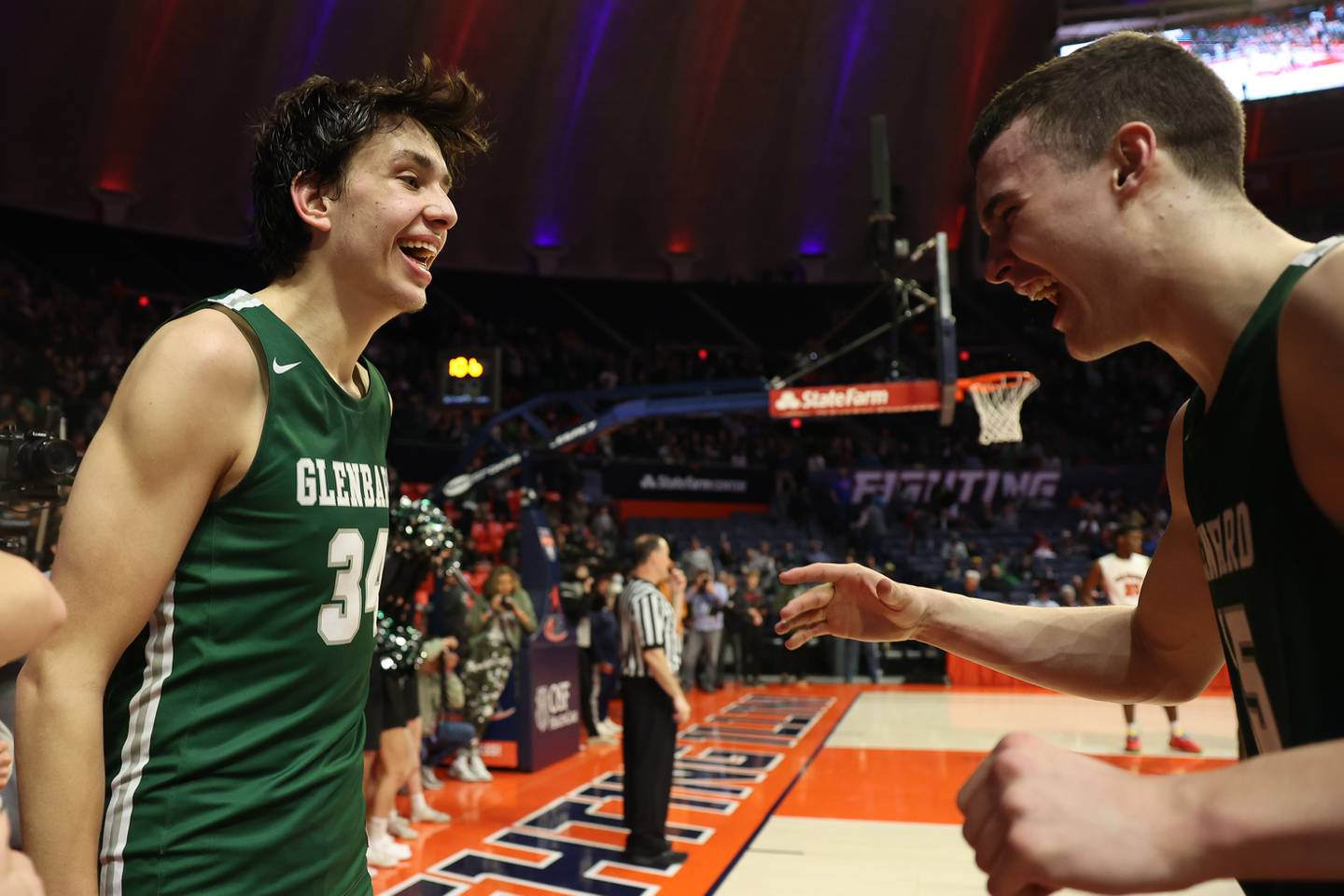 Glenbard West assistant coach Jim Pecilunas said Huff is the ultimate humble superstar player who chases victories and titles rather than individual statistics.
"Braden combines his unique talent with a cool and calm demeanor," Pecilunas said. "He never gets rattled by an opponent or the moment. He's a fierce competitor who doesn't want to lose at any game or drill. His positive and jovial attitude masks his drive. He always is thinking team-first, which is illustrated by his many passes when his coaches are imploring him to shoot. It's rare to see such a high-level player be liked by so many people."
Assistant coach Rod Molek said Huff's unrelenting work ethic and modesty rubbed off on his teammates, including helping Hinsdale South transfer Bobby Durkin quickly adapt to his new teammates last summer.
"(Braden) made every player on the team better through his leadership and focus," Molek said. "He showed every day what it took to be a state champion and that example rubbed off on, not just the team, but the entire school and local community."
Huff is the rare superstar unwilling to speak freely about himself nor take too much of the credit. He chooses his words carefully and speaks slower when discussing personal achievement or his legacy.
But that's just Huff – a humble teammate who shies away from the spotlight and would rather be hanging with his teammates.
"It's an honor to have a legacy and I can't wait for a couple of years to roll by and come back here and be reminded about everything we were able to accomplish," Huff said. "It's awesome and really exciting to see what we did, and cool to see the whole town come together behind our team. The ride from my freshman year to now has been crazy, just coming in as freshman and not knowing what to expect and suddenly being on the varsity level.
"I was a little skinny guy running up and down the court, mainly to the corner to hopefully to shoot 3s and then to now. It has been unbelievable. It was an unforgettable experience. … I'm beyond grateful that it happened."
So is Glenbard West and Glen Ellyn.