CHICAGO – Ed Stritzel still didn't have the program he wanted in 2019 even though Nazareth qualified for the state's final four in back-to-back seasons.
The Roadrunners traveled to Normal twice in Stritzel's second and third seasons, but the program wasn't at the level he knew it needed to be in order for it to succeed.
Three years later, Stritzel and the Roadrunners are going back to Normal after a 46-30 win over Fenwick in the Class 3A De La Salle Supersectional on Feb. 28 with a program that has grown the way its coach hoped it would.
"We had a great team two years in a row. We didn't have a program, we had a great team," Stritzel said. "We're developing a program now. I think our present is here and our future is here."
Both teams struggled to figure out the other's zone defense for much of the start of the game, but Nazareth made four 3-pointers and took a 12-2 lead after one quarter. Once both teams started to figure things out, they played at an even pace the rest of the way.
Nazareth led 25-15 at the half. A nine-point deficit early in the third quarter was the closest Fenwick got the rest of the way. Nazareth never trailed throughout the game.
Gracie Carstensen led the way for Nazareth with 19 points. Danielle Scully added 10.
The Roadrunners knew the Friars' zone defense would be tough to break with how they normally move the ball, so they made sure to throw it into the post and find open shooters whenever they were met by a Fenwick player in the post.
"We knew they were going to play a zone, so we practiced penetrating, kick, penetrating, kick, open shots," Carstensen said. "We knew what we were going to get and we executed really well."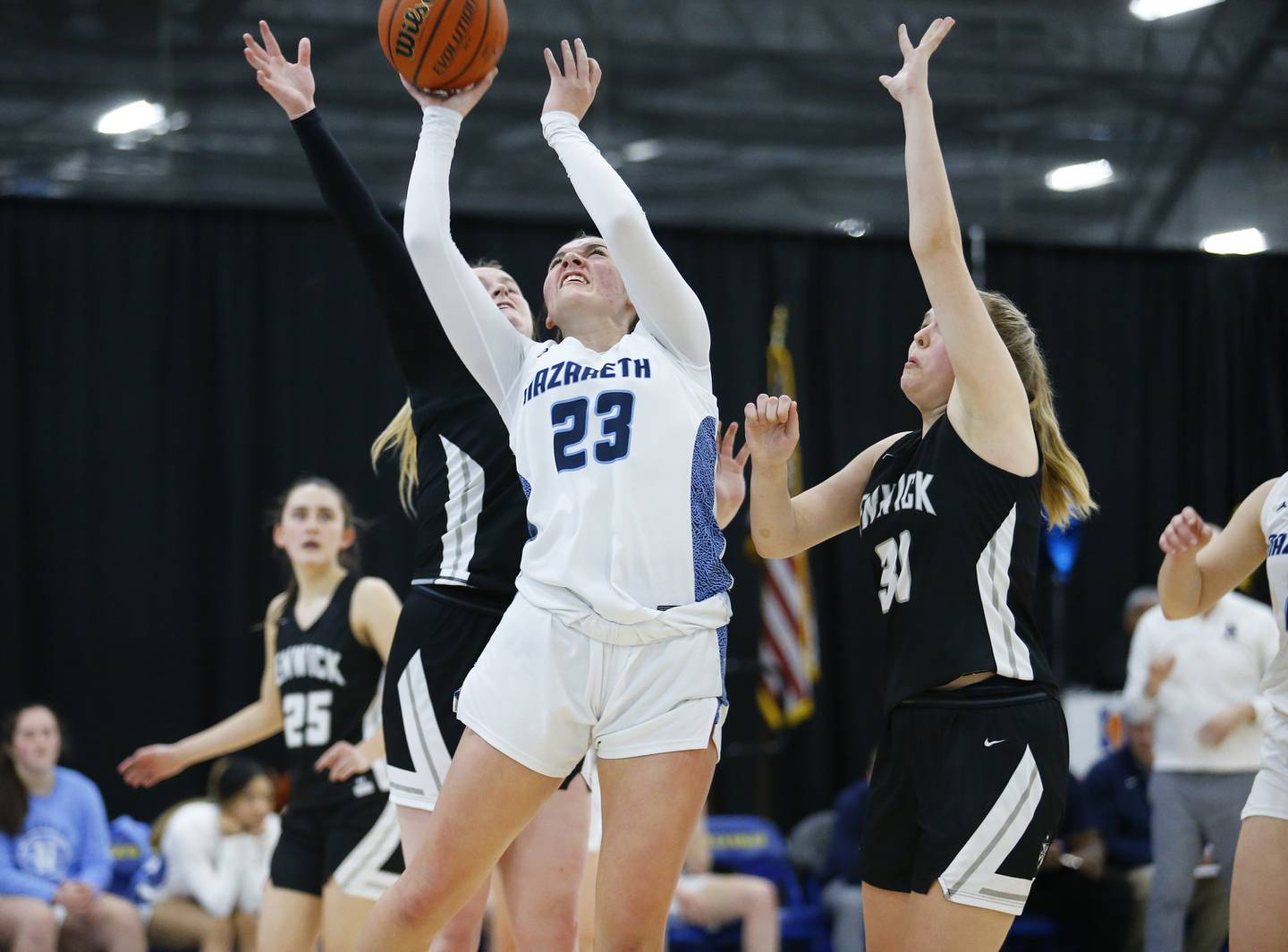 Nazareth's defense once again caused issues for its opponent. The Roadrunners' zone defense forced the Friars to commit 14 turnovers. Fenwick couldn't find a way to take advantage of its height and feed the ball into the post.
The Friars went on a few mini runs throughout the game, but the Roadrunners' defense prevented Fenwick from gaining momentum and overcoming its early deficit.
"That defense, they're long and certainly was bothersome," Fenwick coach Dave Power said. "We figured it out late, but like I said, they had already jumped out to that lead and it was too much for us to overcome."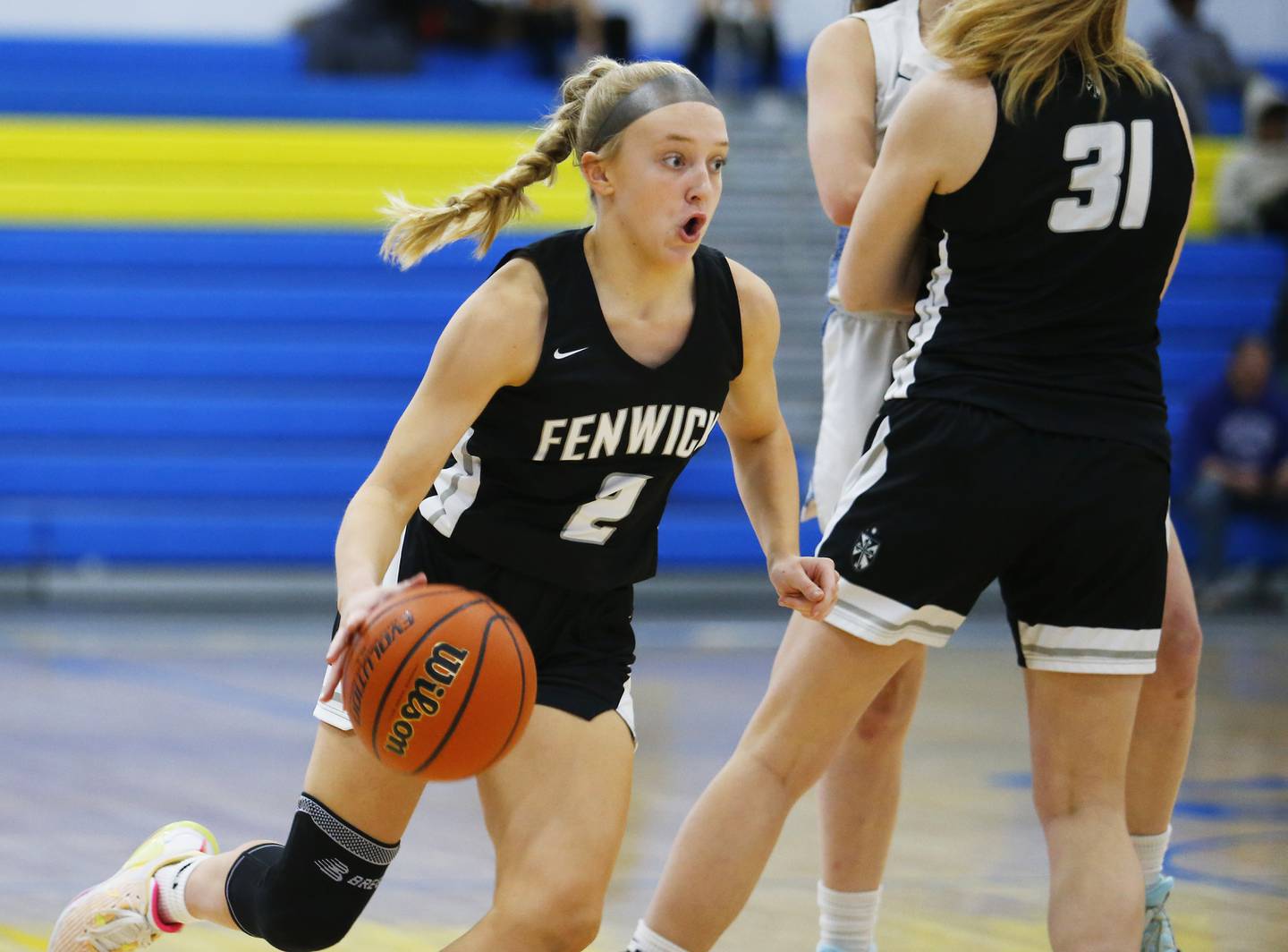 Audrey Hinrichs led the way for Fenwick with 10 points and six rebounds. Cam Brusca, Elise Heneghan and Mia Caccitolo each scored four points.
The game was the last in a legendary career for Power, who is retiring after recording more than 1,000 wins in 45 seasons.
Power said it hadn't hit him yet that it was his last game as a coach, but he didn't want to focus on himself.
He focused on his players, who had put in the work during adversity throughout the last couple of seasons because of the pandemic.
"It was a great bunch of girls. They played with a lot of heart," Power said.
Nazareth will play Morton at 11:45 a.m. Friday in the Class 3A state semifinals. Morton beat Nazareth in a 2019 Class 3A semifinal on its way to the state title and was the 2020 Class 3A runner-up in the last IHSA postseason. Carmel will play Belthalto Civic Memorial in the other semifinal at 10 a.m.
Stritzel and his coaches have worked hard since their last trip to Redbird Arena to build the program to a level it needs to be to win a title.
Three years later, he thinks the program is ready.
"We feel we've closed the gap on the rest of the state," Stritzel said. "We feel like we have a hell of a shot."