Ben Oosterbaan arrived at Hinsdale Central with name recognition.
His last name was well known throughout the Midwest, especially on the campus of the University of Michigan because of his legendary father's great-uncle Bennie.
From a young age, Ben Oosterbaan had a glowing reputation in baseball.
Basketball, in Oosterbaan's case, remained in the background for the early portion of his high school career.
"I remember in seventh grade Ben was a skinny kid who could shoot," Hinsdale Central basketball coach Nike Latorre said. "He was really coachable, so we thought he could be something special. He just physically wasn't there. His sophomore year he was physically immature, and his junior year he still had not matured. Between his junior and senior year, he gained his 'man muscles' and the explosiveness made all the difference in his game."
Oosterbaan, who committed to play baseball for Michigan in June 2021, became a two-sport star at Hinsdale Central. In his senior season, he elevated his game to become one of the top players in the state in basketball. The 6-foot-6 Oosterbaan sprouted into a go-to player lifting the unsung Red Devils (31-4) to the West Suburban Silver Conference title and a Class 4A regional championship before losing to Downers Grove North in a sectional final.
Oosterbaan, an Associated Press Class 4A Second-Team selection, averaged 20.3 points, 6.0 rebounds and 1.8 steals and blocked 27 shots and drilled 44 3-pointers to be named the 2022-23 Suburban Life Boys Basketball Player of the Year.
Even now, Oosterbaan said he's surprised at his rapid rise in basketball, which he attributes to physical growth and spending countless hours on his game during the pandemic.
"My freshman year I knew if I wanted to be good at sports, I had to work really hard," Oosterbaan said. "I was really skinny. But I had a bunch of people help me, like my dad and brother.
"Getting stronger and bigger gave me more of an inside presence, allowed me to post up, get rebounds and defend a bit better and on drives to finish through contact. I also felt healthy all season. My sophomore year, my knees would hurt all the time. I felt pretty good with my legs this year and could play all 32 minutes."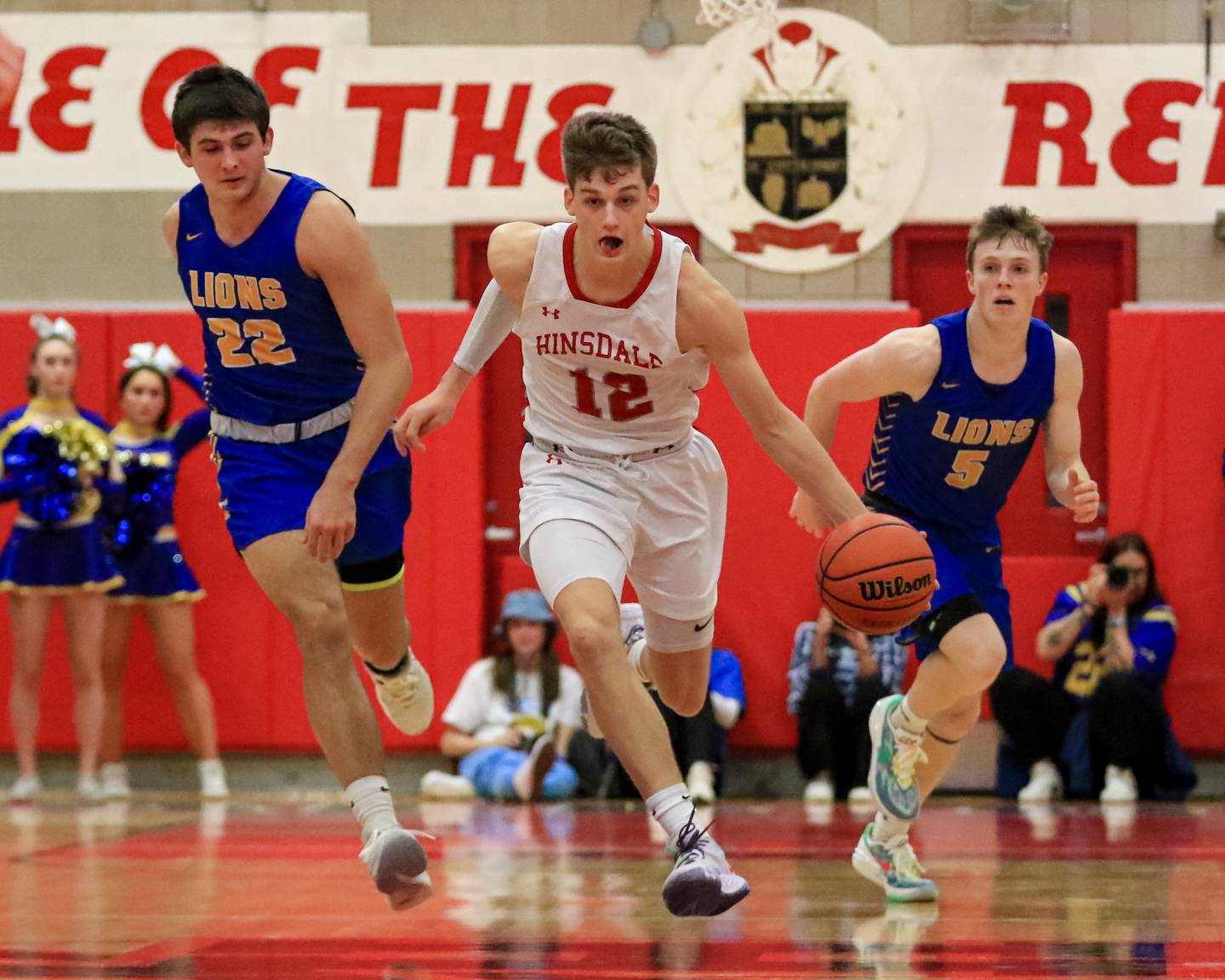 Oosterbaan credited his teammates for making his final season playing competitive basketball full of lifetime memories. The Red Devils played in several marquee games and tournaments and defeated Lyons three times before three sellout crowds.
"It was a really fun season," Oosterbaan said. "We made the most of our season. Everybody contributed and we had really good off-the-court chemistry, which led to on-the-court chemistry. Everything just clicked for us. It was awesome.
"Basketball has been very rewarding. I put in a lot of hard work in basketball. So did all of my teammates. We felt underrated last year. We knew we were good but didn't get the respect from anybody. It was fun for everybody."
Three-plus years ago, when Oosterbaan played on the sophomore team during his freshman year, he was not the most hyped long-term prospect in the program.
That title belonged to fellow freshman Matas Buzelis, who transferred to a prep school in his sophomore year and is now widely considered to be among the top three picks in early 2024 NBA Draft projections.
"Matas and Ben played together in their freshman year," Latorre said.
Oosterbaan would become the cornerstone of the program, morphing into an inside-outside scoring threat capable of taking over a game. He helped guide the Red Devils to a single-season school record for wins, consecutive victories (23), the program's first conference title since 2014, first regional championship since 2015 and the first Holiday Classic title in program history.
Oosterbaan, an unassuming and unselfish player, scored in double digits in 34 of 35 games, setting the tone for a historic season by scoring 33 points and grabbing eight rebounds against Oswego East on Nov. 22. He exploded for 32 points against Prospect on Feb. 7. He closed out his career with 21 points, eight rebounds, four assists and three 3-pointers in the sectional championship defeat to Downers Grove North.
Latorre said Oosterbaan's worth to the program can't be measured just by statistics.
"I had Ben as a student this year," Latorre said. "He's really down to earth and really mature. His leadership qualities really blossomed this year. The kids really followed his lead. He's really competitive. Everything in our practices has some competitive element. If we didn't, he would say something about making it competitive. He's a fantastic kid from a great family."
Oosterbaan said he's never played AAU basketball because of his commitment to baseball in the spring and summer. Latorre said he saw some positives to Oosterbaan not playing year-round hoops. Latorre laughed recalling this past summer, when Oosterbaan played at an elite level in a couple of games at the highly competitive Riverside-Brookfield shootout without any preparation.
"Maybe those extra couple of months a year makes a big difference, or maybe not," he said. "His basketball IQ is pretty high. He came back, in both his junior and senior year, after not playing in the summer and had amazing seasons. I think Ben certainly got the most out of his ability up to this point, but I don't think he's maxed out in basketball.
"His improvement over the last four years was amazing. During COVID, he really developed a love for basketball. He played a lot of basketball and worked really hard and turned up his game."