DARIEN – Downers Grove co-op is going to state. Geneva has to sit and wait.
The Trostangs won Tuesday's Hinsdale South Sectional with a score of 144.15 to qualify for the IHSA state finals. The runner-up Vikings will go home and await their fate after scoring an impressive 142.725.
"It was nice to see it come together tonight," Trostangs coach Kristyn Campos said. "Really the mission was not to be spectators but to set the tone in the competition. It's what we told the girls coming in to compete, and to be in the gym when you're ready to compete and don't watch. I think they did a good job of staying focused on us, and our routines, and not being perfect. It wasn't about that. It was about getting better and not best."
Continuing to make her claim as one of the top high school gymnasts in the state, Genevieve Herion led the sectional champs by winning the all-around (37.15). Herion also qualified for state in all four events, placing first on bars (9.45), second on beam (9.2), fourth on floor (9.2) and fifth on vault (9.3).
"The whole meet was amazing, and we've been working hard all year," Herion said. "I'm so proud of all of us. We all put in the hard work and it paid off today. It's getting more fun every meet and our bond has just become closer."
So close that the girls didn't want to go home after posing for countless picture with the sectional trophy. After all, Portillo's was still open. And the Trostangs aren't just hungry for hot dogs, but for a potential state trophy.
"We wanted to win with our best against their best, and we knew they were going to do it," Campos said. "I had full confidence that they could do it, it's just letting them know. It's a young team with a lot of first-time gymnasts."
Natalie Simpson got the Trostangs started on bars, hitting an 8.625. The senior set the tone while freshman Kaeyln Landry (8.95), senior Kathryn Snouffer (9.125) and Herion finished in fourth, third and first, respectively.
"Bars was pretty amazing," Snouffer said. "We just all got each other hyped and the team really helps me. We're just a family and we had so much fun today."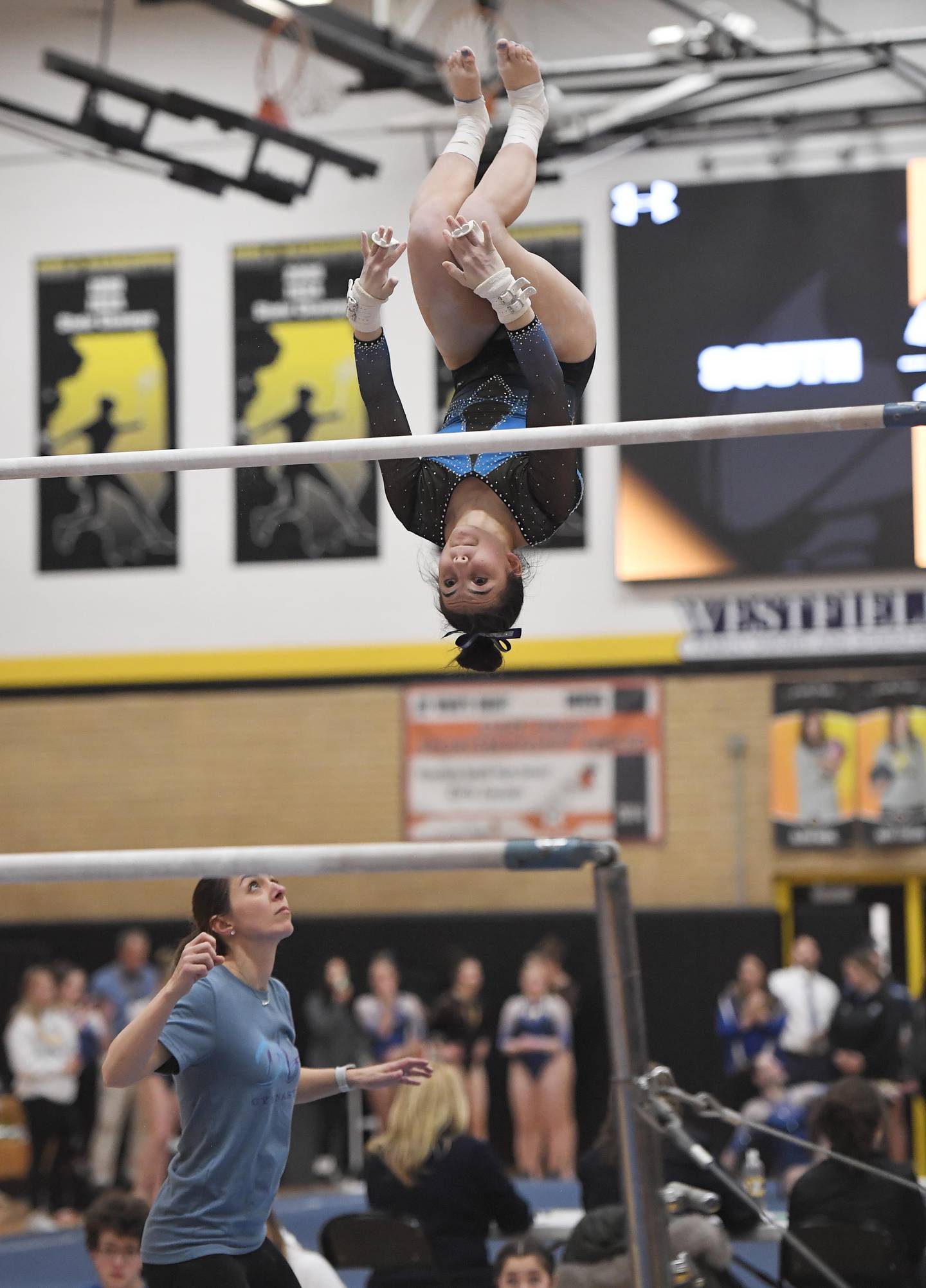 It had to be fun winning beam, which helped her finish fourth (35.875) in the all-around to earn a berth to state as well.
"I was the last one in the competition so that was something I'm proud of myself for, getting up there and sticking a routine," Snouffer said. "It was something I've been working on in practice. It's keeping my confidence up because I have the skills and just the mentality was something I was working on, especially at the end of the meet when you're tired and people have fallen before me."
Almost 10 years ago, Geneva was in this same situation and its patience was rewarded by making school history. The Vikings advanced to state for the first time via an at-large berth in 2015 and finished in fifth place. But first they had to sit and wait.
Geneva coach Kim Hostman certainly remembers.
"I'm super proud of them for remaining focused and getting it together [after beam] so we could be the No. 1 at-large team at this point," Hostman said. "Hopefully that score stands and we'll get through as an at-large. Half the team got through individually, which is fun to see, but really we want to focus on getting our whole team through."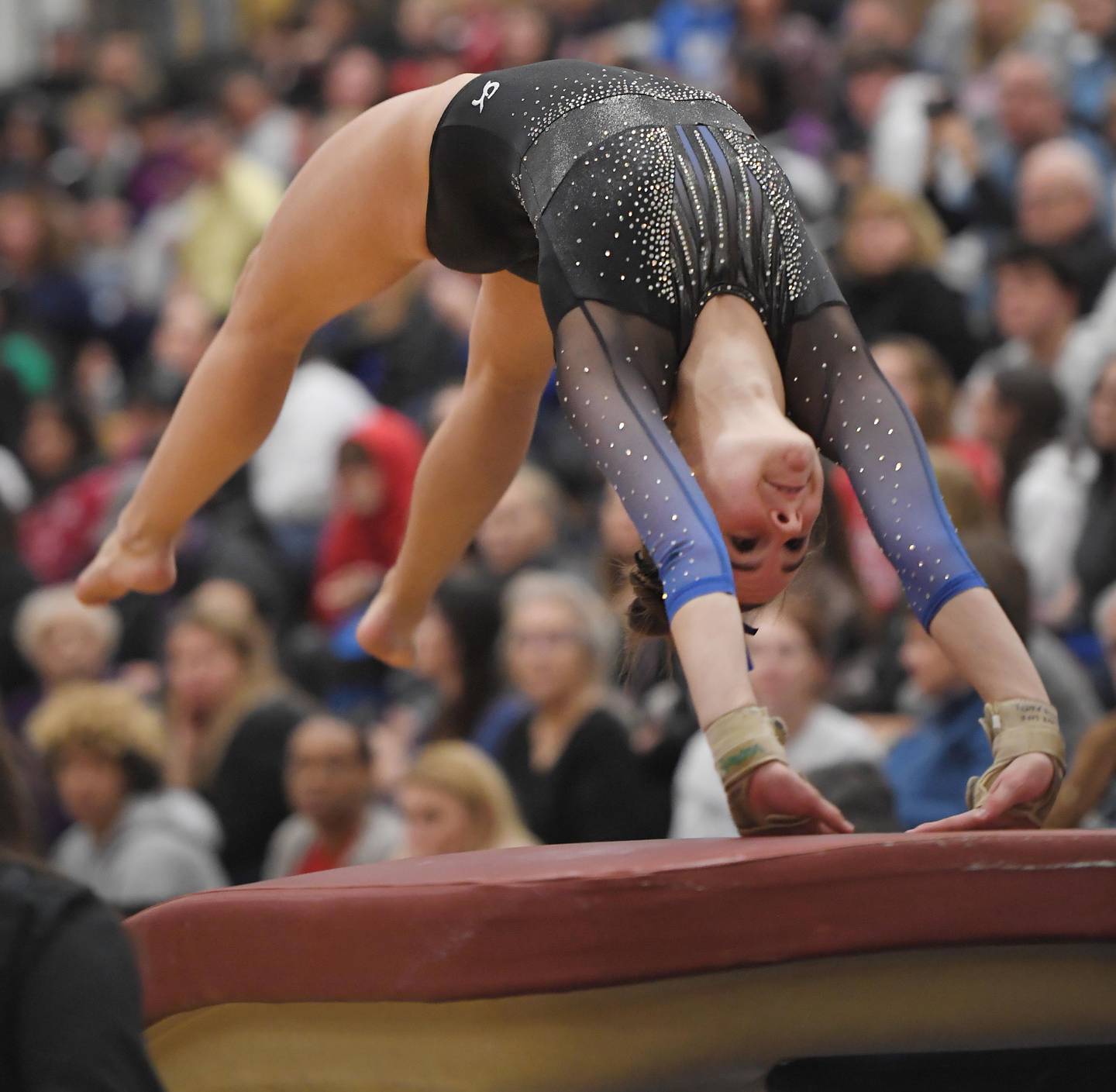 Junior Graci Weems had a fantastic effort for Geneva. She was second on floor (9.275), third on beam (9.05) and third in the all-around (36.025).
"I'm definitely really happy, especially after last year since I barely missed state, it was super close," Weems said. "I'm very glad I made it this time, and hopefully we make it at-large as a team. It would so amazing because we've all worked so hard."
Brooke Lussnig tied for second on vault (9.4) and was seventh in the all-around (35.75). Reese Lackey was third on floor (9.25) and eighth in the all-around (35.425). Senior Sadie Karlson was sixth in the all-around (35.6) and tied Lussnig on vault.
Karlson has the best chance to qualify for state in the all-around and join Weems.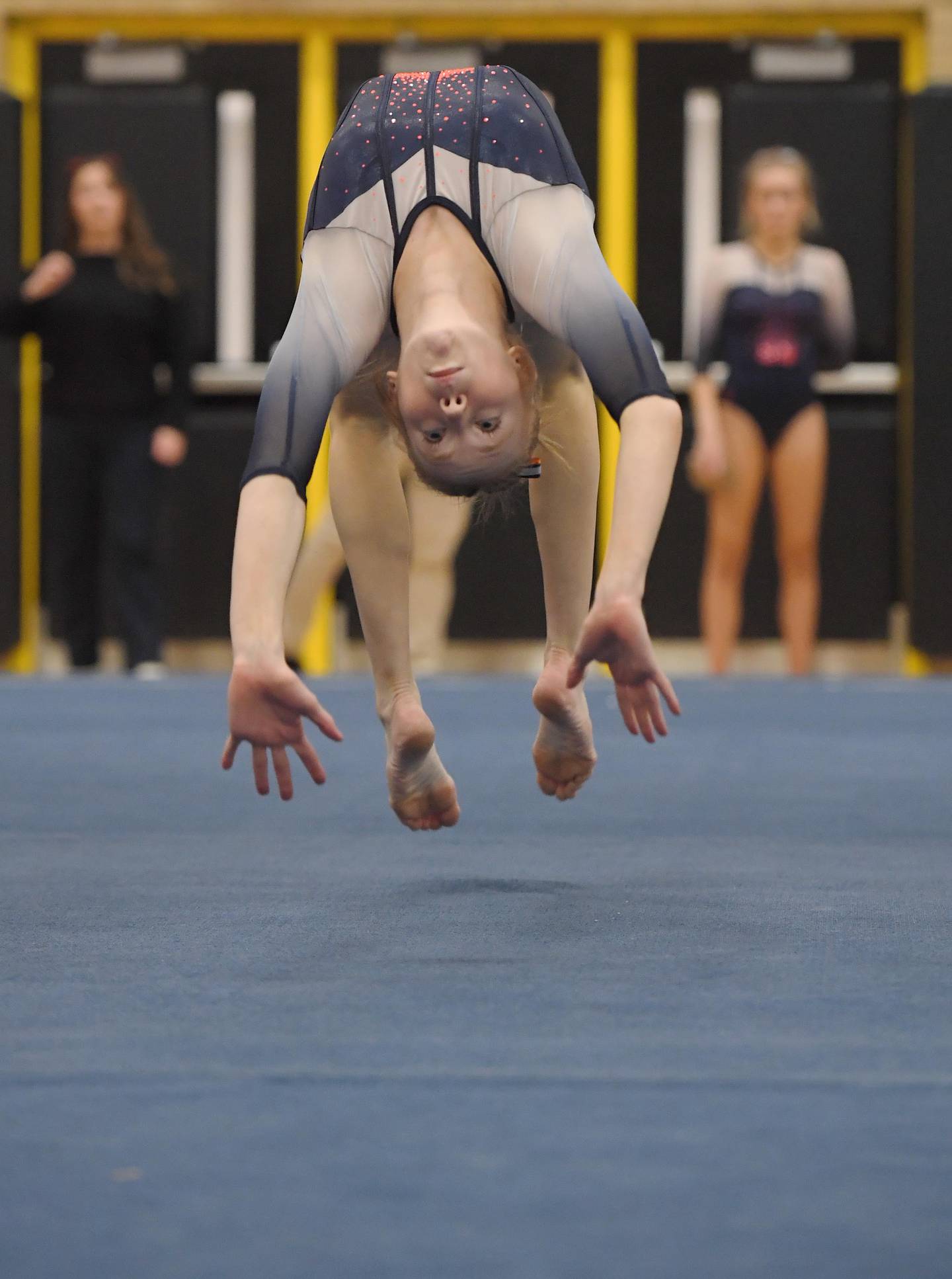 Oswego co-op scored 141.325, finishing just behind Lincoln-Way co-op's 141.6 for third place. While the team isn't mathematically eliminated sitting in the final at-large slot with two more sectionals to take place, the focus turns to individuals extending their season.
Sam Phillip and Ava Sullivan are the team's individual sectional champions.
Phillip won vault (9.475).
"I was focusing more on the team than me because we really did want to make it to state," she said. "And we had a chance, but it's OK. I have to thank my team. I don't think I'd be able to get through today. I was very nervous with all the cheering and stuff and I thank my team for helping me with how I did."
Sullivan acknowledged her floor exercise routine wasn't her finest. She may be able to go even higher at state on Feb. 17 than the 9.425 that won her a sectional title.
"It was a solid routine, but I think I've had better," she said. "It was good. I had a lot of fun. I just wanted to have fun this year. I'm having fun."
Hinsdale South sophomore Anya Patel took second in the all-around (36.325). She was third on bars (9.175) and fifth on floor (9.175).