BUFFALO GROVE – Lainey O'Neil was simply hoping she'd hit the final point inbounds.
Suffice to say, she was "really, really happy" when it did.
Locked in a nearly three-hour match to decide the Class 2A doubles state champion on Saturday, it was the Lake Forest team of O'Neil and Isabelle Chong who outlasted Hinsdale Central's Sophia Kim and Katie Dollens in a grueling 5-7, 6-4, 6-3 decision.
Shortly following, they were enveloped by their teammates and smiles were plentiful.
"I think we just have really good communication and we just calm each other down," Chong said of their collective composure for a marathon-like match.
"I also think with the [vocal] student section, we don't want to give them any energy or motivation," O'Neil added.
Despite the tough loss for Kim and Dollens, Hinsdale Central still emerged with the Class 2A first place trophy, the program's 19th state championship. Lake Forest, Stevenson and New Trier all tied for second.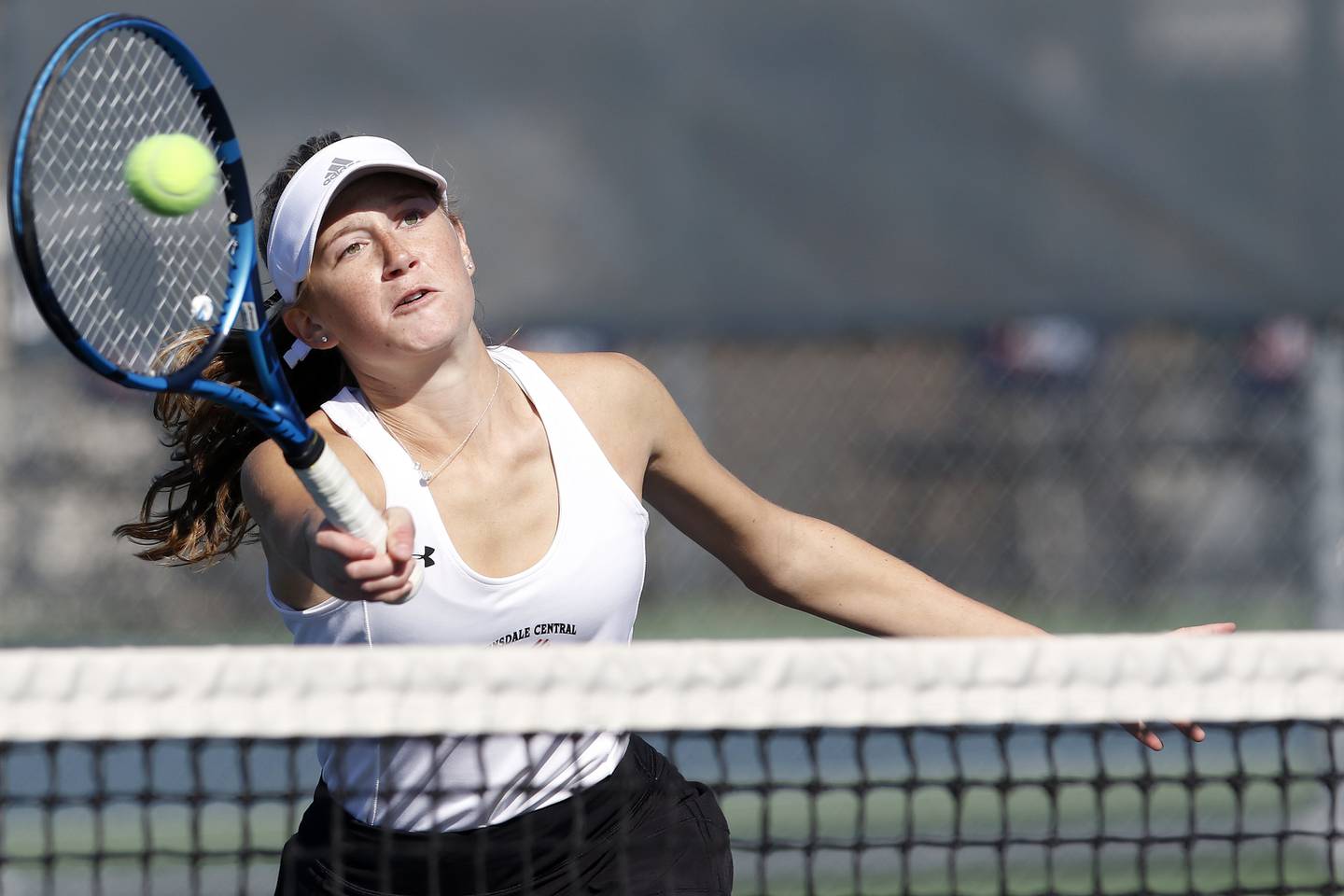 It was Dollens' second career second-place finish. In 2019, Dollens and then-partner Zoe Limparis lost to Glenbard West's Sienna Lopez and Shannele Lopez in the final.
"…It's always a really competitive match. In the end, it just comes down to unforced errors and and unfortunately, we were the team that had more," Dollens said.
In their first and only season as partners, Dollens and Kim fought all the way to the cusp of a title.
"I think it's awesome we got to the state finals," Kim said. I know we really didn't get the result that we wanted because everyone obviously wants to win, but I feel like we just got a lot closer this season and it was a nice way to end the season having state this year, especially with COVID last year."
Whitney Young's Jayna Dunwoody and Jenna Stevens defeated Deerfield's Abbey Lee and Natalie Schoen, 7-5, 6-3 to take third in 2A doubles.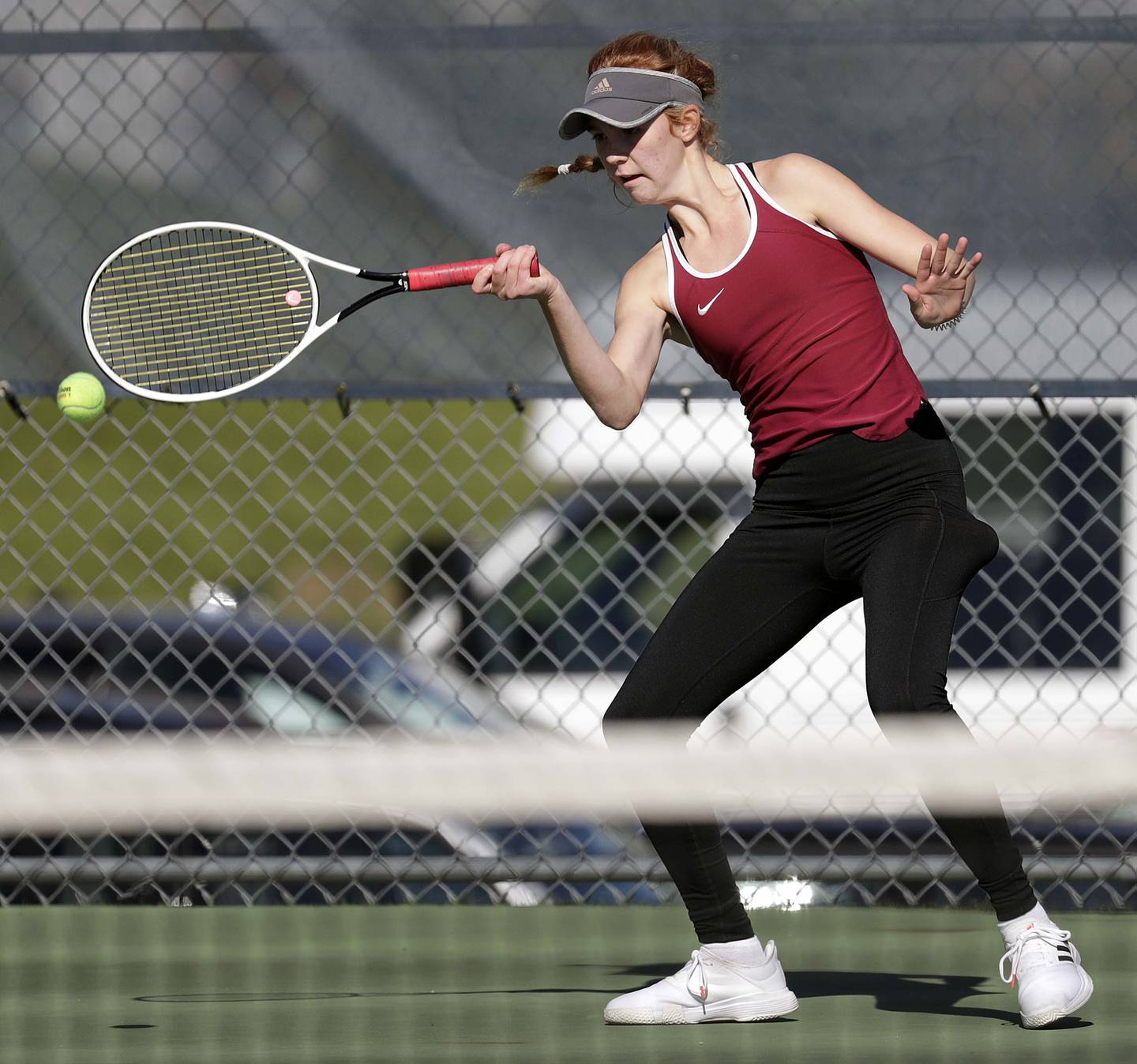 In the Class 2A singles championship, Stevenson's Sarah Wang defeated Lake Forest's Autumn Rabjohns 6-3, 6-2. Plainfield North's Jessica Kovalcik defeated Hinsdale Central's Anna Wiskowski 6-3, 6-2 to take third.
"I was just working as hard as I could, running for every ball; it was just a good time on the court," Kovalcik said. "…she was pushing me back a lot and she was moving me around. I just kept my mind straight and was running for every ball. I was just trying my best."
In Class 1A, Chicago's University High School won the team title with and Latin second. Timothy Christian tied for third as a team with Fenwick.
"This was somewhat unexpected. We had a good team. We have three girls; this is only their second year playing tennis. To me, that's a remarkable achievement," Timothy Christian coach Keith Mills said. "Having everybody kind of step up at the same time is the other part. It doesn't usually happen that way, but that's what you're looking for at the end of the season."
"Every match we had to win in this tournament, we did to get a trophy. That was our goal; we talked about it last week 'what do we got to do to get to the top three?' We were right there neck-and-neck with Fenwick, obviously," Mills continued.
In the 1A singles final, University High School's Emma Baker defeated Providence Catholic's Emma Davis 6-0, 6-3.
Davis and Baker have quite the familiarity facing one another, as Baker defeated Davis in the 1A semifinals in 2019. Baker then fell in the championship match to Lakes' Megan Heuser. They also squared off during a match in summer play.
"It makes it a little bit easier [to see an opponent more often] because you kind of know what to expect," Davis said. "…She was hitting a lot more spin today; not moving it as much so that was a little bit different. I had to be a little bit more consistent."
"It's really rewarding and it was really nice [that] some of our teammates came up to support," Baker said. "It was a really great atmosphere out here and [I'm] really excited to do it senior year."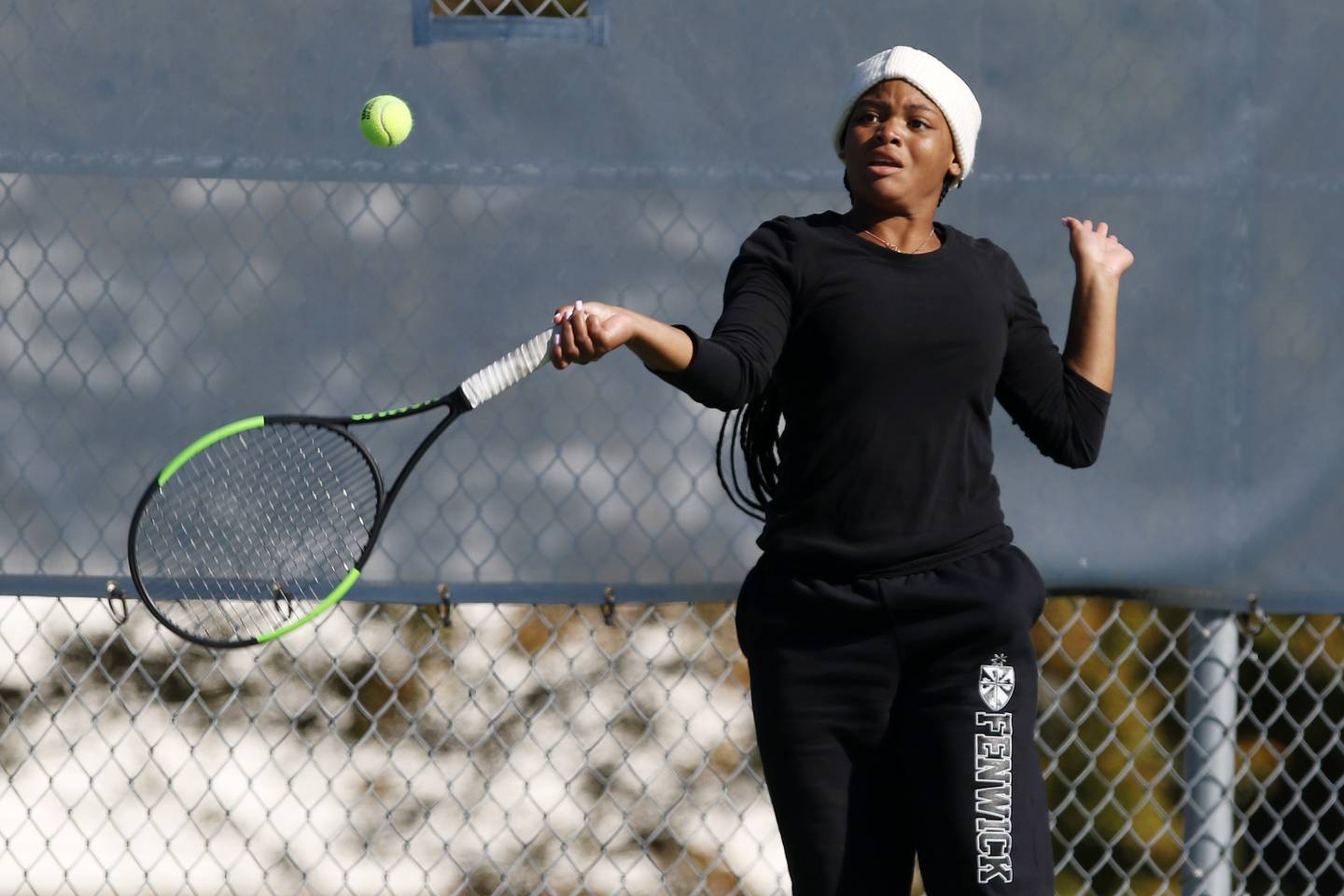 Davis, who placed fifth as a freshman and then third as a sophomore, finished her career with a new best.
"…It kind of shows that visual representation of getting better each year, mentally and physically," Davis said.
Davis is the last of a talented line of siblings to play tennis at Providence. They both played varsity for four years. Hannah Davis played Division I at Mount St. Mary's University and Sophie Davis currently plays Division II at Lewis University.
"Neither of my parents played competitively, but we used to belong to a country club, so that was where I picked it up for the first time and it kind of stuck," Davis said.