Megan Williams has the heart of a champion, something she proved twice at the IHSA Girls Track and Field 1A State Meet in Charleston last month.
But it's that same heart that very nearly derailed her drive to those medals.
Williams, who last month led Newark High School to second place as a team at the Class 1A IHSA Girls Track and Field Meet with two state championships, a second place and a third, has overcome much — including a serious health issue — in order to become the Record Newspapers Girls Track and Field Athlete of the Year.
Heart and lung issues Williams has suffered since the first year after her birth were kept in check until Williams got to middle school. That's when she experienced episodes of heart racing, even while at rest, possibly spurred by anxiety or quick changes in temperature.
Those symptoms occurred off and on until early this year, when they became so frequent, she said, her doctors ordered a heart ablation, a procedure where the heart is burned to create scar tissue that halts irregular electrical signals that make the heart beat too fast.
It didn't work because they were unable to make the heart beat faster to pinpoint where to burn, so "we're back at square one," Williams said. "It's just something that I'm going to have to live with until they figure it out."
Though she's had incidents during both volleyball matches and track meets, she has been able to battle through them to become a successful, all-state caliber athlete in both sports, capped by the greatest single day for an athlete in Newark history.
In her first event of the rainy finals day, the long jump, Williams shook off the move indoors and surprised herself with a personal-best leap of 5.66 meters on her final attempt to edge Henry-Senachwine's Nakeita Kessling (5.44 meters) for the top spot on the podium.
She later captured first in the triple jump, where her effort of 11.26 meters outdistanced Brynlee Keeran of Catlin Salt Fork (11.06).
Also that afternoon, she and Addison Ness, Lindsey Hatteberg and Kiara Wesseh teamed up to place second in the 4x200 relay, their time of 1:45.24 better than their fourth-place prelim time of 1:45.66, but not good enough to catch Tuscola's winning 1:44.11.
Finally in the 100 hurdles, Williams turned in another PR, 15.06 seconds, for third behind Altamont's Grace Nelson (14.19) and Tremont's Cambria Geyer (14.66).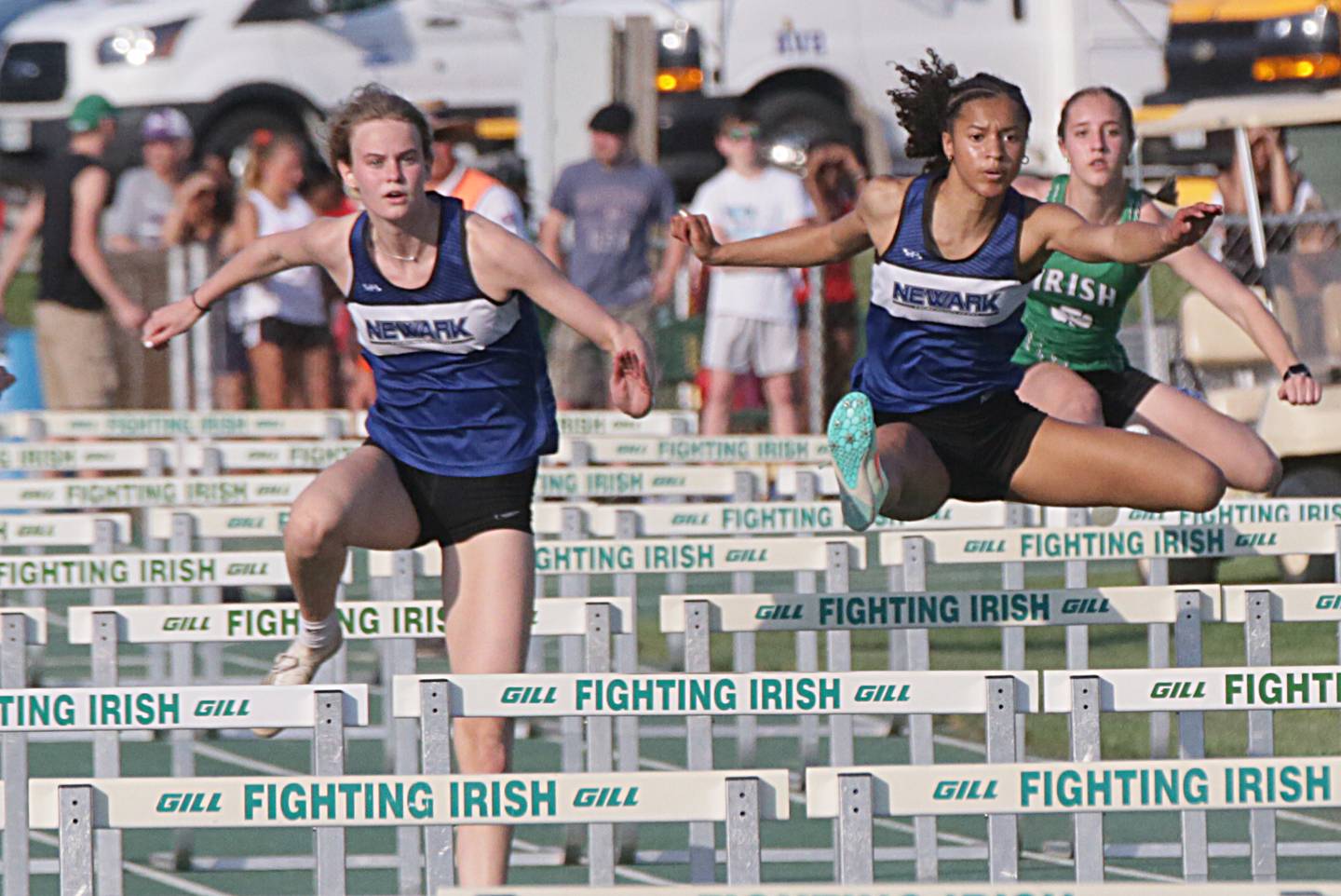 The 35 points earned in her events, plus another 19 earned by Wesseh's second in the high jump, third in the 100 and sixth in the 100 hurdles, gave the Norsemen 54 team points, second only to Tuscola's 57.
Williams, who won state volleyball titles at Newark her freshman and sophomore years, had been on a strong and steady path to that day. In her first year at NHS, she earned state bids in four events: the long jump, triple jump, 300 hurdles and 100 hurdles, the latter netting her first medal for placing seventh. Though COVID wiped out her sophomore season, she bounced back with an 11th place in the 100 hurdles and a state berth in the 4x100 relay last year.
Still, it was not a sure thing that Williams would even compete in track her senior year. It was her teammates — especially the presence of an athlete of equal talent like Wesseh — that changed her mind.
"At the beginning of the year, I wasn't feeling super motivated to do track, coming off a long volleyball season and de-committing from the college [Colorado Christian] I was planning to go to," said Williams, who is planning to take a short break from school and sports. "But I ended up just loving the girls on the team and Doc [NHS coach Dr. Jeff Schutt]. We wanted to push each other and do our best, but we also wanted to make it fun.
"I wasn't sure what the outcome would be, how the team would perform, but once we got a few meets in, I could understand where Doc was coming from about our having a good chance to do well at state.
"He was right."
It was that team atmosphere, plus overcoming no track facilities at Newark — they trained this spring at Yorkville Christian after previously working out in church parking lots — that makes the final day in Charleston the proudest accomplishment of her athletic career.
"Track was the coolest, getting where we did with no facilities and using whatever knowledge that Doc gave us to reach the best of our abilities," Williams said. "That made it special for me.
"I think I'd like to be remembered as somebody who was more than an athlete, just someone who cared about her team and the people around her, and showing kids that while athletics is a really cool part of life, there's more to life than just that and not to let it consume you. It's more important to have the people in your life to care about and to pursue what you want."