CHARLESTON – It doesn't take a lot of girls to make noise at the state level in girls track and field, just a few very talented ones.
Led by a pair of 1A state championships and two other medals earned by senior Megan Williams and four more medals from sophomore Kiara Wesseh, the four girls representing the Newark Norsemen put together the best state track finals effort in school history.
Newark was in first as a team with only two events to go before finishing a close second in a huge finals field competing on a rainy Saturday afternoon at Eastern Illinois University's O'Brien Stadium.
Newark was on top of the team standings until Tuscola had runners take second and third in the next-to-last event, the 200 meters, to squeak past the locals by two points for the title, 54-52.
There was plenty more glory for The Times area, as the Seneca 4x400 relay team of Clara Bruno, Anna Bruno, Evelyn O'Connor and Emma Smith came out of nowhere to lay claim to the championship in that event, the first state title for the Irish girls since Alyssa Applebee took back-to-back firsts in the 1A pole vault back in 2011 and 2012.
Also, Sandwich's Claire Allen took a second and a sixth in the discus and shot put, respectively, and Seneca medaled in two other relays, the 4x100 and 4x800.
It was an amazing day for the Norsemen, especially for Williams, who alone accounted 38 of the team's points, and Wesseh, who totaled 31.
Williams' efforts began in the long jump, which because of rain was held inside the adjacent fieldhouse. There she passed the preliminaries leader, Henry-Senachwine's Nakeita Kessling, with a jump of 10.66 meters. Kessling finished second with that prelim of 10.44.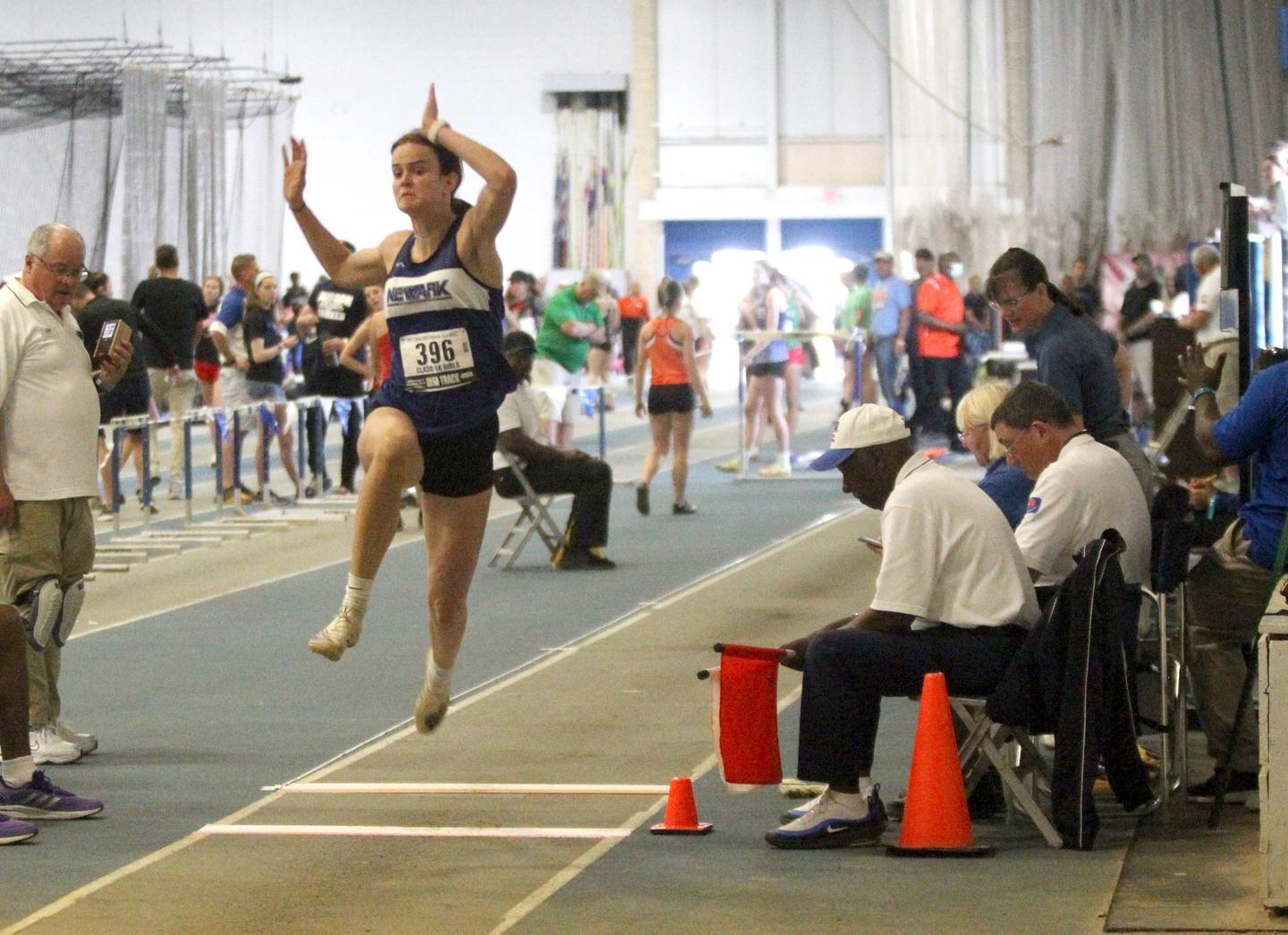 Because of a two-hour lightning delay, next for the Norsemen senior was the triple jump where her next-to-last indoor attempt went for 11.28 meters, far better than the 11.06 posted by runner-up Brynlee Keeran of Salt Fork.
Meanwhile, Wesseh was almost as strong in her event, the high jump, with the competition dwindling down to only her and Indian Creek's Brooke Probst. After each missed their first two tries at 1.72 meters, Probst made her final try, while Wesseh just tipped over the bar for a miss.
Moving outside, Williams and Wesseh first took part in the 100 hurdles, with the former equaling her prelim seed by finishing third in 15.06 seconds. Wesseh was sixth in the final with a time of 15.75.
When asked who was the better hurdler of the two, Wesseh quickly smiled and pointed to Williams. But Williams just as quickly answered, pointing to her teammate, "But she will be."
"I think this was really special because you don't often see two people from the same school in the same heat at finals," Wesseh said. "It feels very special for both of us to be here and …. I feel grateful that was was able to make the finals. It's been a good day."
Added Williams, "The most we ever run together is like three hurdles, but it's been special going from practicing together on a mat on a random gym floor somewhere, to this? That's special … and this being my last race ever, having it with Kiara was fun. It's been a really fun day."
Wesseh followed that event with a third place in the 100 dash, her time a solid 12.79 seconds placing her a heartbeat behind Alyssa Williams of Tuscola (12.31) and Kaylin Moreland of Macon Meridian (12.65).
Finally, Williams and Wesseh followed Ness and Hatteberg in the 4x200 relay, helping the quartet post a time of 1:45.24, second to Tuscola's 1:44.11. Williams said, and Wesseh agreed, that the 4x200 was their "favorite event of the day."
Seneca earned its championship in the final 1A event despite having the fifth-best time (04:10.27) coming out of the prelims. Still, Clara Bruno, Anna Bruno, O'Connor and Smith chopped almost a full five seconds off that clocking to lead wire-to-wire with a sizzling time of 4:05.51.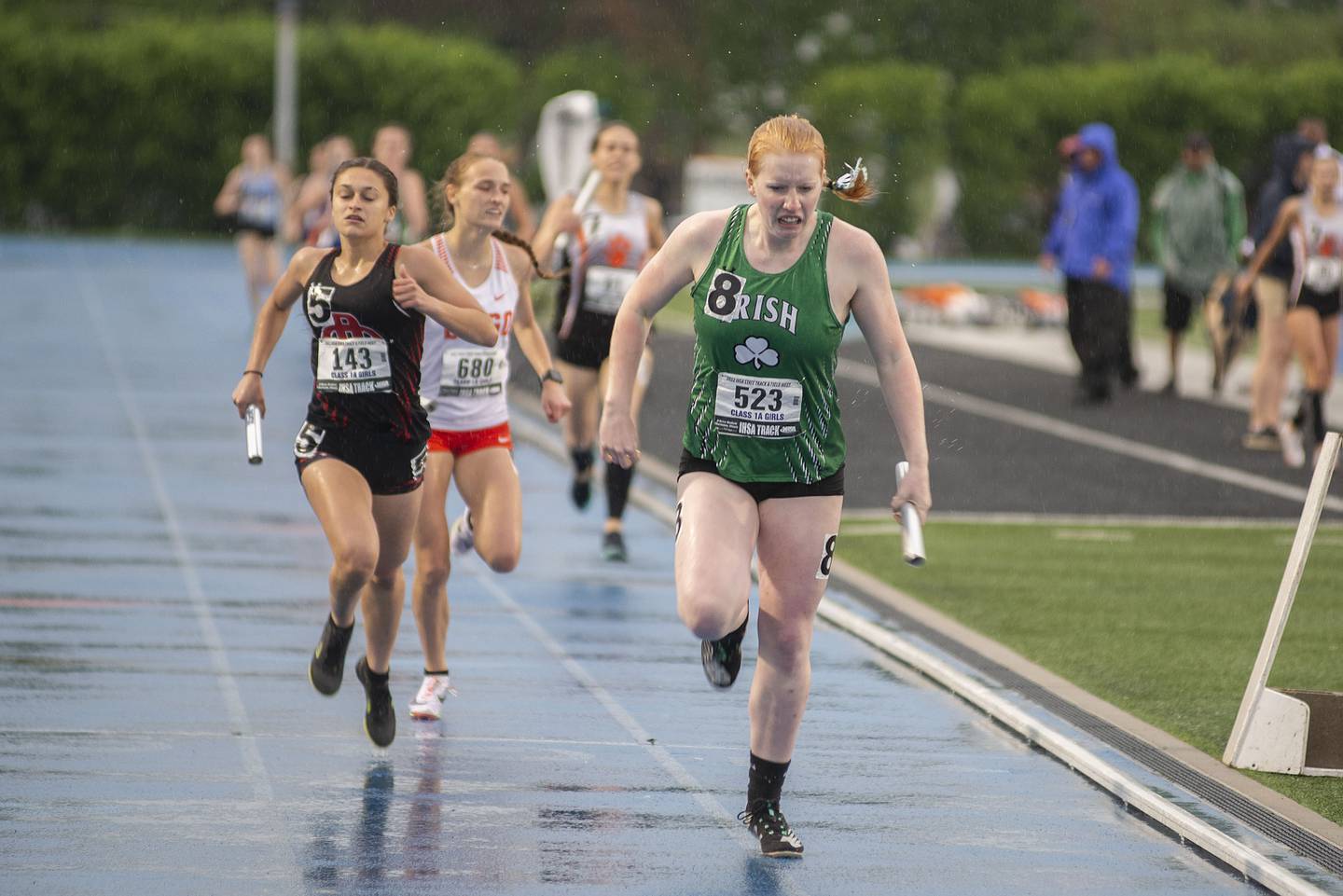 "I was just waiting for someone to come up on me, because I was thinking, 'This isn't real,' " Clara Bruno said with a chuckle.
"We came in as the fifth seed, which was fine, but we talked about how we had been in the back half [of the pack]," said Smith, still breathing heavily from her tremendous anchor leg. "I felt if we could knock off a few people, we could get our ranking or beat our ranking, but [Clara] comes out and crushes it, and everyone else just followed suit."
The Irish 4x100 foursome of Caitlyn O'Boyle, Smith, Taylor Draves and Faith Deering was nearly as effective, capturing fifth with a time of 50.76, half a second slower than its prelim posting of 50.35 because of the wet track.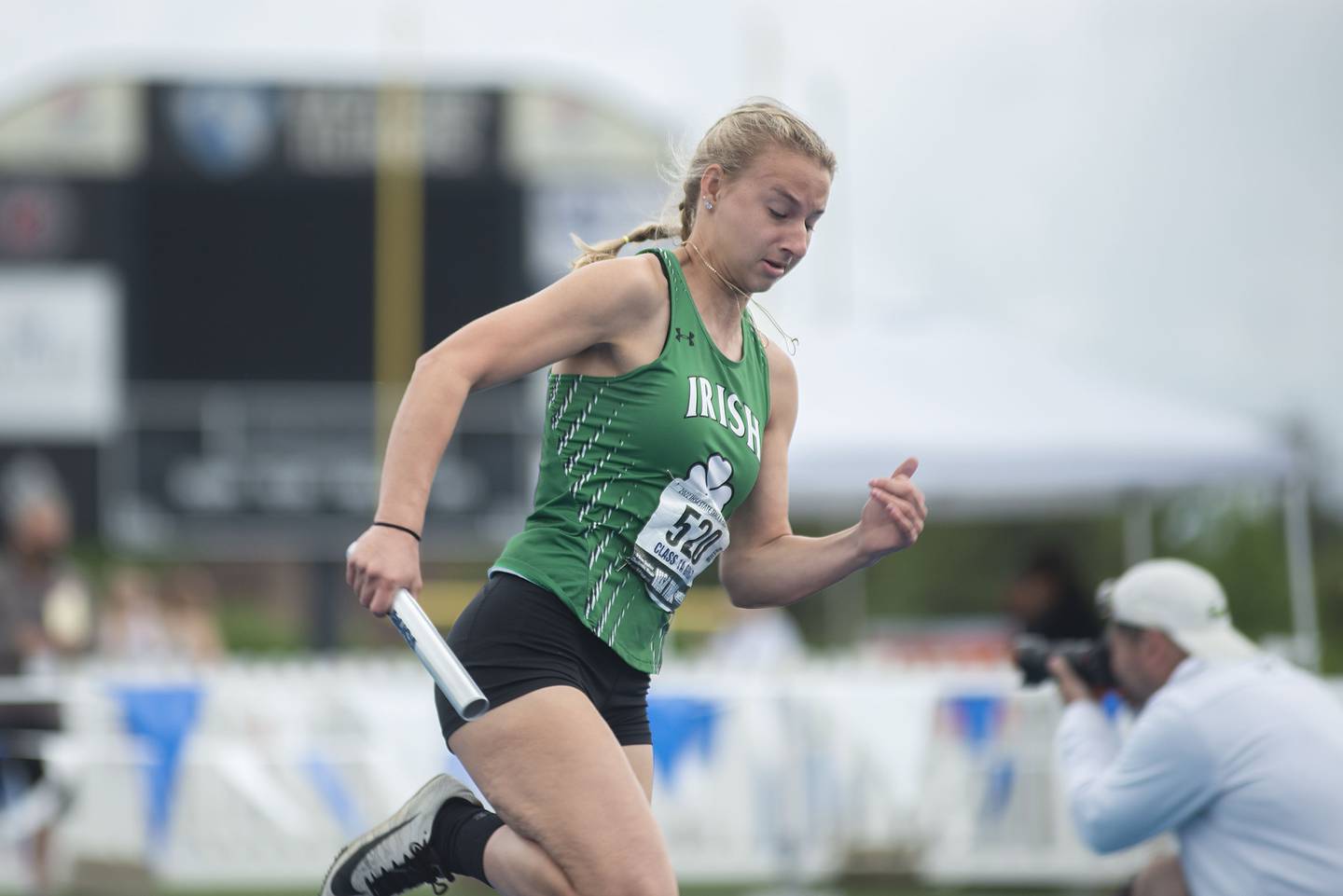 The 4x800 Seneca quartet of O'Connor, Ashley Alsvig, Gracie Steffes and Clara Bruno couldn't quite match its earlier time, but turned in a respectable 10:05.85 to finish eighth.
Sandwich's Allen entered the discus final as the top seed with a toss of 39.82 meters on Friday, but was not able to improve on that. Carbondale's Madyson Swope did throw better, going from the fifth-seeded 38.63 meters to a winning 39.92.
Allen was also a finalist in the shot put, where she jumped up from a seventh-seeded 11.11 meters to a final try of 11.79. However, that moved her up only one slot to sixth.
"I was happy with the discus. The shot, not so much," the Indians junior said. "The shot put was a little rocky, but I knew I would have made it from first to third based on how I threw [Friday], and I came out with second, so I feel good about that.
"Being the top seed was a little stressful, having to watch everybody throw before me. A girl three before me threw 10 centimeters further than I did, and that put pressure on, but I'm happy."