ELMHURST – Mariann Blass' eight-point swing to open the second half of York's dominating season-opening 78-53 win over St. Charles East on Monday is perhaps the perfect snapshot of the type of impact a third-year varsity starter is expected to exhibit at this stage.
Out of the halftime break, the York senior and Quincy University commit popped a three-pointer, grabbed a steal on her run back up the floor and converted the layup, plus the foul shot.
Following another Saints turnover, Blass was fed the fast break layup and the Dukes continued their hot start into the final minutes.
"For me, personally, [that sequence] helps a lot [confidence-wise]," said Blass, who scored 27 points and grabbed four rebounds in the season-opening clinic at the York Thanksgiving Tournament. "I know that's one thing I've worked on is my mentality – whether I make it or miss it – just getting that next play."
"I think, as a team, having that swing of points really brings our energy up," Blass continued. "It really brings our confidence up and it kind of shows we're in this; we're ready to go and you've got the momentum going our way.'"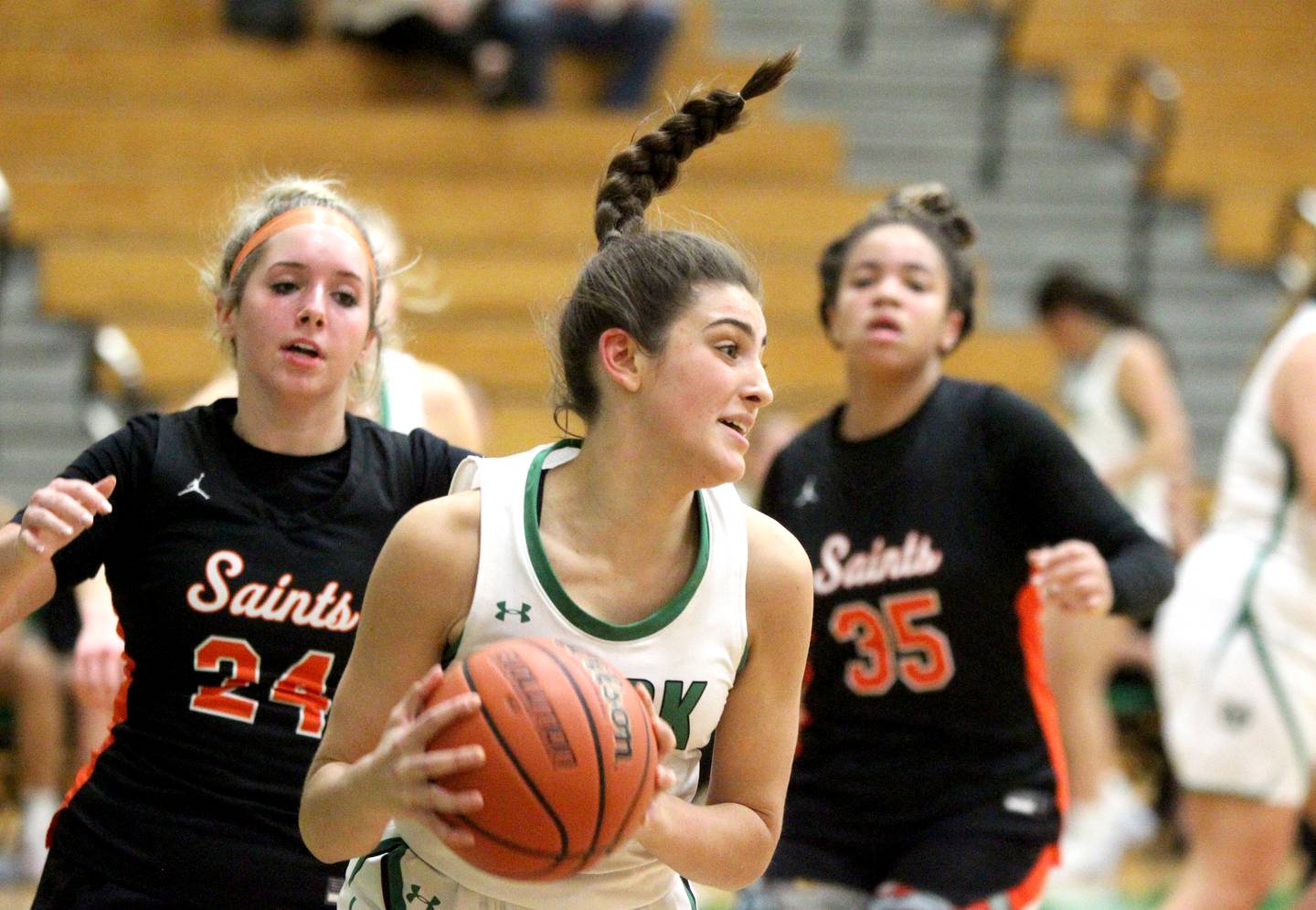 York (1-0) is returning four starters and its entire bench from last season. So the Dukes' swarming defense, athleticism and shooting ability on the floor are all components of a team looking to make another jump from its 17-13 record from last season.
The Dukes harassed the Saints (0-1) with seven first quarter turnovers and they quickly translated that into a 22-10 lead at the end of the opening quarter.
"Like we said last year, this was going to be a two-year process for us," York coach Brandon Collings said. "We feel like we're so much more ahead this year because of everything we were able to put in last year and carrying it over into this year. We felt so much more confident heading into this first game."
Blass is flanked by fellow three-year starter Lizzie Baldridge, Stella Kohl and Hannah Meyers as the core group looking to make a leap.
"This summer and fall, we had the backbone of what we were doing," Collings said. "We just continued to get better."
Blass, who has played plenty of varsity minutes to this point, is still prioritizing consistency with her shot.
"I think the biggest thing, though, is discipline on defense," Blass said. "There's a lot of moving parts with our defense. For me, just making sure I could jump up and try and deflect a pass, but that's not smart because the odds of me doing that are very low. So I need to stay disciplined, stay down, drop back, and get back into my spots, and stay there and trust my teammates have everything else if I'm doing my job."
Baldridge followed up with 17 points, Kohl had 13 points and two rebounds, while Meyers added nine points, all on threes. Angelina Downer had seven points and six rebounds for the Dukes.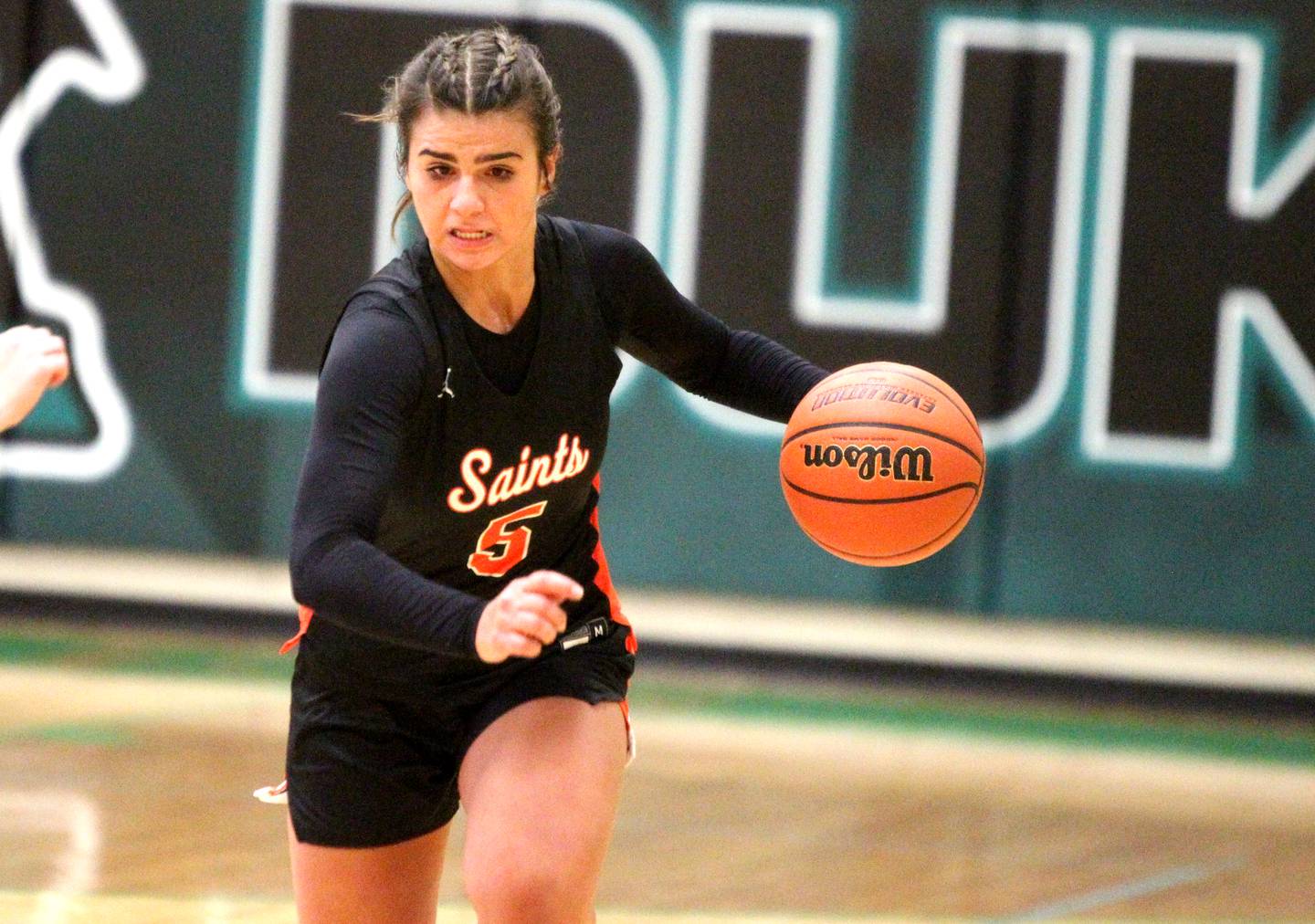 St. Charles East was missing usual starting point guard Alexis Maridis with an upper body injury and Saints coach Josh Foster does expect her back at an unspecified time.
"She's getting through it," Foster said of his starting guard. Hannah Masud was elevated in her place for the start.
The Saints are also working through replacing significant production lost due to graduation in the overall rotation with former four-year starter Torrie Kortan, Cali Papez and Olivia Kiefer out of the picture, too.
"…Everybody is kind of having to move up," Foster said. "[They're then] going to have a lot more responsibilities and jobs, so it's something what we're going to do a lot of growing [with] these first couple of weeks."
The Saints managed to somewhat claw back with a barrage of third quarter threes from Emma Yakey, Brooklyn Murphy and Lexi DiOrio, but York managed to sustain the already-found momentum the rest of the way to coast to a win.
Corrine Reed led the Saints with 13 points and nine rebounds, while Yakey had nine points and three rebounds, and DiOrio also had nine points and two rebounds.
"I didn't have a problem with the shots that we took. The real issue was our defense," Foster said. "[And] our turnovers and communication. We've got everybody when people move up the line, it takes a little while for them to figure it out. Even our seniors we got, not a lot of them – we graduated basically 70% of our varsity minutes – it's just an experience thing, so I was hoping it'd be a little bit better, but I wasn't incredibly surprised by the struggles."