GENEVA – The path to the Geneva Grotto winds from a parking lot in back of the Kane County Government center in Geneva in the Gunnar Anderson Forest Preserve.
Just follow the sign that says Geneva Grotto and you will pass prairie plants, trees and occasional deer, arriving at makeshift steps that lead to an unexpected sight: An altar, about 40 feet wide and 20 feet high, flanked by Christian images in mosaic stones and sheltered by a soaring dome.
The grotto was built by a priest and brothers in the 1930s when the government center was the Sacred Heart Seminary, Batavia resident Bob McQuillen said. He is a member of the Knights of Columbus Council 2191, which has taken the lead in the grotto's restoration efforts for the past several years.
"The main reason this is important is that it's a historic site in Geneva and part of the history of the city," McQuillen said. "Just like a lot of historic things, you try to save them and this was in disrepair for a number of years. We decided this was something very cool and very unique and restorable."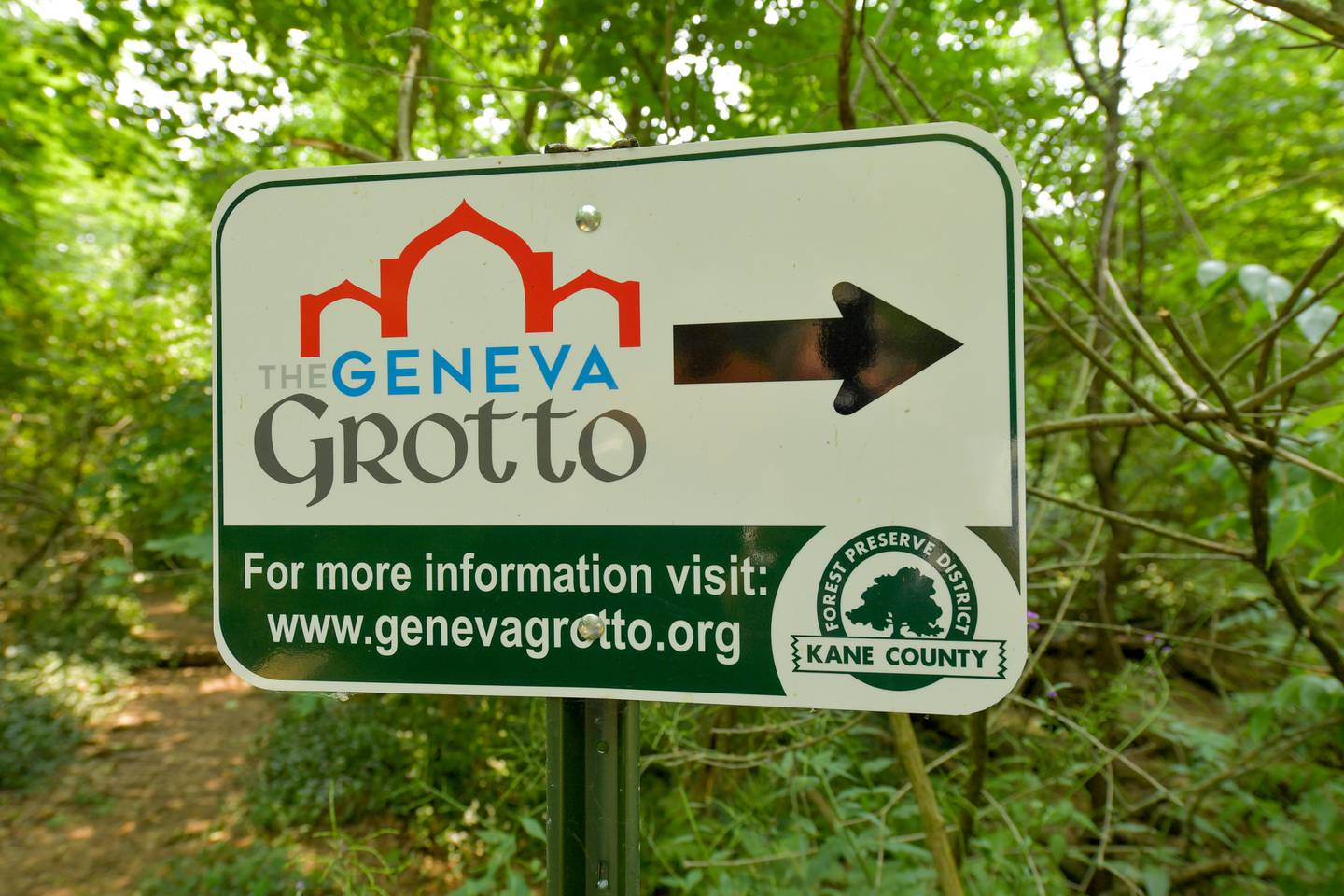 While the grotto is decidedly Catholic in origin – as the Knights are from St. Peter in Geneva and Holy Cross in Batavia – it is open to anyone who wants to see it, to come to it, to meditate, pray or leave votives and prayer cards on the altar.
On a recent afternoon, the altar was almost full of remembrances.
A handwritten note says "Prayers for Baby Robert and everyone affected by COVID."
A smiling brown-eyed young woman Yoselyn T. Mondragon, who died at age 31 on July 4, 2018, is remembered.
A yellow lab with a stick in its mouth, known as Stick Dog 2011-2022, is remembered. "These will forever be his woods."
There's a Wyoming license plate, 28904, of a fiancee who died.
Vandalism spurred restoration work
Batavia resident Patrick Murtaugh recalled when a brother Knight asked him to look at the grotto on Oct. 20, 2014, after vandals had defaced it.
"He said, 'Pat, we have to do something about this,'" Murtaugh said.
Murtaugh formed the Geneva Grotto organization and serves as its chairman. McQuillan is the treasurer, and Murtaugh's wife, Ann, is the secretary.
"Really, all I've done is spread awareness with our Knights Council," Murtaugh said. "And getting the initial contract with the [Kane County] Forest Preserve District," to allow the Knights to continue to clean and maintain the structure.
West Chicago resident Christine Alimenti said she is no longer a practicing Catholic, but began to volunteer for the grotto's restoration after seeing it on Facebook.
"I thought, 'What a cool place. I have to explore this,'" Alimenti said. "I was born and raised Catholic and it ended there. But once I got there to the grotto, I got involved."
Alimenti said she has provided about 150 to 200 pounds of stones to replace many missing from the grotto's mosaics.
"I found stones like in the garden bed, the fire pit, around my house," Alimenti said. "I would break them apart in my driveway to the appropriate-sized pieces. I glued them in with … construction adhesive."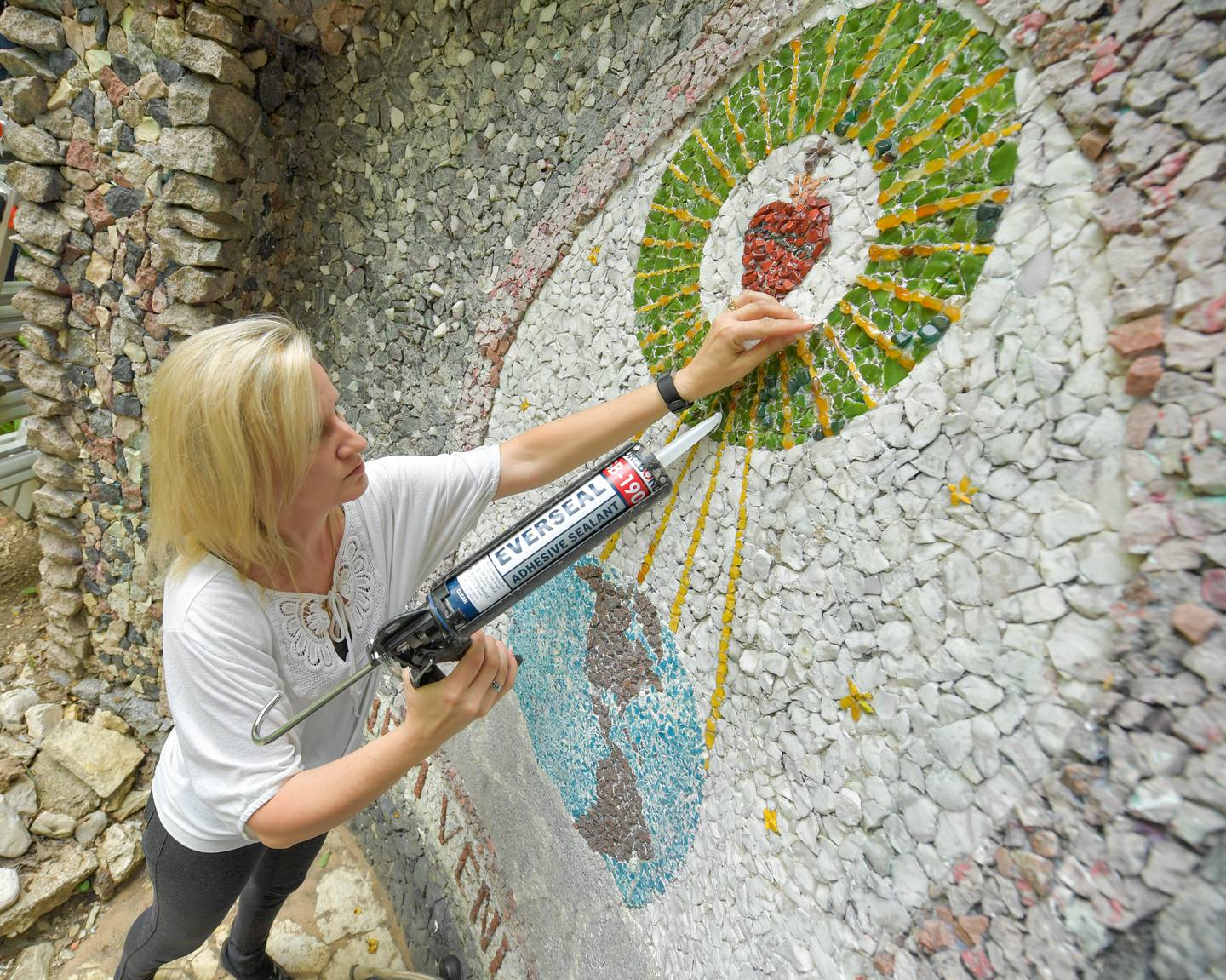 She also found stones on the beach, ordered some from Amazon and bought some from Menards.
"I was constantly looking for them. Yellow for the chalice. Pink to line the whole altar – pink granite," Alimenti said. "The white speckled granite I found in Scottsdale, Arizona, for the cross. … One of the [seminary] brothers went to central Illinois to a silica plant where there was all this pretty slag … a waste product of manufacturing. He was upcycling in the 1930s and brought all this back and the colorful part of the murals are slag … the mauve color."
Alimenti, 59, said she never volunteered for anything before, but has logged 130 hours at the grotto so far this year.
Memorial brick fundraiser
While Alimenti is known as the rock procurer, Batavia resident Valerie Taylor and her daughter, Victoria, have been placing them in the mosaics.
The mother-daughter team began helping with the cleanup two years ago when Victoria was 16, getting rid of graffiti, pulling weeds and planting flower beds, Taylor said.
Members of Holy Cross in Batavia, Valerie Taylor said she spearheaded the idea of memorial bricks as a fundraiser to continue the grotto's restoration.
The bricks are $100 or $125 – with clip art. The bricks will mark the walkway to make it easier for people to walk and stand in front of the grotto, she said.
"The money we raise from it will be used to do the major restoration pieces none of us can do on our own," Taylor said. "None of us can do tile work and that is a huge expense, finding matching tiles and replacing them."
The tiles create the platform and steps up to the altar.
"It's a piece of history," Taylor said of the grotto. "The religious beginnings of it do not matter. It's become so much more. When you're out there, you are connected with nature and connected with the past."
Last graduate of the seminary
Ken Wiesbrook, 69, of Oswego said he was the last student who graduated from the high school that was at the seminary.
"I graduated on June 2, 1972," Wiesbrook said.
At the time, his family lived in South Elgin.
"When I was a senior in high school there, they told us they were closing it. We were a small school, just 29 guys," Wiesbrook said. "I wanted to be a member of the Missionaries of the Sacred Heart."
Instead of a career in religious life, Wiesbrook said he became a sheet metal contractor and has his own company, Wiesbrook Sheet Metal, in Plainfield.
As so many things seem to go in a circle, Wiesbrook manufactured a new cross out of stainless steel for the top of the dome over the grotto.
"I found out about the grotto group on Facebook," Wiesbrook said. "I had history with it and I love to be involved with it."
Information about the Geneva Grotto is on Facebook.
Information about the memorial bricks is available at memorialbricks@genevagrotto.org or bobmcquillan@sbcglobal.net.