Dozens arrived at St. Joseph Hospital in Elgin on Wednesday morning carrying signs to show support for a couple battling COVID-19 inside the intensive care unit. Sadly, however, as many arrived, they learned that one half of the couple had died.
Maria and Sebastian Abbinanti of Elgin had been intubated, sedated and on ventilators fighting the disease for weeks.
The couple's family had been pleading with hospital administrators to allow their doctors to administer the controversial drug, ivermectin, as a final effort to try to save their lives.
Their attending doctors were in favor of administering ivermectin, which is not approved for use in COVID-19 patients by the U.S. Food and Drug Administration.
On Dec. 15, Patrick Walsh, an attorney hired by the Abbinanti family, sought an emergency temporary restraining order against the hospital, owned by AMITA Health, in efforts to allow doctors to give the couple ivermectin.
But time ran out for 40-year-old Maria Abbinanti, mother to three sons ages 4, 9 and 12.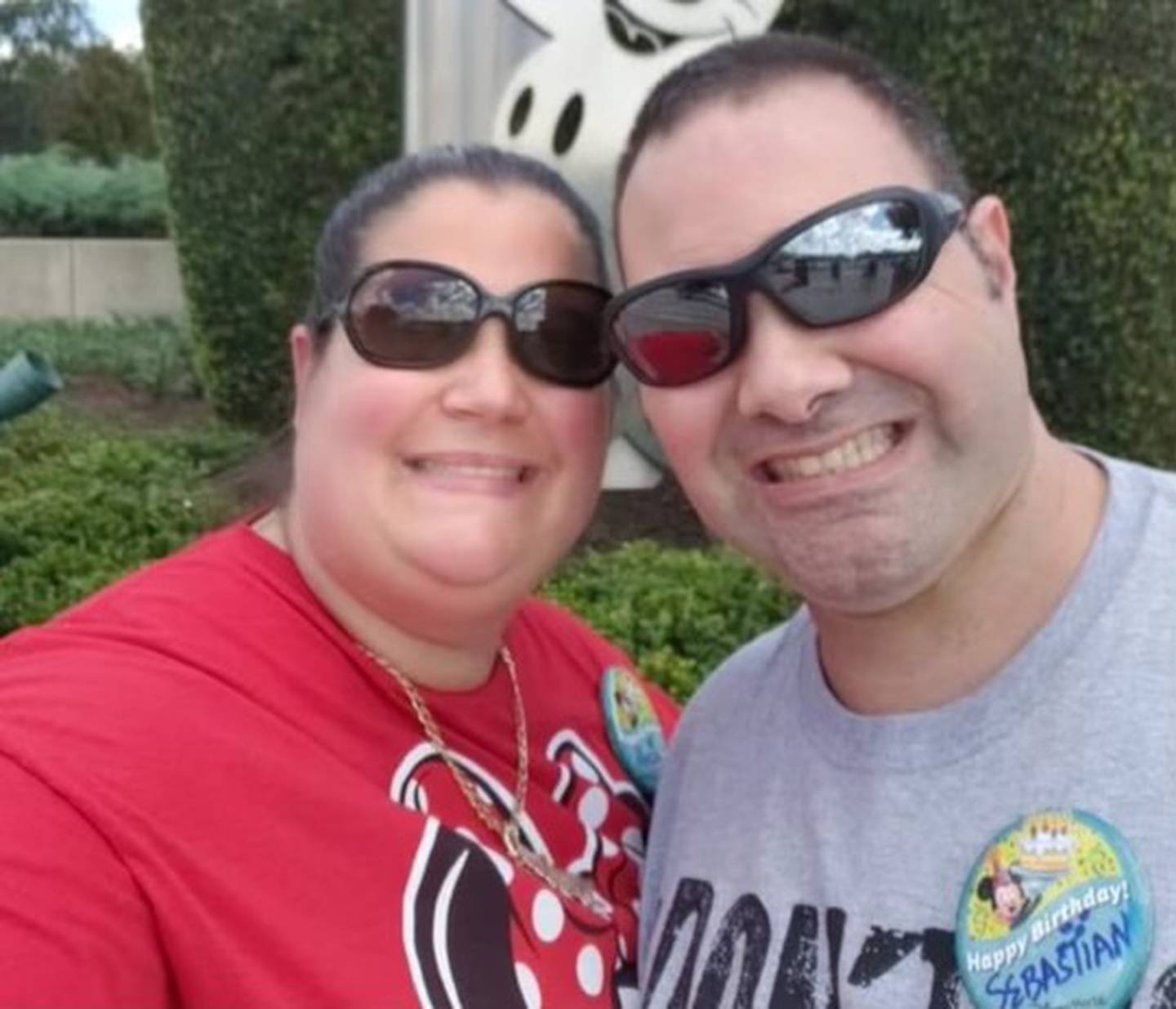 "Overall, most of the people that showed up (to the vigil) didn't know Maria had died," said Chrissi Bretz, 38, of Geneva. Bretz, like most of the people who attended the vigil held outside the hospital in the frigid air, did not know the couple.
"They were coming to rally and support and when they were met with the news she died, it definitely shifted the tone and urgency of, 'what can we do?' You feel so helpless. Let's make sure these children are not orphans."
When the news spread of Maria Abbinanti's death, the tone grew somber, attendees said.
Roughly 60 people showed up, many holding homemade signs. One sign read "Shame on you St. Josephs save this family," another read "Denying proven treatment is murder," and another "The Abbinantis have a lot to lose."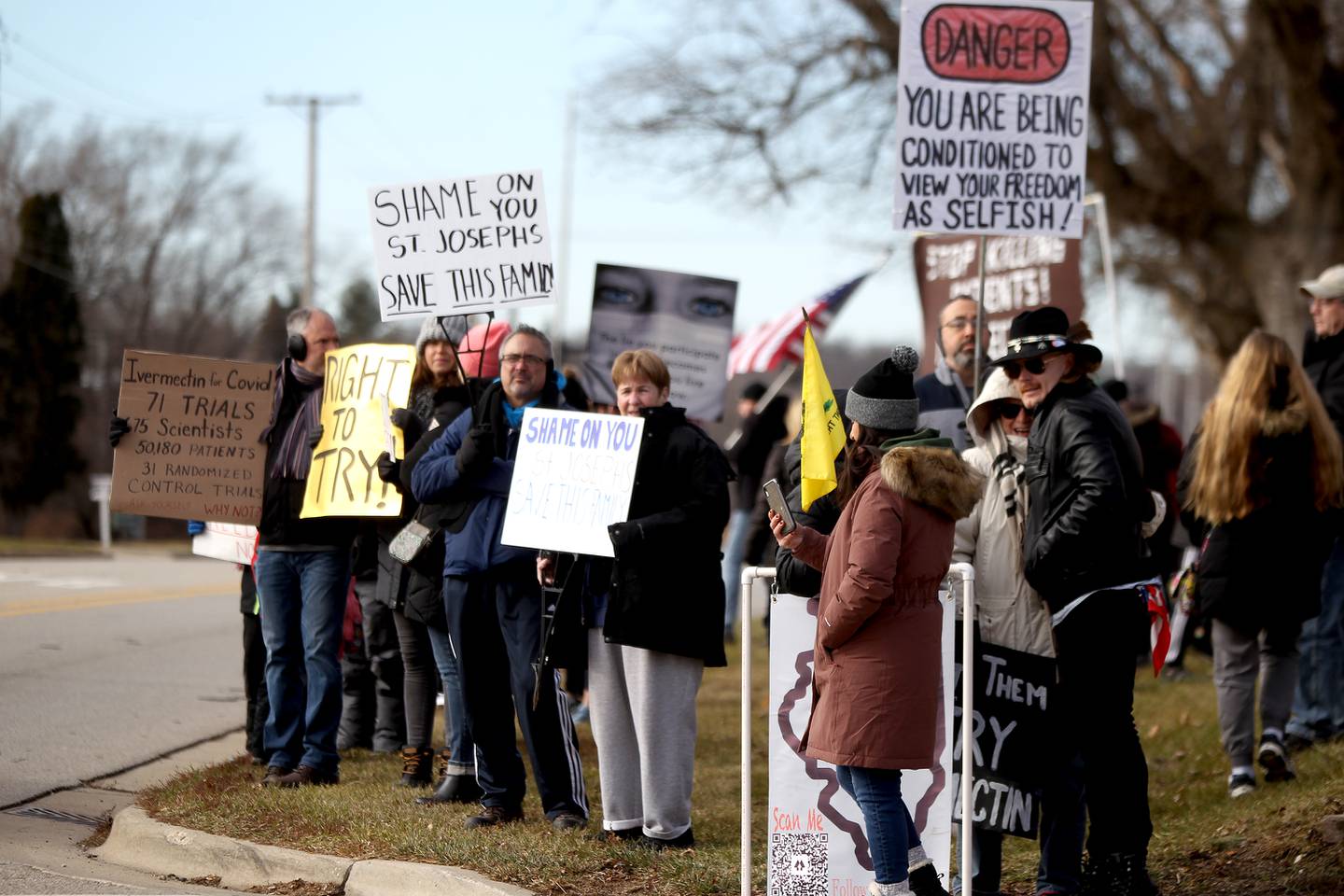 The group, which consisted of people of different ages and included a member of the clergy, cried and prayed. Some drivers passing by waved and honked their horns in support, and someone delivered the group hot coffee, Bretz said.
About 10 of the Abbinanti's family members also were present. Later Wednesday, Maria Faso, Maria Abbinanti's aunt, said in a text message that she and the family were thankful for the group's support.
Maria Abbinanti was not vaccinated against the virus because, Faso said, she had been suffering for more than a year from allergies. A physician advised against her getting the vaccine until testing to find the cause of her allergies was complete, Faso said Abbinanti had told her. Maria Abbinanti had gone through scratch tests about two weeks before being diagnosed with COVID-19 and had a terrible reaction, Faso said.
Walsh said the vigil "was very nice."
"It was a bit more solemn than had been planned," the attorney said. "A lot of the attendees learned of her passing when they arrived. The tone eventually changed from sadness to minor anger at what had been going on."
Many also showed concern for the couples' three young sons who were about to learn their mother died just days before Christmas. The boys had not seen either of their parents since before Thanksgiving.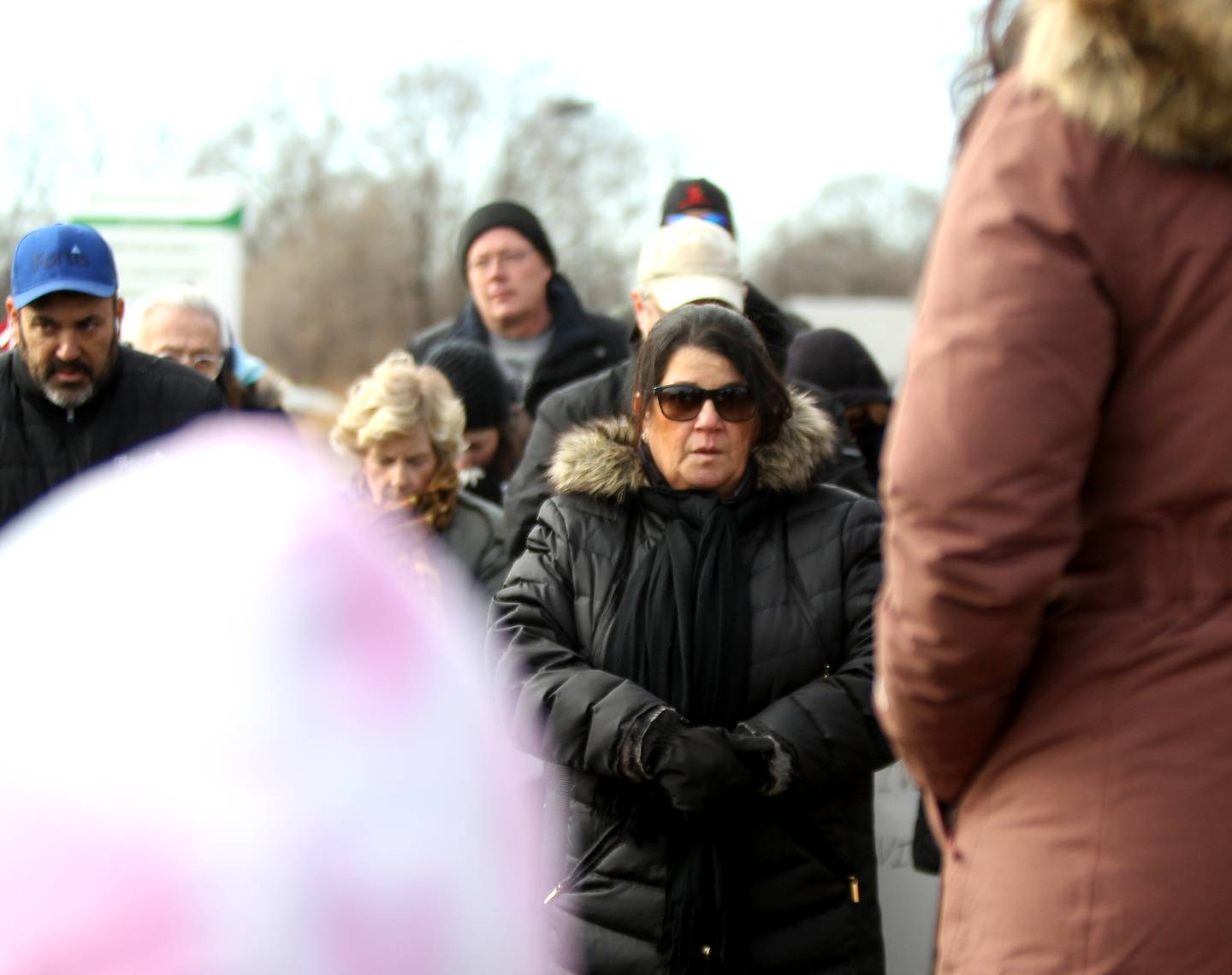 On Monday, Walsh filed an emergency appeal in response to Kane County Judge Robert Villa's denial of his request for an emergency temporary restraining order against the hospital. The order, initially argued on Friday, would have allowed the Abbinantis' physicians to administer the drug to the couple.
The petition stated that all treatments had been exhausted and there was nothing else left that the doctors could do. The couple was merely being monitored and showing no signs of improvement, according to the petition. The filing also stated that neither the couple, nor their family, would hold anyone — doctors, nurses, hospital staff — liable should the ivermectin cause an adverse reaction or the couple died from it.
The hospital's attorney, Joseph Monahan, argued that the drug was not FDA-approved for the treatment of COVID-19 and that the courts had no right to intervene in this case.
On Wednesday, the same day as the vigil and the day the hospital was required to respond to the appeal, Walsh asked an appellate court to supplement the record with notice that Maria Abbinanti had died. Her death deems the case moot as it relates to her, Walsh said.
After the hospital responds, the appellate court has up to five days to rule on the appeal.
Walsh said he is "hopeful" the appellate court reviews the materials quickly and that it is aware this is "an emergency situation."
Sebastian Abbinanti, 41, showed slight improvement Wednesday, Walsh said.
"There is some cause for cautious optimism, I think," Walsh said. "We are not out of the woods yet, but there have been some signs of improvement."
Calls to Monahan's office on Wednesday seeking comment were not returned.
A spokeswoman for AMITA Health would only confirm that Maria Abbinanti had died. She said there would be no further comment from hospital officials.
Walsh said since the story about the Abbinantis' plight was first published, he has received calls from other families in the Chicago area asking for his help in having ivermectin administered to a loved one.
"My interest (in such cases) is in the hospital having to follow the law," Walsh said. "It doesn't matter what the drug is at issue. The hospital should not be allowed to interfere with the patient/doctor relationship or override the doctor's best judgement. To me, it is not the drug that counts it is the law that counts."
Ivermectin is a drug typically used in humans for head lice and stomach parasites. A formulation of it is used to treat such ailments in animals, according to FDA.gov.
"Use of ivermectin for the prevention and treatment of COVID-19 has been demonstrated to be harmful to patients," according to a joint statement by The American Medical Association (AMA), American Pharmacists Association (APhA), and American Society of Health-System Pharmacists (ASHP) dated Sept. 1, 2021. "Calls to poison control centers due to ivermectin ingestion have increased five-fold from their pre-pandemic baseline."
The authors of the statement "strongly" urge doctors against prescribing the drug and to push patients toward FDA-approved vaccinations to prevent COVID-19. They want doctors to tell patients asking for ivermectin that potentially toxic effects of the drug include "nausea, vomiting, and diarrhea. Overdoses are associated with hypotension and neurologic effects such as decreased consciousness, confusion, hallucinations, seizures, coma, and death," according to the statement on the AMA site.
Jean Meyer, 61, of Elgin, said she is a retired nurse who has a master's degree in nursing and once worked as a registry nurse at St. Joseph in the ICU and emergency room.
She also attended the vigil to support the Abbinantis, whom she does not know.
"We went to the vigil to stand for him," she said. "These kids don't have a mom anymore. If he's gonna die, why not give him this drug?"
An online fundraiser has been set up for the family. As of Wednesday night it had earned more than $12,500.