St. Charles native Chris Witaske got his first taste of performing in front of a crowd, when, as a youngster, he would perform magic tricks at birthday parties for kids.
Fast-forward to today, when his latest project, the adult animated comedy "Chicago Party Aunt," premiered on Netflix on Sept. 17. "Chicago Party Aunt" was inspired by Witaske's Twitter parody account @ChiPartyAunt, which he started in 2016.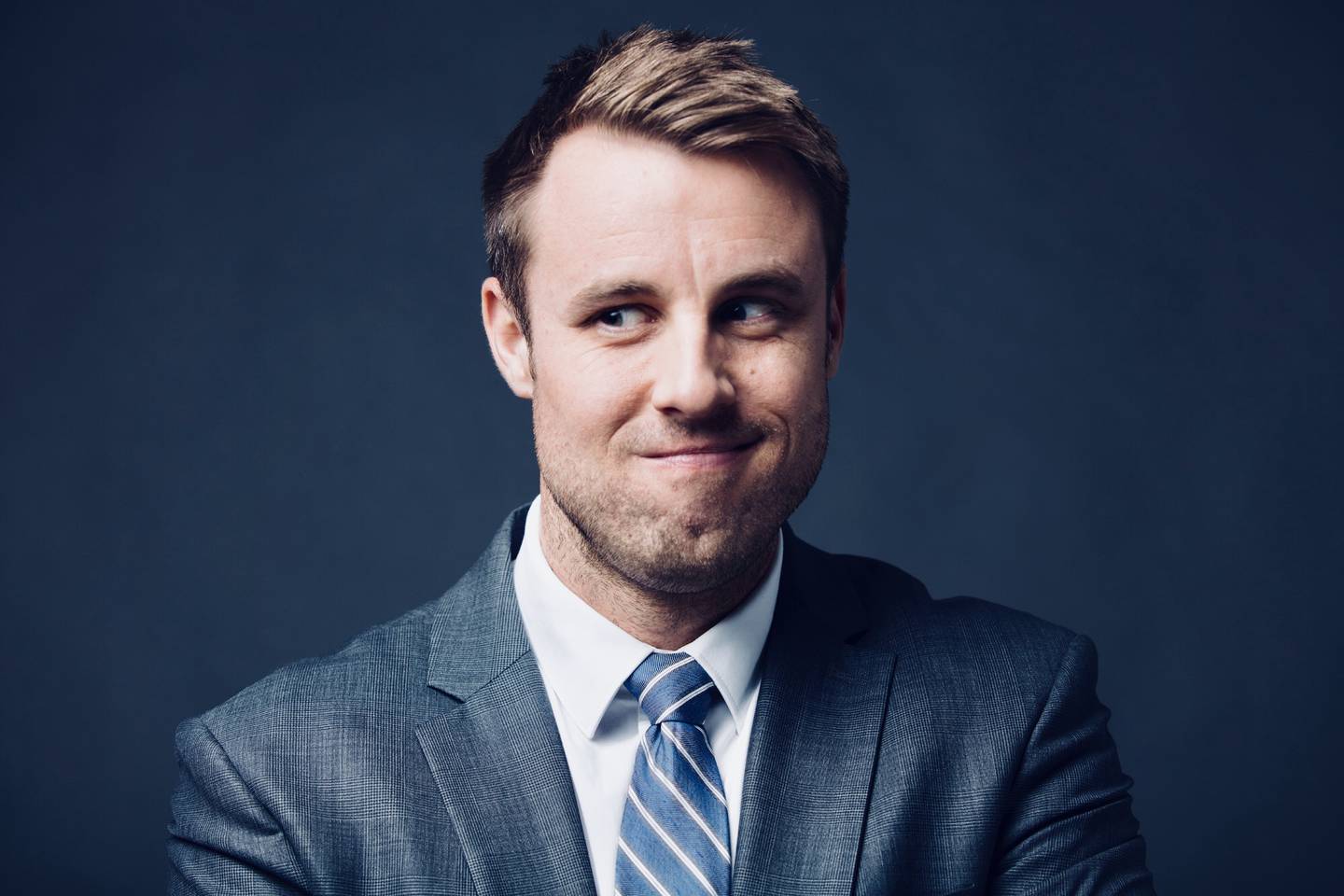 The show centers around the character Diane Dunbrowski, who is voiced by Lauren Ash, best known for her work on the TV show "Superstore." Witaske voices the character Kurt, her ex-husband.
Witaske, a 2001 St. Charles East High School graduate, now lives in Los Angeles, but his family still lives in St. Charles. Witaske was back in the area recently and threw out the ceremonial first pitch at a Chicago Cubs game.
Kane County Chronicle reporter Eric Schelkopf had the chance to talk to the actor and comedian, who is an alumni of The Second City in Chicago, where he began taking classes and performing at the age of 13. He also had an internship at the now closed Pheasant Run Theatre in St. Charles and worked with then director Diana Martinez, who is now the director of the McAninch Arts Center at the College of DuPage.
Eric Schelkopf: When you were growing up in St. Charles, did you ever think that you'd be at this point in your life?
Chris Witaske: No, I sure didn't. St. Charles is a great place to grow up, and I always felt really supported in choosing the career path I did in the entertainment world.
Luckily for me, Chicago was not too far away. So I got to go into the city and saw comedy shows at The Second City theater.
My parents were always very supportive of me when I showed an interest in it.
Schelkopf: I understand your dad took you to your first Second City show when you were about 13. What were your first impressions? How did you react to seeing that show?
Witaske: It blew me away. The show was wildly funny.
After the show, I looked at all the photos hanging in the lobby and all my comedy heroes were there and I realized that people like Bill Murray and John Belushi and Chris Farley started there.
That was a big night for me.
Schelkopf: And I understand you had an internship at Pheasant Run Theatre when it was still there when Diana Martinez was director there. How did she help you out? Did she have any good advice for you?
Witaske: Yeah, she was a great mentor. In high school, I did an internship there and kind of got to see how theater works and how they put up shows and all the behind-the-scenes stuff. She was a great mentor and taught me to work hard and to be well-rounded and take a lot of different classes and learn to do everything in theater.
Schelkopf: And I understand you were back in the area just before Labor Day to throw out the first pitch at a Cubs game.
Witaske: I did. A couple of weeks ago, I was back in town and got to throw out the first pitch at Wrigley [Field]. My parents and friends and other family members were there.
That was really a dream come true.
Schelkopf: Now your dad was saying that was actually the second time you did that.
Witaske: It was, yeah. I did it a couple of years ago as well. I was on a Netflix show called "Love" and I did that to promote that show.
Schelkopf: Actually, I fell in love with "Love" during the initial pandemic lockdown. Have you heard if they are going to try to revive the show?
Witaske: I would love it, but I kind of doubt it. I was hoping it would go for a couple more seasons, but Netflix wanted to keep it at three seasons.
That was a really fun project to be a part of. I had a lot of fun working with all those people.
Schelkopf: Did it make it even more fun that you graduated with Paul Rust from the University of Iowa? Was that just icing on the cake?
Witaske: It was, yeah. Paul and I were old friends and went to college together, but then I moved to Chicago after college and he moved to L.A., so we lost touch of each other for many years. And so to kind of be reunited and work together was really cool.
Schelkopf: And your latest project is "Chicago Party Aunt." It started of course with your Twitter account. What made you want to start the Twitter account in the first place?
Witaske: Well, you know, I was in Chicago for many years and I did all the comedy theaters, and then I moved to L.A. in 2014. I had a lot of time on my hands in between auditions and stuff in L.A. and I was feeling a little homesick as well.
I started this Twitter feed just for fun based on a couple of my actual Chicago party aunts. I was doing it just to have kind of a creative outlet.
And then it started to gain more of a following. Once Stephen Colbert started retweeting it, I thought, Oh, I might be onto something.
I put together a creative team and we pitched it to Netflix and they bought it and now it's going to be a show that streams all over the world.
Schelkopf: When you started that project, did you ever imagine that it could end up on Netflix streaming all over the world, like you said.
Witaske: Never, never. I started it just for fun. I still kind of can't believe it, that it's turned into what it is.
Schelkopf: So the response has been overwhelming for you?
Witaske: It has been. It was fun to see that people were connecting with it. I think that people recognize the character and I think that a lot of people have a person like this in their life, a partying aunt. Even if you're not from Chicago, a lot of people can relate to this character or know someone like this.
When it started to grow, I think I realized I might be onto something.
Schelkopf: And hopefully everybody knows this is all in good fun. Of course, there's a lot of hate on Twitter. Do you think it's good that people understand that it is all in good fun and they are actually getting a laugh on Twitter?
Witaske: I hope so. That's always been my goal, to just spread some joy and laughter.
The main character on the show, Diane, she has a really good heart. She's a good person.
She means well and is very loving and loyal. So it is all in good fun.
I think if anybody wants to take it too seriously, they need to maybe relax a little bit.
Schelkopf: How would you describe your character on the show?
Witaske: So I play Diane's husband, Kurt, who is a hardworking TSA agent at Midway Airport. He's kind of a gruff guy with a big push broom mustache.
He's kind of a quintessential Chicagoan, almost in the vein of Mike Ditka.
Schelkopf: I also understand that you are good friends with local artist Joseph Gagnepain. How long have you known him?
Witaske: For most of my life. I probably met Joe when I was around 9 years old or so.
We grew up in the same neighborhood. He's a little older than me.
Schelkopf: I understand that when you come back to St. Charles, you like to visit Pottawatomie Park.
Witaske: I love Pottawatomie. I love just how scenic it is. I used to work actually for the St. Charles Park District. I would let people into the pool.
When you drive into the park, I would be the guy waiting for you at the top of the hill.
Schelkopf: Were there any teachers that you remember for what they did for you?
Witaske: My fifth grade teacher at Richmond Elementary School. I think I was kind of a class clown and she was the first teacher who encouraged it and would laugh at me and told me I was funny.
She was a great teacher and an early inspiration. And I remember she was funny, too. So we just clicked.
Schelkopf: So do you have any new projects besides "Chicago Party Aunt"?
Witaske: Well, I've been in a lot of Progressive car insurance commercials lately. It's the commercial where it's the guy turning into his dad.
I've got a new one of those coming out here in the next week or two. And those have been a lot of fun because they're funny commercials.
Schelkopf: Are you afraid you're turning into your dad?
Witaske: I am turning into my dad. And I'm very afraid of it.
In those commercials, in fact, I'm just doing an impression of my dad. But my dad is a great guy. I lucked out with having great parents.
And I lucked out that I grew up in St. Charles. I feel very fortunate that I have the parents that I do and that I came from the city that I came from.