The joy that Michael Heaton expressed while playing his music was not lost on his fellow musicians.
"The smile on his face every time he picked up his guitar was genuine," said fellow musician Noah Gabriel, who was friends with Heaton. "It wasn't just like him putting on a show or anything. And even talking to him, he was the most positive person I've met while doing this."
Gabriel and other musicians performed Heaton's songs Aug. 29 at the Peg Bond Center in downtown Batavia. The two-hour concert was part of Windmill City Festival in Batavia.
Heaton, a 1985 Batavia High School graduate who lived in Montgomery, died in December 2019 after a battle with cancer. He was 53.
The concert capped a fundraising effort by family, friends and fans to create a permanent plaque at the Peg Bond Center that will highlight Heaton's life, music and philanthropy, as well as create a Michael Heaton musical scholarship, which will be awarded annually to a local student. The scholarship will provide the student with a new guitar and a year of guitar and songwriting lessons.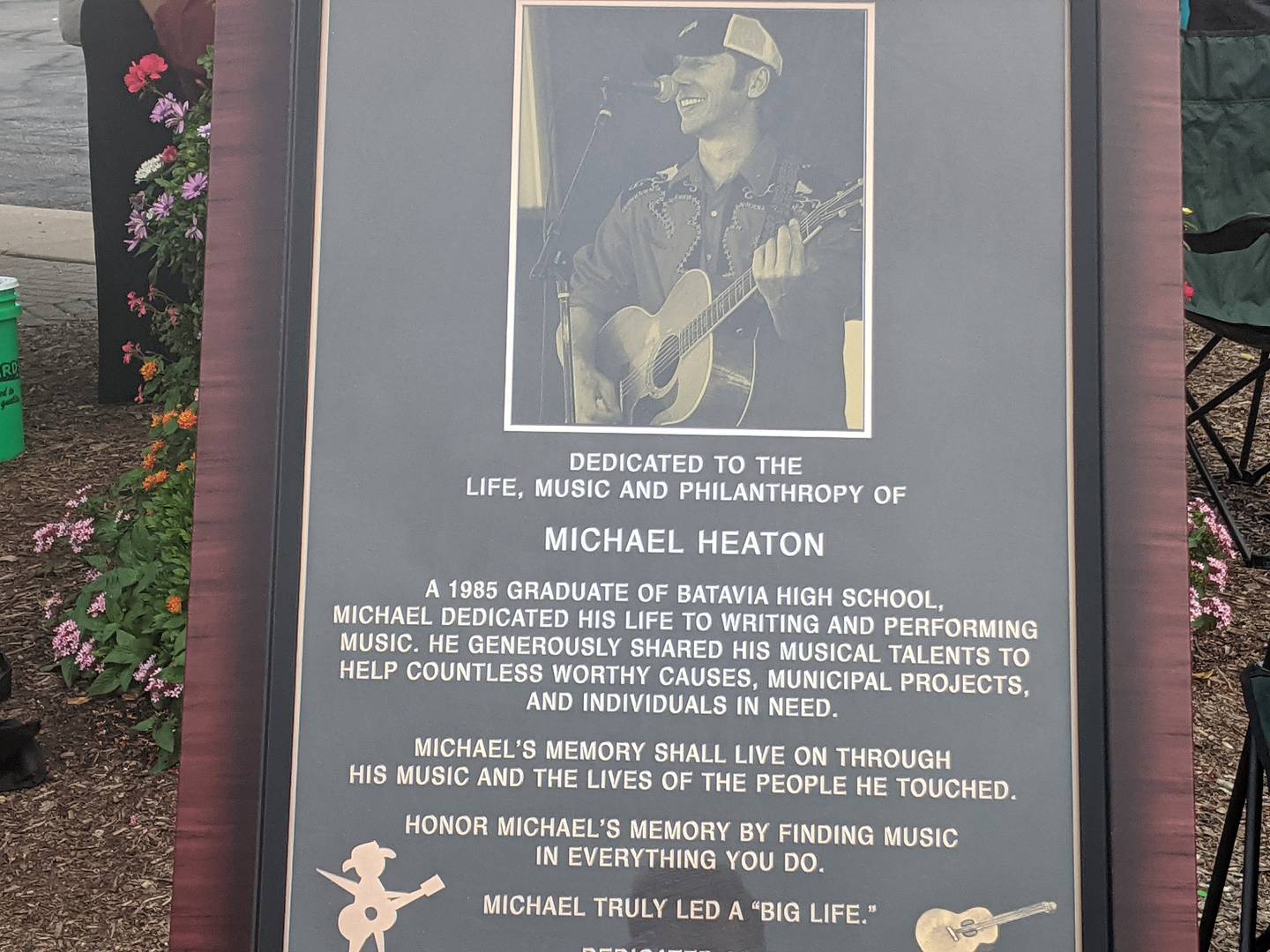 Rick Cremer of North Aurora-based Cremer Guitarworks is supplying the guitars, and Jeff Matters of Music Matters School of Music in Batavia is providing the lessons. The scholarship will be managed by the Batavia Foundation for Educational Excellence.
Among the hundreds of people attending the concert was Heaton's mother, Nancy.
"I am so happy that this scholarship is going to go to someone that deserves it to continue a new generation of music makers," she said. "That really touches me."
She said the scholarship is fitting because her son wanted young people to pursue their musical dreams.
Musician Dave Ramont, who performed at the concert, said Heaton's songs are a blueprint of good songwriting.
"Mike was a craftsman," he said.
Doug Wielert, who had been part of Heaton's band for a few years, also was part of the concert. The bassist played on several songs, including the song "Big Life," which was featured in his wedding reception.
Wielert met his wife, Mandy, at one of their gigs while he was playing the song.
"We played every Friday night at Club Mamalu in Naperville," he said. "I met her there. Michael was in our wedding and we walked into our wedding reception to the song 'Big Life.' "
Wielert said Heaton was a great teacher.
"I learned so much from him about winning over a crowd," he said. "I love and miss him."
Chris Hall of Geneva created a GoFundMe page, gofundme.com/f/michael-heaton-memorial-plaque-and-scholarship, for the memorial plaque and scholarship. The more money that is raised, the longer the scholarship will be funded.
Hall said he was pleased with the turnout.
"People are already asking about when we are doing it next year," he said.
Heaton's guitar made an appearance as musicians took turns playing the guitar during the show.
"That was really cool to see Mike's guitar played by a bunch of different people," Hall said.
Heaton's wife, Kristy, appreciated the efforts of everyone involved in putting on the show.
"The show meant everything to me," she said. "Chris did an awesome job of getting this together."