GENEVA – About 50 people stood on the west side of State Street over the Fox River in Geneva Monday holding up signs to support the re-election of Kevin Burns as mayor in the April 6 consolidated election.
The supporters stood with their signs in the bright afternoon sun and brisk spring wind while motorists passing by honked their approval.
This is the second time former Alderman Tom Simonian is vying for the city's top spot against an incumbent mayor who is seeking his sixth term.
One of Simonian's campaign platforms is that Burns has been in office too long and it's time for a change.
But Paula Merrington credited Burns for Geneva's progress, regardless of how long he's been in office.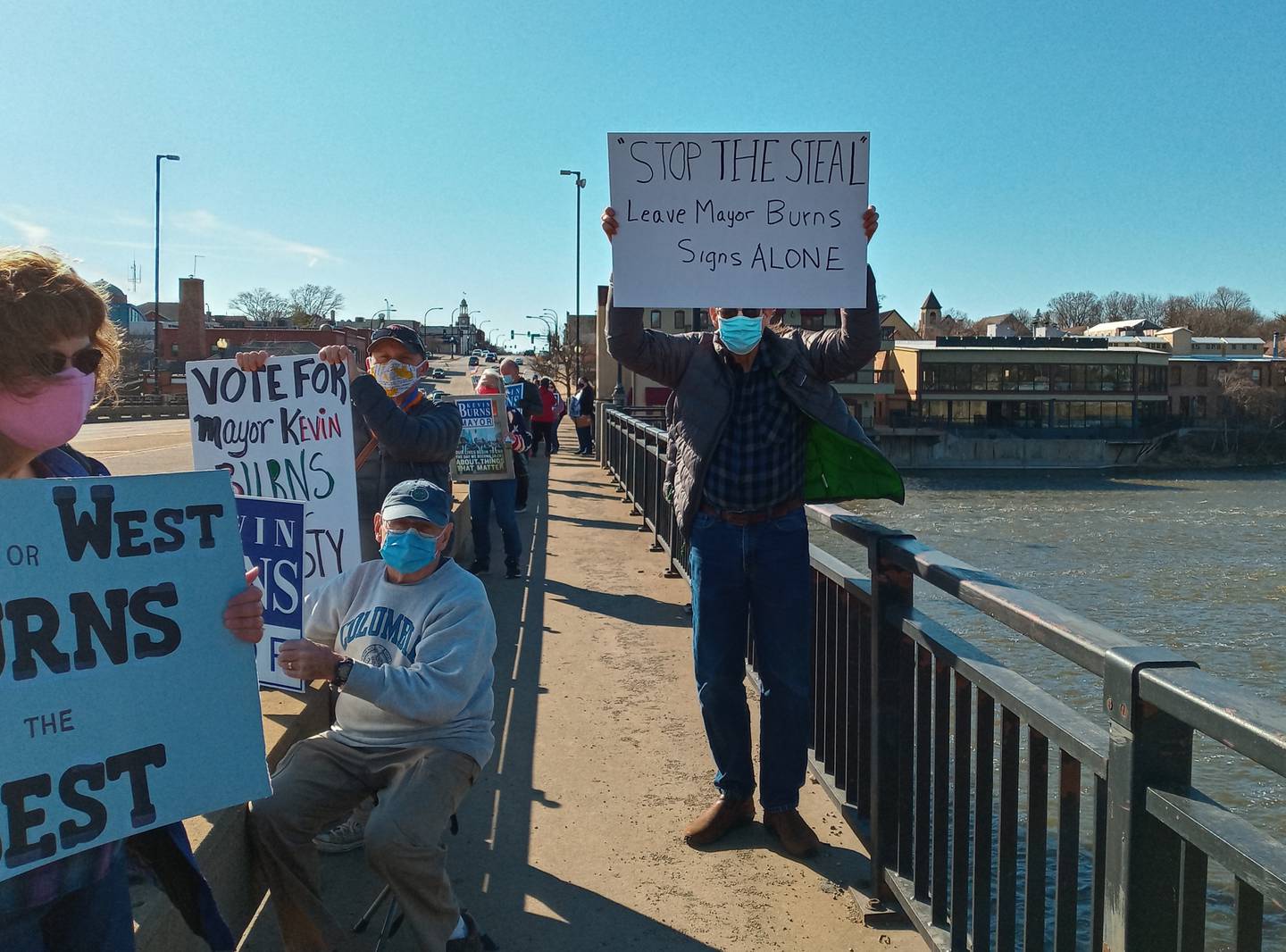 "We love living in Geneva," Scown said. "Kevin Burns is largely responsible for the quality of life we have in Geneva right now."
The demonstration even attracted people who don't even live in Geneva, such as Cherie Jones Das, of Batavia, who said she supports Burns "because I would like neighboring towns to have a decent mayor."
Linda Robertson of St. Charles Township said the local cities are all linked together "and we want good representation and good management in all the towns."
James Flanagan, also of St. Charles Township – himself a candidate for township trustee – said he wanted to show support for Burns because he supports good government.
Also on the bridge was Emma Burns, the mayor's oldest daughter, who said she is supporting her father's candidacy because serving "brought out the best in him, it's what he's passionate about."
"I've seen him at his worst and I've seen him at his best," Emma Burns said. "And this (being mayor) is him at his best."
Kevin Burns said he was "flattered honored and humbled by the citizens by the Geneva, citizens of all ages who formed bridge brigade this afternoon."
"Their passionate support motivates me and inspires me," Kevin Burns said.