GENEVA – The James, a new restaurant and cocktail lounge, is set to open May 23 at 317 S. Third St., Geneva, the former location of Fiora's, which closed in January.
Geneva residents Chris and Gretchen Hupke are leasing the space. They redecorated, put up a new sign and had a liquor license approved by the City Council last week.
"We are giving our chef free rein to create the menu," Chris said. "Lunch will have some sandwiches, salads, soups and some fork and knife plates. And there will be a kids menu."
The dinner menu will be steaks, pork chops and seafood, but patrons still will be able to get burgers and other sandwich offerings, he said.
Appetizers – called amuse-bouche – will be offered to share for small groups, Gretchen said.
The restaurant will be open seven days a week for lunch and dinner and in the future possibly for brunch on Sundays, she said.
The restaurant also will feature 90 wines, plus 24 wines by the glass, and will showcase local beers, Chris said.
They plan to have live music on Fridays and Saturdays during the warmer months and possibly on Thursdays, Gretchen said.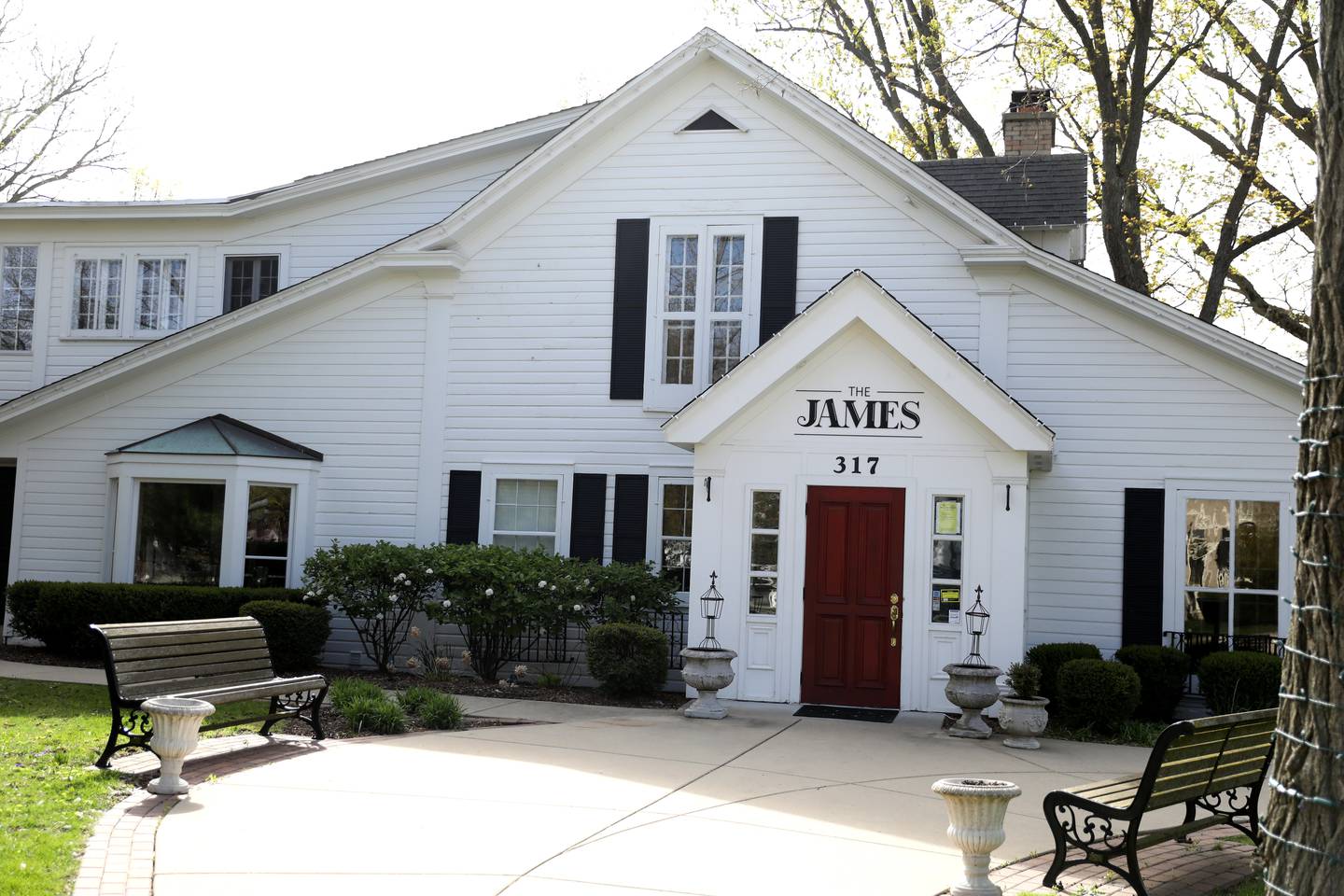 Haven Interiors Studio, an interior design company in Geneva, redecorated the interior.
The walls were repainted, new ceiling and lighting fixtures were installed to give it a new personality, there are new lights along the roof line outside and The James sign was installed last week, Gretchen said.
"We wanted to have our own identity," she said.
The restaurant's name comes from research the couple did. They found James was an important name in Geneva, starting with James Herrington, Gretchen said.
"It had to have a special name to celebrate the special history of Geneva," Gretchen said. "The first tavern owner was a James. The first owners of the location when it went from a bar to a house was James. The name kept coming up. My father was named James."
Her father, James McWethy, who died in 2020, owned Mistwood Golf Club in Romeoville. It has a full restaurant called McWethy's Tavern, a standalone facility that caters more to the public and the community, Gretchen said.
"He had the vision to form the business," Gretchen said. "We would not be doing this if not for my father."
Gretchen said she and her brother, Todd McWethy, stepped up as owners after her father's death.
The couple also own an indoor golf dome in Bolingbrook called the Mistwood Golf Dome and McWethy's Sports Bar is located there, she said.
Her brother lives in Michigan, but comes to Geneva twice a week to assist in setting up The James, she said.
The couple met while both were middle school teachers at Thompson Junior High School in Oswego District 308.
"We made the tough decision last year to leave the field of education," Gretchen said. "We knew it was time to do something different and this opportunity arose."