GENEVA – After a six-month reprieve, the rainbow Pride-painted fire hydrant was vandalized again Tuesday: Someone dumped red paint on it.
Artist Chrissy Swanson had painted the rainbow and transgender flag colors on the hydrant at the northwest corner of Kirk Road and East State Street last year as part of the city's Art on Fire Program.
It was vandalized several times last summer and each time, Swanson repainted it.
On Tuesday evening, a group of LGBTQ+ adults, teens and supporters gathered at the hydrant to assist Swanson in the repainting and to show support.
Amid a brisk spring breeze, bright sunshine and the rumble of trucks and vehicles whizzing by at rush hour, Batavia residents Annie Hex, Scot and Mary Naylor joined Swanson.
They were soon followed by Kylie Peters – a co-founder of Fox Valley Pride, since re-named Belong: Fox Valley – Geneva residents Paula Merrington and 4th Ward Aldermanic candidate Martha Paschke and Geneva Mayor Kevin Burns.
Geneva High School students Jan Sowinski, Rani Foard, Lily McConnell, Kelly Garos, Olivia Reich and college freshman Sunni Foard soon surrounded the hydrant, all participating in the repainting.
"When bigotry wrecks, inclusivity repairs," Burns said, as they finished the last touches of color. "It's that simple."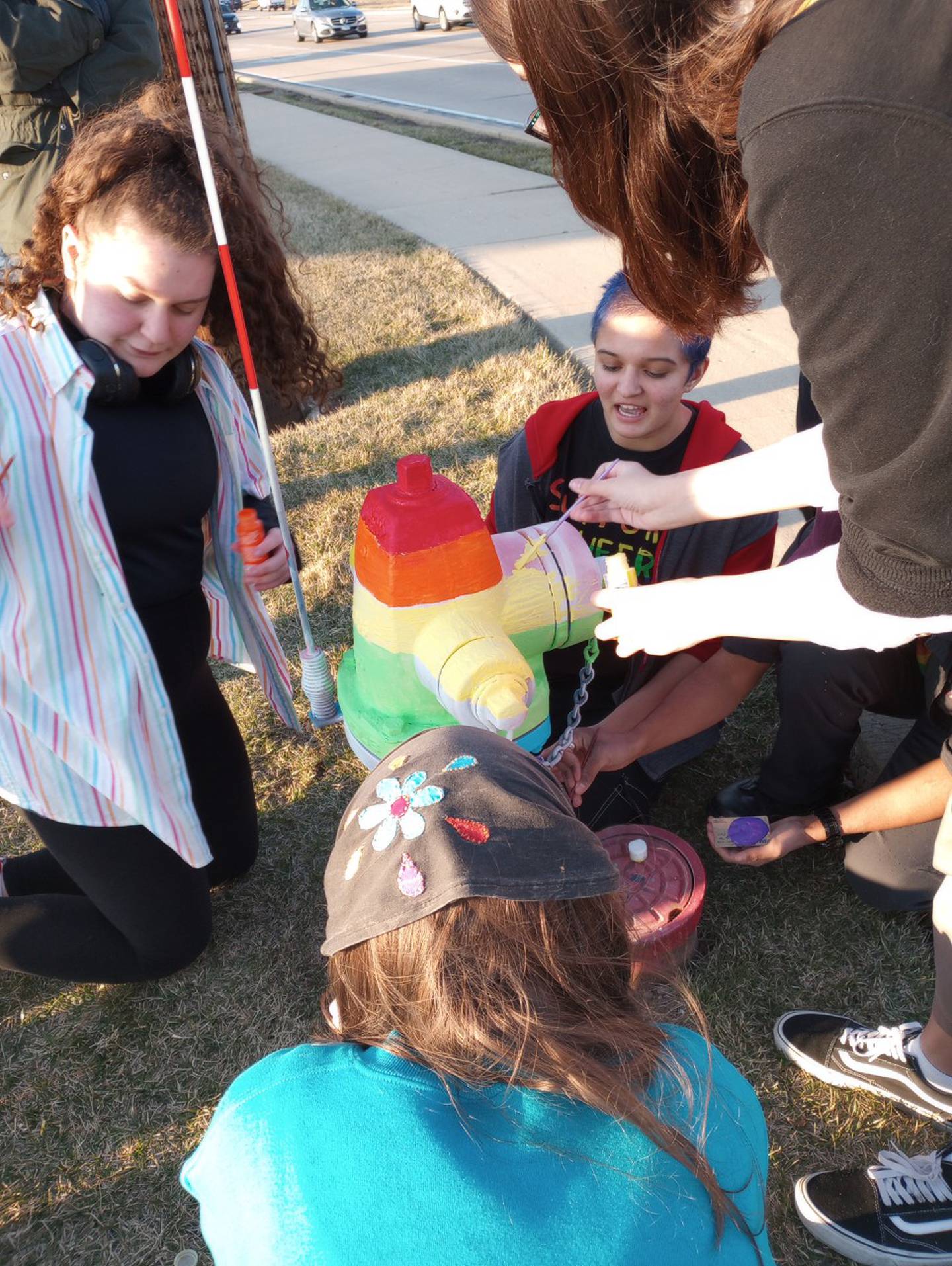 Hex said as she was on her way there, she was thinking about this situation – of this one, single hydrant, painted with rainbow and transgender colors – seems to engender such disrespect to be vandalized.
"Everything else is dominated by straight culture. And we have a rainbow hydrant – a rainbow fire hydrant. One. And so I just thought like, we ask for one thing – you know? … To me, that's what's on my mind today," Hex said.
"This is one thing that we're asking for as a beacon of like hope and acceptance and love and celebration in our community," Hex said. "And we need that one thing. So we are going to keep painting it. And we're not going anywhere, is also the other thing."
Swanson made a police report of the vandalism.