BATAVIA – Lyons Township, in essence, can have any number of players score a career high.
It was Ally Cesarini's turn Jan. 17.
Cesarini, a Lions junior guard, scored a career-high 22 points – 10 coming in the fourth quarter – to help catapult Lyons past Batavia 63-55 to close the Batavia MLK Showdown.
"I think that's been one of our strengths all year is that we're balanced," Lions coach Meghan Hutchens said. "Ally may have had the 22-point game, but the game before, it's two different kids. The game before that, it's two different kids. So it's really cool to see how we care so much about our team and we don't care who it is. As long as we're getting the job done and each kid gets their chance and opportunity to step up and they shine."
[ Photos: Batavia vs. Lyons girls basketball ]
Cesarini drained five 3-pointers, but also drew the toughest assignment against Batavia, guarding rising phenom guard Brooke Carlson for the majority of the fourth quarter.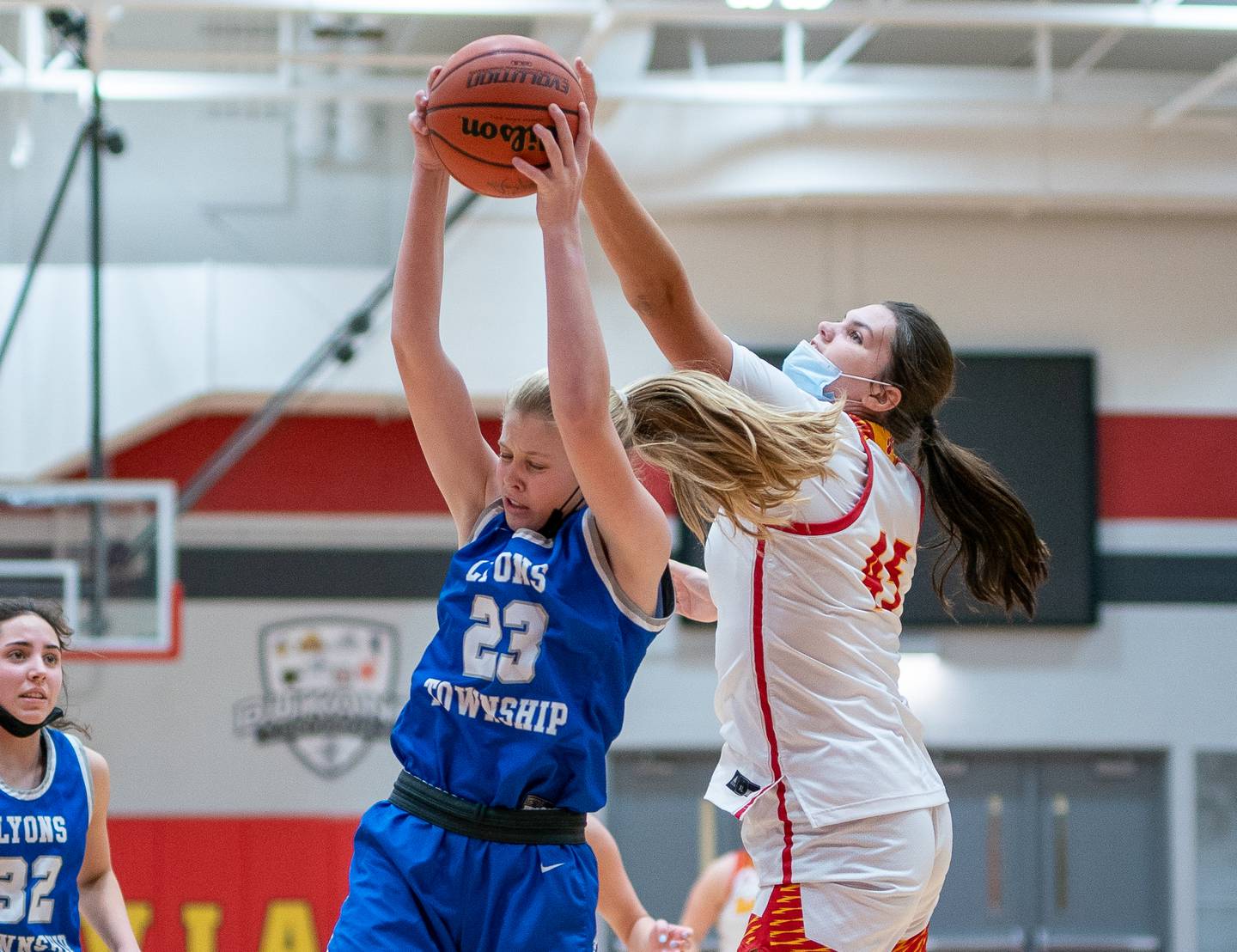 Cesarini played an instrumental role in erasing Batavia's five-point lead heading into the final eight minutes. Lions forward Isabella Lee opened with a layup, which was followed by Cesarini's 3-pointer to tie it at 44-44.
Batavia forward Tessa Towers and Lions guard Olivia Mezan traded buckets. On the ensuing Batavia possession, Cesarini produced a massive block on a Carlson drive, which led to her own transition layup in traffic to make it 48-46 Lions with 5:21 remaining.
Towers answered with another layup, but Cesarini again shook free for a 3 to give the Lions a three-point lead with 4:20 left. Lyons did not relinquish the lead the rest of the way.
"Ally stepped up big for us hitting those big-time shots," Hutchens said. "She's also one of our best defenders. She took on [Carlson] in the fourth quarter. She did a phenomenal job, so she was locked in tonight. More power to her. I love seeing an athlete locked in and on fire."
Cesarini's performance down the stretch perhaps reflected a stout defensive-minded mindset.
"Individually, my focus was just stay on [Carlson]," Cesarini said. "Not let her get in front of me and not let her score. Also, to keep shooting because I was having a pretty good shooting game, so I just kept it in my head to keep shooting."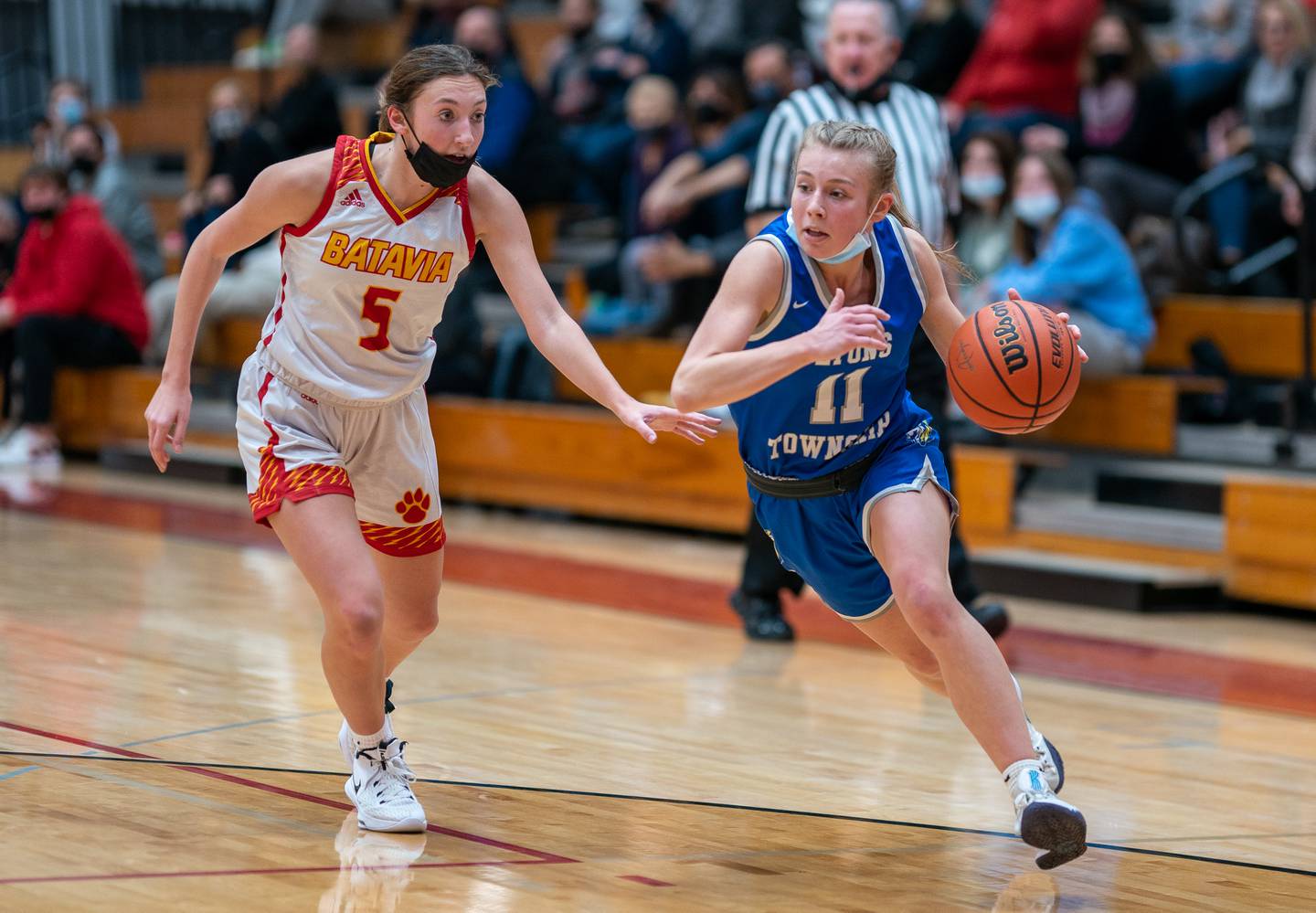 Hailey Markworth added 11 points for Lyons (18-3). Lee had 10 points and four rebounds. Mezan had 10 points and seven rebounds.
Batavia (11-10, 3-2) was led by Towers' 22 points and 10 rebounds. Carlson added 16 points and six rebounds. Kylee Gehrt had five points and four rebounds.
"We needed one of those [3s] to rim out and us follow it up with a score," Batavia coach Kevin Jensen said of the Lions' fourth-quarter run. "That's the small margin of error, you know? Not even an error, but [you just] lose a shooter a little bit and they knocked down some good shots and that kind of made us chase a little bit at the end.
"I feel great with how we played. I don't know, I've got to double check [Lyons Township's] sectional, but they're probably a two seed or a one seed," Jensen continued. "A team that has beat Wheaton North, beat Fremd, they're a really good team. I told the girls, if it makes any sense: 'You don't need to feel good. It's a loss, but nobody needs to walk away feeling badly.' We competed our butts off."