WHEATON – Leah Palmer earned her redemptive moment.
Geneva sophomore's forward missed two free throws with 26.7 seconds left as the Vikings nursed a two-point lead Saturday at Wheaton North. Twenty-one seconds later, it was Palmer again on the line in a game-clinching situation.
She drained both.
"I tried to be as confident as I could," Palmer said following Geneva's ultimate 54-51 victory over Wheaton North on Saturday that kept the Vikings perfect in DuKane Conference play. "I knew I needed to push [those misses] past me and be like 'It's over, it's done' and I had to step up and make those two free throws for my team."
[ Photos: Geneva vs. Wheaton North girls basketball ]
Palmer's second chance, Geneva coach Sarah Meadows said, was "exactly what she wanted to [have] happen."
"Because she was [irritated] she missed the other two," Meadows said. "So now, when it really matters more, I'm going to knock them down. She stepped up and did it."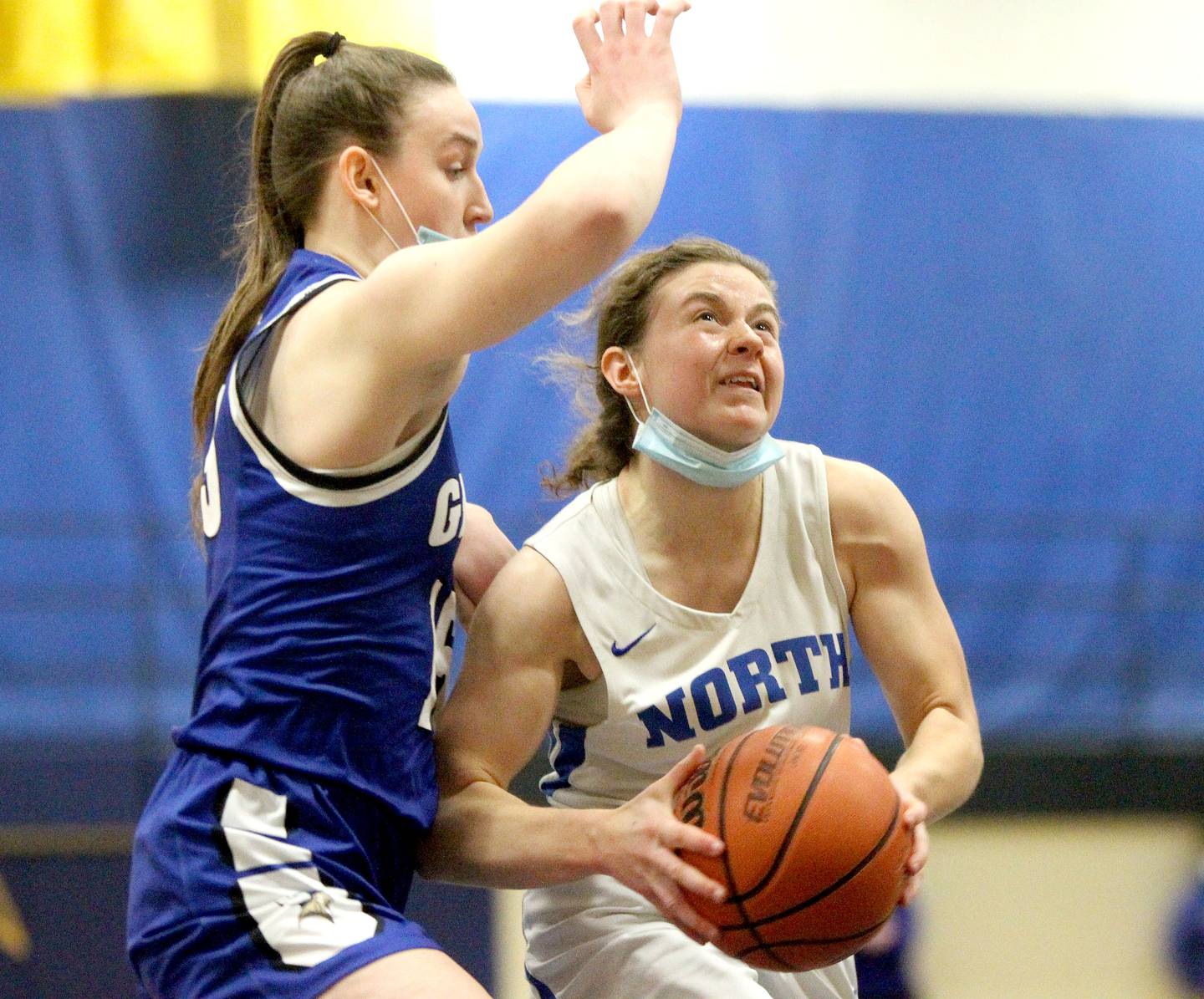 Despite the three-point lead, the Vikings (12-4, 5-0) had to survive a scare in the final seconds from the Falcons (13-4, 5-1).
Falcons star senior guard Claire Hyde got free for a three-point attempt for the tie, but it clanked off the rim. The Falcons collected the rebound and had one final shot attempt from Lindsay Shanahan, which missed.
Geneva overcame losing standout Cassidy Arni, who fouled out midway through the fourth quarter, to win the matchup of DuKane Conference leaders.
"I feel like we executed down the stretch," Meadows said. "We lose Cassidy there and our kids played OK. That's a big loss for us, so I thought our kids stepped up and did a nice job of taking care of the ball and we got stops down [on the other end]."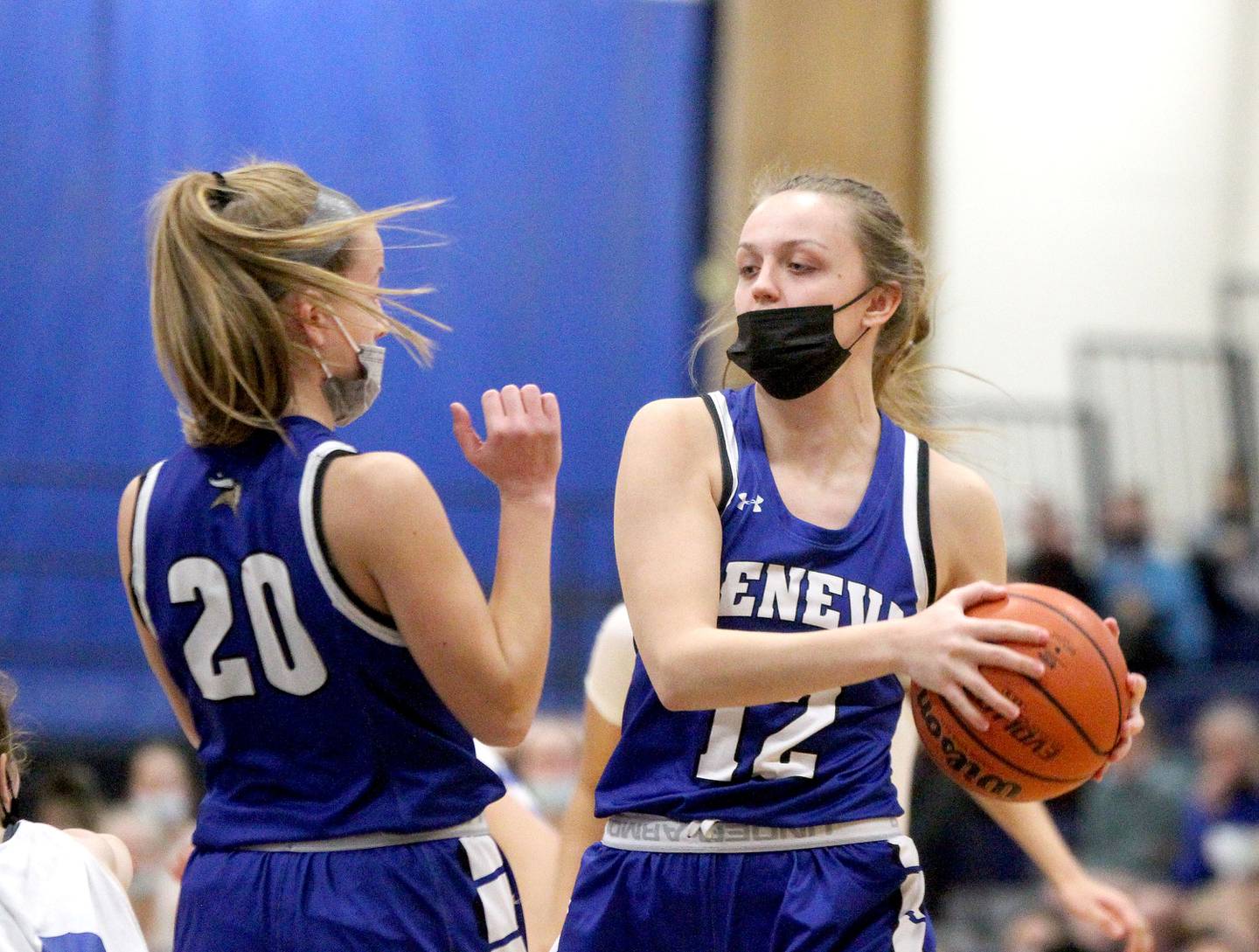 Hyde had 23 points and five rebounds for Wheaton North, her layup with 28 seconds left cutting Geneva's lead to 50-48 that set the stage for Palmer's eventual finish.
Palmer missed the free throws, but Zosia Wrobel (14 points, five rebounds) corralled a monumental rebound on the second miss, which led to Caroline Madden's two free throws to make it a four-point lead with 17.8 seconds left.
Hyde answered that with a tough layup and three-point play to pull Wheaton North within one. Palmer's bounce-back free throws finished it off.
"…I thought our kids did a nice job down the stretch. It's hard to play here. It's hard to play them," Meadows said. "They're amped up all the time, which that's exactly what we want, too."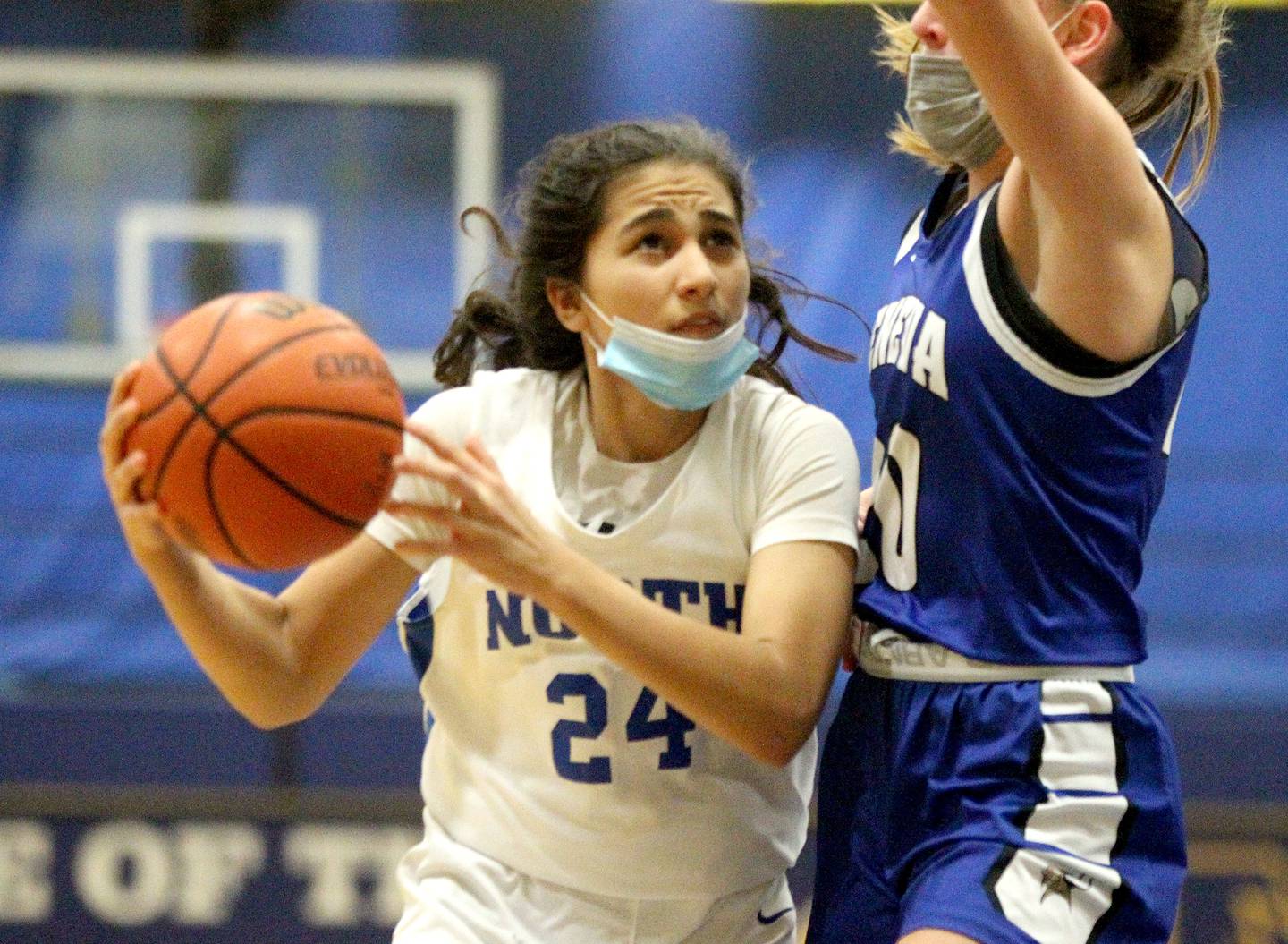 Sara Abdul scored 12 points and Shanahan 11 for Wheaton North.
"Geneva, obviously, is a really good team. They just beat Benet and last time I saw, they were ranked fourth in the state [in the AP polls], obviously [they're going to move up by beating Benet," Falcons coach Dave Eaton said. "I thought that [finish] it just showed our kids, we talk about it all the time: Our bread and butter is how we practice."
"I think just working hard every single day in practice and playing good defense [matters]," Eaton continued. "I thought we could've tightened some things up on the defensive end a little bit, but it's a good start for where we want to be. Geneva, obviously, is a really good team with a ton of height and a ton of shooters, so they're a really tough matchup. I thought it was a good game."
Madden, a Vikings' sophomore, had eight points and four rebounds. But her impact goes well beyond the stat sheet. Madden drew the difficult defensive assignment of guarding Hyde in the second half.
"I thought [Madden] played well for us," Meadows said. "I thought she played a full [game]. She had to guard Claire in the second half and she did a nice job. I thought she did an awesome job."