MAPLE PARK – Lexi Schueler sat in the left corner near the baseline before catching a chest pass and driving fearlessly.
The Kaneland sophomore guard, who is 5-foot-4, seemingly had no problem driving into heavy traffic and finishing with her left hand, plus making the free throw after being fouled.
The three-point play put an exclamation mark on Schueler's 19 points during Kaneland's 53-40 win over visiting Yorkville on Dec. 15.
[ Photos: Kaneland vs. Yorkville girls basketball ]
"I feel pretty comfortable [taking on contact] because I practice it a lot," Schueler said. "I practice against taller players a lot, so I feel comfortable in doing that. Because I'm smaller, I know I need to create contact instead of not drawing any and not getting a foul."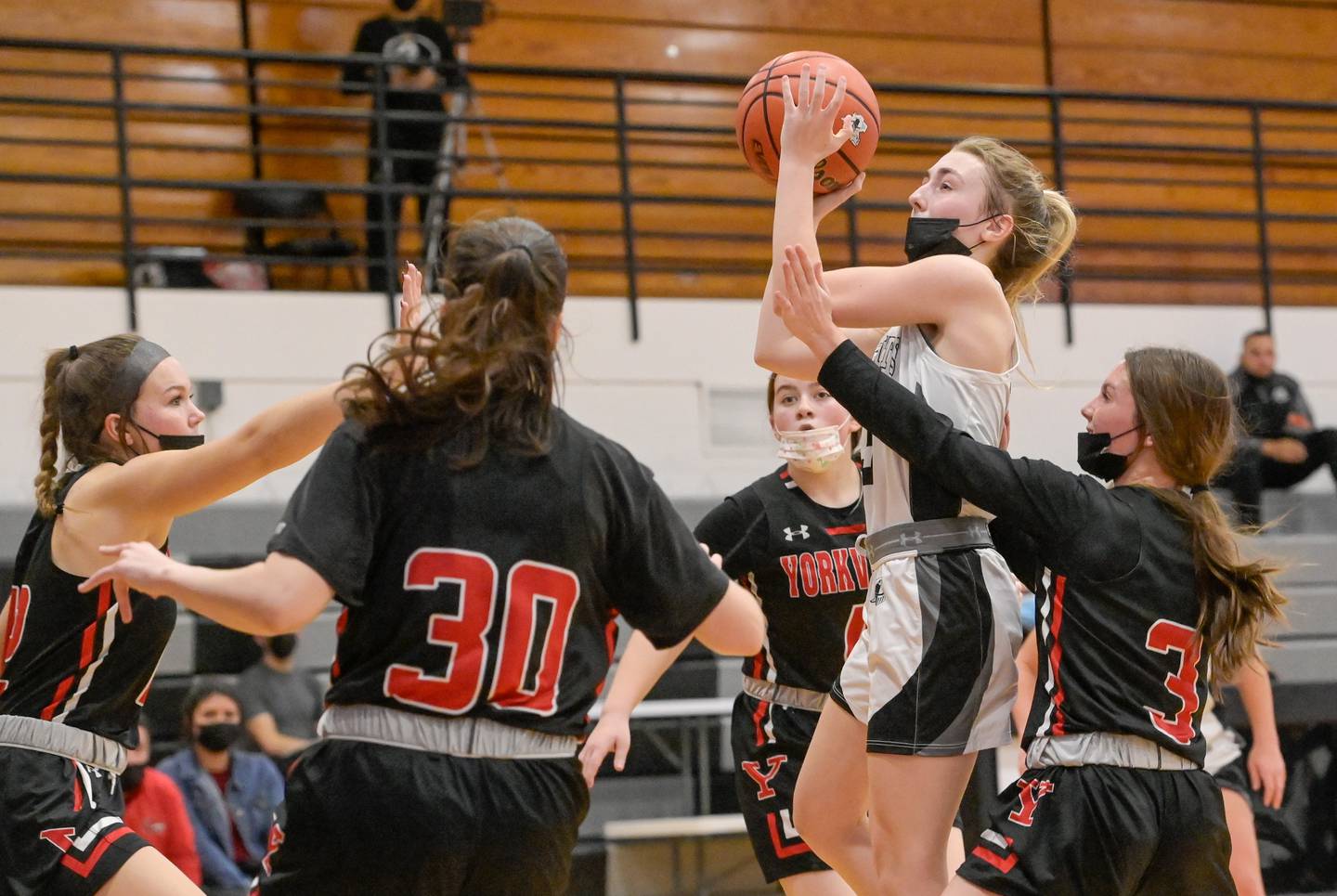 Besides scoring, Schueler feels her court vision and ball handling is where her value on the court really shines.
"I feel like my handles are good, so I'm able to create for other people and facilitate the court," Schueler said. "I think I see the court well, so that's easy [to] pass [to] other people and get them good shots."
"Lexi has good body control, so when she gets in the lane, she's able to see where a help defender might be coming from and she beats somebody in," Kaneland coach Kelsey Flanagan said. "We've been working on pulling up a little sooner than needed, but she was getting lots of open looks on the baseline or on the wing tonight and was finishing really well from both sides of the rim. She definitely gave us a big spark."
Kaneland's team gives out a WWE-style championship belt after each game to the player who played well or executed their goals in that game. Schueler, for the second game in a row, emerged from the locker room with the belt.
"Only a sophomore, so she's got lots of room to grow," Flanagan said. "She's really coming along here at this point in the season."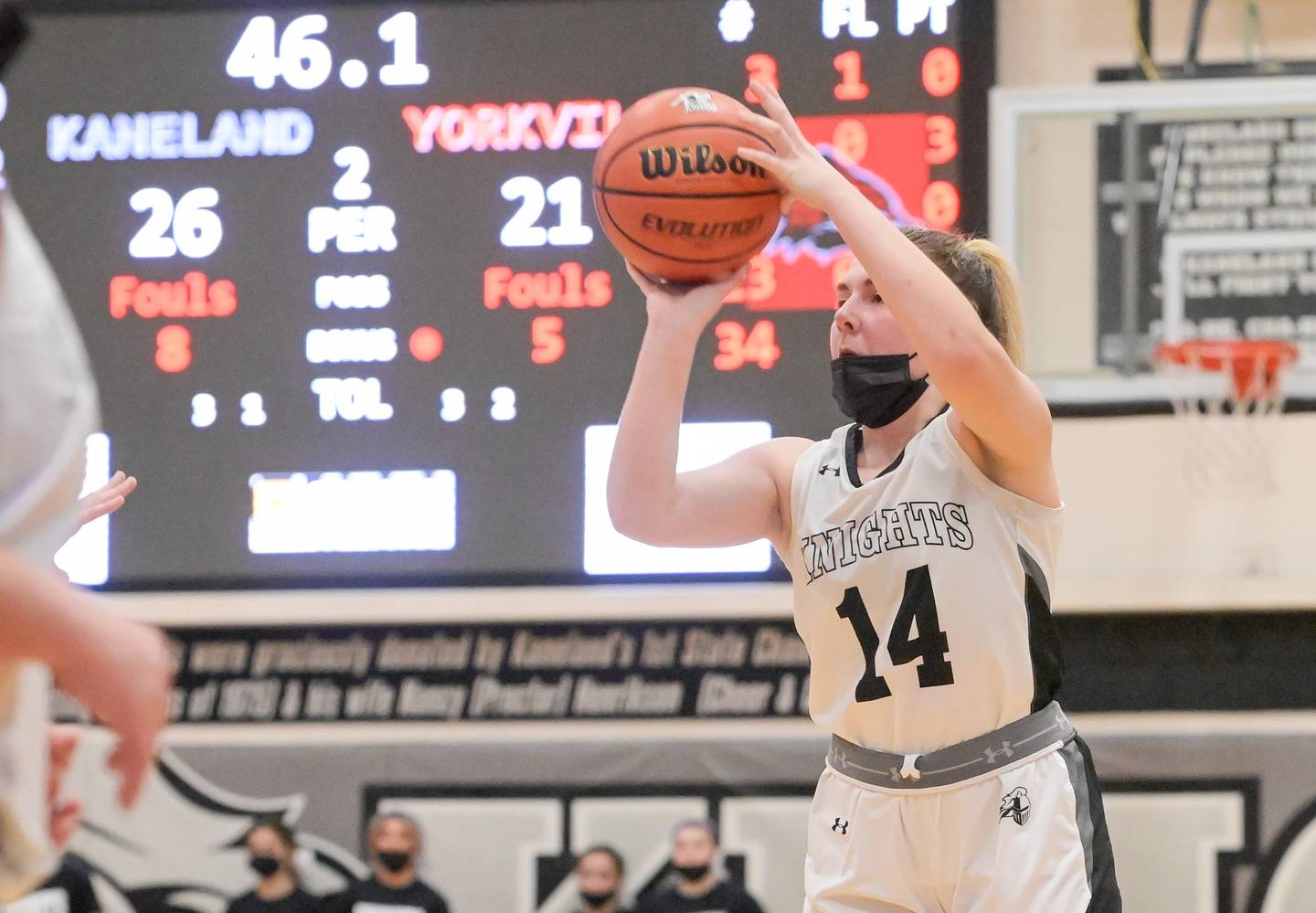 McKenzie Schueler, a senior guard and Lexi's older sister, had a solid night with 12 points and four rebounds.
Kat Marshall had 15 points, six rebounds and two blocks for the Knights.
Kaneland (6-5, 4-1 Interstate 8) led by 10 points at the half and eventually pushed the lead to as many as 22 midway through the fourth quarter.
Yorkville (1-11, 0-4) received a bit of a boost with two 3-pointers from Abby Pool and one 3-pointer from Karson Davey down the stretch, but Kaneland's shooting had done enough to maintain a healthy margin.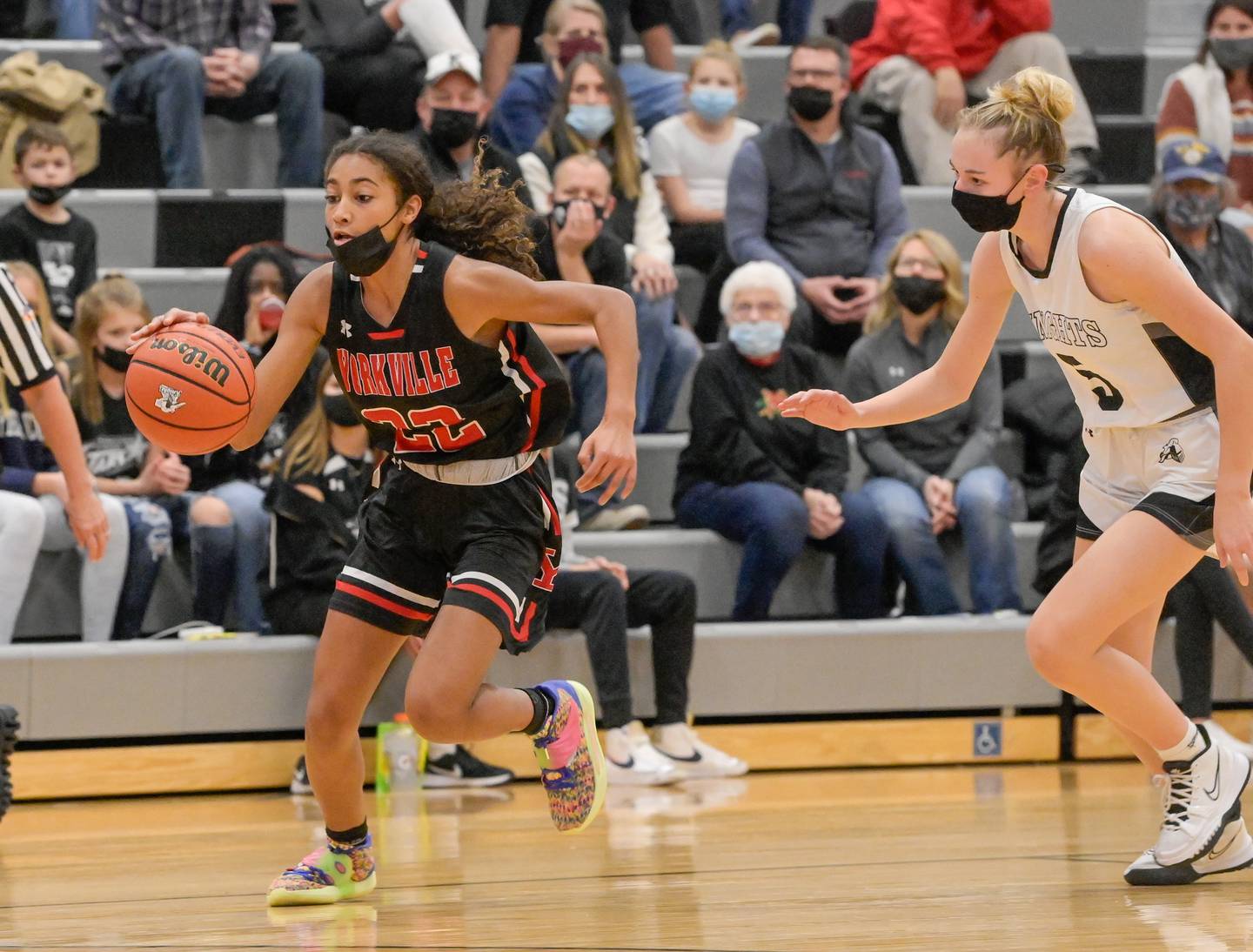 Pool scored a team-high 12 points on four 3-pointers. Yorkville's Kenzie Phillips and Alex Stewart each had five points and four rebounds.
Yorkville's lone win came Dec. 4 against Plano. Even in the midst of a four-game losing streak, the Foxes show the talent and ability to remain competitive for stretches.
But to play more consistent winning basketball, the Foxes have to show consistent effort.
"And if we're not scoring, we still have to be able to play defense," Foxes coach Kim Wensits said. "It felt tonight when we were going through a scoring drought, our defense just stopped completely. Energy got flat and you have to find a way to push through that. Otherwise you're never going to get the win."