Jonah Fallon helped finish the mission.
At the 2021 state track meet, Batavia's vaunted 4x400 relay of Jacob Hohmann, Tyler Piron, Anthony Bradley and Fallon barely missed first place – by a matter of 0.56 seconds – to Hinsdale Central.
One year later, with the team state title hanging in the balance, Fallon, as an anchor for Hohmann, Vincie Solano and Drew Gerke, blazed across the finish line to bring it full circle: 3:19.81 seconds for a first-place finish over Hinsdale Central's 3:20.38.
Batavia won the program's first-ever team state title.
"At Batavia, we have so much trust in each other," said Fallon, who also placed second in the 400-meter dash at state. "We have at least six guys who could've been on that 4x4 [Scot Parker, Quintin Lowe and others]. … We trust every guy on this team and that's what's awesome.
"When it came down to it, anyone on that team would've fought. I think we would've won it with a lot of different teams just because of how deep we were. … Everyone wants to be there. We all love each other and we're all fighting for each other."
Fallon, who ran the 400, 800, 4x100 and 4x400 during the season and helped the Bulldogs to DuKane Conference, sectional and state team titles, is the 2022 Kane County Chronicle Boys Track Athlete of the Year.
Fallon and the 4x400 relay produced eight first-place finishes in the outdoor season. Fallon, a Colorado School of Mines track recruit, also had five second-place finishes in the 400.
"We had a whole team at that top level of Jonah Fallons," Batavia coach Dennis Piron said. "What I mean by that is kids that just love to work, love to work together, were understanding of what the team goals were about and were willing to make sacrifices for a bigger picture.
"In a sport like track, which most people, I think, consider to be an individual sport where you're going to do your thing, I think they had a vision … but, really, he and the team leadership from day one said, 'Hey, we think we're good enough, coach, where we've got a shot at winning the whole thing.'"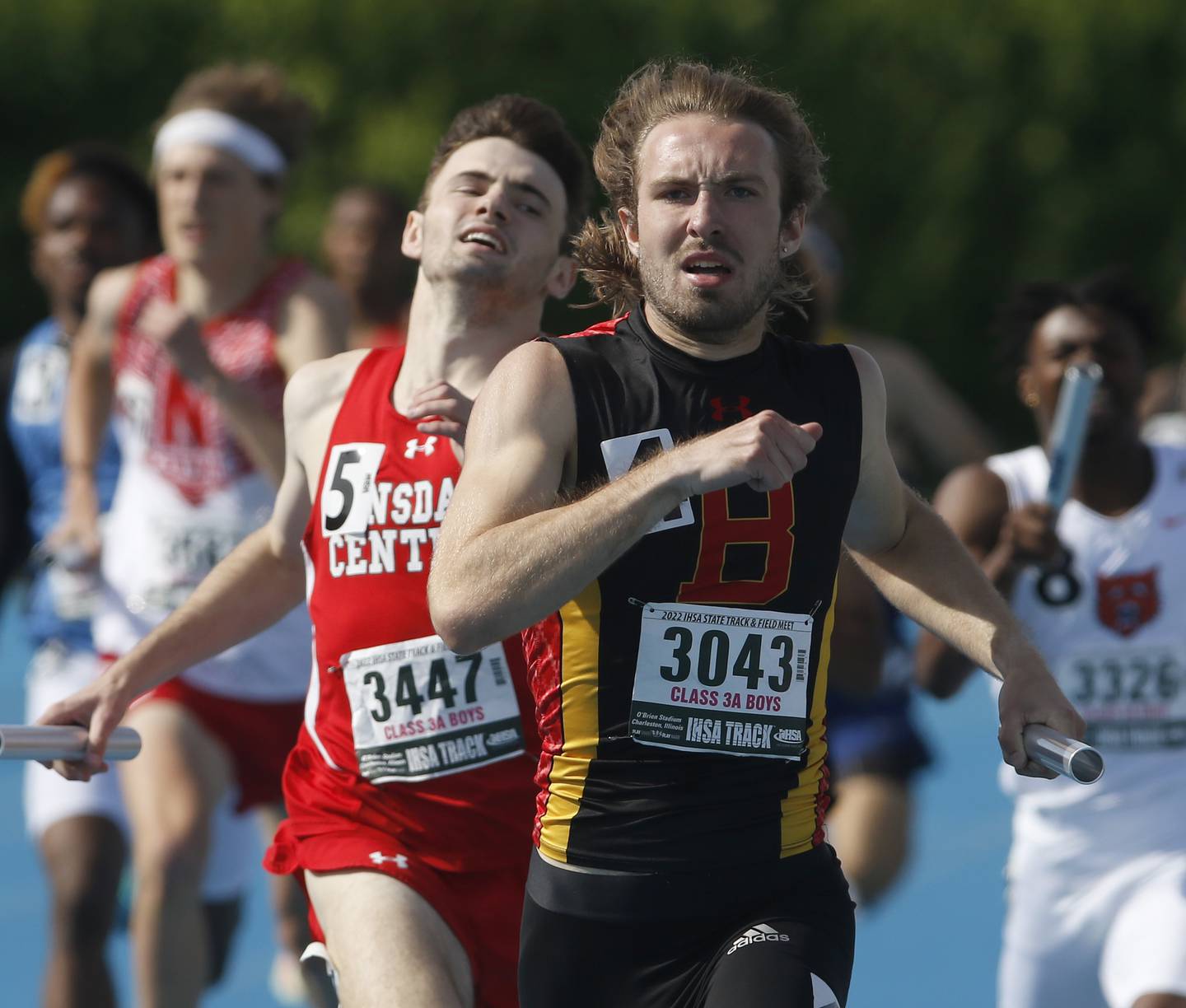 Fallon, evidently, wasn't afraid to express that vision.
"I think when you've got kids who are willing to do that and talk about a dream or a goal in such concrete terms, it was pretty easy when we would work together," Piron said. "Because of what we've been through collectively as a group – this senior class the last couple of years, the kids the year before – which Jonah is incredibly gracious [toward] in a lot of things he's talked with me about those guys. He was very appreciative of those guys last year and the year before [in the lost COVID-19-affected season]."
Fallon, with all that context wrapped around him, ran "the race of his life" in the winning the 4x400.
"To win that thing – and win it with a grand slam the way he did – was, I don't know, I haven't experienced much like that as a coach in my career," Piron said. "He. Was. Amazing."
For context, two of Hinsdale Central's state second place 4x400 runners, Daniel Watcke and Aden Bandukwala, helped produce a 7:32.14 in the 4x800 at the Nike Nationals in Oregon earlier this week, which set an Illinois record and ranks atop the national charts.
"[Watcke] is a very, very special high school athlete. So is Jonah," Piron said. "Jonah had a lot of races in him as well, so it wasn't like that was Jonah's only race of the day. … For Jonah to hold him off and to split like he did was just amazing.
"What an amazing finish to a great career for Jonah Fallon, who will go down, in my mind, [as one of] the greatest track athletes in the history of our town. Just a phenomenal, phenomenal person, kid, competitor, leader, human being, all of the above."