CHARLESTON – Just as several members of Batavia's track team and program supporters gathered near the goal line at Eastern Illinois University O'Brien Stadium early Saturday evening, the Bulldogs' 4x400-meter relay team had some unfinished business to attend.
The relay team of Vince Solano, Jacob Hohmann, Andrew Gerke and Jonah Fallon were busy talking with fellow competitors and receiving congratulations after running a stellar race to win their event in a time of 3 minutes, 19.81 seconds. Solano, Hohmann, Gerke and Fallon were all hanging near the medal stand, anxiously awaiting the long and drawn out process before celebrating with their teammates.
The wait proved to be worth it. The Bulldogs vaulted ahead of Warren and Edwardsville in the final Class 3A team standings to win the program's first state title with 37 points. Warren and Edwardsville settled for a second-place tie with 30 points as both teams didn't have a relay in the final event.
The Bulldogs did – and what a relay and race it turned out to be. The 10-point victory secured the team title. Fallon ran a fast 400 leg to vault past Hinsdale Central's Daniel Watcke to edge out the Red Devils (3:20.28).
"We came back super hungry and wanted to win the relay because we knew the team [standings]," Fallon said. "I knew Watcke is a really strong runner and knew he would be behind me. I got the baton in second, and the team did what we had to do and they knew what my strength was. I got in first and just held it as long as I could.
"I always run better in relays than individual events because I have to perform better for them. With the team title on the line, that was all I was thinking about."
Solano said he tried to set his team up with a strong showing in the opening leg.
"I just wanted to get it to Jonah as fast I could," Solano said. "We knew what was at stake and what happened last year. We knew the pressure and what was at stake, that if we did good, we had a chance at winning the meet. I just ran as fast as I could."
Hohmann, a senior, said he was motivated to end his career on a high note.
"Vince got me in a really good spot after the first leg," Solano said. "I knew I had to run the race of my life. It was my last high school race. I got out as hard as I could, just like I usually run the 400. I knew I had to kick it as hard as I could. I'm still shocked."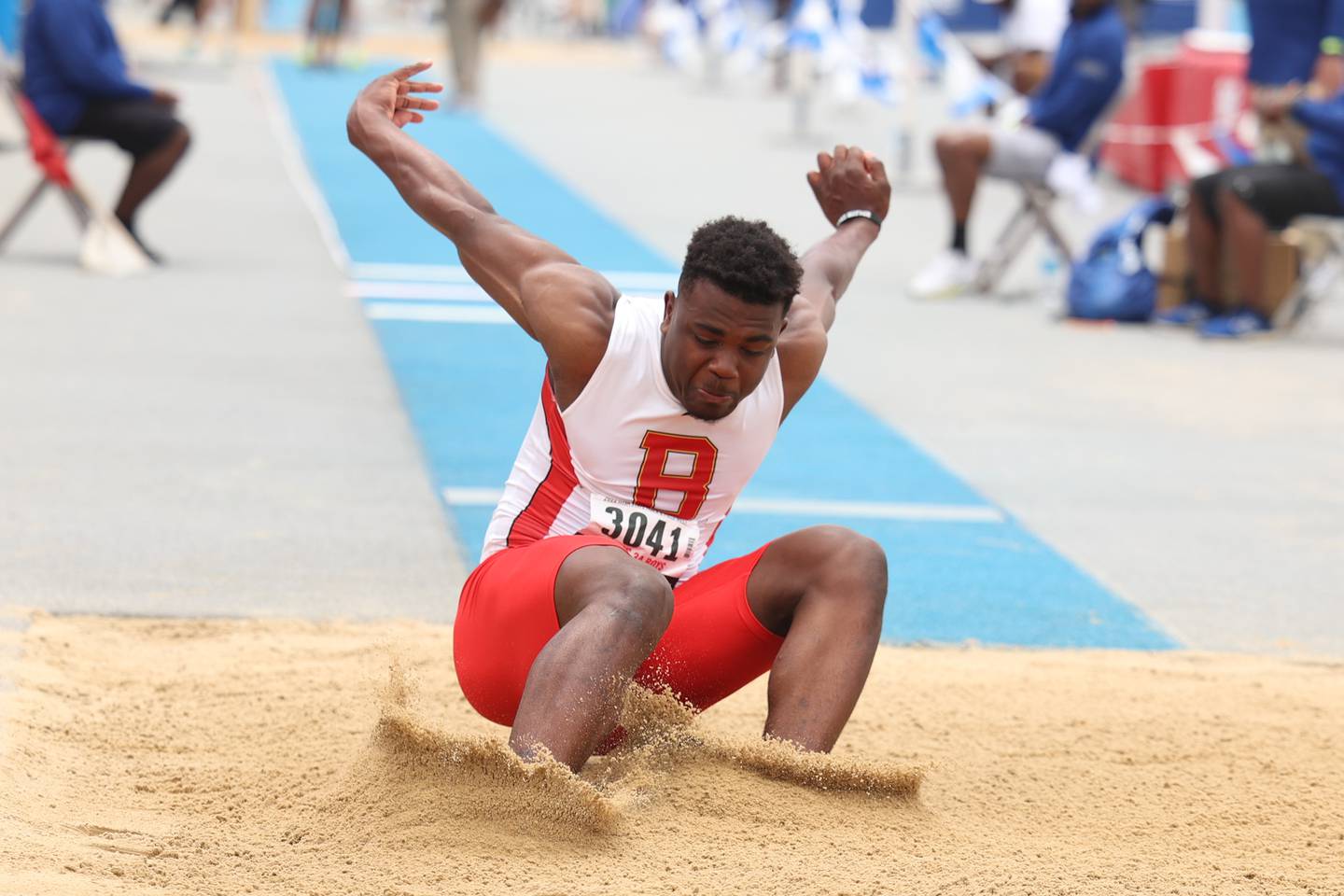 The Bulldogs made program history by not relying on a single athlete to carry the load, but rather a collective effort. Jalen Buckley had the best showing on the individual front, winning the triple jump with a top effort of 14.85 meters. Buckley, a Western Michigan football signee, said he understood the enormity and importance of popping a big jump on his final attempt.
On his third jump, Buckley set a personal record to win the state championship on his final career jump.
"I kind of knew that something good was going to happen on that last one," Buckley said. "I had a five-minute break and talked to my coaches. I had a feeling I was in second. I just warmed up and stayed to my routine."
Fallon scored eight key points for the Bulldogs by placing second in the 400 in a time of 48.49. The Bulldogs added points in the 4x100 relay with a fifth-place effort.
"It was an all right race and I didn't feel my best, but I got a personal record," Fallon said.
St. Charles East senior Micah Wilson, a Wisconsin recruit, was all smiles after the completion of his final event. Wilson, who won the 3,200 title last season, failed to defend his championship when he finished third in a time of 9:04. He placed fourth in the 1,600 (4:12).
"I wasn't super happy with today because I really wanted gold," Wilson said. "But overall, the last three years I'm really happy about. It's kind of emotional. I've been reflecting on the past four years and excited about what's next. I'm excited to run on the Division I level, to run with a great coach and great team."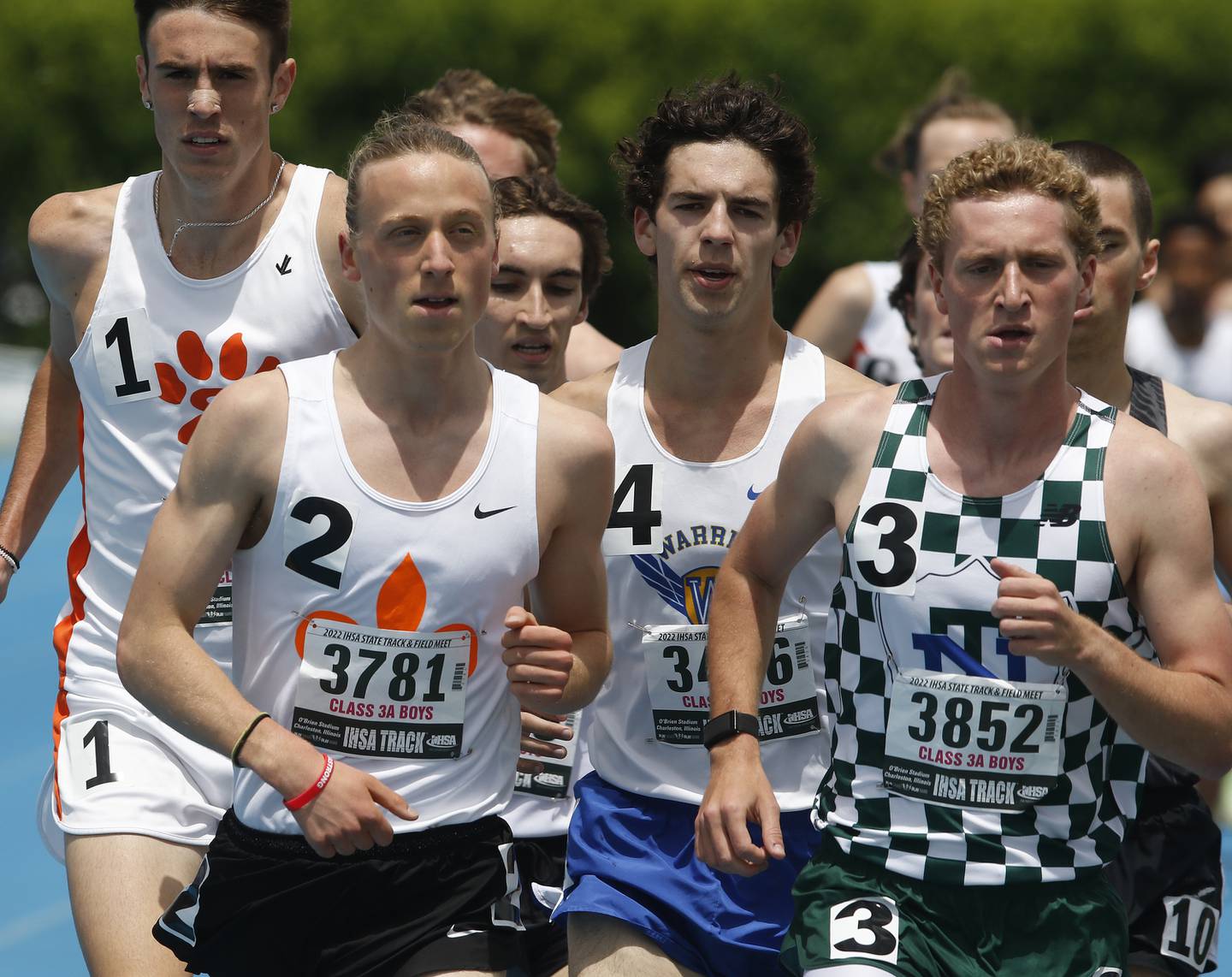 Two years ago, St. Charles North's Paolo Gennarelli exploded on the local sports scene, making a name for himself in football and track. He closed out his career with a second-place medal in the shot put (18.14 meters) to go with a fourth-place finish in the discus (53.80 meters).
"I knew it was going to be tough competing with [Yorkville's] Kyle [Clabough]," Gennarelli said. "I just tried to do my best because he's really good."
The Class 2A field featured a few local teams. Burlington Central rode a couple of strong showings along with a big effort in the relays. Zac Schmidt earned fifth place in the 200 dash. Teammate Yusuf Baig notched sixth in the 3,200 and seventh in the 1,600, and the 4x100 relay had a fourth-place showing.
Kaneland took home third in the 4x400 relay in a time of 3:24, with Palmer Behrends, Chris Ruchaj, Jai Sekhon and Sam Gagne putting together a memorable race.
Ruchaj, a junior, said he was focused on sending out the two seniors with a top-three medal.
"I tried to leave it all out on the track, just give it all I've got," Ruchaj said. "I feel good, but I'm satisfied."
Sekhon, a senior along with Gagne, said he understood the challenge in front of him when he was handed the baton.
"I just wanted to get in front of the guy in front of me who was in fourth and finish strong and get it to Sam," Sekhon said. "I feel I ran pretty well, but could've done better. I knew Sam would get it done."
Gagne said he focused on making his main move with 200 meters remaining.
"We anticipated that we would be in fourth place, so we talked about what our goals and what to do on Friday," he said.
Kaneland senior Elijah Pflipsen, a first-time state qualifier, earned eighth in the shot put and 10th in the discus.
"I'm a little disappointed with eighth because my personal record is a lot higher than where I came in seeded," he said. "Being an all-stater is very tough, so this is special."