STREAMWOOD – Aiden Maloney finally is getting his chance to shine.
After riding the bench on varsity last season, Maloney is making the visible impact he had been aching to earn all along.
"Last year, I was on the bench a lot," Maloney, a St. Charles East senior midfielder, said after the Saints' 3-0 victory over Crystal Lake Central in the Sabres Soccer Classic on Sept. 12. "I saw a lot of the seniors last year, too, so it was cool to learn from them and get the motivation being on the bench to just come out here and work hard every day."
The Saints, who have 14 seniors on this year's roster, feature a more offensively balanced team than in recent seasons. In previous years, either Mason Brockmeyer or Sebastian Carranza – both Kane County Chronicle Boys Soccer Players of the Year within the past three seasons – dominated the run of play and the stat sheet.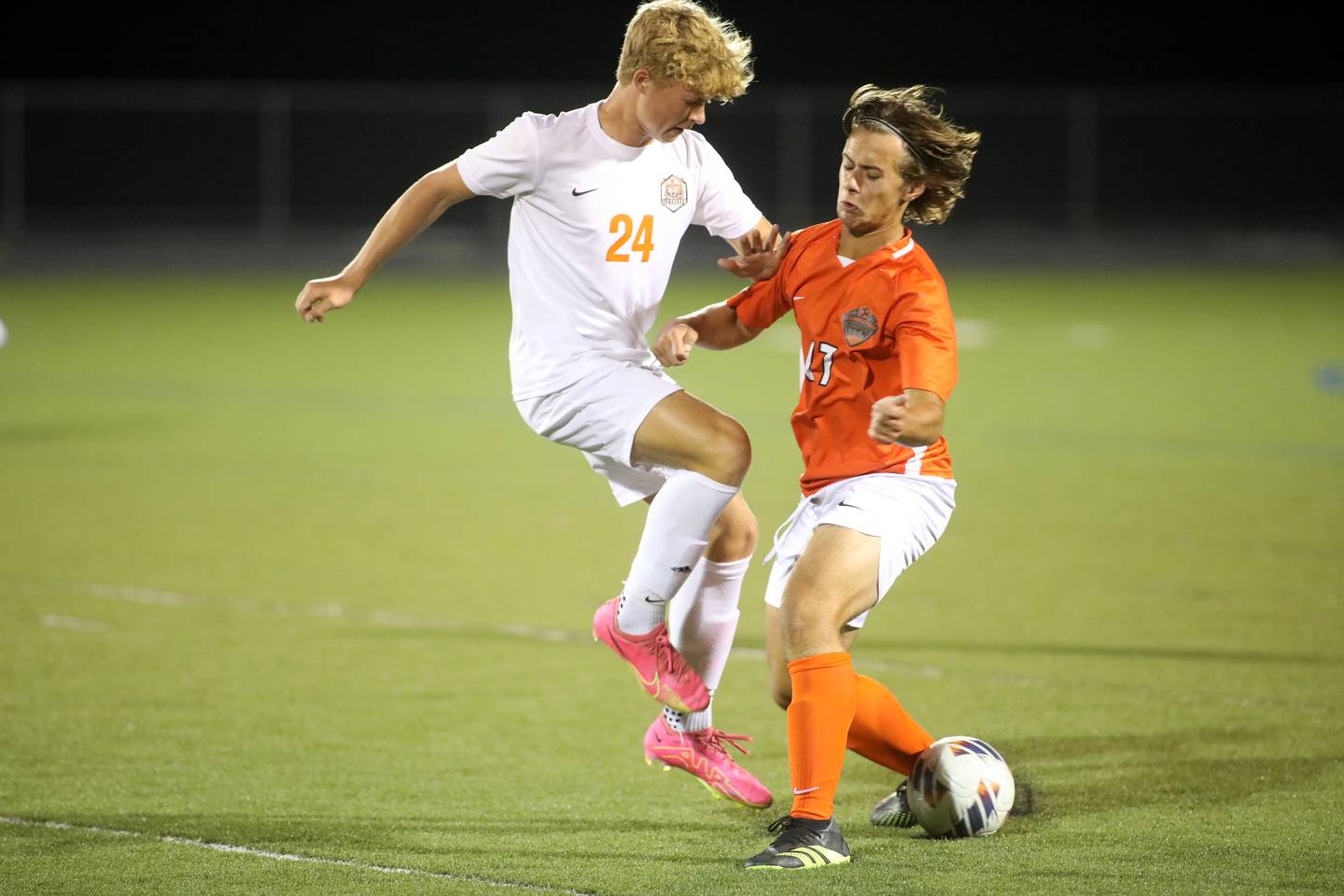 "There's not a special player that we're looking for [to score] every game," Maloney said. "We can all work together and we can all score goals. I think that's the strength of the team. We play together."
Junior Garrett Melton put the Saints (7-2-0) on the board with a header on an assist from Marc Walker with 32 minutes left in the first half. Maloney had a tally off an assist from Ryan Groselak midway through the second half. Melton scored another goal on an assist from Groselak with 19:11 remaining to put the finishing touches on the convincing win.
"Last year, I did make JV and I was very disappointed not making varsity," Groselak said. "I think it motivated me a lot because I would go to a pitch close to us and go play 3-on-3 with our friends and train. I think it motivated me because I saw my friends at the higher level and I was at the lower level. I just wanted to improve and be like them.
"I think my best attribute is just playmaking. I do play forward, but I don't think my finishing might be the best. But my playmaking off the ball and making space for my teammates to score like I did today to Aiden was really good."
Saints coach Vince DiNuzzo coins them "attacking-minded players."
"It gives us a nice little look in the midfield for Aiden, and then up top, Ryan's spacing separates them at times," DiNuzzo said. "Left-footed player, too, so he's able to play on both sides of the field and be dangerous.
"I think both of their progressions have put them in a place to be successful now."
Crystal Lake Central (6-4-2) got a defensive lift from sophomore Joshua Hernandez. The Saints were closing in for a wide-open goal in the last minute of the game, but Hernandez hustled to knock the attempt out of harm's way.
Tigers goalkeeper Anthony Bellino had four saves in the loss.
"This was certainly a tournament that we knew was going to give us some really tough games like this," Tigers coach Leah Rutkowski said. "So we didn't expect it to be easy, but we just expected to come out and play hard for the whole 80 minutes and get better. It really is about us working on improving our speed of play, which is something that we know we'll need to [do] moving forward into conference [play]. This is kinda the place to do it with some of the best teams around."