GENEVA – When healthy, Liam O'Donoghue can showcase why he's so vital in the middle of the Geneva attack.
O'Donoghue, a Vikings junior, was hampered during the summer with a right MCL injury. He then worked through a lingering midsection injury that got him off to a slower start to the season.
He's now back on track. O'Donoghue scored two goals to help erase an early one-goal Batavia lead and Geneva prevailed 3-1 over the Bulldogs on Tri-City Soccer Night on Sept. 27.
"He controls the middle very well," Geneva coach Jason Bhatta said. "He's super technical and his range of passing is great. He just roams the middle, a deep-line playmaker for us. I kind of think of it like a quarterback. He just sits here and surveys what he sees and hits people when he needs to.
"It's everything we need out of a holding mid. Defensively, he does well to clean up anything that's dirty there. Today, he got forward on the goal, a good spot to be, and then you can't ask for anything more on that free kick [for his second goal]."
O'Donoghue, who started feeling healthy in early September, said he simply loves playing for this team.
"We have a bunch of chemistry and it's just fun when I get to play," O'Donoghue said. "I get to ping balls. I get to play with Colin [Hasty], who's been exceptional. Trent [Giansanti], who's been amazing. So it's just fun to play with these guys."
After numerous ties and a close loss for the majority of August through mid-September, the Vikings (7-1-7, 2-0-2) now have ripped off three consecutive wins, including victories against DuKane Conference opponents St. Charles North and Batavia (3-8-2, 0-3-1).
"It's huge. It's given us a bunch of confidence," O'Donoghue said. "I think we've won four out of the last five games. It was a little disappointing [a 1-1 tie] against South Elgin, but we're starting to build back up just like last season where we [had] really strong wins [at the end of the season]. I think we can do that again."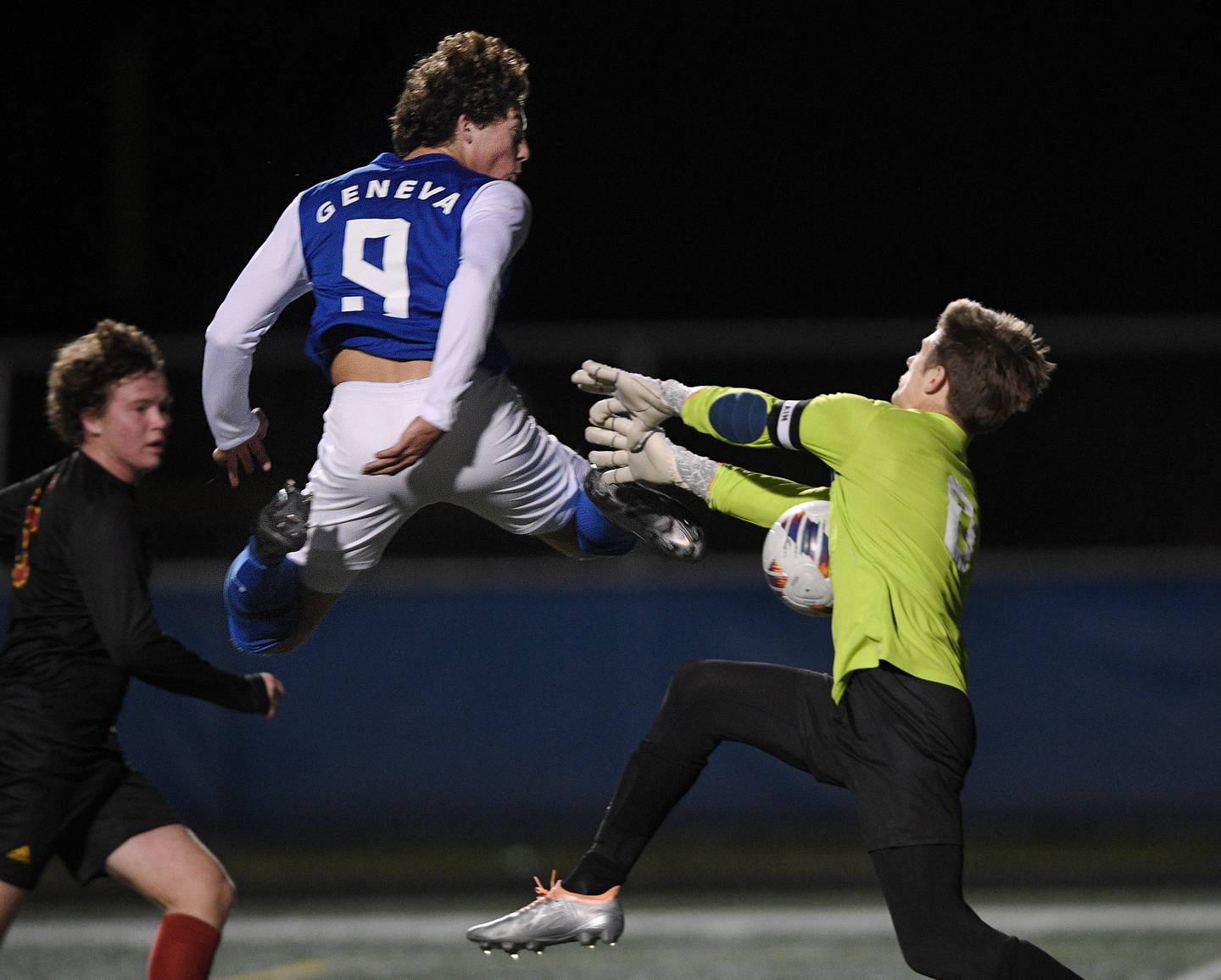 Sophomore Brokk Olberg put Batavia ahead 1-0 on an early penalty kick, but the Vikings scored the next three goals. The first two came from O'Donoghue. His second score came on a penalty kick after Batavia goalie Ryan Horlock was ruled to have caught the ball just outside the goalie box.
Hasty added Geneva's final score with 10:37 left in the first half after Horlock bobbled a save.
"[The second half], it was better. It's just the final pass, the final connection there. We created some turnovers for them. [Geneva's] center backs did a nice job first half dictating play, so we definitely wanted to pressure them and not allow them to do that," Batavia coach Mark Gianfrancesco said. "I thought we did that with some turnovers. Just was where's the next pass? So we made some adjustments and I thought that worked out pretty well."