WHEATON – Alexander Curtis hadn't seen game action since sustaining an elbow injury during St. Charles North's season opener last month.
He made his presence felt in his return.
Curtis, the North Stars sophomore goalkeeper, made one of the most crucial saves in a 0-0 tie with Wheaton North on Tuesday to put an exclamation point on his return.
With 3:32 left in the first half, Falcons junior forward Axel Leon boomed a shot on goal that forced Curtis to go sky-high for the outstretched arm save and knock it off the crossbar. While the rebound careened back into traffic, the North Stars were able to knock it out of harms way, denying a potential score before the half.
"This was his first game back," North Stars coach Eric Willson said. "We thought it could've been worse than what it actually turned out to be. He finally got the green light from doctors and his parents. He was ready to go. We felt like he was healthy enough to give the first half a start and see where he was at from there."
"Obviously, he's quite a keeper and has the ability to make some pretty serious saves," Willson continued. "His distribution was a little rusty tonight; when you haven't done that in awhile, that's totally understandable. The kid can make some plays."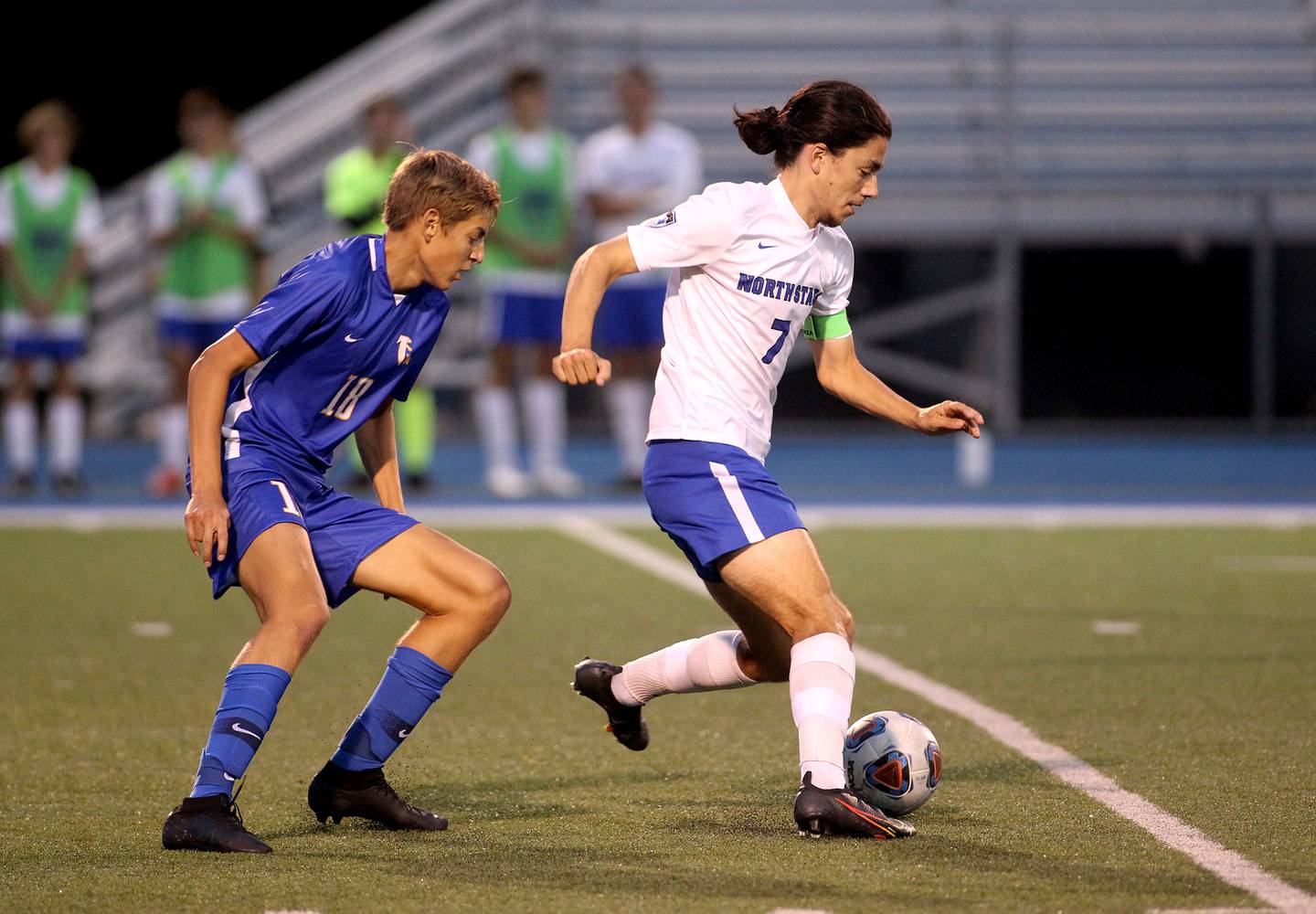 Plays like the big one before halftime Tuesdsay.
"That shot on goal, "I think we dodged a bullet," Willson thought.
Wheaton North (4-2-3, 0-1-1) had a few rushes late in the second half. One by Peter Tiesman was stymied by St. Charles North senior defender Michael DePasquale deep in North Stars territory with 4:35 remaining. In the final seconds, the Falcons drew a penalty, and a free kick was launched by goalkeeper Sam Wakeman and nearly converted by Diego Molina-Soberanis, but it was gobbled up and the game concluded.
Curtis had four saves in his only half of work and was well-supported by the North Stars backline to sustain the tie, a result that has become quite familiar for St. Charles North (4-1-4, 0-0-2).
"The boys and all of us kind of feel like we're sponsored by the tie right now," Willson said. "It's been kind of a reoccurring theme. I think we could've tidied up some things defensively; we still have been pretty strong the way we defend teams. We just can't seem to get that break through we need to get goals."
"I guess that comes with some more coaching, some more at training sessions," Willson continued. "...At times, we get some free kicks that go into the box that are asking for somebody to put a name on it. We're just not doing it right now."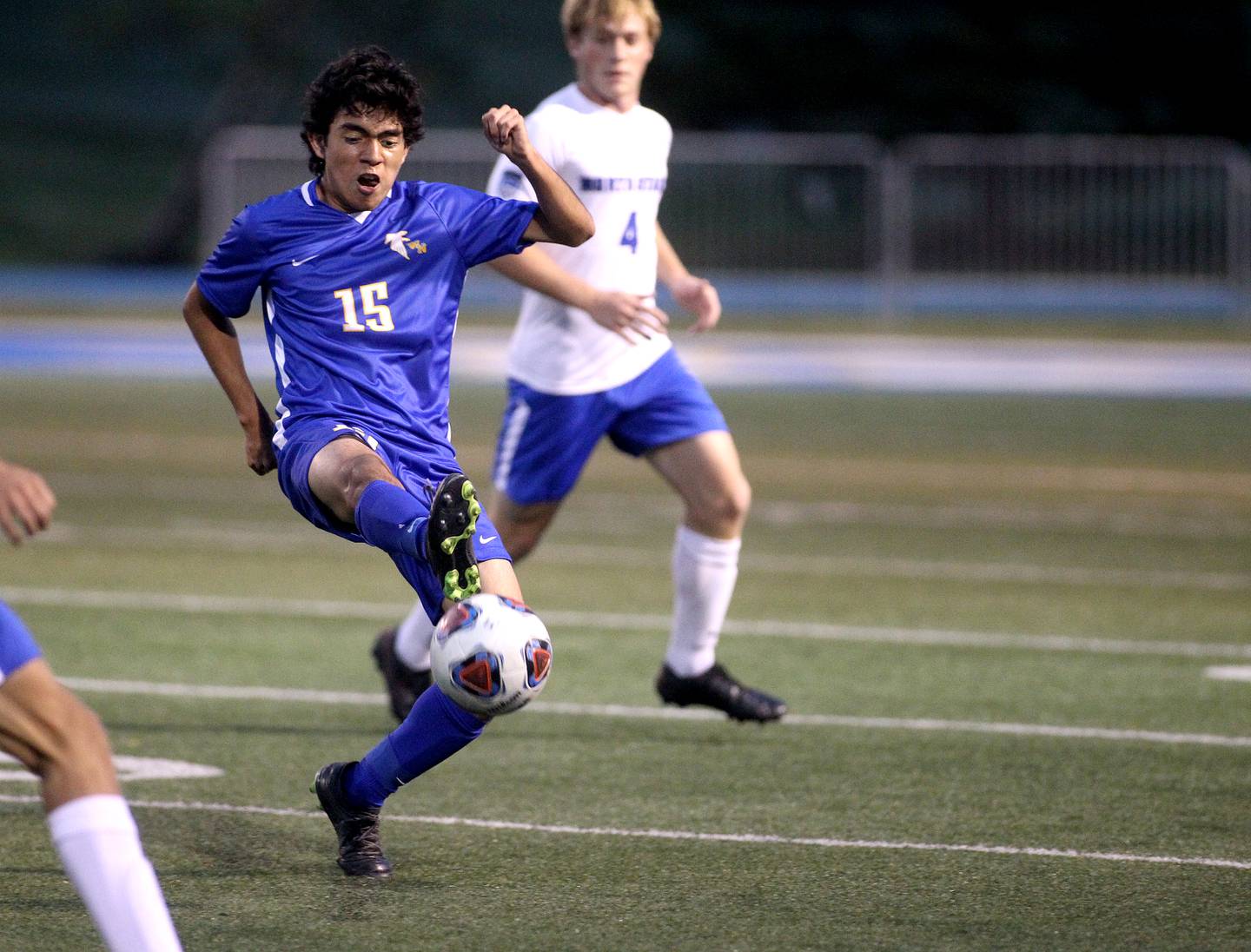 Falcons coach Rob Stassen coined Tuesday's bout a "slugfest."
"You're not just one-on-one in the ring. You're just throwing everybody in and saying 'let's just party,'" Stassen said. "It took one breakdown, but the way their back line was, they weren't going to back down. Their keeper was outstanding. Our back line wasn't willing to back down, so it was just a midfield slugfest."
"I said to [Willson postgame] the last 20 minutes [felt like] someone is going to score off a free kick...you've got two teams that would do anything to win," Stassen continued. "...We don't like a slugfest [as a team]; that's not who we are. Normally, we shy away from that contact. We've got six games in seven days and they stepped up. They were ready for the fight."
DePasquale concluded the North Stars were "pretty defensively strong."
"I've had a really good time with this defensive lineup so far," DePasquale said. "We have two newcomers: Stefano Nava and Casey Kriz in the back. They stepped up and have really solidified our defense."
"[Our team has] been trying to keep our energy high," DePasquale continued. "I think we're a very energy-oriented team. Even off the bench, we're trying to keep energy high. We want our bench involved in the game every single time...and try and get a goal for us."