PLANO – Nano-seconds after Gavin Sarvis missed what could have been the game-winning shot, he turned to the bench to prepare for double overtime.
Nick Carpenter had much different plans.
Carpenter, a Burlington Central senior, put back a Sarvis miss at the buzzer to lift the Rockets to a gritty 56-54 overtime victory over two-time defending champion Peoria Notre Dame at the 58th Plano Christmas Classic.
"I missed, so I was getting ready for double OT; I was heading over to the bench," said Sarvis, the tournament MVP, who scored 17 points. "All I hear is the crowd going crazy."
Sarvis, amazingly, didn't even see Carpenter's game-winner.
"I thought I shot with no time left," Sarvis said.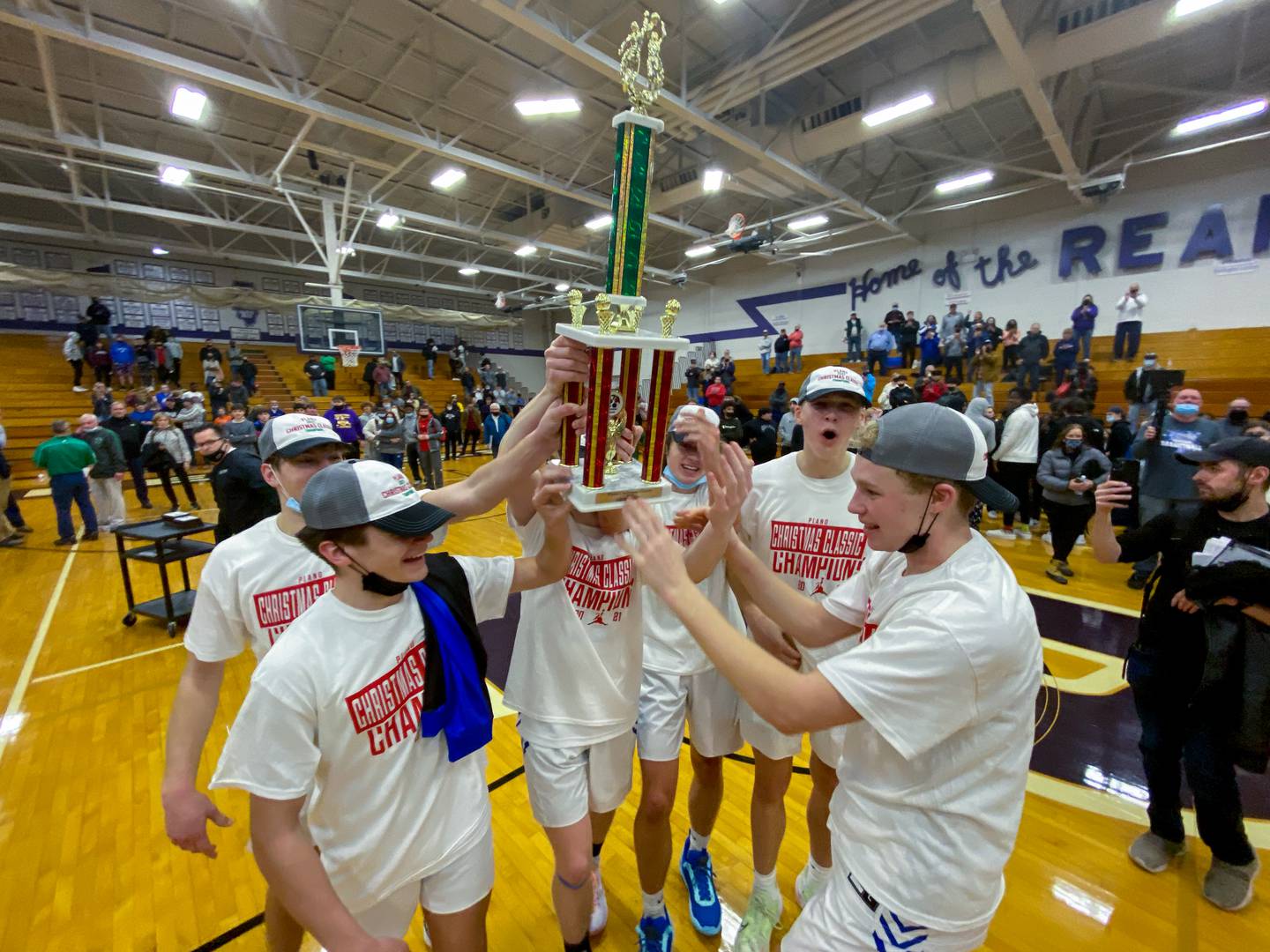 Carpenter, who scored eight points – none more important than the game-clincher – was simply thinking "get my hands on the ball" in those final moments.
"I'd been working the boards all game," Carpenter said. "Two [Notre Dame] 6-foot-8 guys; doing my best the whole game…I don't even remember what happened. I just remember celebrating it went in."
It was the third meeting between the two programs in the last four tournament finals. Burlington Central beat Notre Dame in the 2017 championship, and the Irish prevailed in 2019.
Hard to top this finish, which even surprised the game's hero.
"I thought [there] wasn't enough time," Carpenter said. "…I thought I heard the horn. I didn't even know it went in until like five seconds later."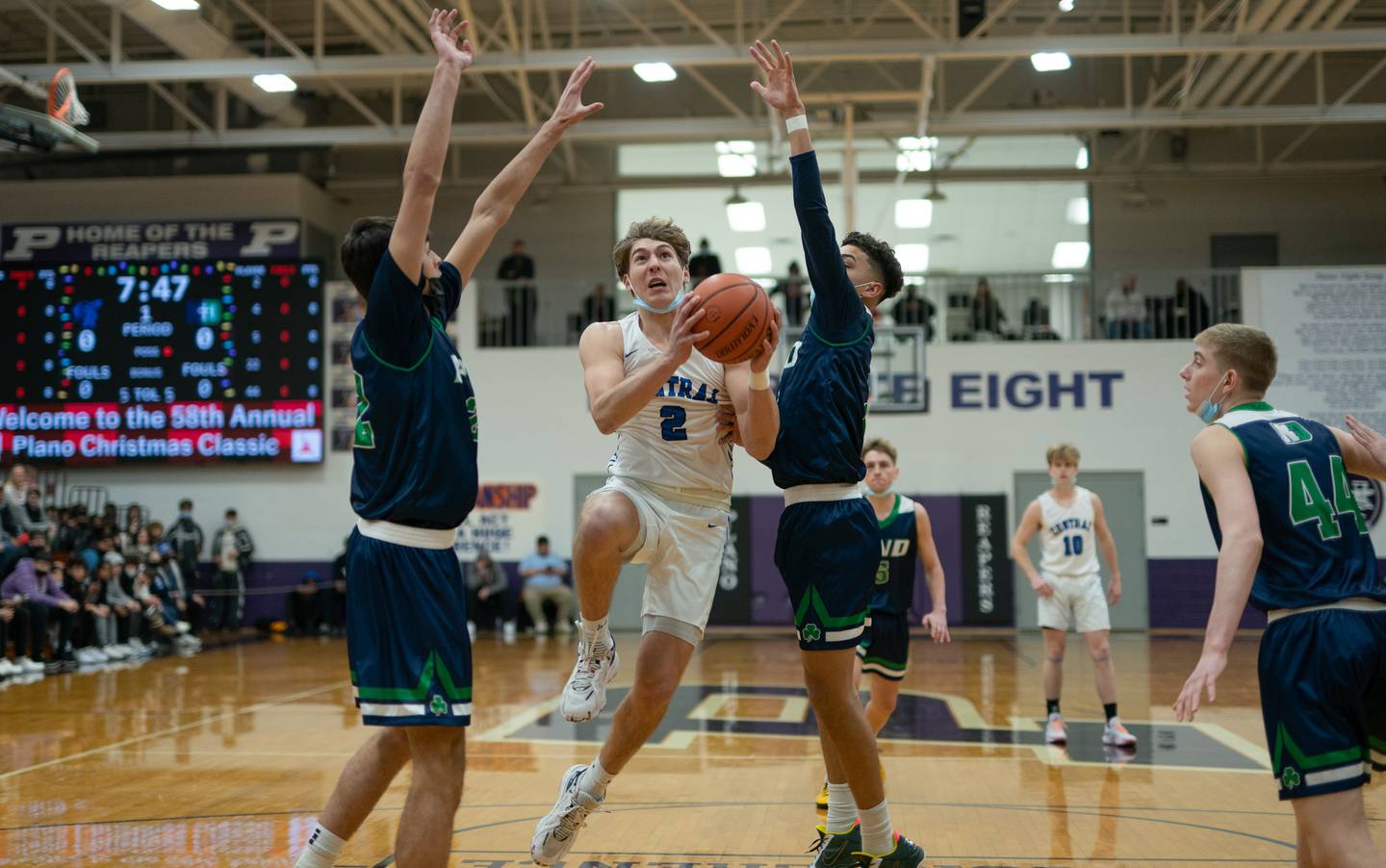 The teams were deadlocked at 49 at the end of regulation. Rockets guard Zac Schmidt (10 points) sank a three to take a 54-53 lead with 1:56 left, but Irish guard Colin Schuler split two free throw to tie it.
From there, Sarvis and Carpenter found a way.
"It wasn't pretty, we turned it over a lot today, but we played with a lot of toughness," Rockets coach Brett Porto said. "We got down and we responded and made just enough plays today against a very good team."
Carpenter made the play the Rockets (12-2) needed.
"Carpenter has done that his whole career," Porto said. "He's always in the right spot at the right time and does a fabulous job of getting rebound putbacks and cuts for us. It's kind of a perfect ending for him because that's the kind of player he is."
Peoria Notre Dame (6-2) was paced by Cooper Koch's 14 points. Nelson Reynolds had 12 points and Juan Madrigal had 11.
"It was a great game for the fans; it was a great game for the kids," Irish coach Tom Lacher said. "It was just a great game to be a part of…I was proud of my guys. It's been a while since we'd been in a game like that. Burlington Central is so good; so well-coached. Brett does such a great job with that team. I'm a big fan of him and his program. I think [this game] is something that we can build on.
In the third place match between Yorkville Christian and Northridge, the Mustangs cruised to a 69-41 final. Duke commit Jaden Schutt starred for 26 points.
"Our schedule has been a grind. The first two games, we had the upper hand pretty early so it was a little what we weren't accustomed to because we've played a lot of hard fought grind it out games. Had a good game plan against Burlington but we just didn't execute it. Got beat up on the glass," Mustangs coach Aaron Sovern said.
"Really, the last 60 seconds of the first quarter and the first 30 seconds of the second quarter we got outscored 13-0 and other than that, we win the game. That's a good teaching moment, which we literally just talked about with our guys, you lose focus for 90 seconds, that's the game."