The boys basketball season gets underway in the next week. Here are previews of teams from around the Kane County Chronicle coverage area.
Batavia
Coach: Jim Nazos
Last season: 16-15
Top returners: Ethan Ivan (F, sr.); Trent Tousana (G. jr.)
Key newcomer: AJ Sanders (G, jr.)
Worth noting: Batavia has lost considerable experience and size in the front court, with Jayden Johnson now at Illinois State and Devin Cheaney at Hope College ... The Bulldogs, however, bring back three starters in Ivan, Tousana and Luke Fehrenbacher to bring a nice athletic and scoring punch ... Jack Valente, 6-foot-4 and 250 pounds, will certainly be the muscle inside and be a hungry rebounder ... Batavia is long known for its deep bench and finding ways to incorporate mixes of talent for a solid second unit.
Burlington Central
Coach: Brett Porto
Last season: 23-10
Top returners: Zac Schmidt (G, jr.); Gavin Sarvis (G, jr.); Carson Seyller (F, jr.)
Key newcomer: Lucas Meyer (G, jr.)
Worth noting: The Rockets graduated standouts in Josh Hudgens and Jake Lenschow – huge pieces of their highly successful regular season ... Schmidt, Sarvis and Seyller return to boost the starting lineup with solid experience ... Schmidt, heading into his third year as a starter, is one of the area's top players to watch as a consistent 3-point threat and for his playmaking ability ... Andrew Scharnowski also earned minutes as a freshman, so expect his role to grow as the year progresses.
Geneva
Coach: Scott Hennig
Last season: 18-13
Top returners: Nate Valentine (G, sr.); Dylan Fuzak (F, sr.); Quin McNeive (G, sr.)
Key newcomer: Ryan Husky (F, jr.)
Worth noting: The Vikings are well-positioned for a strong season with Valentine and Fuzak taking the lead, both budding talents in their own right ... Valentine is a strong floor general who can shoot while Fuzak provides elite all-around production, energy, rebounding and more ... Geneva returns eight players from last year's team and is expecting positive contributions from Husky, a 6-foot-4 junior ... Geneva is traditionally a unselfish team with the basketball and while Valentine and Fuzak will get their points, Mason Mascari, Chris Suger and others can definitely play.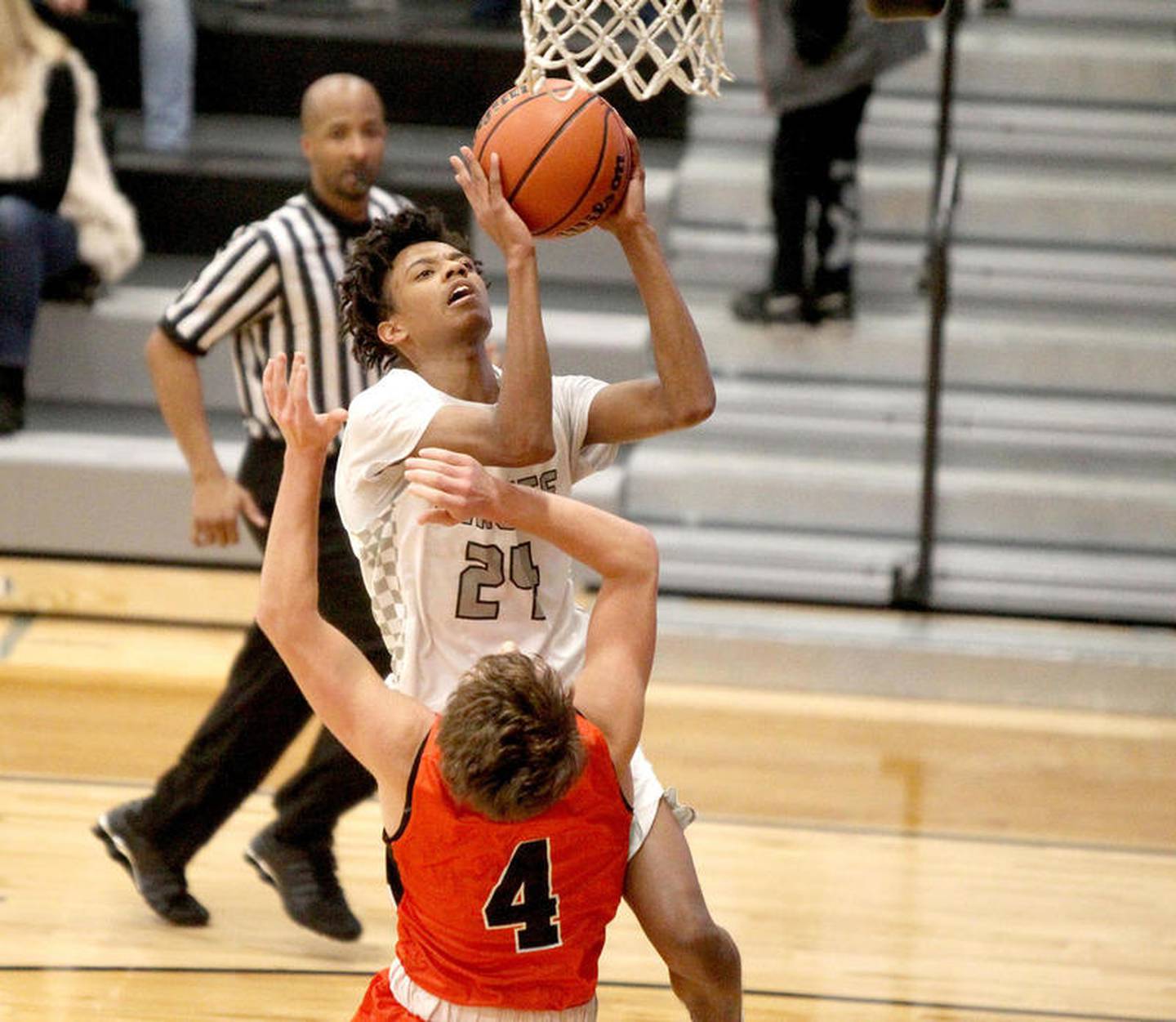 Kaneland
Coach: Ernie Colombe
Last season: 16-14
Top returners: Jamari Meeks (G, sr.); Porter Conroy (G, sr.)
Key newcomers: David Kolev (F, sr.); Brady Popovich, (G, sr.)
Worth noting: The Knights just got the word Wednesday that their health region entered Phase 4, meaning competitive basketball can take place ... Their Interstate Eight Conference slate starts Tuesday against Plano – who beat the Knights in last year's regional semifinal ... "We're hoping the kids get the chance to play," Colombe said. "We hope the trend continues." … Colombe, a driver's education teacher in the district, just came off a quarantine and has been at practice only a couple of days. … Meeks comes in at 6-foot-5 and and Colombe said has improved a lot in the offseason.
Marmion
Coach: Tony Young
Last season: 5-25
Top returners: Sean Kavanaugh (G, sr.); Nick Reid (G, sr.); Collin Wainscott (G, so.)
Key newcomer: Andre Blakley (G, fr.)
Worth noting: The Cadets win-loss record wasn't what they wanted last year, but one couldn't say they weren't coached hard by Young ... Closing games last season proved to be a learning point for the Cadets last year, but they return some seasoned veterans in Kavanaugh, Reid and Wainscott to potentially turn around those fortunes. ... Marmion also plays in a difficult Chicago Catholic League every year ... Blakley is a guard Young has touted as "very talented."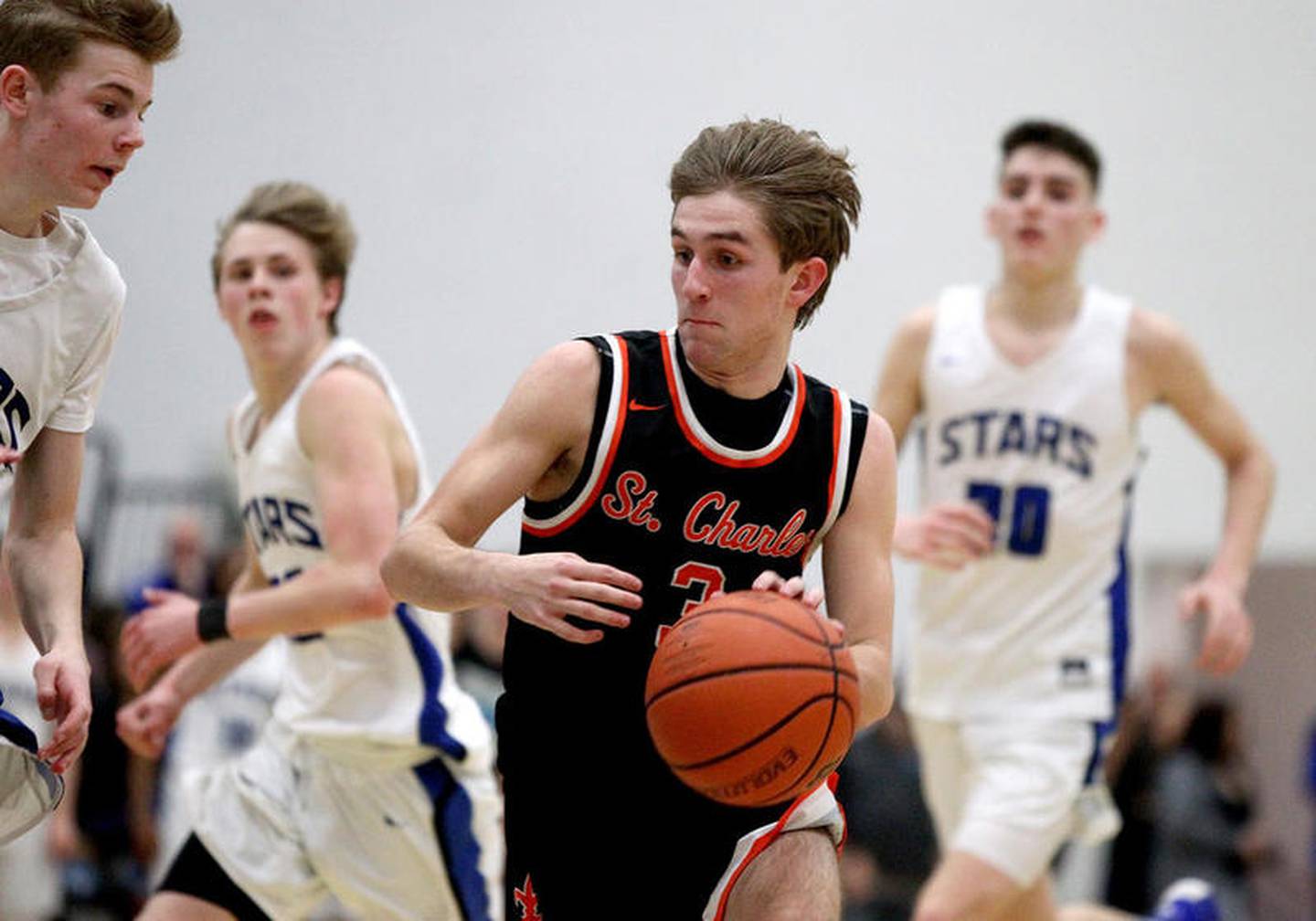 St. Charles East
Coach: Pat Woods
Last season: 23-8
Top returners: Joseph Musial (G, sr.); Brice Clayborn (G, sr.); Zachariah Masud (F, sr.)
Key newcomer: Edward Snead (G, sr.)
Worth noting: The Saints perhaps surpassed expectations last year with a fantastic run to the Class 4A regional final against crosstown rival North ... East has graduated several standouts from that team in Chase Monkemeyer, Aidan Sullivan, Sean Sullivan, Thomas Ditsworth and Scott Breidigan, but feel good about six returning seniors - led by Musial ... Clayborn is billed as an athletic player who has solid 3-point shooting ability while Masud can play both inside and outside ... Snead is an intriguing transfer from Bolingbrook.
St. Charles North
Coach: Tom Poulin
Last season: 24-8
Top returners: Ethan Marlowe (F, jr.); Max Love (G/F, jr.)
Key newcomer: Justin Hughes (G, jr.); Jude Love (G, jr.)
Worth noting: With due respect to this group, topping the achievements of the last two seasons will be a difficult feat ... The North Stars have won two straight regional titles, last year's run cut short by the cancellation of the rest of the playoffs by the COVID-19 pandemic ... The North Stars lost a group of proven starters in Luke Scheffers, Christian Czerniak, 2019-220 Chronicle Player of the Year Connor Linke, Colin Nelson and more ... Marlowe and Love are among the few who had significant bench roles last year, but now they'll be expected to usher in a new era ... Justin Hughes is touted with good shooting ability while Jude Love, the non-identical twin of Max, will probably have a bigger role after little minutes on varsity last year.
St. Francis
Coach: Erin Dwyer (sixth season).
Last year's record: 21-13, third in Metro Suburban Conference.
Top returners: Sebastian Miller, jr., G, 6-2; Brendan Yarusso, jr., G, 6-1.
Key newcomers: Jack Brennan, G; Jack Locasio, F; Brian Zulauf, F; Nick Ciombor, F; Sean Killian, F; Nick Rowlan, F; Colin Kiesler, G.
Worth noting: The Spartans last year won their second regional title in three years and eighth in program history ... Miller, memorably, made the game-winning layup with five seconds left to beat Burlington Central on its home floor in the regional final ... the Spartans return two starting guards in Miller and Yarusso, who both averaged 10 points as sophomores ... graduated 6-foot-4 forward Robert Nocek, who averaged 14.8 points and 8.4 rebounds, leaves a big void inside ... sophomore TJ McMillen, a Division I football recruit, opted to not play basketball this year ... "A host of talented seniors and juniors will make for a deep roster looking to make an impact," Dwyer said.