AURORA – St. Charles North is ready to fully unleash Alex Bardouniotis.
Bardouniotis, the North Stars senior outside hitter, is no stranger to extensive playing time on varsity. Last season, en route to a sectional semifinal appearance, she was third on her team in kills (146), third in blocks (35) and fifth in digs (25).
[ Photos: St. Charles North vs. Rosary volleyball ]
While perhaps sophomore Haley Burgdorf and senior Katie Scherer generate the bulk of opposing defensive attention from opposing teams – as they combined for 507 kills last year – Bardouniotis' athleticism and versatility on the court allows North Stars coach Lindsey Hawkins to utilize her skills in a variety of ways to score points and beyond.
"[Bardouniotis] is such an amazing player," Hawkins said following their 25-18, 25-15 sweep over Rosary on Monday. "She's really grown. I started coaching her when she was 13, 14, and the athleticism of that girl is amazing. She has a wide range of what she can hit. We've had her in the middle, on the outside, the right side, so we're really excited for how far she's come and the level she's playing at."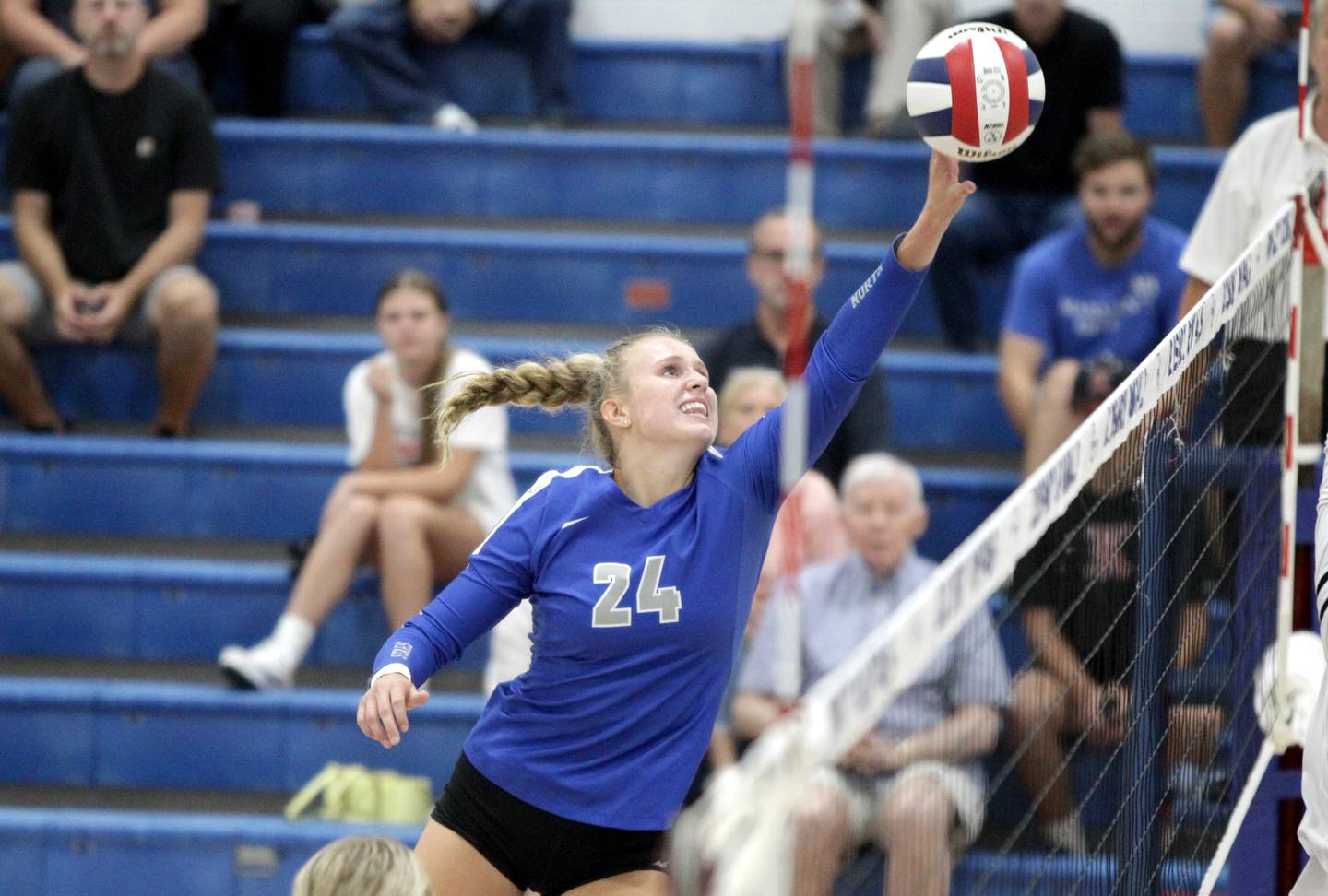 Bardouniotis opened the season with three kills and two aces to follow Scherer's seven kills and Burgdorf's five kills.
"She's kind of our 'quiet killer'," Hawkins continued on Bardouniotis. "She's going to eat up a lot of points and people are not going to expect that from her."
For Bardouniotis' part, everything she does "is for the team."
"Wherever [Hawkins] wants me to hit, I'll hit; wherever she wants me to play, I'll play," Bardouniotis said. "Whether I contribute on the bench or whether I contribute on the court, I really enjoy how well-rounded this opportunity has made me as a player because playing multiple positions is allowed me to be a versatile hitter; which gives me a lot of opportunities for the team to score points."
"Because I was primarily a front row hitter [last year], I really wanted to work on my back row, my defense and my service-receive," Bardouniotis said. "I feel like that's improved too."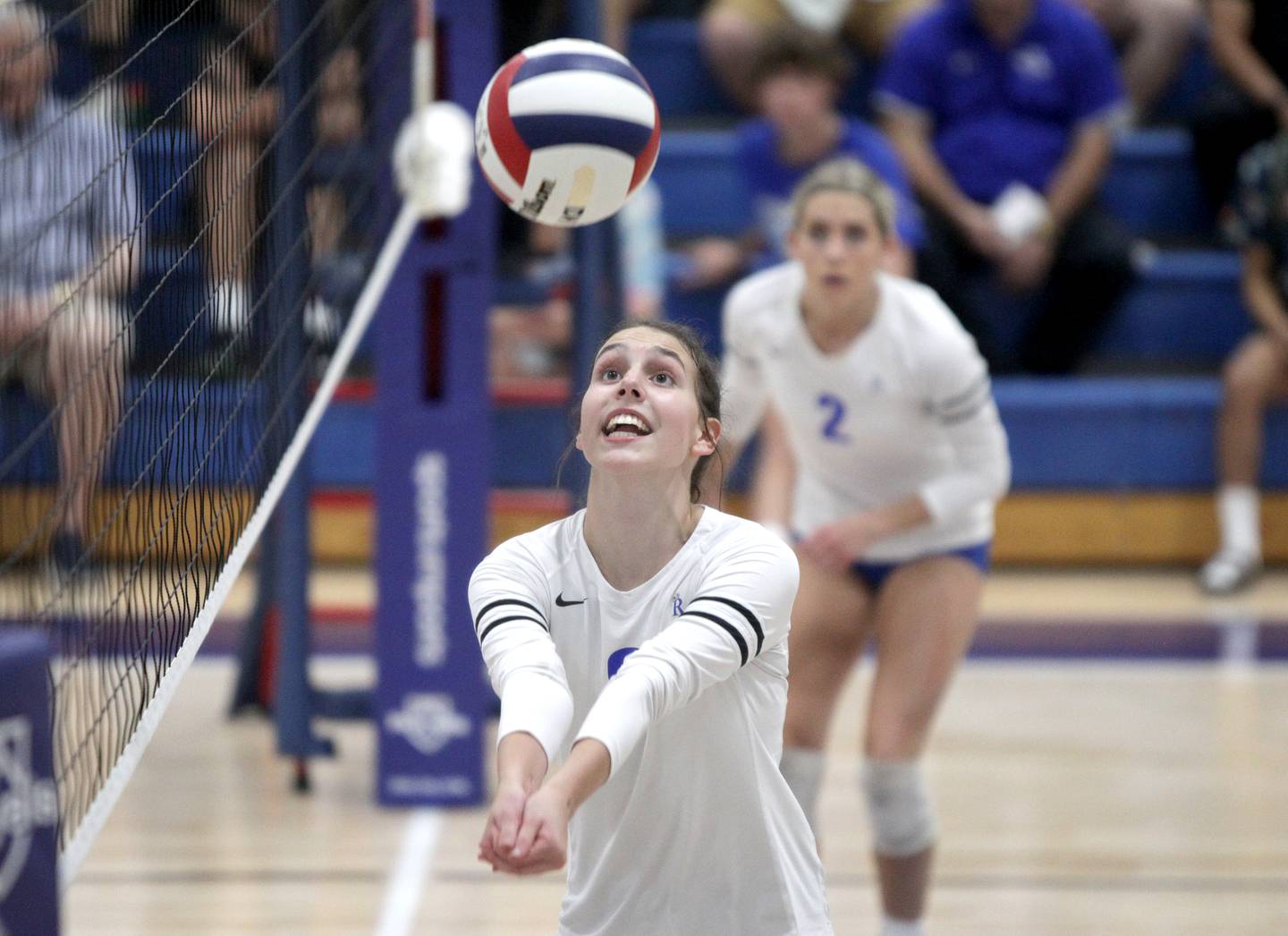 In set one, the North Stars (1-0) largely built a comfortable lead, as Rosary (0-1) came within two points mid-set. A quick 3-0 run by kills from a Adrianna Huptych and Scherer, plus a Burgdorf ace, was the juice the North Stars needed to cruise to the 25-18 win. In set two, a combination of Scherer kills and Royals attack errors piled up to allow for the sweep.
Rosary was paced by junior outside hitter Clare Mceniry's four kills. Junior setter Lilly Caruso had two kills.
The North Stars graduated star setter Jessica Parker and libero Karlie Custer as the primary losses from last year's team. Jackie Ruder, their senior libero, is another piece to keep in mind moving forward.
"She and Custer kind of had an all out battle for who it was going to be…Jackie was ready to go," Hawkins said. "I call her the 'culture captain' because she is the one in our gym who is rallying every single kid from varsity to freshmen. She keeps them in line. She keeps us all on what we're supposed to be doing. She's an amazing, amazing person."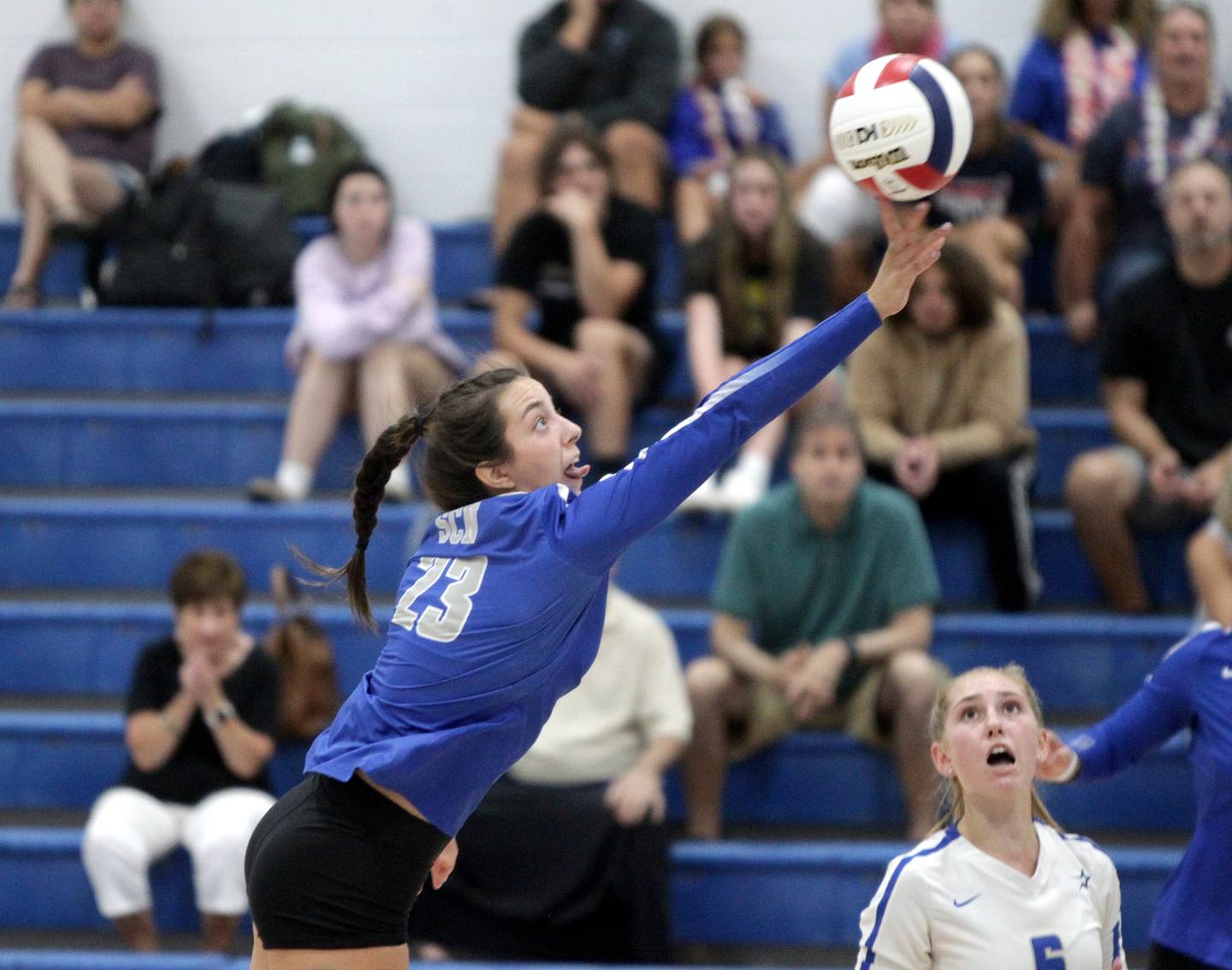 Rosary, meanwhile, is well supplemented with returning talent in its own right. Mceniry, Caruso, sophomore libero Lilli Riddiford, junior setter Molly Lambert, and junior middle blocker Reese Gilla are among the top returners from last year's 18-18 team that saw its season end in the regional semifinals in three sets.
"Clare led us in kills [last year]. Molly, I want to say, was first or second in aces and I want to say first in assists as well even as a sophomore," Rosary coach Franky Martinez said. "So, a huge junior class. We have one senior this year, Maggie Smith, is also returning."
One name that will start to resonate in Kane County volleyball circles is middle blocker Sarah Nierman.
"She was on JV last season," Martinez said. "This match, just seeing the speed of the game at the varsity level with the type of competition was great for her. I think she'll begin to make a name for herself and whatnot."