ST. CHARLES – A wave of emotion appeared to crash over Eva Saltsman as she exited the floor for her curtain call.
Saltsman was one of three St. Charles North seniors, along with Erin Stack and Morgan Klug, to celebrate Senior Night with the North Stars' 50-31 win over Lake Park on Thursday.
[ Photos: St. Charles North vs. Lake Park girls basketball ]
"Honestly, the whole day, I didn't really realize it was my senior night," Saltsman said. "I was kind of walking around wearing the shirt [like] it was just another game. Once, I came off the court, I realized, 'Wow, this is my last time I will be in this gym with these people and I just love the team so much. It just really hit me [that] it's going to be our last time here together. It just made me really [happily] emotional."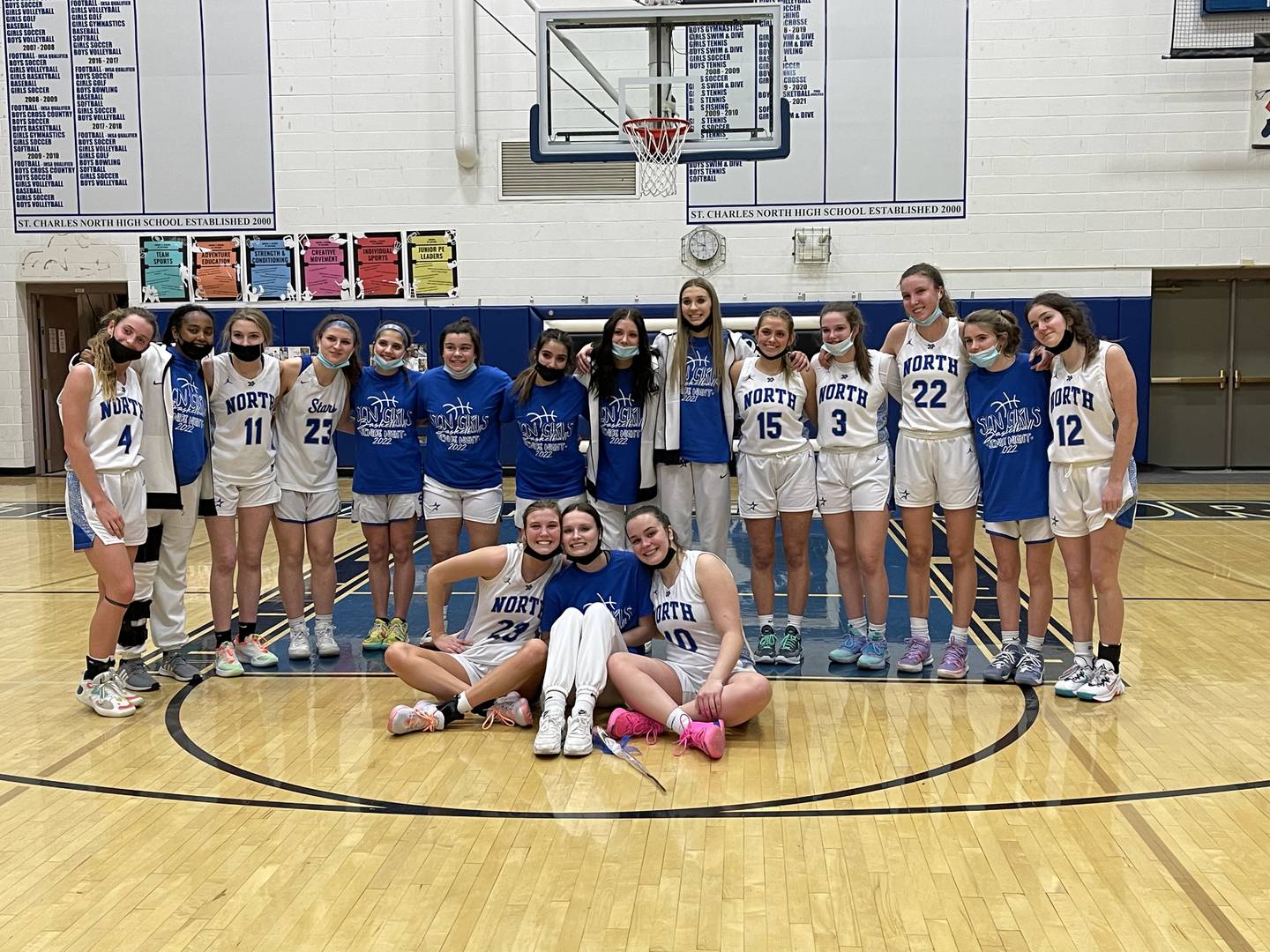 Following the game, the entire team posed for a final photo with their three senior leaders front and center.
"I think with the shortened year last year, it's a lot different this year. We've spent a lot more time together, especially in practices and going to games and everything," said Stack, who scored 21 points to lead the North Stars. "It's been hard for us with injuries and other setbacks, which I think brought us together a lot. Coming off the floor and seeing everyone crying, you can't help [but be emotional."
Klug unfortunately did not have the storybook ending to her senior season, as she suffered a season-ending knee injury in December. Regardless, she's been on the bench for the rest of the ride.
"[The support] has been really great," Klug said, fighting back tears. "Everyone has been so nice and Katrina [Stack] stepped up in my place and continued right where we left off. And pushed us through all the [DuKane] Conference games, so everyone was awesome. I was trying to, we have a lot of younger kids, so trying to show them how everything is supposed to be and how they're supposed to support everyone, even if they're not playing."
Klug's most prideful moment of her varsity career was the friendships she made along the way each season.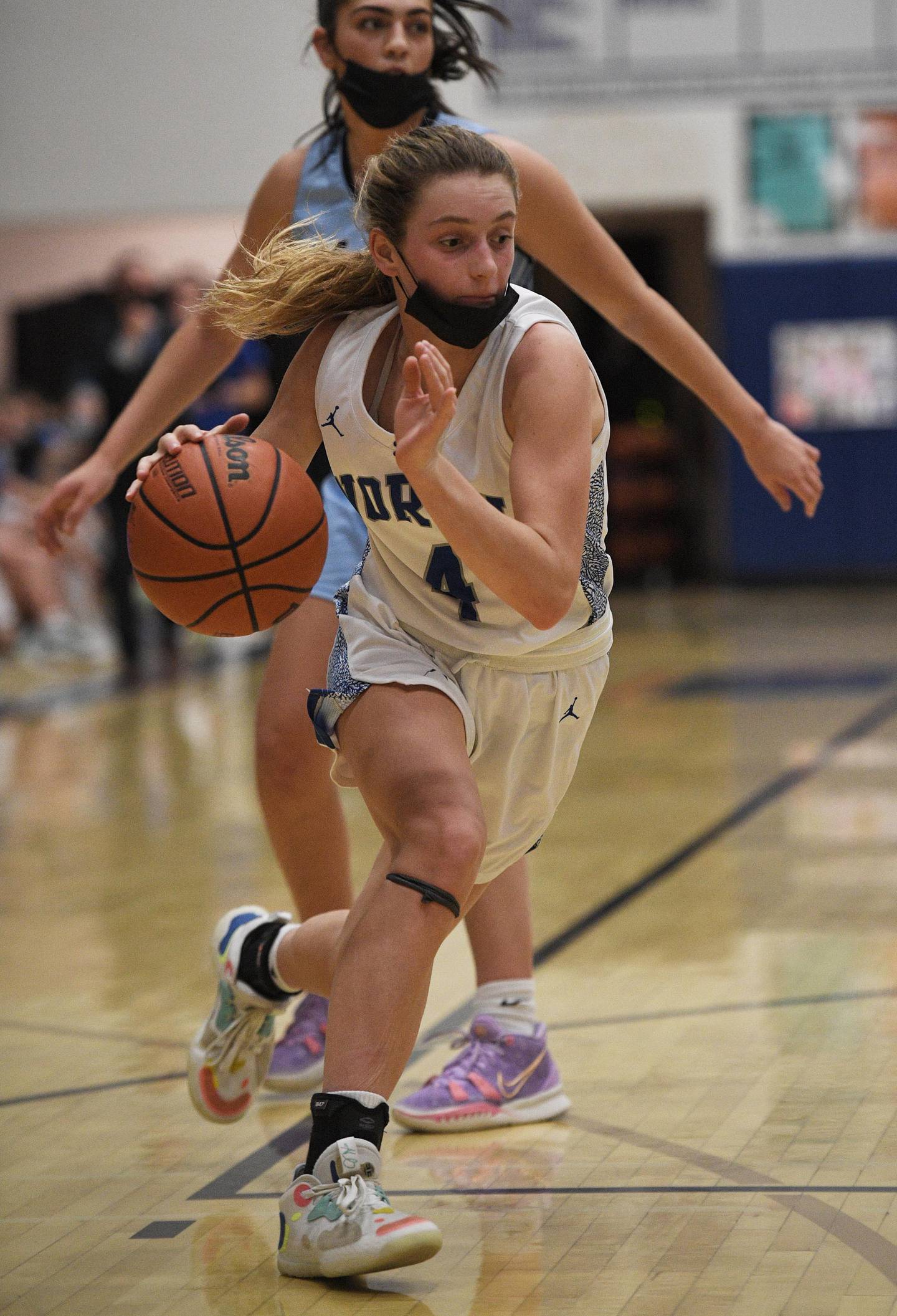 Saltsman was "so happy for all the support" they received and "there's no words that I have for our team."
"We've been fortunate, in a number of situations, to be able to have our seniors come off the floor and be recognized individually at the end of the game. To me, that's my favorite thing," North Stars coach Mike Tomczak said. "When that happens, that's the moment where they really realize 'this is it'. More often than not, that's emotion. To me, that shows how much they care, how invested they've been, the love for their teammates and how their teammates feel about them. It all comes together."
"It's one of my favorite things as a head coach: Hugging your seniors when they come off the floor on senior night," Tomczak continued. "There's nothing better. Every year, we say it: There's just a little magic on senior night, every year, now matter what. Lake Park is a very good team. They have a legitimate chance to win a regional."
The North Stars (15-12, 4-7) were led by Stack's 21 points, while Alyssa Hughes had 14 points.
Lake Park (13-12, 3-9) slogged through difficult shooting stretches for the majority of the second half. The Lancers closed the deficit to three points with 5:22 remaining in the third quarter, but Stack and the North Stars soared past them in the fourth quarter to clinch a comfortable win.
Lake Park was led by Sara Balli's nine points and seven rebounds, while Michela Barbanente had seven points.
"…We got aggressive on tying to exploit traps [in the fourth quarter] and they did a good job of finishing out that game," Lancers coach Brian Rupp said. "If we don't have shooters ready; if we don't have five girls ready to score the ball, it's difficult for us to score. We only scored two points in the fourth quarter. We were right there. We were right there. [Stack] hits that three at the end of third and it kind of hit us in the gut a little bit…good team."