GENEVA – Anthony Ray and Josiah Viera did the handshake no matter what.
Ray, a 2013 St. Rita graduate, former draft choice of the St. Louis Cardinals and now an outfielder for the Kane County Cougars, had a special bond with Viera. They were the focal point of perhaps one of ESPN's most inspirational feature stories in the last decade.
"Before every game, we had to do the handshake," Ray said prior to the Cougars game with the Houston Apollos on Thursday.
The Cougars (24-23) defeated the Apollos (7-38) 2-1 in 11 innings to complete the sweep. Ray was out of the lineup due to a minor right ankle injury suffered earlier in the week and is projected to likely return soon.
Viera was born with Hutchinson-Gilford Syndrome, an extremely rare genetic disorder that causes children to age rapidly. Viera and Ray would always do three forward hand slaps coming together, a backhand, another forward one before a first bump and throwing a quick dab up for their routine.
The life expectancy for a person diagnosed with HGS, also known as Progeria, is about 13 to 20 years old. There is currently no cure, per Mayo Clinic. Estimates as recent as 2020, via The Genetic and Rare Diseases Information Center (GARD), indicate one in four million babies are born with the condition. One in 20 million people worldwide are affected.
In 2016, Ray was playing for the State College Spikes, the short season single-A affiliate for the Cardinals. Viera was an honorary bench coach. That season, the franchise won their second New York-Penn League championship.
Viera, who died in 2018 at the age of 14, "would put a smile on your face."
"I remember I started off slow during that season," Ray said. "Josiah, he could tell that I was down and [he] just came up to me and said: 'Come on Ray-Ray, you got this'."
"…[The] next week, I hit a home run and Josiah was the first person when I came in the dugout," Ray continued. "He was right there and we started out with our handshake…if I got a base hit when I come in, we [were] doing the handshake."
Ray remembers Viera's grandfather would bring Josiah to games. Josiah would also travel with the team.
"We needed Josiah there," Ray said. "I would always tell people that we won that championship for Josiah."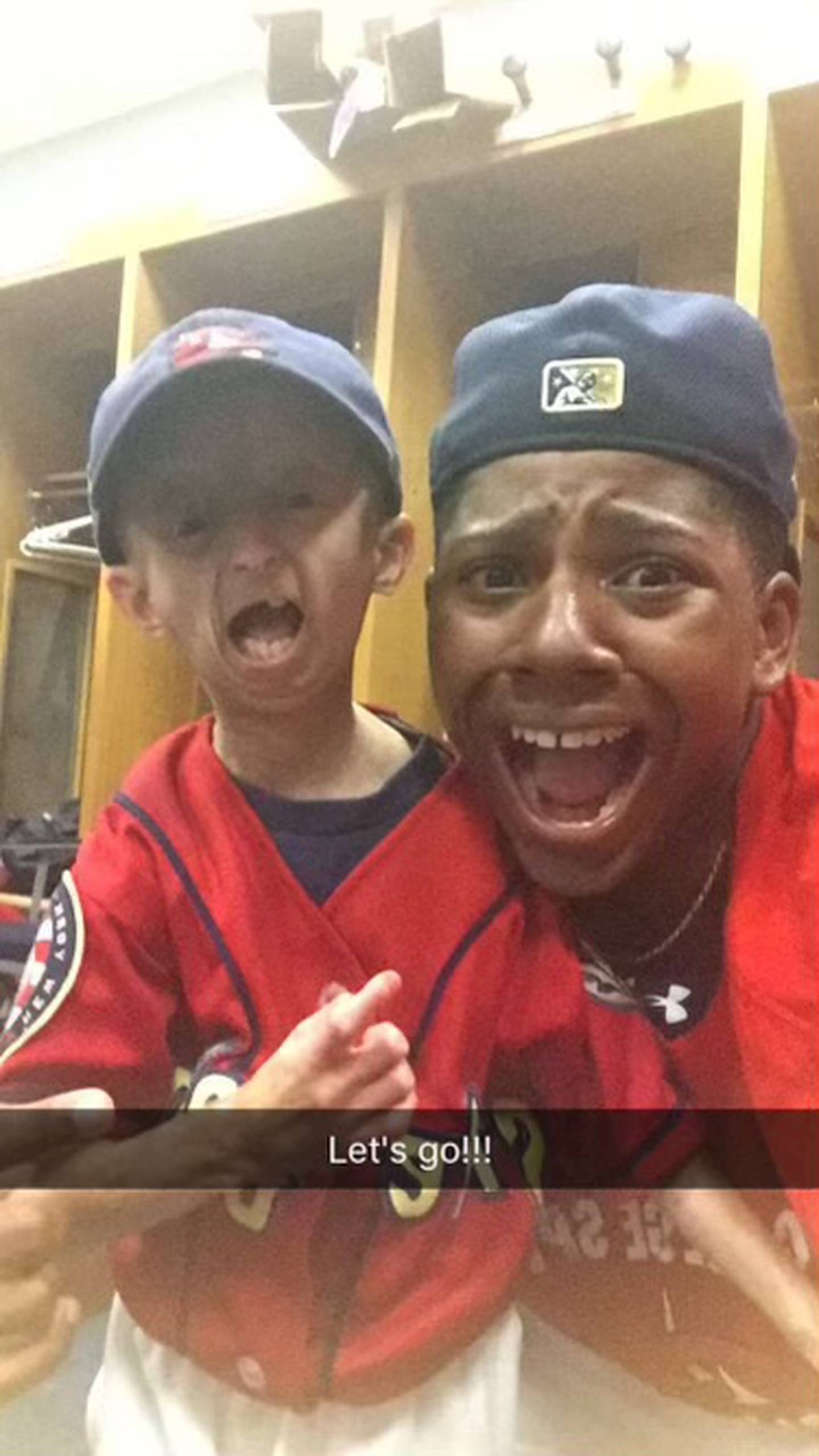 "I still remember after winning [the championship] I gave Josiah a big hug," Ray continued while flipping through pictures and videos of the two of them.
"That was my guy," Ray laughed while showing a picture of them at his locker. "It was really sad when he passed away. It was definitely touching."
Cougars starting pitcher Tyler Viza surrendered just one run on three hits and struck out 11 through seven innings, but left with the no-decision. In the eighth, Cougars infielder Josh Allen tied the game at one by bringing in Nick Santoro on an RBI sacrifice fly. The Apollos threatened with runners in scoring position with two on in the top half of the ninth, but relief pitcher Mark Seyler struck out two to end the threat.
Nick Zammarelli nearly launched a walk-off three run shot for the Cougars, but it was caught on the warning track to force the game into extra innings. In the 11th, Santoro hit a walk-off RBI single off of Derrick Sylve to ensure the sweep.
Ray's quest for reaching the majors has spanned seven seasons through various stops with minor league affiliates or independent ball clubs. In 18 games with the Cougars this season, Ray is currently averaging .262 at the plate with three home runs and six RBIs.
In 2015, one of Ray's personal highlights to this point came when he was called up to play a Cardinals Spring Training contest.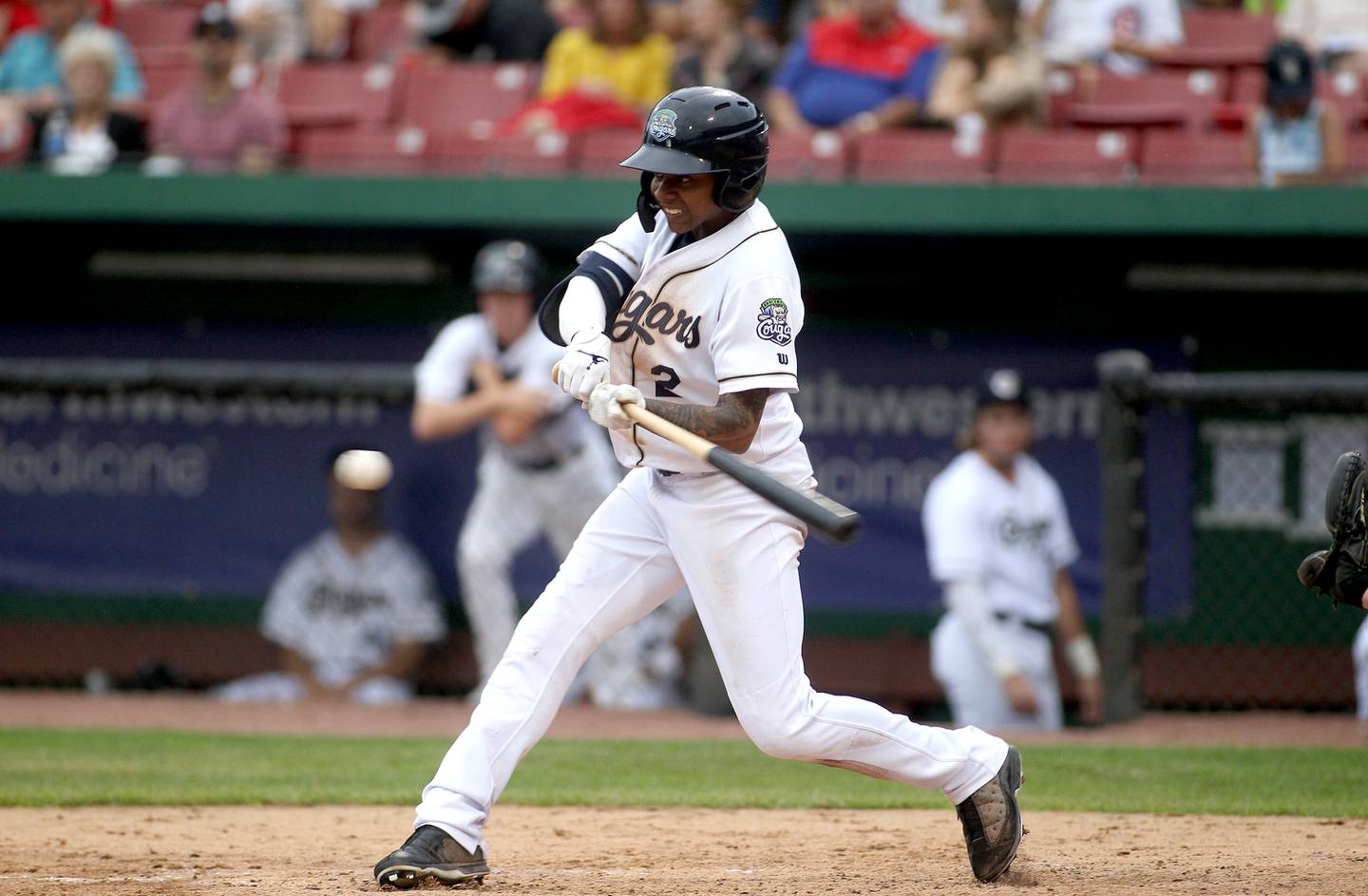 "I was in the dugout with [current Chicago Cubs outfielder] Jason Heyward, Yadier [Molina] was talking to me, Tommy Pham," Ray recalled. "So, that was just awesome. I have to say that's been one of the most rewarding [moments of my career] so far."
Ray doesn't remember who pitched against him in his first at-bat, but the player played on the Yankees at one point and was then with the Miami Marlins.
"The hitter before me, he hit a ground ball and then I [was like]: 'Alright, it's baseball so I can't swing at the next pitch too…I remember the guy gave me a cookie, I just took it and I heard the Marlins hitting coach at the time [say]: 'Come on, let's swing the bat.'"
"The very next pitch, he threw a slider and I swung and popped up to second base," Ray continued. "It was still an amazing moment."
Ray then went out to left field and current New York Yankees slugger Giancarlo Stanton promptly hit a home run right over his head.
"I just remember looking at the ball like 'Yeah, I'm in the big leagues now,'" Ray said.
Ray, however, is proud of his 3-for-4 spring training lifetime clip against New York Mets ace Noah Syndergaard.
"My mentor [Former MLB outfielder] Curtis Granderson was also at the game," Ray said. "I just remember my first AB against Noah Syndergaard: Boom. He threw a fastball and it had to be like 98 [miles-per-hour] and I was just like: 'He's rehabbing? No way he's rehabbing.'"
The next pitch, Ray hit a slow dribbler between second and first base, which he legged out safely. Ray later stole second.
What's the secret for hitting against Syndergaard?
"Good luck," Ray laughed. "That's all I can say…it was coming in hard. I always tell people when they ask how was his ball? Just imagine a 97 [MPH] bowling ball coming at you."