Thanks to Steel Beam Theatre's current production of "The 39 Steps," I have whiplash – and that's entirely due to watching all the delightful twists, lightning-fast changes, and actors playing multiple characters all at once in different locations throughout the theater in St. Charles.
Playwright Patrick Barlow's adaptation of John Buchan's 1915 novel and Alfred Hitchcock's 1935 film is an intoxicating extravaganza of over 150 characters played by an amazing cast of just four actors. No wonder it is a two-time Tony and Drama Desk Award winner. And by the way, Barlow's adaptation includes vivid allusions and puns to other Hitchcock films – watch out for "Rear Window," "Psycho," "North by Northwest" and "Strangers on a Train."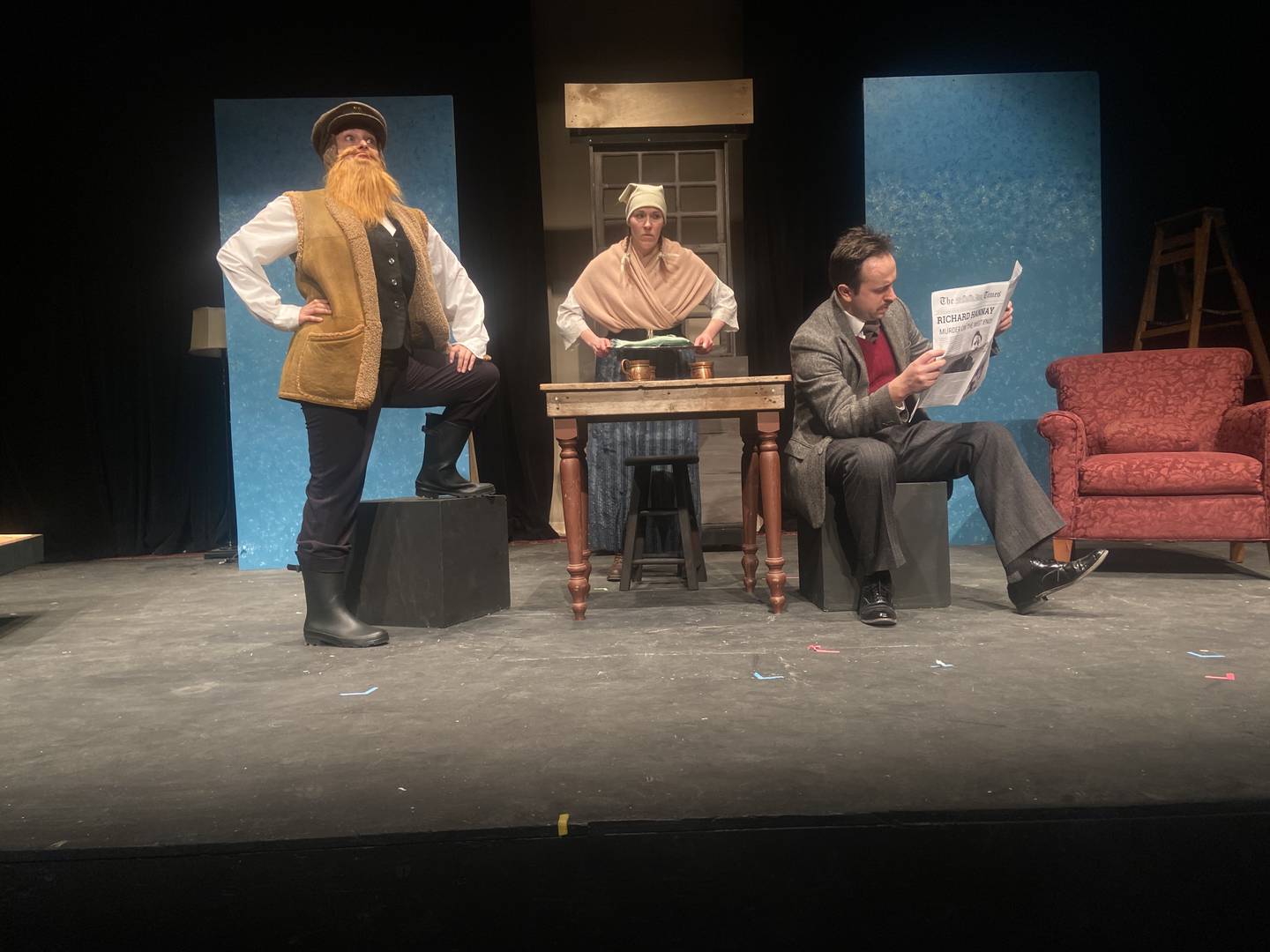 As directed by Annie Slivinski, "The 39 Steps" is an endlessly clever and bitingly funny, fast-paced whodunit. Although the plot may be farcical, it is fun, engaging and easy to follow. It's 1935: Richard Hannay has returned to London and is bored with his life – he has "no pal to go about with anymore" and his club is "full of old colonial buffers."
In an effort to find "something mindless and trivial," he attends a show at the London Palladium, and a stunning woman named Annabella Schmidt claiming to be a spy (with a German accent, of course) asks for his protection. Hannay takes her to his flat, she reveals a top secret, she is murdered, and because he is blamed and about to be arrested, he takes off for Scotland to warn a certain professor who lives in a big house named Alt La Shellach. But a mysterious organization, aka 39 Steps, is hot on his trail. And what a madcap and frenetic romp ensues!
Yes, there are just a few set pieces and props designed by Catie Early, but they are exceptional and manipulated brilliantly by the cast under stage manager Lilly West's expertise and Slivinski's imaginative blocking; there are visually wonderful, era-appropriate costumes and multiple accessory pieces designed by Steel Beam Theatre Artistic Director Marge Uhlarik-Boller. Cassie Hanlin's lighting and sound designs (love the music!) are definite enhancements.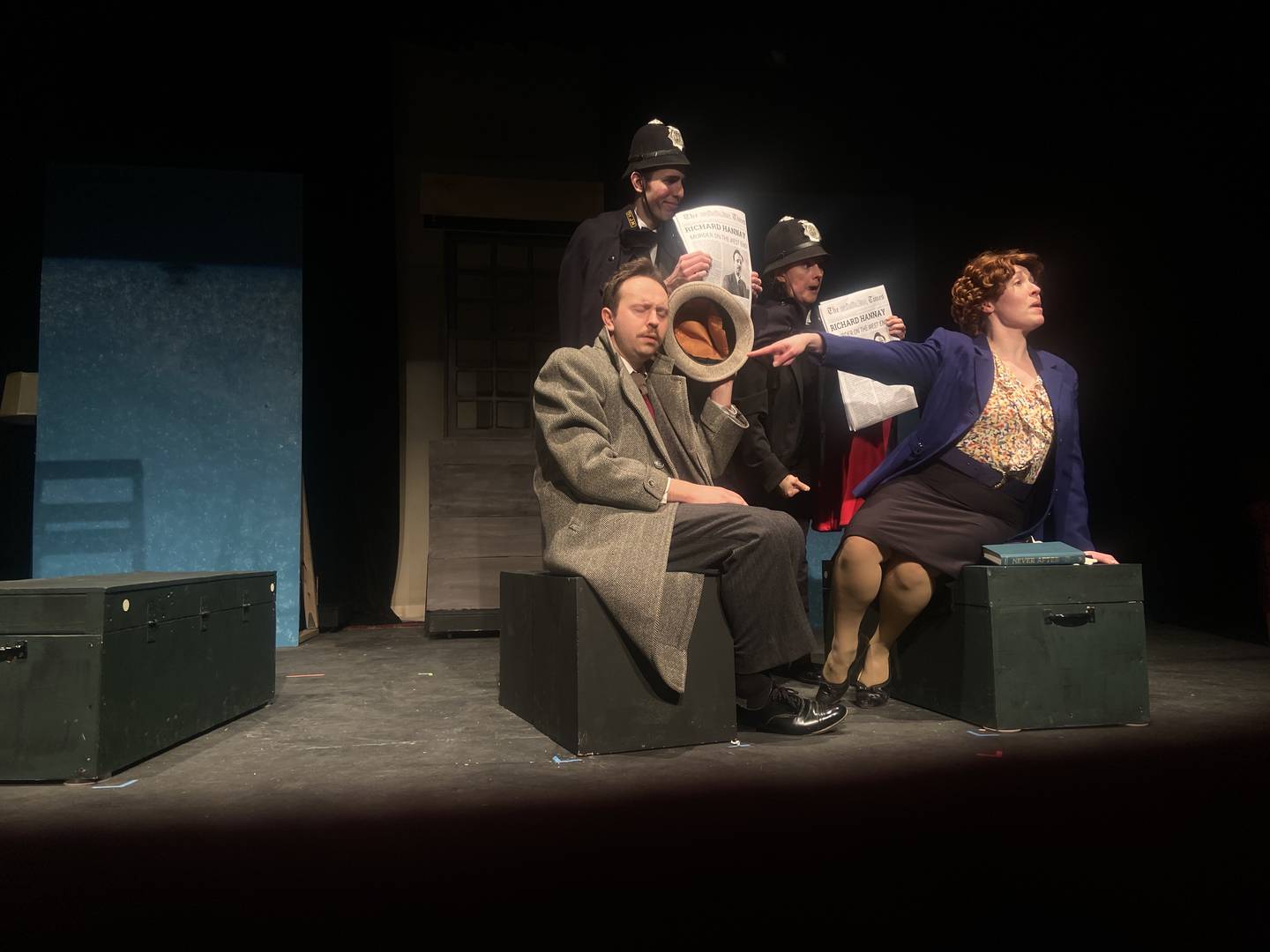 As for that cast of four? They are breathtakingly accomplished and skilled talents. There is a communal bond between these actors. After having seen "The 39 Steps" three times previously in other venues, I have to say this is one of the very best ensembles to date.
As protagonist Richard Hannay, Benedict Slabik is the perfect, proper British gentleman. He looks the part, his accent is spot on, and he's that action figure with a stiff upper lip and mustache. Slabik is suave, dashing, debonair and adept physically. He makes his miraculous knack of getting out of tricky situations credible.
Looking like a golden-era Hollywood star herself is Karen Neidlinger. She is an effervescent, confident actress who portrays three crucial characters: Annabella the spy, love interest Pamela, and Margaret, the Scottish farm wife. She is also a physically talented and expressive actress. Neidlinger and Slabik's chemistry is delicious.
But those clowns! As portrayed by Julie Bayer and Andrew Buel, they are nothing short of amazing. Both possess Olympian prowess and skillful comedic timing; they move adroitly and are versatile in their enjoyable portrayals of police, entertainers, salesmen, double agents, farmers, maids, innkeepers, railroad conductors and villains, to mention a few. Frankly, I don't know how they do it so effortlessly.
We never do find out the origin of the play's spy ring name 39 Steps. However, Scottish author John Buchan's book's title originated from the author's daughter who counted the number of stairs at St. Cuby, a private nursing home in Broadstairs, where Buchan was convalescing at the time. No matter how many steps it may take you, I recommend they take you to Steel Beam's production of "The 39 Steps."
• Regina Belt-Daniels is a working director and actress who began her love affair with the theater in first grade when Sister Mary Justia wisely cast her as a very bossy Mother Goose. When not writing theater reviews, she can be found onstage or backstage somewhere or traveling with her husband.
IF YOU GO
WHAT: "The 39 Steps"
WHERE: Steel Beam Theatre, 111 W. Main St., second floor, St. Charles
WHEN: 7:30 p.m. Fridays and Saturdays, and 2 p.m. Sundays through April 2
COST: $28 for adults, $25 for seniors, $22 for students
INFORMATION: 630-587-8521, steelbeamtheatre.com