ST. CHARLES – Rob Klemm tried to relax all day.
As the hours counted down to his first game as head coach of St. Charles East, needless to say there were some nerves.
"My wife just told me all day to relax, calm down, take a deep breath and it'll all work out," Klemm said.
There wasn't much time to take a breath on either side Monday night as Jake Vrankovich scored a team-high 25 points to help Klemm and the Saints to a fast-paced 76-69 victory in their season opener as part of the 64th Annual Ron Johnson Thanksgiving Tournament.
Vrankovich also added a game-high 15 rebounds in the victory to help the Saints (1-0) to a 50-35 edge on the glass Monday. Seven of those 15 rebounds came on the offensive glass.
"The kids played so hard tonight," said Klemm, who served as an assistant coach for the previous 17 seasons at St. Charles East. "That's really all I can ask for. Jake is such a calming presence for us out there. You know when he gets the ball in the middle of the floor or on the block that good things are going to happen. He's such a smart player. It's great to have that when [East Aurora] is trying to speed us up and you have that calming presence."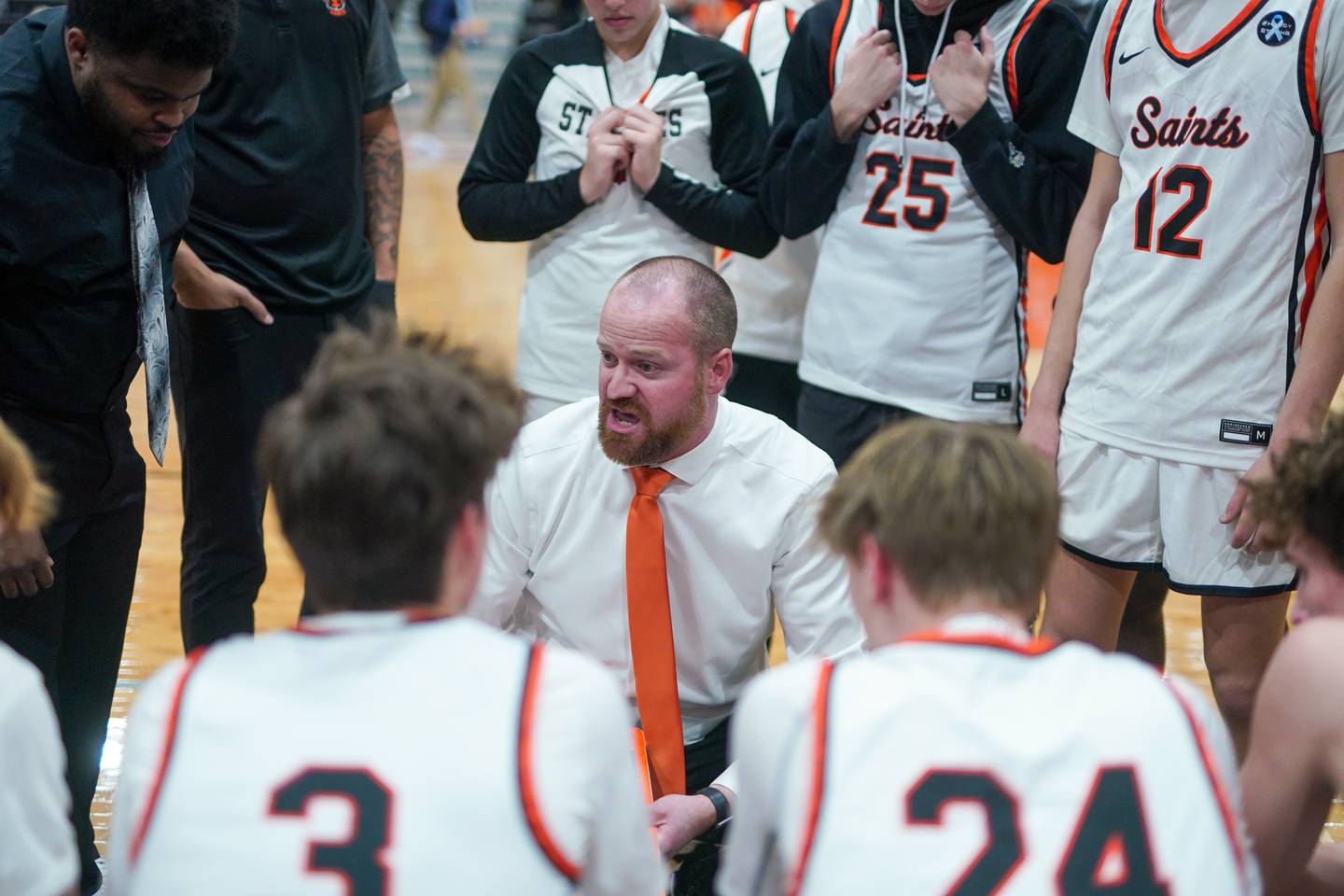 St. Charles East outscored East Aurora (0-1) 19-12 in each of the first two quarters to build a double-digit halftime lead.
Jalen Bealer wasn't going to let the Tomcats go quietly, however. The senior guard scored 22 of his game-high 28 points after halftime to help rally East Aurora. The Tomcats pulled within three points in the final minute, but four straight free throws from Jake Greenspan sealed the victory for the Saints.
"I think the way we practice really helped tonight," Vrankovich said. "We played what we're used to. We get pressured in practice just like [East Aurora] did to us tonight. It's nice to play the way we did tonight. I think between practice, scrimmages, anything, this is the best we have played as a group since Day 1."
St. Charles East also got big contributions off of the bench from Andrew Wolfsmith (13 points) and Cooper Jensen (12). Both players were up with the Saints at the end of last season but did not see a lot of game action last year. Both knew they'd have increased roles for the Saints this season.
Wolfsmith was an instant impact on the offensive end, grabbing a couple of offensive rebounds and putback layups, while also converting 5-of-7 free throws.
"I really just want to bring energy and impact the game however I can," Wolfsmith said of his mindset coming off the bench. "It doesn't matter whether it's making a hustle play, knocking down an open 3-pointer. … Energy spreads throughout the entire team, so I just want to do that however I can."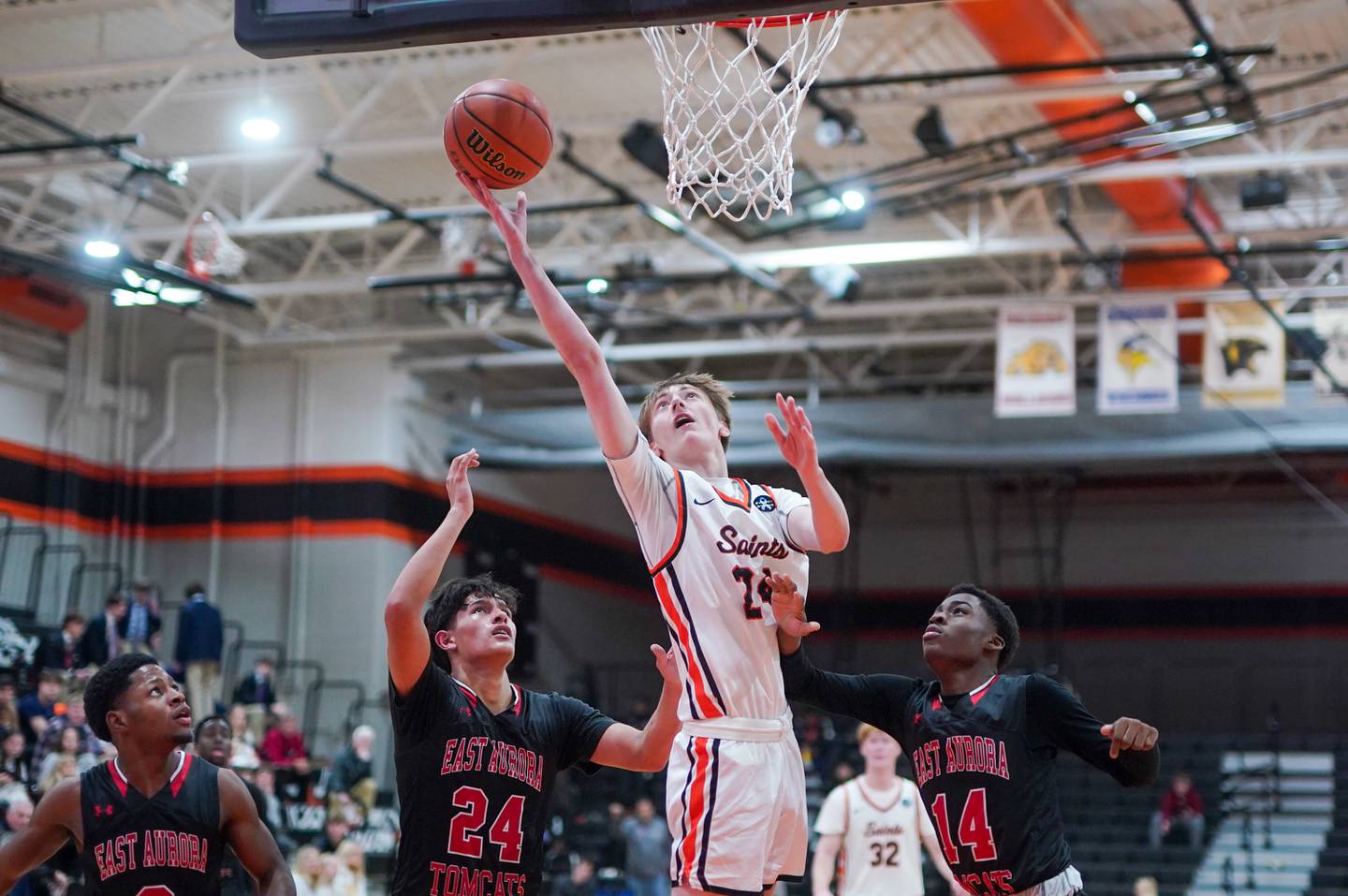 "I thought both Andrew and Cooper gave us huge minutes off the bench tonight," Klemm said. "It's something we're going to need all season long, so for them to stay ready when their names are called was a big boost for us tonight."
Bealer and Kenneth Cooley (18 points) did everything they could to pressure the Saints into turnovers, of which they were able to force 10 after halftime to get back in the game.
"Sure, there's some things to clean up and some careless turnovers late, but it's the first game so you expect some of those things," Klemm said. "They never let mistakes compile into a second one. I'm really proud of the way they battled through that tonight."
Brad Monkemeyer also reached double digits in scoring for the Saints with 10 points in the win.
https://www.shawlocal.com/kane-county-chronicle/2023/11/21/boys-basketball-rob-klemm-wins-debut-as-st-charles-east-head-coach/