Geneva business owner Shari Ralish said Small Business Saturday helps people remember there are many locally-owned establishments in their towns where they may shop for the holidays.
"It reminds the community that shopping local supports real people and individuals, and if they want a thriving community, to come out and support us during the holiday season," Ralish said.
Ralish is one of many small business owners in Kane County preparing for a busy weekend, as shops in Geneva, St. Charles and Batavia will be open and offering special deals during Small Business Saturday (SBS) this weekend, Nov. 25.
Small Business Saturday is a day to celebrate and support small businesses and all they do for their communities, and is intended to encourage residents to shop small throughout the year. St. Charles will host a Holiday Shop Crawl throughout the weekend, and many Geneva businesses will offer special sales and promotions.
The St. Charles Business Alliance will host a Holiday Shop Crawl on Saturday and Sunday, which will highlight 19 local businesses that will have special deals and promotions during the Holiday Homecoming Weekend.
St. Charles shoppers should download the Travel St. Charles app and check in at participating businesses throughout the weekend. At the conclusion of the shop crawl, one shopper will be chosen to receive a grand prize giveaway filled with products from participating businesses.
Batavia Enterprises released a Holiday Gift Guide, which is a collection of curated gift lists for several demographics, including gifts for kids, teachers, stocking stuffers and more. All items featured in the guide can be purchased at locally-owned businesses in Batavia.
According to the 2022 Small Business Saturday Consumer Insights Survey by American Express, 72% of shoppers said Small Business Saturday makes them want to shop and dine at small, independently-owned retailers and restaurants all year long, and last year's SBS drove an estimated $17.9 billion in sales, based on projections from U.S. consumer reported spending.
Shawn Campbell owns Campbell Creations in St. Charles, where she sells charcuterie boards and other woodworkings that are handcrafted by her husband Bill.
Campbell said she always looks forward to the holiday season when her shop at 1 S. Fifth Ave. is at its busiest. She said for special shopping weekends she always put out a charcuterie spread for the guests to enjoy and gives demonstrations to inspire customers' charcuterie creations.
For this year's SBS, Campbell will teach guests how to make a salami rose, or salamagami if you will, which she said make a beautiful centerpiece on any charcuterie board.
Campbell said the weekend is so important to small businesses like hers, as it gives her a chance to impress a lot of new customers, who often return. She said Campbell Creation boards are a great gift for that friend who knows all about wine or anyone who appreciates the combination of artistry and function.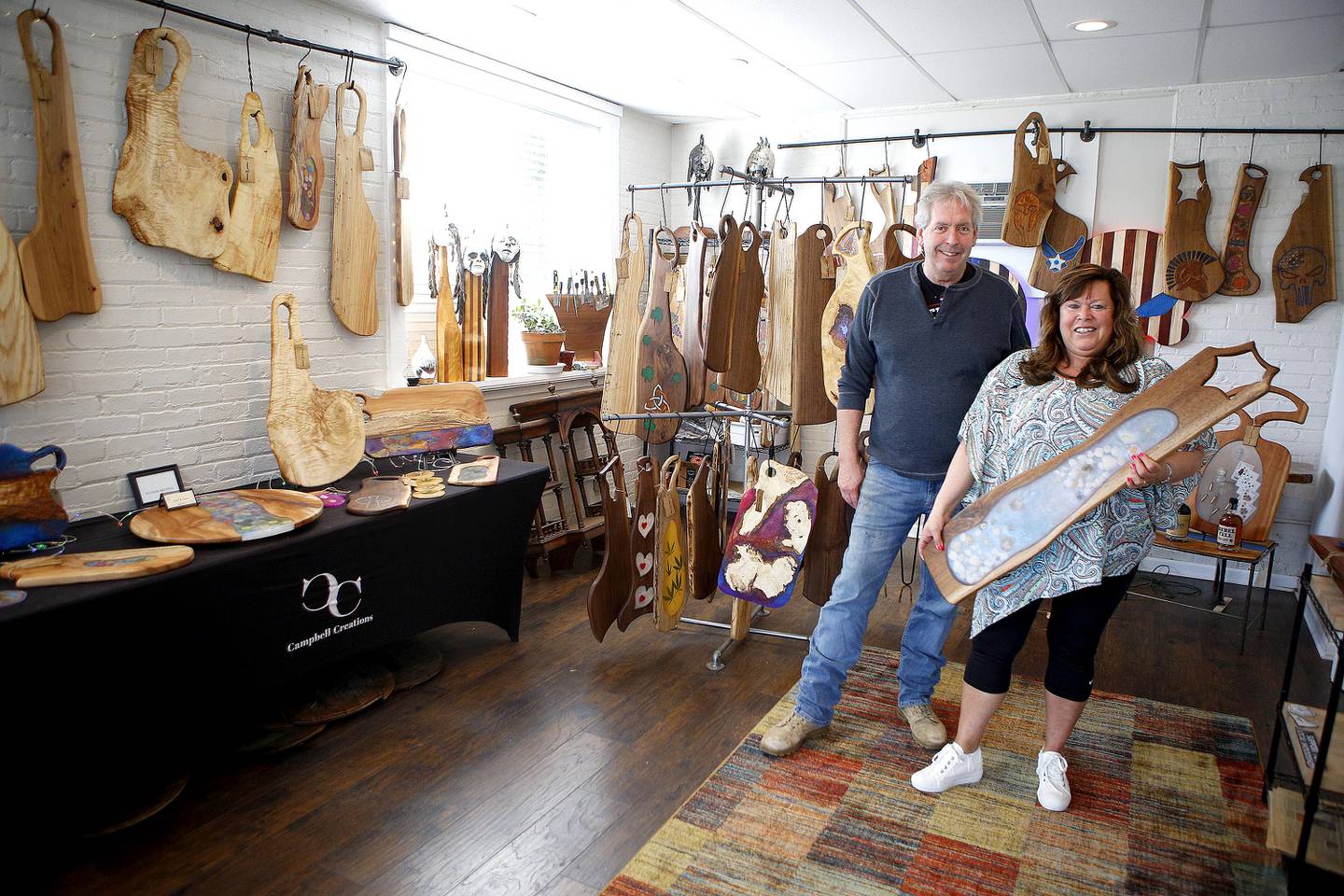 Mandy Buerster opened Magnolia Soap and Bath Co. at 1 Illinois St. in St. Charles in June 2021, and is looking forward to participating in her third SBS. She said this is always the shop's busiest weekend, and last year the shop had a line out the door all the way to Kava Diem, four shops down.
Magnolia Soap and Bath Co. will offer 20% off all day on SBS. The shop hand makes all of its products in-house, and Buerster said they started preparing in July, to produce enough to supply the holiday rush.
Each month, Magnolia runs a Hope and Soap special, where the proceeds of a specific soap's sales are donated to a charity or local organization. Through the promotion, Magnolia donates thousands of dollars each year back to the community. This month's soap is dedicated to Operation Christmas Child.
"It's so much more than soap to me," Buerster said. "Soap is just a way to do all the good things."
Buerster said events like SBS that promote community support are so important to small businesses, especially around the holiday season. She said sales from November and December can determine wether a local business will make it through the year, so the outpouring of support from St. Charles has been really special.
"St. Charles has just been so great to us," Buerster said. "I feel like people really want to support us because we've done so much for the community throughout the year."
Buerster said besides soap, there are plenty of hand-made items at Magnolia that make for great gifts. She said the candles, shower steamers, body butter, and sugar scrubs are always popular stocking stuffers, and though it sounds odd, their laundry soap has been a top selling gift in recent years. Another favorite is their annual line of Grinch-inspired items.
Peaceful Parlour is a fair trade, eco-friendly and American-made general store located at 212 S. Third St. in Geneva. Owner Shari Ralish said the shop has been open for 14 years and has participated in SBS every year.
Ralish said she is always excited for SBS, and this year they will extend their hours to open earlier and close later. During the weekend they will be creating custom tea blends designed by customers, and from 9:30 to 11:30 a.m. on Saturday, every customer will receive 25% off an item of their choice.
Ralish is expecting another great holiday season, and said the Geneva community has always been very supportive of hers and other local businesses.
"People are very specific about wanting to support small businesses," Shari said. "They definitely come out to support us, and they have it in their hearts that they want to showcase small business gifts for their family and friends this year."
Ralish said their in-house made tea blends, hand-warmer mugs, birdhouses, and green toys are some of the best selling holiday gifts. Green toys are eco-friendly toys made in the USA from recycled plastic milk jugs.
Ralish said they have a wide variety of items at many different price points, making the store a great place to shop for gifts. They also offer free gift-wrapping.
"We invite people to bring their list, and I guarantee we can help find the perfect gifts to check-off about five people from their list," Ralish said.