GENEVA – The workshops at Geneva High School lined up like a wild day at the park Sept. 29.
There was karaoke and yoga, baking cookies and knitting – and bingo.
Bingo turned out to be the wildest and loudest session for sure, with more than 50 kids packed into one room.
Freshman Hunter Clemons won the first coverall and the room went up in a tooth-rattling roar.
"It was very exciting," Clemons said, grinning. "I was thrilled."
His prize: Airheads White Mystery flavored candy.
A moment later, more shrieking as another student got a bingo.
Social studies teacher Lucas Rojas, who was helping out in the bingo room, said students' interest and enthusiasm came as a surprise.
"Fifty people for bingo? I didn't really expect that," Rojas said as the next set of screams went up. "There's more than 50 here. And they're all very into it, which is very impressive."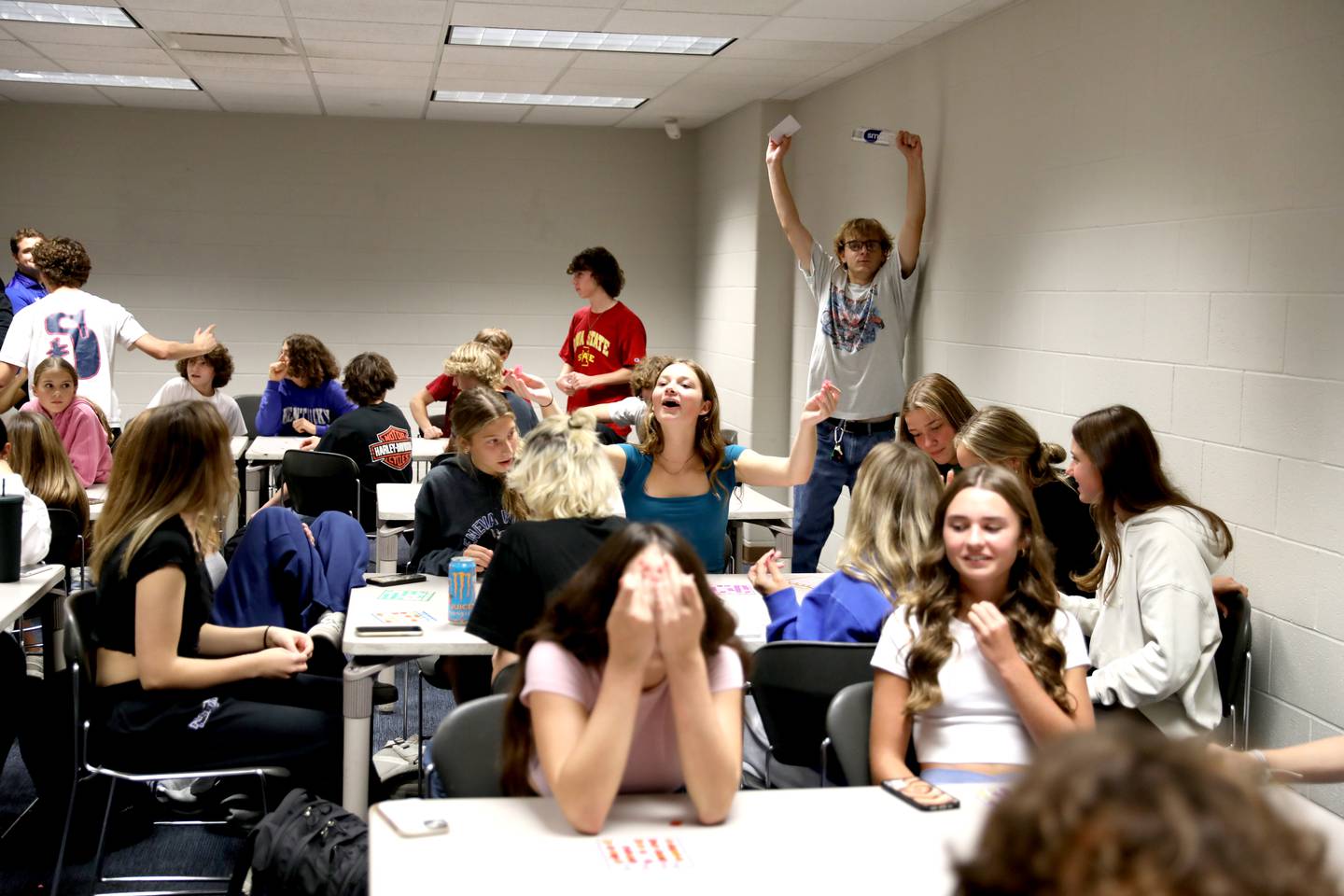 The list of workshops for Vikings WIN – which stands for What I Need – at Geneva High School stood at 49.
"They are all over the building doing different things," said Susan Schrader, a dean at the high school. "They are taking a break from academic stuff to do something new."
Students could choose from any workshop to participate in during the last two hours of school. Some choices were off campus, such as going to elementary schools to read to younger students.
School social workers Jackie Weber and Kelly Hesselbaum, who also is the prevention coordinator, went with a group of seven students to the Kane County Youth Voices Forum on Mental Health last year.
"We learned about what Dundee Crown has been doing the last six years," Hesselbaum said. "Pause academics for one day and focus on building relationships and modeling healthy self-care practices. It's a day to have fun with kids, let them be teenagers. … The more connections and more relationships they have with teachers and each other, the better they are going to do."
Across the hall from bingo was a different enthusiasm in the culinary arts room, where 20 students – divided into five groups of four – coordinated baking pumpkin chocolate chip cookies.
Teacher Lori Rosenberger directed each group to send a representative to the ingredients table and watched as they collected all their items: flour, sugar, salt, vanilla, butter, pumpkin puree, eggs, leavening and chocolate chips.
One group included twin seniors Aiden and Hannah Dillenburg.
"I chose the baking group because I thought it would be the most fun," Aiden said. "And most of my friends signed up for it."
Hannah echoed the sentiment, saying a lot of her friends were here as well.
"And I just like to bake and eat cookies," Hannah said.
Stephanie Edeh, also a senior, said, "I took baking pastries my sophomore year and I thought this would be fun to do."
Seniors Aashika Jain, Eve Hanoon, Isabella DiNovo and Rishika Goyal all echoed the same sentiment. Most of their friends were here and baking cookies is a fun thing to do together.
In another workshop, about 30 students were learning to make a epoxy coaster.
Senior Nathan Beck explained that they were at the stage of stirring a clear liquid in a cup and they eventually would add pigment and glitter.
"And then we'll put that in the form and it acts like a glue. When that's done, we'll let it set. And when it sets, it will become hard, yet flexible," Beck said. "It will look cool."
In the knitting room, which was much quieter, three students navigated yarn on wooden needles – ironically, also to make a coaster – as a small, first-time project.
Social studies teacher Sue Nagle and counselor Rachel Allbee coached Elly Lassiter, Max Hickey and Angelina Turner with their projects.
"Purling, you're going to go down. Knitting you're going to go up," Nagel said to Lassiter, who was having a little trouble working the yarn around the needles.