ST. CHARLES – Paige Murray, and frankly any St. Charles North pitcher, has a rock behind home plate.
All one has to look for is trusty No. 10 – catcher Sophia Olman, a senior.
"She's a beast behind the plate," Murray, the North Stars' standout sophomore pitcher, said after a 7-2 victory over Lake Park on April 21. "I always depend on her. I always know she's going to give it her best, no matter what."
Olman, an Eastern Illinois recruit, pounded out a first-inning RBI double and later blasted a solo home run in the third. While she's flashed a hot bat over the past few weeks, the presence and attentiveness Olman exhibits in the dugout or at practice also is making a notable impact.
"When the game starts, she is locked in," North Stars coach Tom Poulin said. "She's really locked in and she's a leader. We have multiple people who you would say, 'That's another assistant, another coach.' That's what's great about this group. They all fit into those roles. But she's one of them. ... She'll have her fun, and then we start practice and she's locked in."
"I was struggling seeing the ball against Geneva and Wheaton North [within the last week], so I was like, 'Dad, we need to get out on the tee, side toss to me [and] work on the tee. I've got a big game against Lake Park [so] got to bring the runs in," Olman said. "Just recognizing the pitches early and working them off the tee to know bat angle no matter what."
Murray, who allowed five hits and had two strikeouts in six innings for the win, continues to carry over her magnificent success from last year's Class 4A state title run to this season.
"She just keeps getting better," Poulin said. "Keeps getting more confident, stronger, physically and mentally. [On Thursday, assistant coach Thijs Dennison] and I kept going back and forth on who we were going to start. I went to bed thinking my gut is telling me to go with Paige.
"She looked really good warming up for the game [a postponed game versus Wheaton North on Thursday] when both [Murray and Ava Goettel] were warming up. You can't go wrong. I was talking with [North varsity baseball coach] Todd Genke today and he said, 'You can't go wrong.' I woke up thinking the same thing. ... She was dealing."
Murray largely was able to limit an offense by Lake Park (10-5-1, 1-2 DuKane Conference) that has managed to put up 10 runs or more in seven games this season. Michela Barbanente's two-run blast in the sixth was the lone blemish. Murray was able to work out of jams in the third, fifth and sixth innings.
Goettel came in to close in the seventh and had two strikeouts and a groundout to finish it off for the North Stars (9-1, 2-0).
"Trusting my spin and speed and knowing what is working," Murray said about limiting the Lancers. "Just going with that, having confidence and knowing my team has my back. I think after last year I've gotten so much more experience and so much more confidence because last year coming in, not knowing the teams, and now I feel like coming into this year, I've got a lot more confidence."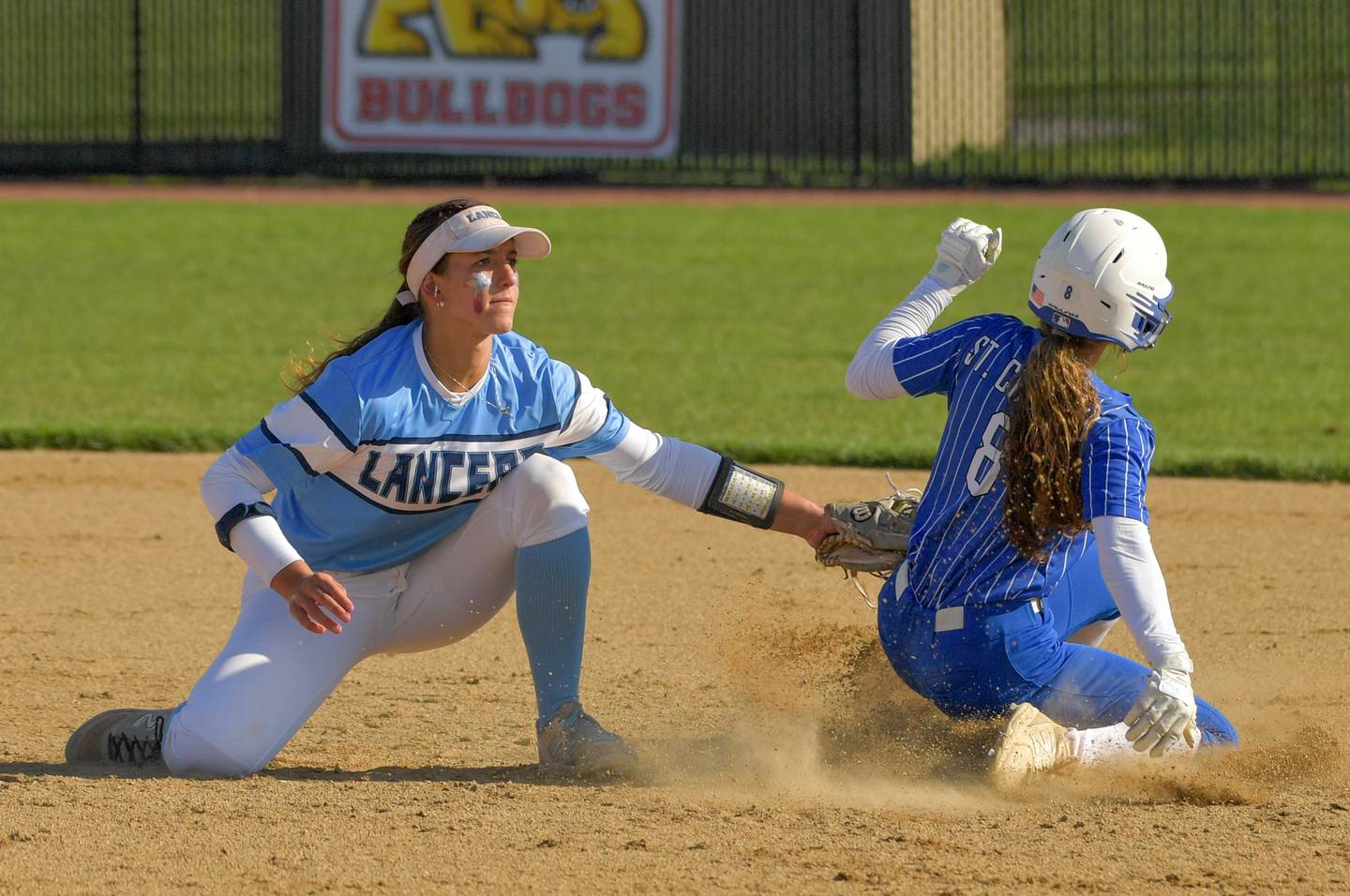 The North Stars scored three runs in the first inning on RBIs from Olman, Maddie Hernandez and Ginger Ritter. Olman had a solo home run followed by a two-run shot from Ritter for a 6-0 lead in the third, and Leigh VandeHei later scrapped an RBI single in the third. The North Stars chased Lake Park starter Mia Savage after three innings.
"Frankly, they just put pressure on you in so many ways," Lake Park coach Tom Mazzie said. "Their legs are so good, they can bunt you, they can take you deep, they can beat you in a lot of ways. That's why they're the defending champs.
"We got better as the game went on. [North] kind of jumped early, they had a lot of the momentum, came out with the fire and kind of extinguished our fire until Michela jump-started us with a nasty play at shortstop [in the fifth to throw out VandeHei]. And then she comes up and hits one that didn't land yet, so that just shows her skill level."