ST. CHARLES – One swing from Maddie Hernandez was the final domino to fall.
It took a whole bunch of other dominos to line up just right to send St. Charles North to its second consecutive sectional title, however.
Hernandez, a St. Charles North sophomore, became the hero in the bottom of the eighth of the Class 4A St. Charles East Sectional final against Glenbard North on June 3 by smacking a walk-off single to stun the Panthers 5-4.
Megan Bauwens led off the North Stars' eighth by smashing a hot grounder off the glove of Panthers ace Ellie Matzke. The ball careened toward the middle infield, but the throw to first baseman Marissa Noll was just enough offline to skip away and allow Bauwens to slide into second.
Auburn Roberson advanced courtesy runner Mackenzie Patterson to third on a masterful bunt and Hernandez took care of the rest with her shot to right-center.
"Recently, I've been getting under the ball so much so I was just trying to focus, stay down on the ball [and] force them to make a play," Hernandez said. "Hard on the ground. Got to get that run in any way we can, so putting the ball in play. That's how we had to do [it]."
Matzke and North Stars counterpart Ava Goettel were locked in a scoreless pitchers' duel into the fifth inning.
Goettel didn't allow a hit until Chloe D'Alexander's leadoff single in the fifth. The Panthers took a 2-0 lead when two runs walked in with the bases loaded with one out.
Freshman Paige Murray came on in relief for the North Stars and surrendered a two-run single to Hailey Noll for a 4-0 Panthers lead.
The North Stars (24-4), though, answered in their half of the fifth.
Roberson, Hernandez and Meghan Nicastro all singled to load the bases for Margo Geary's timely three-run triple. Leigh Vande Hei then legged out an infield single to bring home Geary with the tying run to make it 4-4.
"We knew we could do it," Hernandez said. "We're a team that just doesn't stop fighting until the end of the game."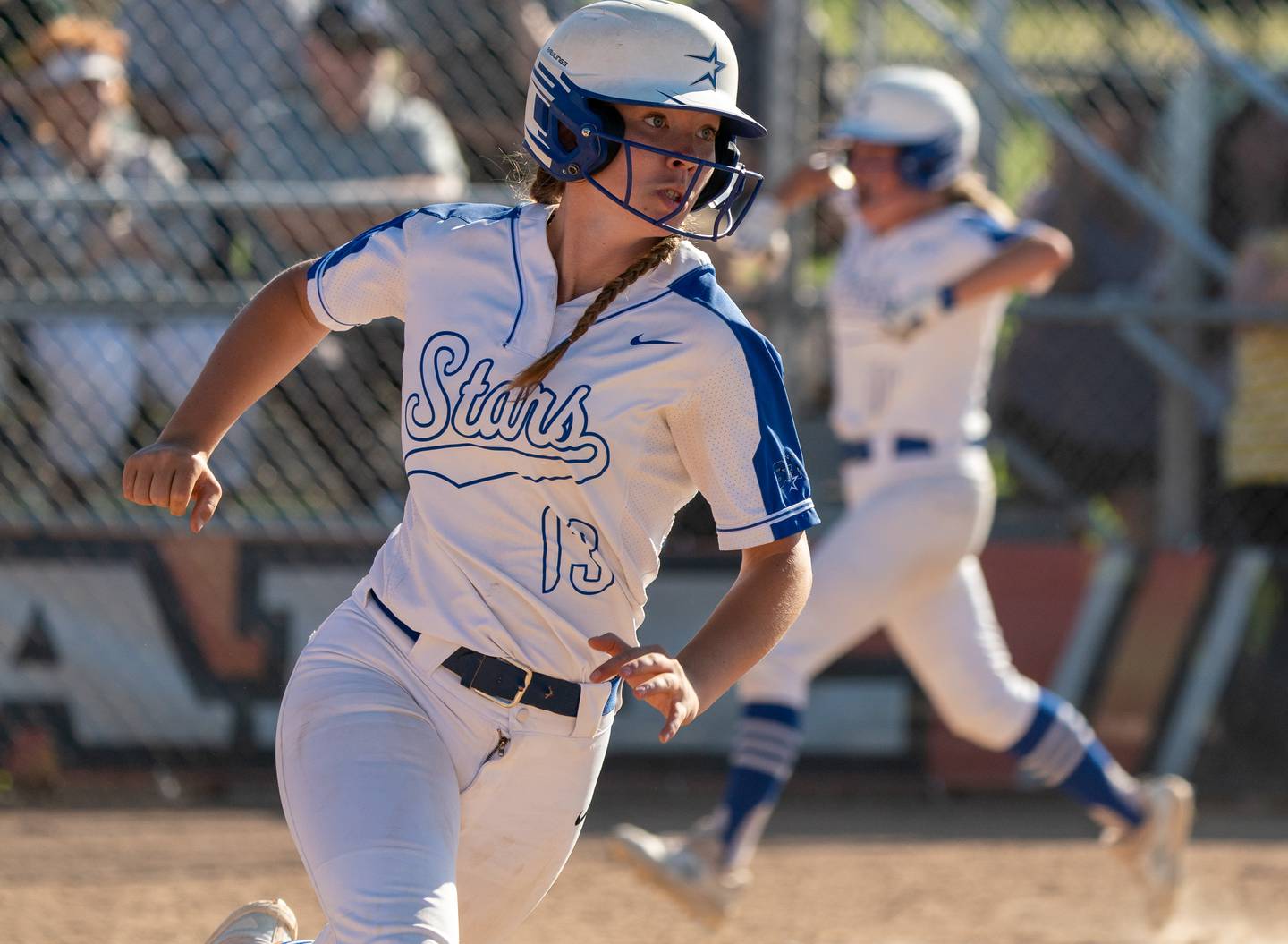 With two outs in the top of the sixth, Glenbard North appeared to take a 5-4 advantage on a complicated sequence.
Isabella Eggert and Medina walked to set the Panthers up. Elizabeth Welch, the hero in the Panthers' walk-off win over St. Charles East on June 1, smashed a hot grounder to second that was bobbled and allowed Eggert to apparently score. Medina appeared to slightly overextend her momentum at second and North Stars catcher Sophia Olman then rifled a throw down to second. A tag was applied with contact and an out was called, but the run still stood.
After a post-inning umpire conference, the run was wiped out to the obvious dismay of the Panthers.
"[The umpires] said that [Medina] made contact with [the infielder] when she went past [the base]," Glenbard North coach Josh Sanew said. "From my standpoint, I thought the ball spun and rolled, but that's part of the game. [The umpire] claimed our player made contact with the fielder. It looked like she slipped when the ball spun because it had so much top spin, but those are judgment calls. That's part of the game. Some calls go your way. Some don't.
"We had other opportunities to get a base hit here or there, but that was one heck of a game. That's all you can say. [Matzke] pitched her heart out all year for us. She threw almost every game for us. She kept us in all these playoff games, kept us in each game and I can't say more about what she's done. She's been unbelievable for us."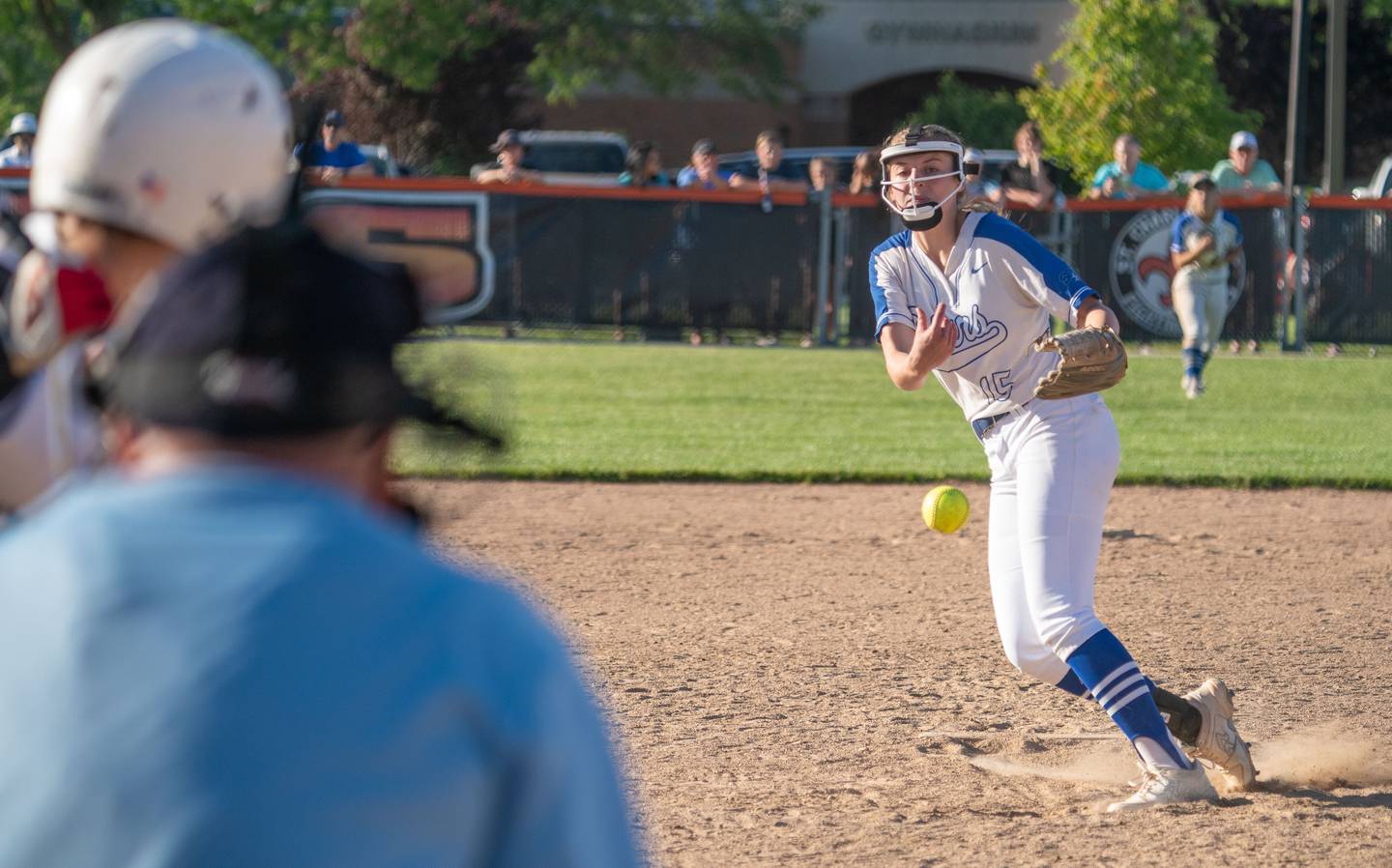 Murray (3 2/3 innings, five strikeouts) and Matzke (8 innings, 12 hits, five runs) went toe-to-toe into the eighth inning.
"I just had to trust my team, really," Murray said of her relief appearance. "They had my back the whole time and if I could just trust them, I could be confident in myself."
The Panthers (17-8) had one more scoring chance with one out in the eighth. Lucy Rogers hit a tough blooper to left field and a diving Nicastro barely missed the catch. Vande Hei, backing up Nicastro, threw to Larson as Rogers attempted to stretch the hit into a triple. Larson tagged out Rogers on a rundown back to second.
Eggert singled, but Medina popped out to Roberson to set the stage for the North Stars' winning rally.
"[The whole game] tells you about this group. Honestly, it's not some cliche. That tells you about this group," North Stars coach Tom Poulin said. "They don't ever quit. They're tough as nails. Elk Grove had us 3-1 into the bottom of the seventh [in the regional final]. When [Glenbard North] got up 4-0, the fact we just came back and answered, that tells you who we are."