Nonconference games
When: 7:30 p.m. Friday
Last matchup: First meeting
About the Roadrunners: Nazareth, ranked No. 1 in Class 5A in the preseason, got off to a bumpy start to the season, spotting Kankakee a two-touchdown halftime lead, rallying to tie late before coming up short 33-26. It doesn't get any easier this week. Logan Malachuk threw for 176 yards and a touchdown, and also ran for 55 yards and three scores, and James Penley had six catches for Nazareth at Kankakee. The Roadrunners are no strangers to slow starts to the season, having started last year 1-3 before winning the Class 5A title – but it would behoove them to avoid a similar scenario with the CCL/ESCC schedule looming.
About the Dukes: York has established Elmhurst as a football town in its recent rise under head coach Mike Fitzgerald, and it's a destination for one of the biggest nonconference games there in quite some time Friday with this CCL/ESCC vs. West Suburban Silver showdown. Senior QB Sean Winton was sharp in his varsity starting debut, throwing for 277 yards and three TDs in a 35-17 win at Glenbrook South. Illinois State recruit Luke Mailander had seven catches for 221 yards. Defensively, Cole Ostendorf had 13 tackles, 3.5 for loss, and 1.5 sacks. Two of the state's top juniors will be on the defensive lines Friday, Nazareth's Gabe Kaminski and York's Joe Reiff, who had seven tackles and 3.5 tackles for loss in the Week 1 win.
FND Pick: York
When: 7:30 p.m. Friday
Last matchup: Downers Grove North 27, Downers Grove South 7 (2022)
About the Trojans: Downers Grove North recorded an impressive road win in Week 1, getting a touchdown run from Noah Battle with 1:03 left to beat St. Francis 27-22. Battle ran for 58 yards on 14 carries with two TDs in the win. Owen Thulin had two of the Trojans' three interceptions, including the game-clincher, and caught six passes. Sophomore QB Owen Lansu, in his varsity starting debut, was 12-of-22 passing for 94 yards while rushing for 28 yards. Downers Grove North has won eight consecutive meetings with its crosstown rivals.
About the Mustangs: Downers Grove South dropped the opener to a tough start to its season 23-7 to Wheaton North last Friday. It doesn't get any easier with Downers Grove North, York and Willowbrook the next three weeks. Downers South quarterback Will Potter, who played defense in previous seasons, fared reasonably well in his first game under center, throwing an 18-yard TD to Keon Maggit in the fourth quarter. Deon Davis ran for 67 yards. Scoring has been an issue for the Mustangs against their crosstown rivals. They have not scored more than one touchdown in the last seven meetings.
FND Pick: Downers Grove North
When: 7 p.m. Friday
About the Tigers: WW South's defense rose to the occasion in its season opener. Maison Haas intercepted two passes and John Jensen and Connor Sliwa made a number of big plays in a 12-6 win over Simeon. Haas also kicked a 42-yard field goal and was huge on punts and kickoffs. Max Schlegal started in place of senior RB Matt Crider, who injured his ankle in practice. Crider is expected to return this season, but it is not known when. Junior QB Luca Carbonaro threw for 154 yards and a TD in the win.
About the Lions: Lyons dropped a tough road opener, as Prospect rallied from a three-point halftime deficit to beat the Lyons 24-10. Tommy Newcomb drilled a 47-yard field goal to give the Lions a 10-7 halftime lead, but Lyons managed just 79 yards of total offense over the final two quarters. The Lions will want to do a better job protecting senior QB Ryan Jackson against a WW South defense that looks tough by early indications.
FND Pick: Lyons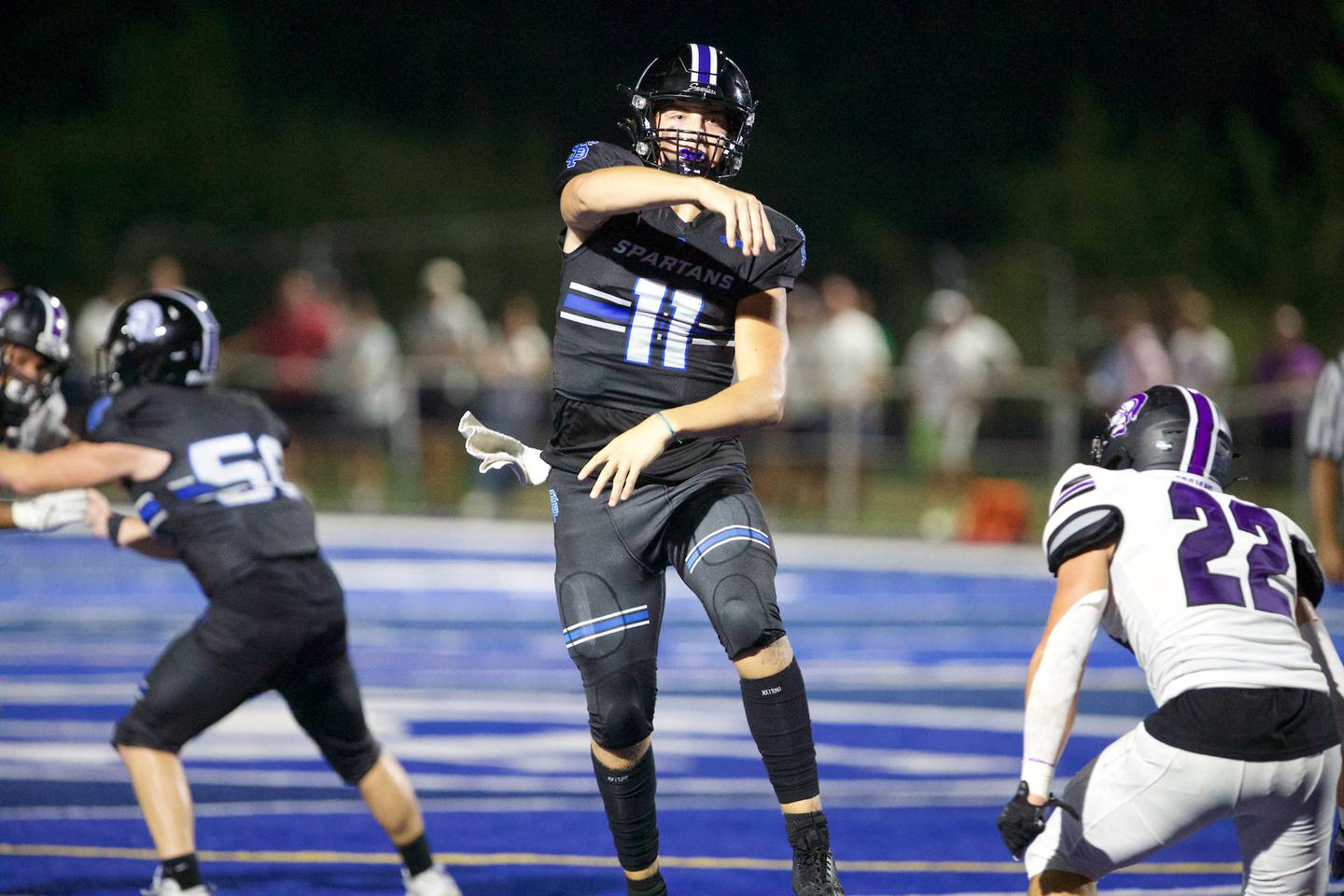 St. Francis (0-1) at Sterling (0-1)
When: 7 p.m. Friday
Last matchup: St. Francis 35, Sterling 27 (2022)
About the Spartans: St. Francis led late, before dropping a 27-22 opener to Downers Grove North last Friday. Now it must hit the road west to face a traditionally strong Sterling program itself smarting from a Week 1 loss. TyVonn Ransom impressed in the Week 1 loss, rushing for 116 yards and a 30-yard TD. Ball State recruit Alessio Milivojevic tossed a pair of touchdown passes, completing 23-of-32 attempts for 212 yards. The meeting between these two programs went down to the wire last year, and it wouldn't surprise if the same transpired Friday. St. Francis would be well-served to avoid an 0-2 start going into CCL/ESCC play.
About the Golden Warriors: Sterling was shut out in the second half of a 28-17 loss to Metamora in Week 1. Senior running back Andre Klaver rushed for 42 yards and a touchdown, and caught two passes for 27 yards. His long run went for 39 yards. Wide receiver Kaedon Phillips' lone reception was a 21-yard touchdown pass from quarterback Drew Nettleton. The Golden Warriors were 2-for-11 on third-down conversions.
FND Pick: St. Francis
When: 7:15 p.m. Friday
Last matchup: First meeting
About the Porters: Lockport's opening-week effort gives off the appearance the Porters might be trying to rekindle the formula that allowed them to capture a state title in 2021. Lockport's defense was a brick wall in the Porters' Week 1 win over Plainfield North, allowing just one fourth-quarter touchdown. Hopefully those efforts will continue moving forward, but the offense will likely need to pick up its contribution, as its own fourth-quarter touchdown actually cemented the win after all the Porters could muster in the first three quarters was a pair of field goals.
About the Falcons: Wheaton North turned in a stellar defensive performance in Week 1, shutting Downers Grove South out into the fourth quarter of an eventual 23-7 win. Sophomore linebacker Shane Diericx had a fumble recovery and interception to help key the effort. Max Howser threw TD passes to Matt Kuczaj and Joe Barna. Based strictly on Week 1 results, the matchup between Lockport and Wheaton North has the makings of a game where a couple scores might be enough.
FND Pick: Wheaton North
Geneva (1-0) at Lemont (0-1)
When: 7 p.m. Friday
Last matchup: Geneva 12, Lemont 0 (2001)
About the Vikings: Geneva came out of the box firing, rolling to a 35-0 victory over Metea Valley. WR Talyn Taylor is one of the state's highest recruited players in the junior class, but his five-catch, 114-yard performance was overshadowed by one of his classmates. RB Michael Rumoro scored three touchdowns while running for 125 yards. Metea Valley was only able to penetrate the Geneva defensive front one time, reaching the red zone but failing to foil the shutout bid when it missed a field goal.
About Lemont: Lemont lost its first regular-season game in three years when it fell to Libertyville in Week 1. Attempting to bounce back from a regular-season loss is likely a first for the majority of those on this Lemont roster, but its one that Lemont shouldn't feel too much pressure about. Even if Lemont managed to drop to 0-2 with a loss here, it remains an overwhelming favorite to win its side of the South Suburban Conference.
FND pick: Geneva
Glenbard North (0-1) at Willowbrook (0-1)
When: 7:30 p.m. Friday
About the Panthers: Glenbard North was one of only two DuKane Conference programs to come up on the short end in Week 1, a 17-12 loss to Moline. A short drive to Villa Park represents another challenging nonconference matchup before DuKane play begins in Week 3. Lorenzo Filic is a two-way player to watch at running back and defensive back and senior Joe Palermo anchors the line for a relatively inexperienced team.
About the Warriors: Willowbrook was much more competitive than last year in Week 1 against Notre Dame, but suffered a tough loss. The Warriors scored early on a 55-yard pick six by Jordan Pate, and went ahead 12-0 in the third quarter. But Anthony Thome's TD run and two-point conversion with four minutes left gave Notre Dame a 15-12 win. Now the Warriors host Glenbard North in a new nonconference matchup between schools not separated by much geography.
FND Pick: Willowbrook
When: 6 p.m. Friday
Last matchup: Bolingbrook 42, Hinsdale Central 13 (2019 playoffs)
About the Red Devils: Hinsdale Central had an off season in 2022, failing to qualify for the playoffs. And the Devils will be digging themselves a pretty big hole to climb out of if they fall here, as it dropped its season-opener to Naperville Central and still faces a difficult West Suburban Silver Conference schedule down the line. Hinsdale Central has a solid defense that will likely be put through the ringer against a potent Bolingbrook offense, but the Red Devils have shown a capability to slow potent offenses in the past. Like Bolingbrook, Hinsdale Central also looks to a sophomore quarterback to call the signals, in Riley Contreras, but are far more apt to lean heavily on a ground game paced by Joe Morrissey. He had a game-high 73 rushing yards in the loss to Naperville Central.
About the Raiders: Bolingbrook had its way in a season-opening win over Grayslake Central, as it breezed to a 41-6 victory and didn't allow those six points until late in the contest. QB Jonas Williams used his arm and his feet to guide the offense, and the Raiders' passing attack always has opponents on red alert with WR Kyan Berry-Johnson, a Wisconsin commit, to deal with. Williams also seems to have developed a solid rapport with WR Chico Thomas, who snagged a pair of touchdown passes in the win over Grayslake Central. Allowing just six points to Grayslake Central is an encouraging sign for Bolingbrook moving forward, as defense had the most questions to answer moving forward.
FND Pick: Bolingbrook
-- Steve Soucie
Glenbard West (1-0) at De Smet Jesuit (Mo.) (1-0)
When: 2 p.m. Saturday
Last matchup: First meeting
About the Hilltoppers: It was expected that Glenbard West would lean early on a defense that returned seven starters, and that certainly was the case in a 7-6 Week 1 win over Marist. The Hilltoppers shut Marist out into the fourth quarter, and Mason Ellens came through with a 94-yard kickoff return for a touchdown for what turned out to be the winning score as Glenbard West's defense denied a last-ditch Marist drive in the final minute. But the win might have come at a cost. Glenbard West standout running back Julius Ellens left the Marist game in the second quarter with an apparent leg injury, and didn't return. His loss for any significant amount of time would only add another question mark to an offense that already is breaking in a new-look offensive line and quarterback. With Ellens out, Teyoin Oriental rushed for 167 yards on 16 carries against Marist. This game is part of the Gateway Scholars Football Classic being played at East St. Louis High School.
About the Spartans: St. Louis-based De Smet is currently ranked No. 7 in Missouri's Class 6A, the state's largest class. De Smet beat Kirkwood 44-21 in Week 1. Junior QB Dillon Duff completed 8 of 22 passes for 105 yards and two TDs and also ran for 36 yards. Sophomore running back Jayden McCaster rushed for two touchdowns. Senior Caleb Redd, a 6-foot-4, 215-pound edge rusher committed to Kentucky, is the 14th-ranked senior in Missouri. De Smet is coming off a 7-6 season in 2022 that included a 40-10 loss to East St. Louis. De Smet was an unbeaten state champion in 2019 and state runner-up in 2020.
FND Pick: Glenbard West
When: 7:15 p.m. Friday
About the Hornets: Hinsdale South dropped its Week 1 game to Wauconda, 14-10, a game in which the Hornets led 10-0 well into the third quarter. Langston Love threw a touchdown pass to Alec Miller and Jimmy Martin kicked a 35-yard field goal in the loss.
About the Bulldogs: Riverside-Brookfield came out firing in Week 1, scoring on its first six possessions in an eventual 42-13 win over Morton. Senior quarterback Diego Gutierrez was was 13-for-16 passing for 215 yards and three TDs, and also rushed for 80 yards. Muhammad Salem had a 41-yard TD catch, and also ran for a score. Luke Kumskis had six catches for 99 yards, with a 43-yard TD.
FND Pick: Riverside-Brookfield
Niles West (1-0) at Morton (0-1)
When: 7 p.m. Friday
About the Wolves: Niles West beat Thornton 42-13 in Week 1. The Niles West program has had eight consecutive losing seasons, with a 3-6 finish last year, since making three consecutive playoff appearances from 2012-2014. Coincidentally, though, the Wolves are 3-0 in Week 1 under third-year coach Nick Torresso. Niles West piled up 372 yards rushing in the win over Thornton, led by John Bae, and led 21-0 at halftime.
About the Mustangs: Morton dropped its third straight season opener to Riverside-Brookfield last week, and this result wasn't as competitive, a 42-13 loss. Morton gave up scores on R-B's first six possessions.
FND Pick: Niles West
Montini (1-0) at Hillcrest (1-0)
When: 7 p.m. Friday
Last matchup: Montini 31, Hillcrest 6 (2022)
About the Broncos: Montini, looking to put back-to-back 3-6 seasons in the rearview mirror, is off to a good start with an as-expected 56-12 win over Westinghouse. George Asay ran for two TDs and caught a third score, and Alex Marre ran for 72 yards and a TD. Defensively, Joel Melesio had a team-high five tackles. The Broncos don't have many opponents that look like one-sided wins remaining on their schedule, but Hillcrest could provide an opportunity for a 2-0 start before they hit the teeth of their schedule.
About the Hawks: Hillcrest posted a 14-12 Week 1 win over Elk Grove, a game in which the Hawks built a two-TD lead and then held on at the end. Hillcrest is coming off back-to-back 5-5 seasons, which is not up to program standards after the Hawks reached at least the quarterfinals in the previous three full seasons. Hillcrest did return 12 starters this season. Wide receiver Cameron Banks and defensive backs Jordan Jackson and Javaris Jones are among the players to watch.
FND Pick: Montini
Benet (1-0) at Moline (1-0)
When: 7 p.m. Friday
Last matchup: Benet 24, Moline 21 (2022)
About the Redwings: Benet is off to a strong start, a 40-6 win over Oak Forest. Junior QB Ryan Kubacki, in his first varsity start, ran for three touchdowns and threw for three TDs, two to Pat Pitello and the third to Rocky Rosanova. Kubacki is a newcomer behind center but he has a good deal of experience around him with Pitello and Rosanova, senior receivers, and three starters back along the offensive line. Benet has won all four meetings with Moline in a series that started in 2018, the last two matchups by a combined five points.
About the Maroons: Moline, defending Western Big Six champions, is coming off a 17-12 win over Glenbard North in Week 1. Moline has made five consecutive playoff appearances, but graduated All-State running back Riley Fuller off last year's team that made the second round of the Class 7A playoffs. William DePaepe, a 6-foot-4 defensive lineman committed to Georgia Tech, is the player to watch defensively.
FND Pick: Benet
When: 7:30 p.m. Friday.
Last matchup: First meeting between the teams.
About the Spartans: Orr began its season with a 26-6 win over Rowe-Clark last weekend, stretching its winning streak to four games dating back to the 2022 campaign.
About the Knights: The Knights received big-time performances from a variety of players during last weekend's 47-0 victory over Bowman Academy (Ind.). On the opening kickoff, Aaron Harvey forced a fumble and teammate Foley Calcagno scooped up the loose ball and returned it for a touchdown. Harvey added a 58-yard TD run, while quarterback Dennis Mandala tossed a pair of TD passes – 47 yards to Iowa-bound KJ Parker and 28 yards to David Valez. Defensively, sophomore Damarion Smith recorded a team-high eight tackles in the opener.
FND pick: IC Catholic Prep
-- Craig Brueske
Time: 7 p.m.
Last Matchup: First matchup since at least 2001
About the Saints: St. Charles East opened with a 34-6 loss to Lincoln-Way Central, but has an opportunity to bounce back with a school classified four times below its own. Entering the season, the Saints were excited about the returning starting pieces on the offensive line and at wide receiver on offense. Defensively, senior linebacker Charlie McArdle, senior safety Gavin Connolly are their two standouts.
About the Warriors: Wheaton Academy opened with a huge 42-8 victory over St. Michael's on the road in Austin, Texas last week. Ethan Brunner is a standout two-way player, while the linebacking corps is led by Brett Dieter, Jeremy Johanik and Brandon Kiebles.
Pick: St. Charles East
Prosser (1-0) at Westmont (0-1)
When: 7 p.m. Friday.
Last matchup: First meeting between the teams.
About the Falcons: Prosser escaped with a 28-27 win over Chicago Noble/ITW Speer in its season opener last weekend.
About the Sentinels: The youthful Sentinels will attempt to bounce back from last week's 47-6 home loss to Crane and provide first-year head coach Lee Maciejewski with his first victory.
FND pick: Prosser
-- Craig Brueske
CCL/ESCC crossover
Fenwick (1-0) at St. Ignatius (1-0)
When: 7:30 p.m. Friday
Last matchup: St. Ignatius 26, Fenwick 21 (2022)
About the Friars: Fenwick is riding high into Week 2 after a 34-13 crosstown win over Oak Park-River Forest last Saturday. Marek Hill threw for 201 yards and a TD and Luke D'Alise ran for 94 yards and a couple scores. The Friars, like the OPRF game, no doubt have had this matchup with St. Ignatius circled on their calendar. The Wolfpack defeated the Friars last season for the Chicago Catholic League/East Suburban Catholic Conference White Division title last season on a flea-flicker in the final minutes – although the two schools are now in separate divisions of the league.
About the Wolfpack: St. Ignatius is coming off a 37-20 win over St. Patrick in Week 1. The Wolfpack pulled away from what was a 14-14 game with two TDs in 19 seconds in the third quarter. St. Ignatius and its triple option attack rushed for 298 yards, QB Jack Wanzung accounting for 76 and a TD. The Wolfpack are coming off a 10-3 season in which it reached the Class 6A semifinals. The man to watch, of course, is 6-foot-4, 310-pound defensive lineman Justin Scott, an Ohio State recruit and the No. 1-ranked senior in Illinois.
FND Pick: St. Ignatius
Upstate Eight Conference
South Elgin (1-0, 1-0) at Glenbard East (1-0, 1-0)
When: 7 p.m. Friday.
Last matchup: South Elgin 22, Glenbard East 6 (2022)
About the Storm: It didn't take long for junior quarterback Jack Ginnan to get his feet wet, as he threw four touchdown passes in the first quarter during South Elgin's 57-14 season-opening victory over West Chicago last week. Junior receiver Ishmael George caught two of his three TD passes in the first quarter, while junior Nico Barkho also had a pair of TD receptions.
About the Rams: Senior quarterback Blake Salvino tossed four touchdown passes in the second quarter in the Rams' 42-0 win over Larkin last week. Two of those strikes went to senior receiver Chikodi Nze. Matthew Larson also tallied a pair of rushing touchdowns, as the Rams found the end zone on each of their first six offensive possessions. Meanwhile, senior defensive back Eric McClain led the shutout bid with an interception.
"It was a complete effort," Rams coach John Walters said. "We were very solid in all three phases, which is very good to see out of the gate."
Glenbard East has a tall challenge ahead against a South Elgin team that has won four consecutive UEC championships and 25 straight conference games. "South Elgin has been the class of the Upstate Eight," Walters said. "We will get their best shot – no doubt. Last year's game felt like a playoff game with the intensity. My bet? It will be a fast, physical game." How important is this one? "It's always a big game," added the coach. "I think they will say the same. Week 2 is just how the schedule falls. Every game matters. We only get nine and have to win so many to have a shot at the postseason. It's the only sport that operates that way. Every Friday is a big deal. This one carries a little more because it's the top team."
FND pick: South Elgin
-- Craig Brueske
Fenton (0-1, 0-1) at Glenbard South (1-0, 1-0)
When: 7 p.m. Friday.
Last matchup: Glenbard South 49, Fenton 14 (2022)
About the Bison: Fenton gave Elgin a scare before losing, 24-21, last weekend. Junior quarterback Nathan Stewart completed 13 of 27 passes for 184 yards and a pair of touchdowns with an interception against the Maroons, while tailback Jordan McDougall rushed for 60 yards and a TD and collected five tackles from his cornerback spot on defense. Senior middle linebacker Gabriel Salgado had a team-high 11 tackles last weekend.
About the Raiders: Glenbard South possesses a multi-purpose threat in Notre Dame-bound senior WR Cam Williams, who caught seven passes for 153 yards and three touchdowns in the Raiders' season opener last weekend. Senior quarterback Michael Champagne was 10 of 17 for 182 yards and four TDs against East Aurora, while also adding a TD run. Carter London rushed for 93 yards and a score and caught a TD pass last weekend. Defensively, senior defensive tackle Jack Everett Anderson collected a team-high seven tackles against the Tomcats.
FND pick: Glenbard South
-- Craig Brueske