Perhaps the best way to describe how special of a football player Batavia senior running back Jalen Buckley became is best left for the people who saw it up close every day.
"How hard he goes all the time," Batavia coach Dennis Piron said. "There's players that play hard, play hard all the time. He brings such an energy and passion to the game all the time. Probably the thing you appreciate [the most] as a coach is he's so capable of doing anything you want to do."
Whether it was initially locking down starting positions at both safety and running back in preseason before injuries quickly necessitated his move to full-time running back, Buckley, to his credit, "[didn't] say a word."
"Just works and shows up and does what he's supposed to do," Piron said.
Buckley, despite suffering an ankle injury to close the regular season and returning two weeks later less than 100% in a Class 7A second-round playoff loss to Mt. Carmel, still gutted out 1,194 rushing yards – averaging 6.3 yards-per-carry – and nearly 120 yards per game.
The 6-foot, 205-pound workhorse had five games of over 100 yards rushing and 16 rushing touchdowns as the genuine motor for an offense that averaged 31.4 points, 17 first downs, 185.5 yards rushing and 322.8 total offensive yards per game.
Buckley is the 2021 Kane County Chronicle Football Player of the Year.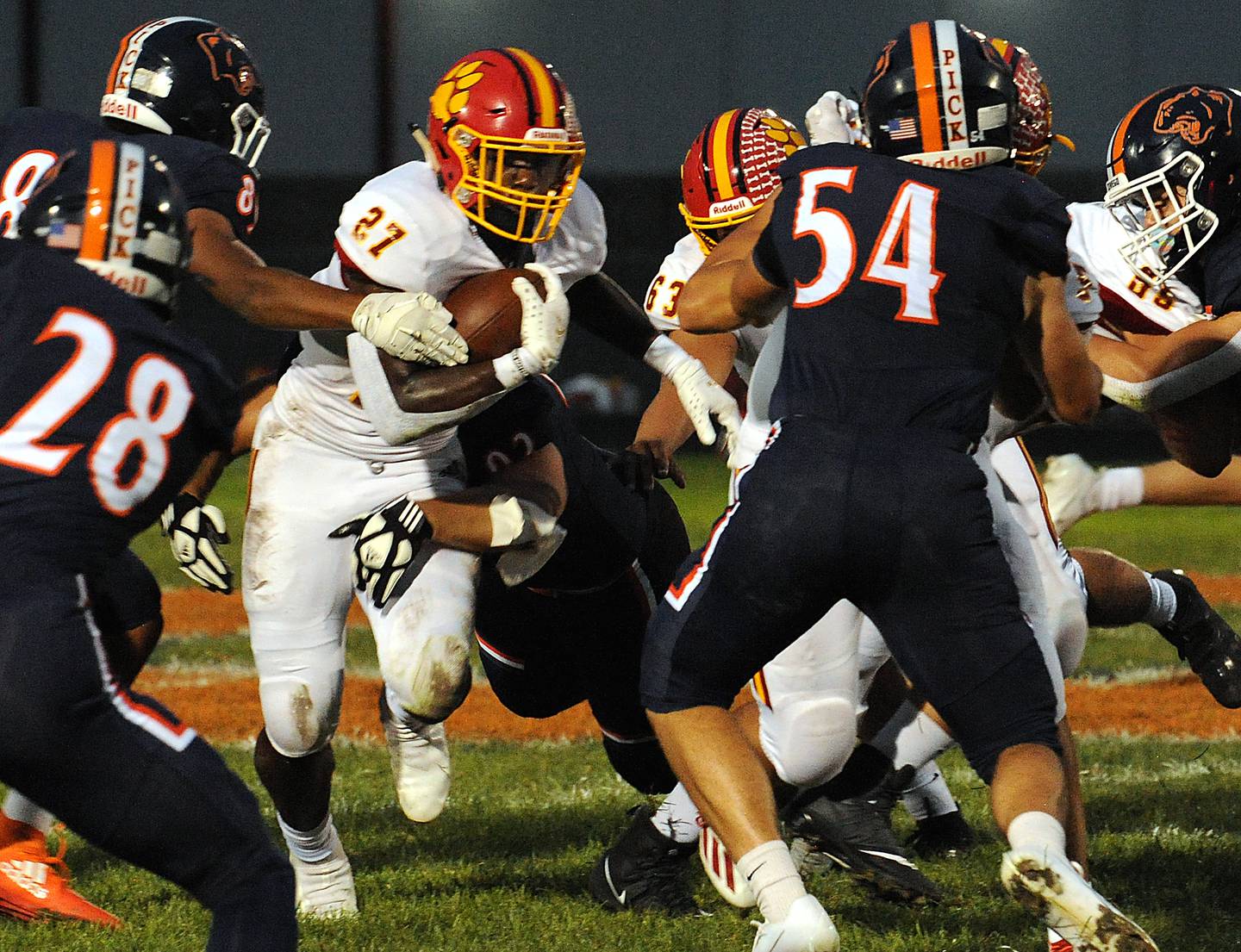 Buckley's motivation to have the season he did can be traced back to the graduated seniors from the previous season who did not get to have a postseason opportunity due to the pandemic.
"I know how fast senior year is going by right now and I can only imagine what they were hoping for the whole year: All the things we got to experience and everything they didn't get to experience," Buckley said. "I just wanted to make sure they were recognized throughout the whole process because no one has ever had to deal with that."
That secondary personal motivation, however, was "not letting the people next to me down."
"The people that motivate me is all my teammates," Buckley continued. "Just knowing how much time we spend together and how much work we put in, I just don't want to let them down. Every game I'd go into that motivating myself not letting my brothers down."
That could be visibly seen as a given game would go on.
"…The thing that was probably most impressive to us was: He would get stronger," Piron continued. "It wouldn't be [like] he would tire out. As the game would continue, that last fourth quarter of the game, it was pretty hard for anybody to stop him when things matter, whether it was an overtime run or a play in the fourth quarter or we needed a first down or whatever it was."
"He was extremely capable of getting all those things whenever they needed to be gotten," Piron continued.