Josh Dornink has had a front row seat to Batavia's roll through the regular season, but it was difficult from his vantage point – the sidelines.
Dornink, Batavia's senior running back, suffered a left ankle sprain during his team's Week 2 game at Oswego. He missed the next five weeks.
Now healthy, Dornink is back and ready to finish the job for Batavia, which has rolled to an 8-0 record with one game to go before the postseason.
"It was probably the most difficult thing thing that happened so far," Dornink said. "It's hard seeing your brothers out there fighting, playing, having fun and enjoying…watching just wishing you can experience that, too."
Dornink had three carries in the Bulldogs' blowout win against St. Charles East last Friday as he works back into game shape.
"It felt good [to return]," Dornink said. "As soon as I got the ball, there was no pain. I wasn't thinking about it. I was basically fine."
Dornink said he started getting more reps during Monday's practice and is starting the routine he had done prior to the injury.
Dornink will slide back into his complementary role alongside star running back Jalen Buckley, who has 1,033 rushing yards and averages 129.1 yards per game.
"We'll try to figure out a rotation on that; try and get things back to how it was," Dornink said. "They [the coaches] area slowly getting me back to [speed]."
With a victory on Friday night over St. Charles North, Batavia will win the DuKane Conference title outright.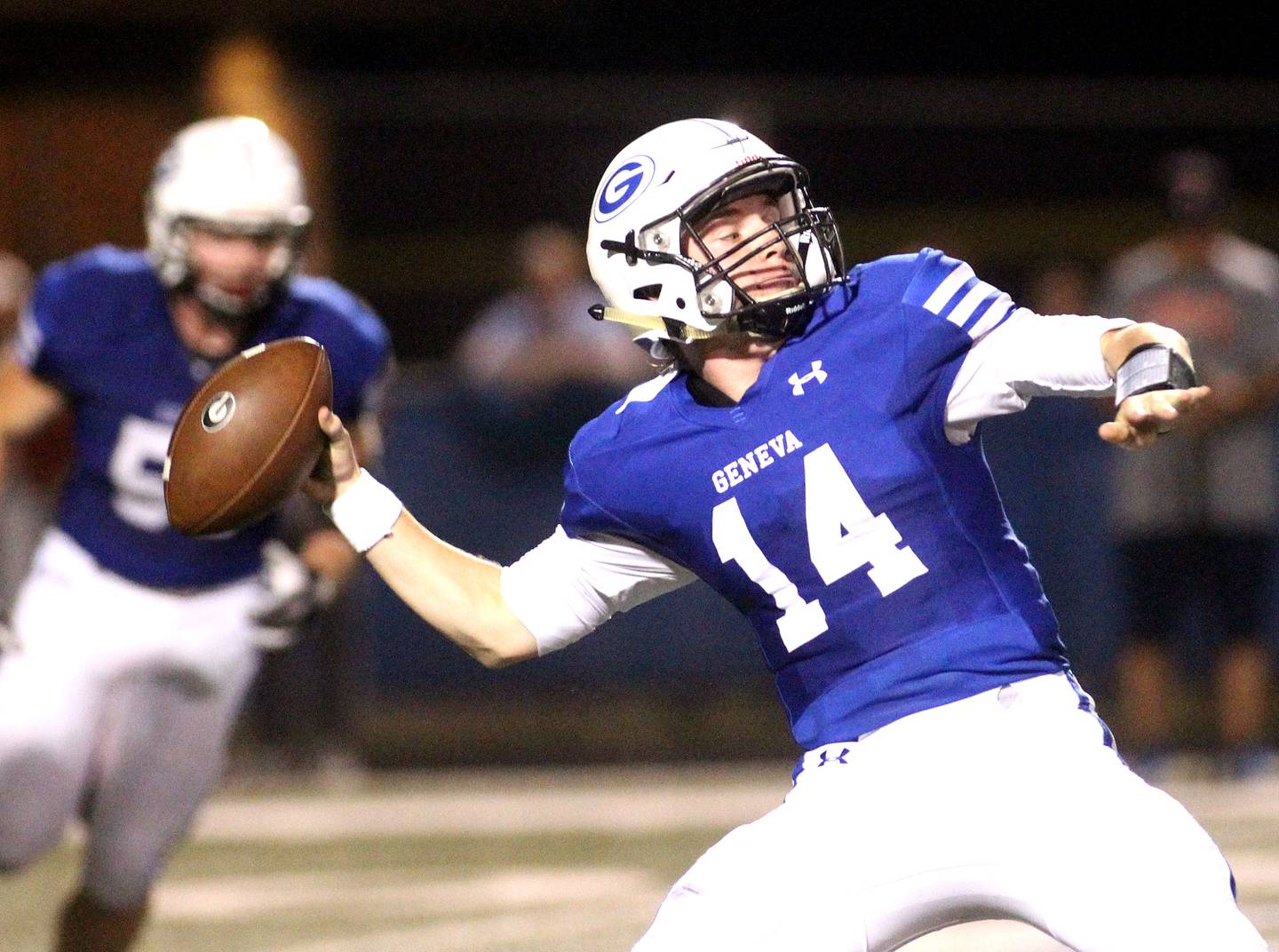 Crunch time for Geneva
It's crunch time for Geneva.
After losing three consecutive games, the Vikings (4-4) are in danger of being on the outside looking in when playoff pairings are announced Saturday night. A victory over Lake Park on Friday will help the Vikings get to five wins, which is generally a decent position for postseason eligibility.
"We're coming off three tough [games] so that's never great," senior quarterback Alex Porter said. "Our spirits are high; we believe in ourselves. We know what we can do and we know what we will do. We fully believe we can and will win this game."
Lack of execution at points and playing a more complete game has been the crux for the Vikings.
"Yeah, I would definitely say execution. We knew with Batavia and Wheaton North that those are top teams in the state," Porter said. "Those are teams that nobody wants to face, not even in the playoffs. We knew those were going to be tough, but even when you look at those games, it was the execution."
"A lot of penalties and there were drives in both of those games [where] we had multiple drives stall out on the 1-yard line. I think we had two in the Batavia game and one in the Wheaton North game, so it's frustrating, especially with momentum…not being able to execute is tough. We know what we can do and we're going to learn and do it better."