ROCK FALLS – It took a couple of big plays on offense and some huge defensive stops down the stretch for the Rock Falls Rockets to get that elusive 'W'.
But the Rockets made every play when they needed to, and held off a late Rockford Christian charge in some final tense moments for a 21-16 victory Friday night at Hinders Field.
"One of my first games on varsity, and it was very nerve-wracking tonight," sophomore Owen Mandrell said. "But I made some big plays and I'm proud, and the other guys made big plays too. I'm proud of this win, great team effort, just an amazing effort today. Just great defense when we had to have it."
[ Photos from Rock Falls vs. Rockford Christian football ]
The win is the first for the Rockets in 22 games, since a 50-0 win over the Royal Lions in Week 1 of the 2021 season.
"Everyone was out there and ready to play tonight, and all as one unit. We really wanted this win," senior Devin Tanton-DeJesus said.
Michael Flowers broke off a 50-yard touchdown run to give Rock Falls (1-4) the lead midway through the third quarter, Easton Canales weaved through the defense for a 7-yard scoring run 4 minutes later, Mandrell held onto a clutch interception in the waning minutes, and he and Tanton-DeJesus had key sacks in the Royal Lions' final series to secure the win.
"We put it together, and it was a win. It was ugly, but before you win by 40, you've got to win by one," Rock Falls coach Kevin Parker said. "When things are against you, you've got to work harder. And we showed ourselves tonight what we can do when we work hard and work together."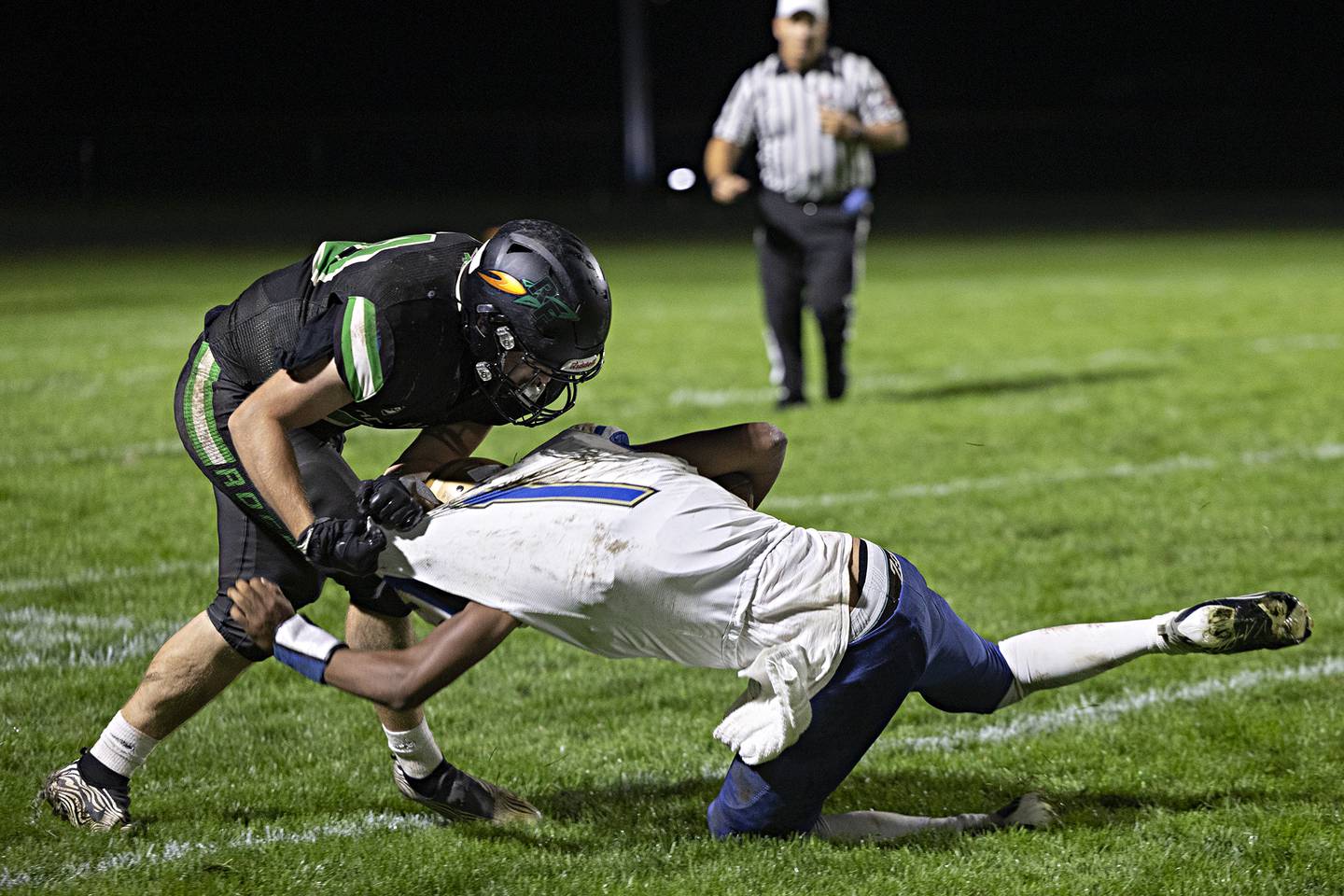 The play in the trenches was key, as Rock Falls' offensive line consistently opened holes and the defensive line repeatedly got penetration into the Royal Lions' backfield.
They definitely had some incentive – and because of their stellar play, they'll get a reward from one of their teammates.
"Our line did really good with their blocking, and also on defense, too. I'm proud of them, and now I'll get them some pancakes," Tanton-DeJesus said. "They know that I'll do that for them when they play like they did tonight."
Rockford Christian (0-5) took the lead on its first possession, driving 60 yards for a 6-0 lead on a 7-yard scoring strike from Jaden Williams to Easton Morehouse.
But Rock Falls defensive back Richard Nichols intercepted a pass on the Royal Lions' next series and set up the Rockets at the 13-yard line; Korbin Oligney ran in from 8 yards out to capitalize on the turnover, and Vinnie Lombardo's extra-point kick made it 7-6 Rock Falls with 10:06 left in the second quarter. The timing of the TD run was thrown off by a low snap, but Oligney scooped it off the grass and avoided a pair of tacklers to reach the end zone.
Another low snap was recovered by Rockford Christian at the Rockets' 42-yard line, but the Rock Falls defense forced an incomplete pass on fourth-&-2 at its own 4, and the Rockets took over there.
"We're still making mistakes, but getting kids to buy in now with a win, and focusing like we have to on those mistakes, that's big for us," Parker said. "Hopefully we've got a little bit more leverage and motivation with a win now to get things done so we don't make mistakes."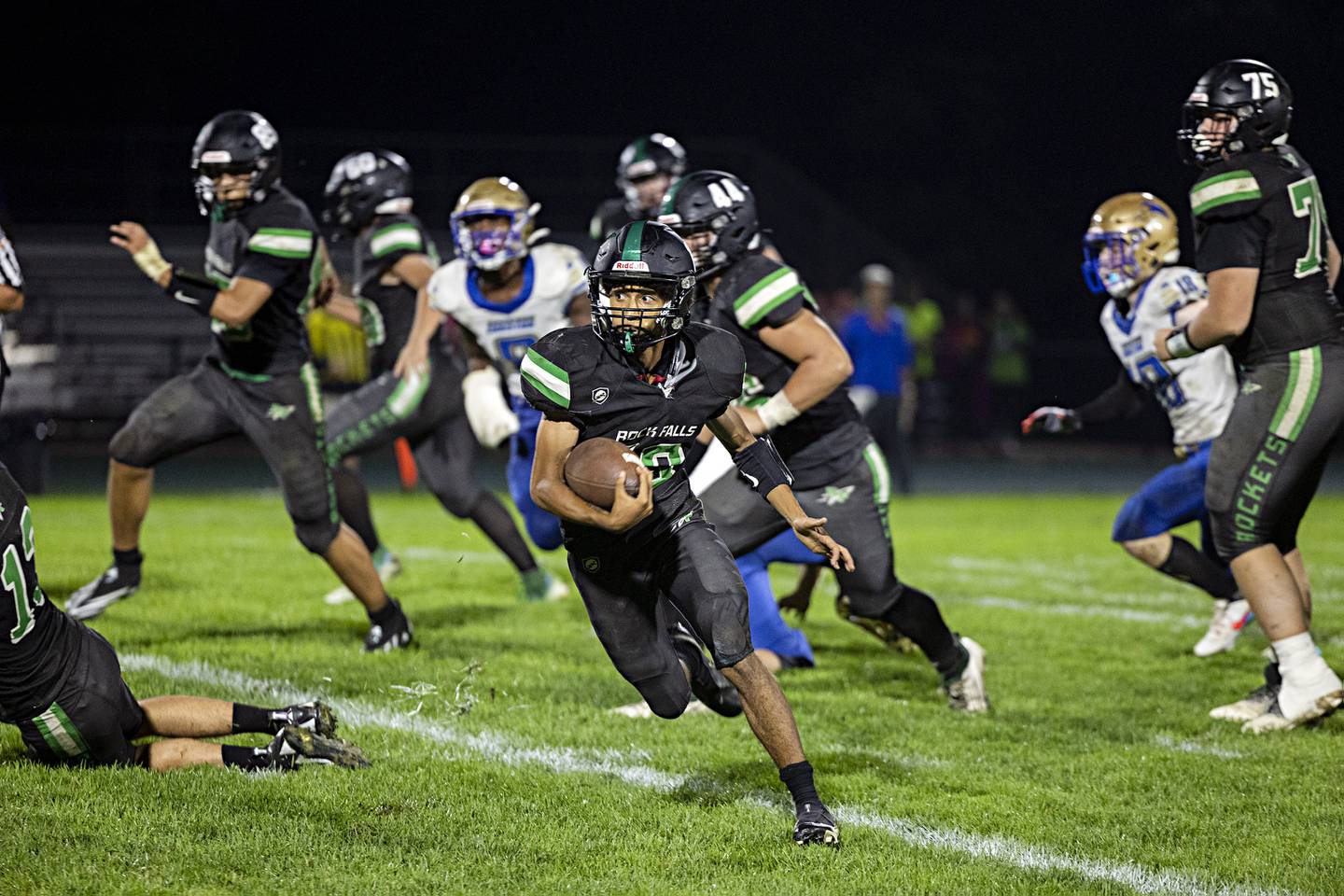 A mishandled exchange on a handoff on Rock Falls' next series gave Rockford Christian another chance to take the lead, and the Royal Lions cashed in with a 9-yard touchdown pass from Williams to Morehouse with 52 seconds left in the first half to take a 14-7 margin into halftime.
An interception gave Rockford Christian yet another chance before the break, but a pair of sacks and a penalty pushed the Royal Lions back to a third-&-goal from the 33-yard line; the final pass of the half fell incomplete.
Rock Falls came out of halftime on fire, forcing a Rockford Christian punt after another tackle for loss before Flowers outran the Royal Lions defense for the 50-yard scoring sprint. After an offsides on the extra-point attempt, the Rockets called back their kicker and went for two; Flowers bobbled the handoff and it bounced into the end zone, but Rock Falls fell on it for a 15-14 lead.
"I saw a hole and I hit it, and then kept running as fast as I could," Flowers said of his long TD run. "The line played a hell of a game, opening holes every play. It was nice for us backs. This just feels amazing. We worked hard for this."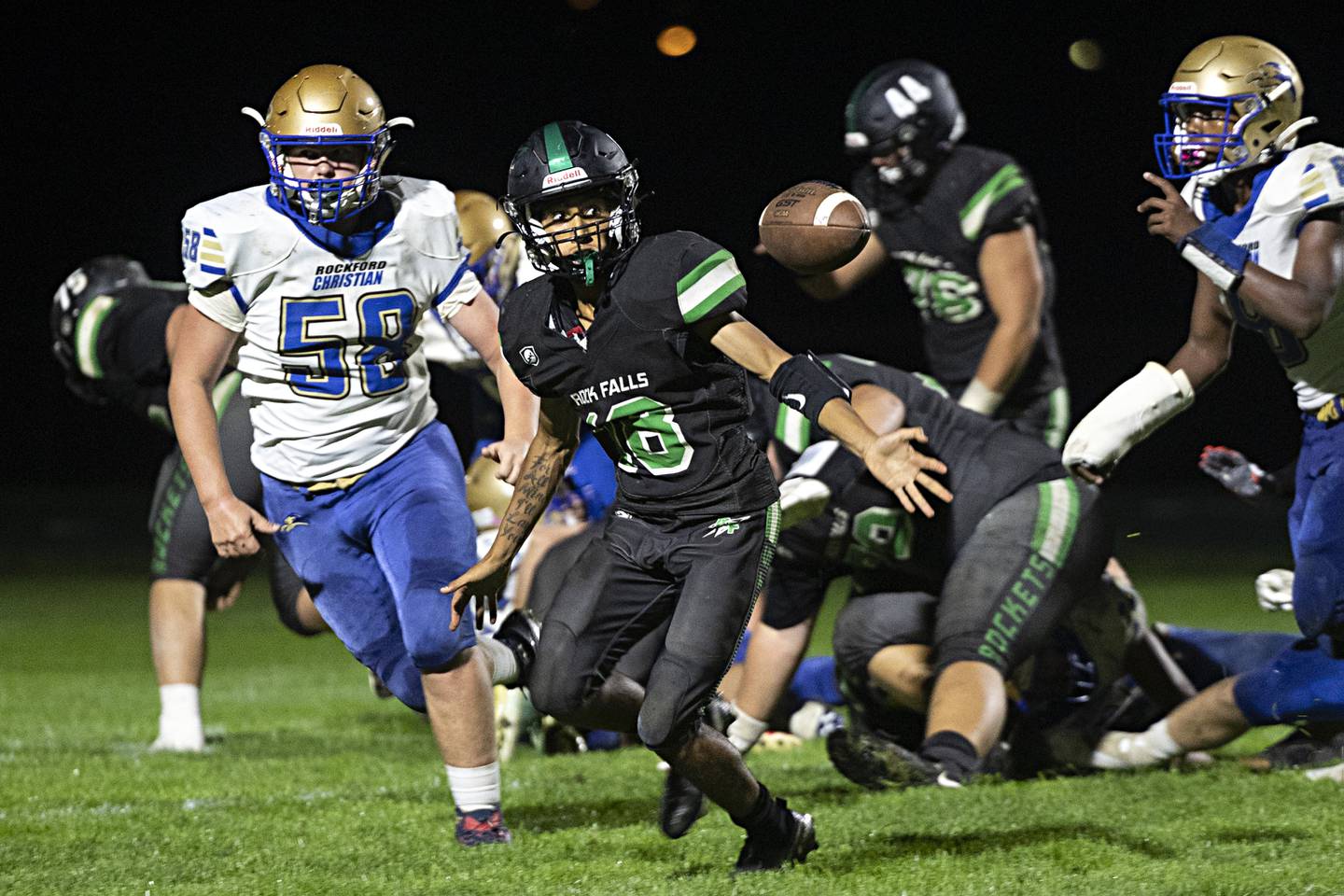 A Tanton-DeJesus sack led to another Rockford Christian punt, and Canales, Oligney and Tanton-DeJesus covered 33 yards in three runs before Canales made it 21-14 with 3:19 left in the third quarter.
The Royal Lions failed to convert a fourth-&-19 from the Rock Falls 31 on the next series, but took over deep after a bad snap on the Rockets' ensuing punt attempt.
But the Rock Falls defense was once again up to the challenge, making another tackle for loss after a bad snap on fourth down.
Taking over at their own 13, a delay of game and an illegal block pushed the Rockets back to the 7, and a bad snap went into the end zone and Canales was forced to fall on it for a safety.
But that heady play turned out to be a big one for Rock Falls; instead of recovering for the tying touchdown, the Royal Lions had to settle for two points, and the Rockets still had the lead.
On the second play after the free kick back to Rockford Christian, Owen Mandrell intercepted a Williams pass.
"I just watched the quarterback's eyes. I saw him rolling out to the right side, and I just followed his eyes, followed the pass, and caught it," Mandrell said. "It bounced right off my hands, but I grabbed it out of the air and just started running."
Lombardo's ensuing punt was then downed at the 1-yard line with 3:10 to play, pinning the Royal Lions 99 yards away from a winning touchdown.
But Williams connected with Morehouse for a 73-yard pass to the Rock Falls 10-yard line – and a touchdown saving tackle proved to be the difference.
Mandrell had a tackle-for-loss on first-&-goal, then Tanton-DeJesus had a sack on second down to push Rockford Christian back to the 21-yard line.
"It all comes down to my teammates hyping me up and helping me make the plays," said Tanton-DeJesus, who had four sacks and two more tackles for loss. "This is our first win in two seasons, and I do it for these guys. This is my first year, so I just go out and play my hardest for my team."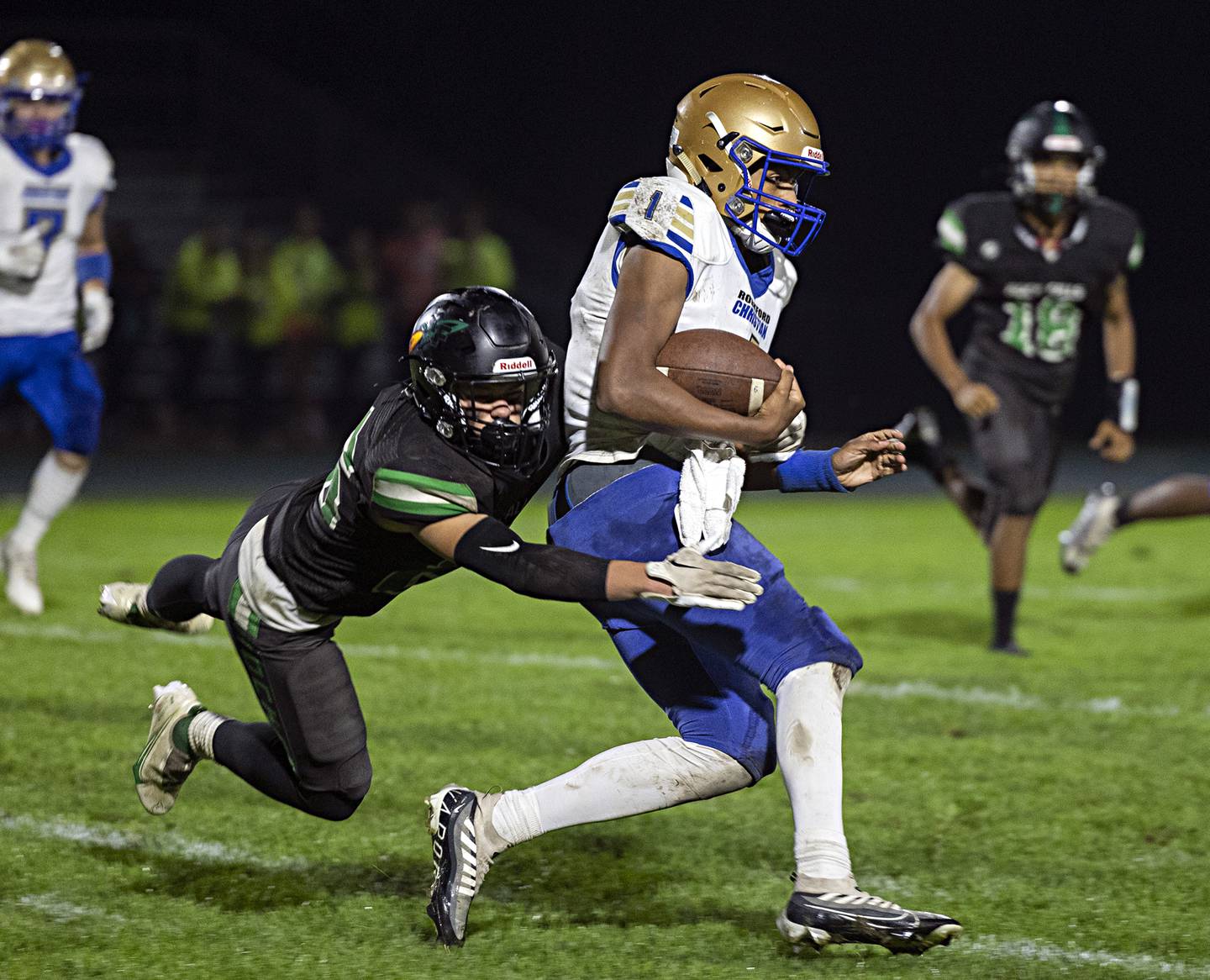 Williams scrambled for 5 yards on third down, and his fourth-down pass was complete to Tyshon Gaston, but the Rockets tackled Gaston at the 2-yard line to force the turnover on downs, and Canales took a knee to run out the clock on the victory.
"You see guys stepping up to the big stage and showing what they can do. A lot of it is that guys don't believe in themselves always, and hopefully now we do," Parker said. "I'll tell you right now, when you come and watch this team at practice on a weekly basis, you can see the talent out there. But it is just so hard to get things going when you're playing the Byrons and the Stillman Valleys and you get beat up in this conference week in and week out.
"Hopefully the confidence comes now and we can play like we really should the rest of the way."
Flowers finished with 81 yards on five carries, and Tanton-DeJesus had 66 yards on nine rushes. Oligney added 58 yards on 11 carries, and Canales ran eight times for 32 yards.
Williams was 18-for-27 passing for 286 yards, and Morehouse caught seven passes for 147 yards to lead the Royal Lions. Jermaine Francis caught three passes for 60 yards, and Tucker Delaney led the way with 49 yards on seven rushes; Rock Falls gave up just 29 net rushing yards thanks to sacks and tackles for loss.