As of Sunday afternoon, most DeKalb County residents had power restored by ComEd crews after nearly 3,000 ComEd customers were without power over parts of the weekend following Friday's severe weather.
By Sunday, ComEd's outage map reported 15 customers in DeKalb County remained without power from three outages as of 1:36 p.m. Sunday.
That included an outage south of Maple Park off Keslinger and Hinckley roads, estimated to be restored 4:30 p.m. Sunday. An outage in southern DeKalb city near Spring and Karen Avenue was expected to be restored by 2:30 p.m. Sunday, according to ComEd. A third outage was reported in Cortland Township just north of DeKalb Taylor Municipal Airport.
On Saturday morning, more than 500 ComEd customers were without power in DeKalb County Saturday morning, according to ComEd's outage map, following a hazardous Friday that brought with it severe wind, storms and threats of tornadoes.
On Friday night, there were 2,787 ComEd customers without power, according to the utility's website. That number was cut to 510 by Saturday morning.
The number of residents without power Saturday morning stemmed from 42 outages across DeKalb County after storms which began Friday afternoon across most of northern Illinois included severe winds up to 80 mph and a 45-minute tornado warning Friday night, according to the National Weather Service.
Those without power included 104 in DeKalb, according to ComEd.
Power outages on Friday night had affected 1,074 customers in Cortland or nearly 61% of its serviced residents, 103 in DeKalb, 994 customers in Sandwich, 65 in Somonauk and fewer than five in Genoa and Sycamore, as of 8:52 p.m., according to ComEd.
Though a tornado warning issued for most of DeKalb County Friday expired, the county was under a wind advisory until 1 p.m. Saturday, according to the National Weather Service.
Winds were so strong Friday that they blew off the roof of a maintenance building near Huntley Middle School in DeKalb, confirmed DeKalb Police Chief David Byrd.
The DeKalb County Sheriff's Office, meanwhile, responded to multiple reports of downed power lines in more rural areas of the county, said Sheriff Andy Sullivan.
Sullivan said sheriff's deputies fielded reports Friday of trees down in various parts of the county.
As of 9:38 p.m. Friday, Sullivan said power lines were reported downed on Roosevelt Road and Illinois Route 72 in rural Genoa. The roadway was barricaded by the township to ward off motorists while crews worked to repair the damage, Sullivan said.
Power lines also were reported downed on Pritchard Road between Harter and Keslinger roads in eastern DeKalb County near the Kane County line, Sullivan said. As of 9:38 p.m., crews were putting up barricades so the damage could be addressed.
The tornado warning was issued around 7:18 p.m. and lasted through 8 p.m. Friday, impacting Sycamore, DeKalb, Rochelle, Kirkland, Hinckley, Malta and north Sandwich.
Skies darkened significantly around 7:30 p.m. Friday as temperatures dropped and winds picked up. Tornado sirens could be heard across the county as municipalities sent out alerts warning residents to shelter in place.
Severe thunderstorms with the potential for 75 mph winds, tornadoes and hail made their way into northern Illinois Friday, according to the National Weather Service.
A tornado watch was issued around until 8 p.m. Friday for parts of western and central Illinois, eastern Iowa, northwestern Missouri and southwestern Iowa, according to the NWS. That includes parts of Jo Daviess, Carroll, Putnam, Whiteside, Bureau and Rock Island counties.
At 2:35 p.m., the National Weather Service issued a tornado watch until 10 p.m. for McHenry, Lake, Ogle, Lee, DeKalb, Kane, DuPage, La Salle, Kendall, Grundy, Kankakee, Will, Livingston, Ford, Iriquois and Cook counties.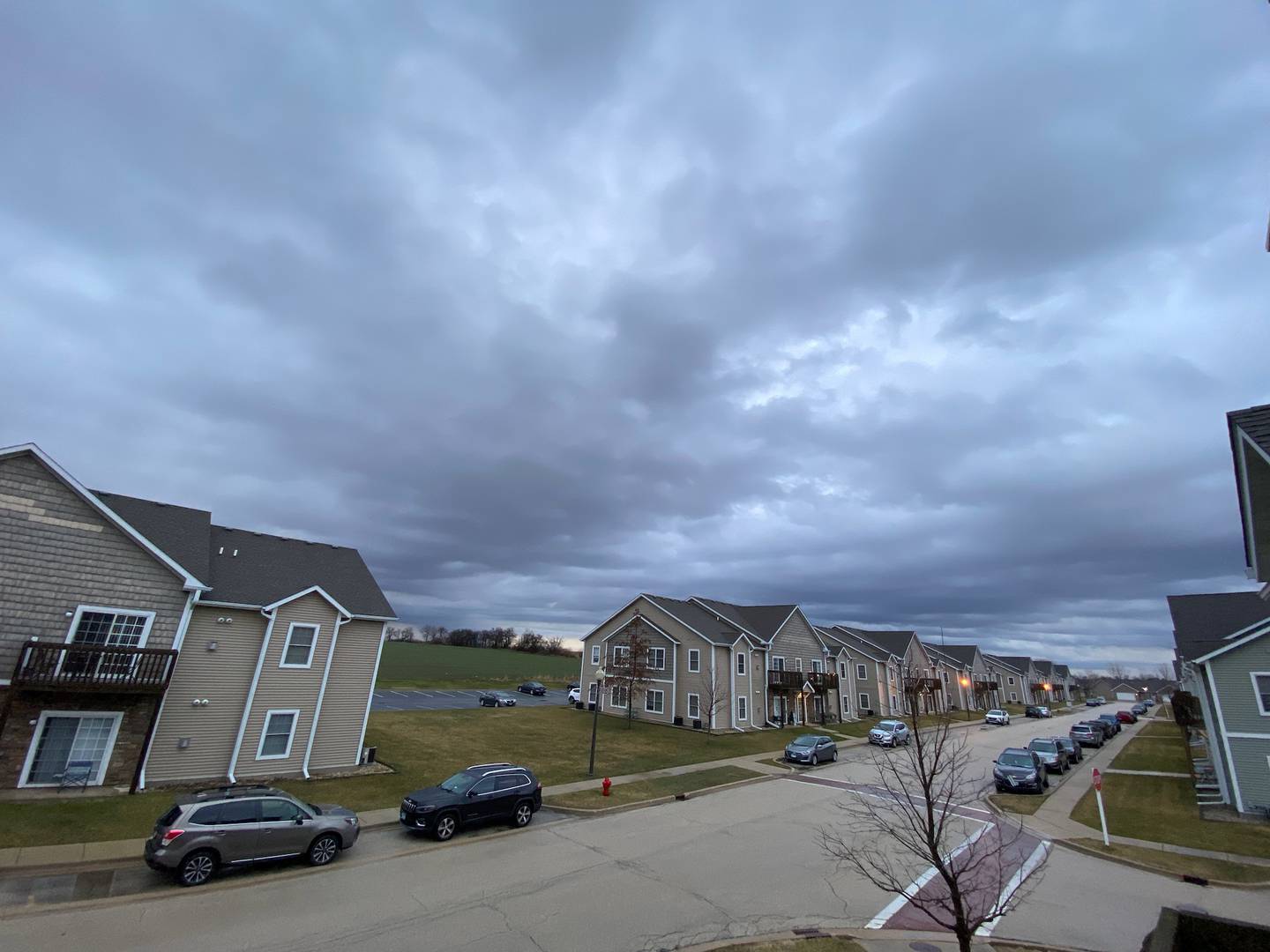 A wind advisory was is in effect until 1 p.m. Saturday for much of northwest Illinois, including parts of La Salle, Grundy, Kankakee, Livingston, Iroquois, Ford, southern and eastern Will counties.
Most of northern Illinois fell under threat from potentially significant severe storms, including Winnebago, Boone, McHenry, Lake, Ogle, Lee, DeKalb, Kane, DuPage, La Salle, Kendall, Grundy, Kankakee, Livingston, Ford, Iroquois, Will, and Cook counties.