DeKALB – To read some of Marlon King Jr.'s diary entries, he was a young father who had his future in mind.
A former high school athlete, King was hoping to go to Kishwaukee College to better provide for his family. His family spoke to Shaw Local News Network about his goals: how he wanted to read more books, raise his credit score, open a savings account for his daughter, stay in shape, save $2,000 for his first apartment.
None of those hopes or dreams would happen, however. King was killed following a late-night altercation in DeKalb, the details of which are still emerging.
He was shot to death inside a DeKalb apartment building on May 11 – just before Mother's Day. While King was shot multiple times, he also was found to have a gun on him, police said. One of the men charged with murder in King's death also was shot.
"Don't judge him from his final day on the planet," his mother Tara McCarthy said. "'Cause that is just not who he was at all. He was a person that, if he got a phone call from a family member or friend who needed help, he would go. And that cost him his life."
Prosecutors allege Jayden C. Hernandez, 19, and Carreon S. Scott, 20, both of DeKalb, fired the gunshots that killed King, according to court documents. Both men are being held without bail at the DeKalb County Jail in Sycamore, charged with first-degree murder in King's slaying.
The shooting occurred during a confrontation between King, Hernandez and Scott, according to court records. DeKalb police responded to a shooting at 11:14 p.m. May 11.
King's exact role in the altercation remains unclear.
Records filed in the case, however, allege when Hernandez and Scott arrived, King was already inside the building. Scott allegedly began to argue with King, a confrontation that erupted into a fist fight, court records alleged.
As the two men tussled on the ground, court records allege, shots were fired. King was shot and he allegedly fired a gun from his own pocket, hitting Scott in the leg. Prosecutors allege Scott shot King and, as Hernandez wrestled a gun away from the two, Hernandez shot King again before allegedly bludgeoning King in the head with the gun, according to court records.
King was pronounced dead about 40 minutes later, court records show, en route from Northwestern Medicine Kishwaukee Hospital in DeKalb to another hospital in Rockford.
DeKalb Police Chief David Byrd said Friday none of the people involved in the shooting had valid FOID cards. In Illinois, those under 21 are allowed a Firearm Owners Identification Card if their parent or guardian signs an affidavit.
King's family members said they wanted to speak out, so others would know he was more than a newspaper headline.
The women gathered in a circle recently at the DeKalb County Courthouse, recollecting fond memories of King. The family had been in court that morning, and days prior, to monitor Scott's court hearing, as he was freshly out of the hospital.
King's diary entries, according to his family, provided insight into just who he was and who he was planning to become.
In one of his last entries, he wrote about plans to go to college and recalled when he found out he would become a father. His daughter, Ari was born in the fall 2020. He shares her with girlfriend Tamiah Griffin.
"I was 16 going on 17 when Tamiah told me she was 6 months pregnant," King wrote. "She had only told her parents 2 days before she told me. On the day I met her parents, I told them that if the child was mine I would be there for it, take care of my responsibility."
King's family described him as responsible, smart and God-fearing, a loving father and a deeply loyal friend. They said it was a friend he was coming to the aid of that night of the shooting.
King played basketball at DeKalb High School and graduated last year. He was a youth football player who didn't get into trouble at school, his mother said.
"He was the type of person who was about to become something and make something out of his life," Cortland resident Latosha McCarthy, King's aunt, said.
In an April 22, 2022, journal entry, King wrote "Factors that are stopping me from breaking through" and listed "People around me with different intentions other than mine/negative people" and "not saving money," among others.
"This is just a good example of here today, gone tomorrow," aunt Tiffany McCarthy, of Rockford, said as she read from her nephew's journal.
A DeKalb County court records search didn't reveal any criminal history for King, and the DeKalb County State's Attorney's Office said they weren't aware of any juvenile crimes either.
While details of the night King was killed have not all been released publicly, his mother, formerly of DeKalb who now lives in Rockford, acknowledges her son shouldn't have been there.
"He was the kid with the basketball, with his daughter, with his family and a church praying to God to get him away from the thugs on the planet because he didn't ever want to be a part of that," Tara McCarthy said, crying. "He knew they weren't for him. He grew up with these same kids, went to school together, and our city is just taking a toll in a different direction. It's not what DeKalb is."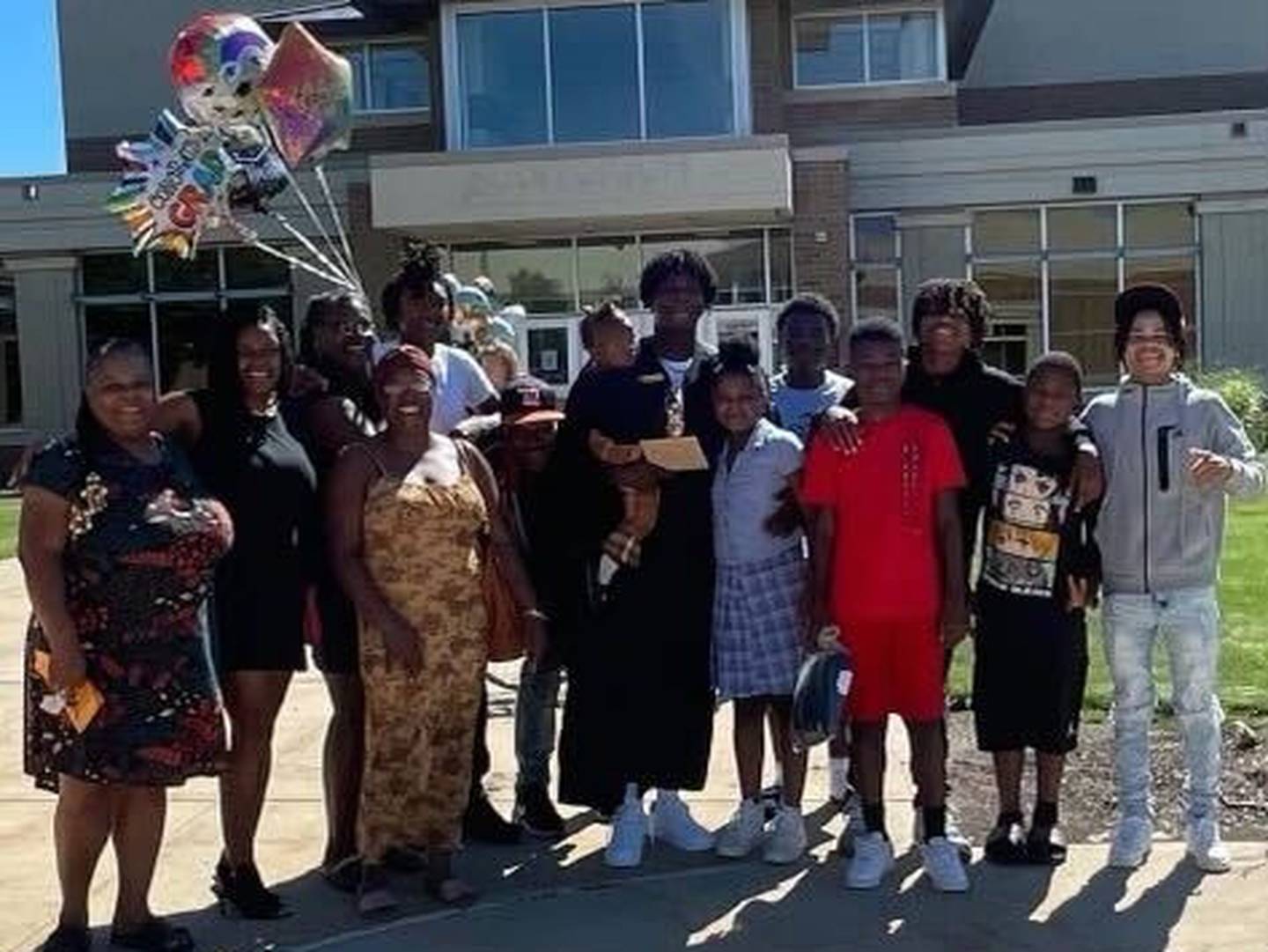 Latosha McCarthy said she was the first family member to arrive at the hospital May 11. She'd seen King earlier that day when he came around while she made Chicago-style hotdogs and fresh cut fries. She called her sister, Tara McCarthy, to share the grave news.
"It was just a scream that sounded like the ancestors," Latosha McCarthy recalled. "It was just unreal."
As far as King's family is concerned, three lives – along with the loved ones they leave behind bars or in death – are lost because of what Tiara Higgins – King's daughter's grandmother – called a "tragedy."
Since his death, King's family said they've been touched by community response. Messages of grief poured onto social media as word got out that a former Barbs basketball player had been killed.
"I ask for people to have some empathy," Higgins, of DeKalb, said. "Have some empathy for his tragic situation on both sides. People are lost. We need for peace right now. We need for people to remember him as the person that he was. Don't keep putting out this negative perception of him because that wasn't who he was."