SYCAMORE – Ex-DeKalb School District 428 superintendent Douglas Moeller allegedly solicited a former student's aid to buy a cellphone to send explicit photos of a woman, his subordinate, to school board members in 2017, prosecutors argued Thursday.
Moeller is accused of sending those compromising photos because the woman, a former DeKalb High School principal, scorned his sexual advances after she filed a complaint against him for unwanted attention. He allegedly sent the photos months after he was placed on leave and a day after the board approved a separation agreement with him, prosecutors said.
Both sides rested Thursday in the criminal case, although a judge won't decide Moeller's fate for about a month.
Circuit Court Judge Philip Montgomery ruled that Moeller's defense attorney, former DeKalb County State's Attorney Clay Campbell, and prosecutors will issue closing arguments at 1:30 p.m. Nov. 2.
Moeller, 65, of Elgin, the district's superintendent from 2014 to 2016, declined to offer testimony in his own defense Thursday.
Mary Hess, current DeKalb Township Supervisor who served on the DeKalb school board from 2013 to 2017, testified Thursday that she was one of two board members who received the photos on Feb. 8, 2017. She said they were sent anonymously from a phone number she didn't recognize.
When asked by Assistant State's Attorney Brooks Locke for her reaction to the photos, Hess said, "Shock." She said she identified the former district employee – an Elgin woman – in one of the photos.
"I was shocked that I received them," Hess said. "I mean, one of them was clearly a private image that wasn't meant to be shared, I felt. It was [of] a sexual nature."
Prosecutors on Thursday worked to show the steps Moeller is alleged to have taken to obtain a phone unconnected to his name so he could send explicit photos of the woman.
Moeller was arrested April 13, 2018, almost a year after his retirement, which came after he was placed on leave from his $199,600-a-year position Sept. 20, 2016. He's been free on bail since his arrest. Moeller is charged with non-consensual dissemination of private sexual images, a Class 4 felony. If convicted, he could face up to three years in prison.
The woman testified Wednesday that she'd developed a personal friendship with Moeller but declined to pursue a sexual or dating relationship despite his advances after he became her boss. Before the criminal charges arose, the woman in September 2016 filed a verified petition for stalking and no-contact against Moeller in Kane County. A Kane County judge later tossed that petition after the woman failed to appear for a hearing Oct. 6, 2016.
On Sept. 16, 2016, the woman also filed a complaint against Moeller with District 428 officials, alleging she was the target of unwanted sexual attention.
Echoing what her school board colleague at the time, Fred Davis said in his Wednesday testimony, Hess said she first contacted Aaron Lockhart, the district's police resource officer, after receiving the photos. Lockhart since retired from DeKalb and now works with the Sycamore Police Department.
Lockhart testified that he knew both Moeller and the woman "pretty well," saying the trio would sometimes socialize after work and eat dinner together.
Lockhart said he was working on Feb. 8, 2017, a Wednesday, when Davis and Hess contacted him to tell them about the photos they'd received. The photos contained at least one picture of the former district employee woman, Lockhart testified.
"They were sexual in nature and one of them appeared to be some type of, like, bondage," Lockhart said. "At the time they [the woman and Moeller] were both kind of like my supervisors, because when you're school resource officer, they give you directives, things to do. So I was concerned about the whole situation."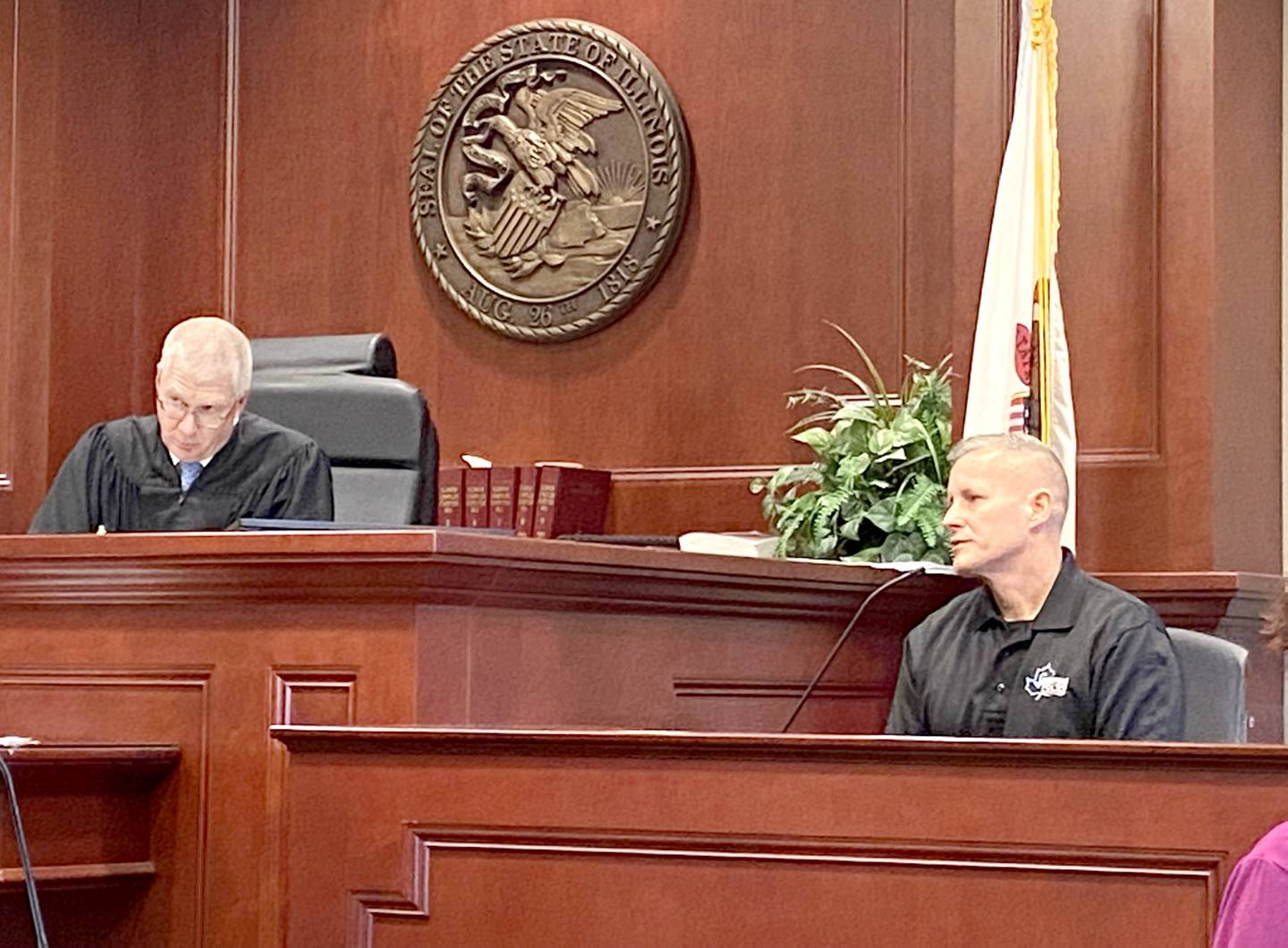 Lockhart said he notified his DeKalb police supervisor about the potential professional conflict. The case was handed over to DeKalb Patrol Officer Sadie Pristave, who also offered testimony Thursday.
Prosecutors have argued that Moeller used a cellphone he'd obtained with the help of a former student in January 2014 to send the texts.
The former student, Kenneth Denk, said he'd befriended Moeller when he was attending Elgin High School, where Moeller was a former administrator.
"We became good buddies, he helped me out throughout the high school years," Denk, who graduated in 2007, said in his testimony. "We would go out to eat, hang out, go to Danny's Pizza."
Denk said he and Moeller went for a meal at a Mexican restaurant on Jan. 14, 2017. Moeller then drove Denk to a Best Buy on Randall Road in South Elgin, gave him cash and asked him for a favor.
"He said, 'Can you get me a phone? I've been wanting to go get it,'" Denk said, adding Moeller gave him enough cash to buy the phone. "Knowing all the things he's done for me, I would have felt really terrible if I told him no."
Denk said he bought the cellphone in his name with Moeller's cash, but never used the phone himself. Denk said he gave the phone to Moeller immediately and didn't recall seeing him again.
"He was trying to contact somebody without that person knowing it was him," Denk said.
Pristave testified that during her investigation, she learned that the day the photos were sent from the cellphone Denk allegedly obtained for Moeller, the Verizon cellphone tower connected to the phone at the time was one near Barber Greene Road in DeKalb.
"That stood out to me because the defendant was named to me by numerous people up until that point as a possible involved party in the case," Pristave said. "And I saw on DeKalb County tax records that there's property owned by the defendant at Legacy Drive which is about point-six miles from that cell tower."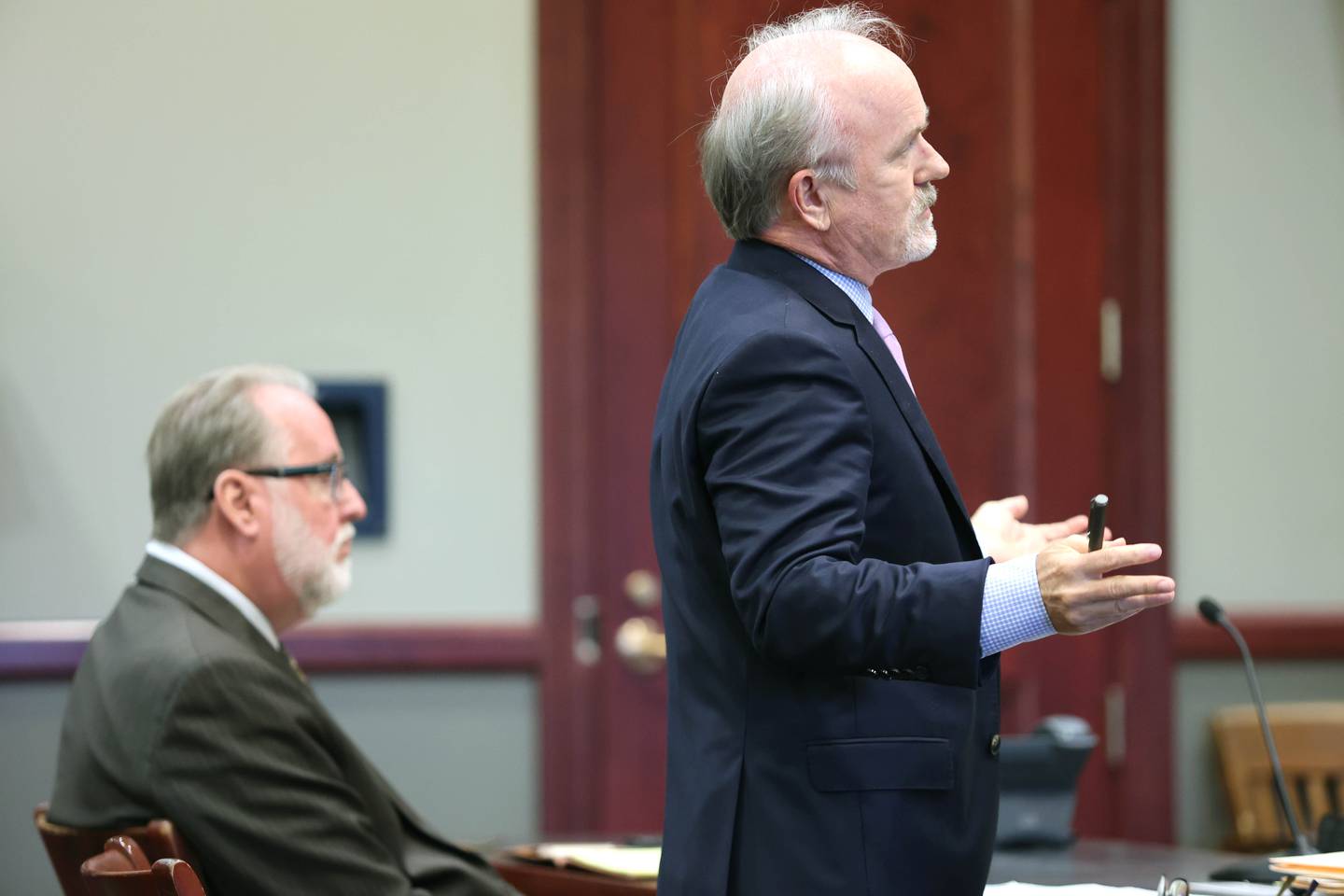 Pristave said there was no closer cellphone tower to the 1400 block of Legacy Drive, a block of townhomes where Moeller owned property.
Throughout her investigation, Pristave executed two search warrants for phone records: Moeller's personal cell phone and the cellphone he allegedly used to send the photos. Pristave said she obtained a Best Buy receipt that shows the phone used to send the photos was purchased at 1:35 p.m. Jan. 14, 2017. Records also show Moeller's cellphone called the newly-purchased phone about an hour later, Pristave said in her testimony.
Campbell again argued the photographs don't include sexual content, and called into question the woman's testimony provided Tuesday, saying her credibility "was shot."
"Judge, I think the idea that a conviction could stand on the basis of the testimony of [the woman], your honor, fundamentally seems, to me, offends due process," Campbell said. "I just conclude that I think if you take those issues in line most favorable to the state, they fail to meet the burden of proof. I'd ask that the court direct the finding of favor to Mr. Moeller."
Montgomery said he wouldn't pass on weight of evidence or witness credibility.
"At this point in time, looking at the evidence in line most favorable to the state without passing on the weight of the evidence or the credibility of the witnesses in testing the sufficiency of the evidence, the court finds that the state's evidence could support a verdict of guilty," Montgomery said, stressing the word "could." "Therefore defendant's motion for judgement of acquittal is denied."