DeKALB – DeKalb Mayor Cohen Barnes issued sharp words this week for landlords he said "aren't doing their job," throwing his support behind a proposal aimed at reducing crime in DeKalb by targeting local property owners with hefty fines.
The discussion also drew several residents and area landlords to pack this week's DeKalb City Council meeting and make their voices heard.
Dubbed the "Crime-Free Initiative," the draft plan seeks to strengthen the existing crime-free housing provisions that were enacted by the city in 2013. The newest proposal could involve hefty fines to landlords who don't intervene when criminal behavior occurs on their property, according to city documents.
The proposal would accelerate the clock imposed on landlords once an arrest is made at a rental unit or property. Under the current rules, fines may be assessed beginning with the third offense. The proposal stipulates that fines may be issued starting with the first violation.
It also beefs up the fines that are assessed to landlords for unlawful activity should it occur in a rental unit or property.
DeKalb Mayor Cohen Barnes said the ordinance is meant to target landlords who "aren't doing their job."
"I'm sick and tired of students that come to Northern Illinois University and attend class that could potentially be subject to harm because we have a handful of landlords out there that aren't doing their job," Cohen said. "Their ethics are out the window. Their morals are out the window. And you know what, we had Crime-Free Housing on the books and it hasn't worked so far, so we're going to dial-up our game. We're going to work with all the good landlords to make sure that, again, we have minimal impact on you. But again, if you're a bad landlord, your days are numbered in this community."
Neeley Erickson, local government affairs director for Illinois Realtors, spoke on behalf of local realtors who are members of the Hometown Association of Realtors. Erickson said Monday the group is asking that the city update its proposed ordinance so that it doesn't deny housing to residents based on an arrest record.
"A conviction is a clearer way to proceed when it comes to terminating a lease and denying housing," Erickson said.
Erickson said the the group is not opposed to the city having the ordinance on the books.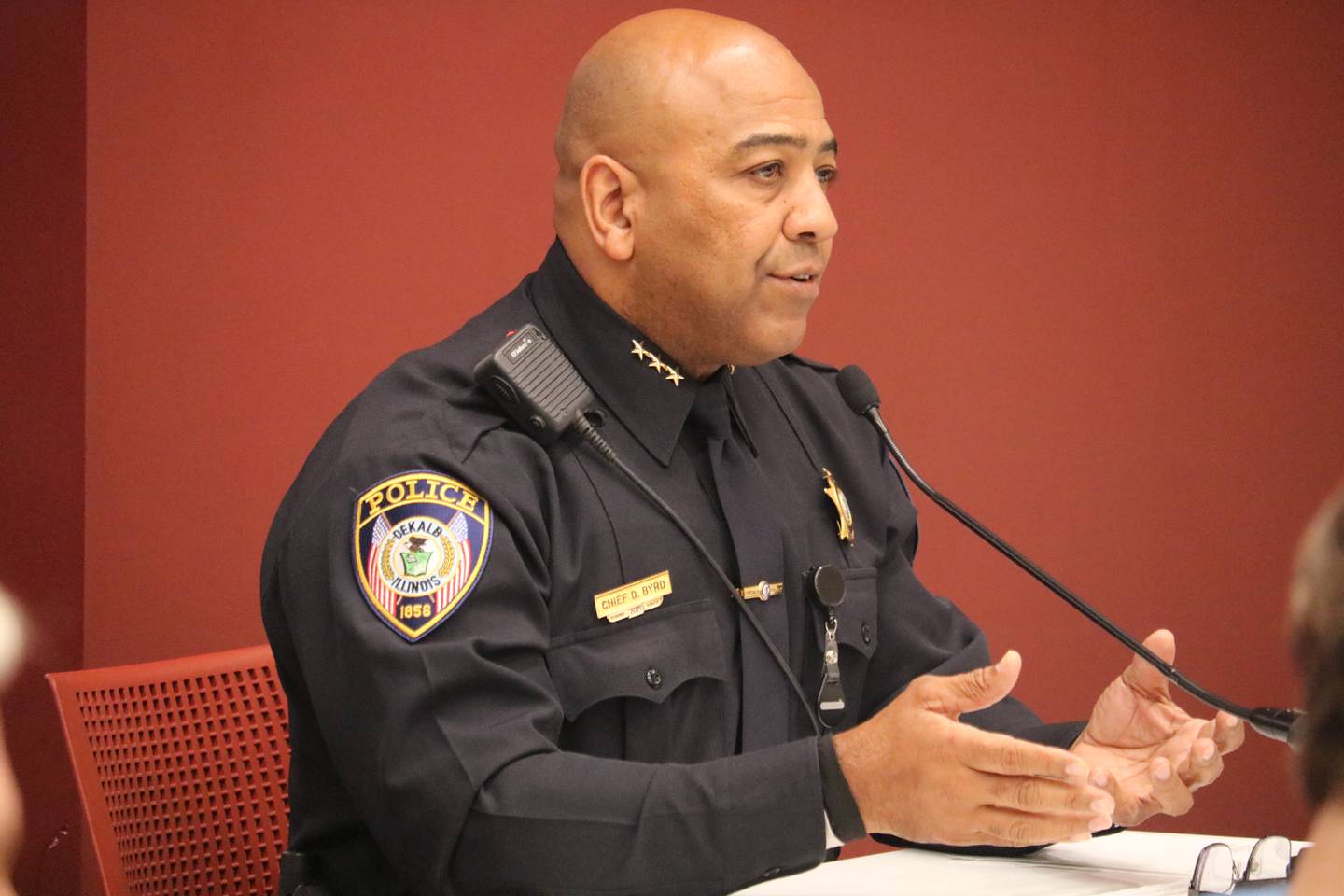 The proposal allows landlords and rental property managers to ban tenant's guests and invitees who engage in behavior deemed in conflict with the crime free housing lease addendum. Rental properties and tenant spaces could be subject to inspection if deemed to be chronically disorderly or in violation of no-trespass agreements or the city's municipal code.
Should a crime occur at a rental property, the city could issue a criminal nuisance property violation. According to the proposal, a first violation would come with a $2,500 fine, $5,000 for a second violation and $10,000 for third and subsequent violations. Three violations would also mandate closure of the rental property or unit for at least 12 months, an abatement order and a stay order.
Landlords who fail to comply with the crime free housing lease provision are also fined $250, documents show. Under the proposed changes, that fine could grow by $1,000 per day for every day that the rental agreement does not include the crime free housing lease provision, according to city documents.
Police Chief David Byrd acknowledged that the city won't resolve its problems with gun violence in one day and said the onus is on everyone to get involved to put a stop to the crime.
"We all have to do our part," Byrd said. "It's impossible for us to have a safe city if everyone isn't involved."
A recent string of gun violence on the north side saw the city's first homicide of 2022, after an 18-year-old was fatally shot in the head in the afternoon outside West Ridge Apartments on Aug. 24. On Aug. 23, a DeKalb woman suffered non-life-threatening injuries after she was shot outside another apartment complex along Ridge Drive. And a 13-year-old faces attempted murder charges after police said on Aug. 22 he shot another teenager in the back on South Eighth Street blocks from an elementary and middle school, prompting proactive lockdowns of the school buildings.
Michael H. Howard, 25, of DeKalb was charged with first-degree murder in the Aug. 24 shooting death.
Some residents who spoke this week called into question the merits of building on an ordinance which they said already isn't working for the city. The 2013 crime-free housing ordinance was meant to give the city municipal tools such as fines – in addition to police and prosecutorial action – to target existing crime concentrated in certain areas.
DeKalb resident Dwayne Brown urged the City Council not to consider the proposed plan.
"It places the police department's job on the landlords," Brown said. "These unfairly target low-income renters and discourage victims of domestic abuse from calling for help. They discriminate against racial minorities, female heads of households, disabled households, Section 8 renters and could penalize tenants from calling 9-1-1. This can disproportionately harm groups that are protected by Fair Housing Laws. This type of ordinance causes violations of tenants and landlords rights."
Under the proposed ordinance, however, no penalties would be incurred for tenants or people who contact police to alert them to a crime, according to city documents.
Crimes such as domestic or sexual violence would not be eligible for additional municipal fines or penalties under the proposed ordinance under Illinois law. The statute – 65 ILCS 5/1-2-1.5 – prohibits Home Rule municipalities from targeting tenants or landlords based on reports of domestic or sexual violence which occurred in a unit.
Second Ward Alderwoman Barb Larson said the city must find a way to address the toll that the gun violence is wreaking on the community.
"These kids are living in a war zone in some of our wards," Larson said. "Bullets are coming through their walls at night."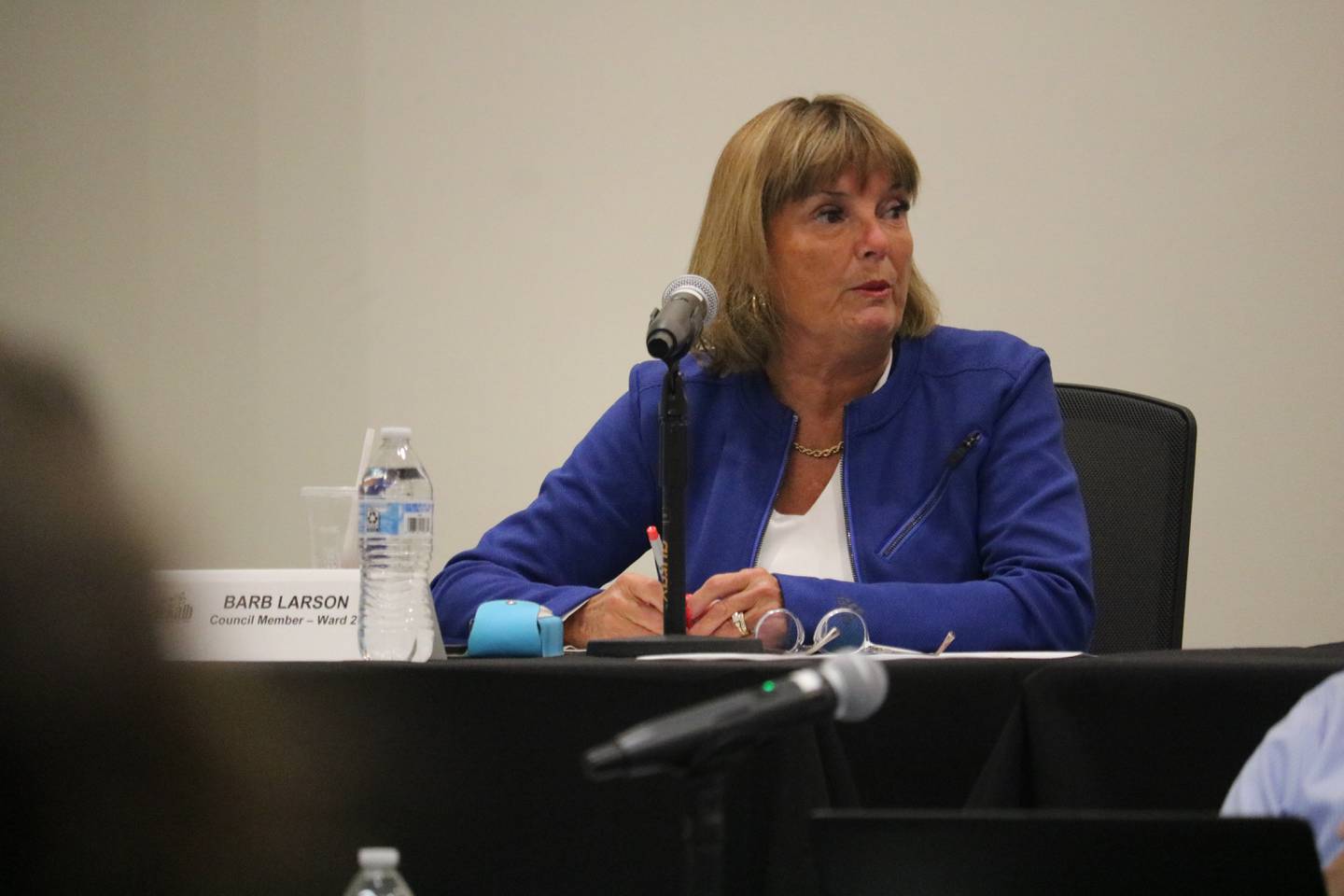 City Manager Bill Nicklas echoed that sentiment.
"People are crying literally and asking for help every night all night into the wee hours of the morning and all day," Nicklas said.
Nicklas said the city has a growing need to hire more police officers that's prompted, in part, by the gun violence in the community.
Nicklas said he intends to present the City Council with a proposal in the coming weeks to hire more police officers as part of the city's budget for the upcoming fiscal year.
David Jacobson – a local landlord who represented the city's first ward for nearly 10 years on the DeKalb City Council before he retired from the seat in 2019 – said he wants the city to be a better partner to the landlords in the community.
"Where is the council stepping up to support the landlords providing the programs such as a camera incentive program, the security incentive program, programs that will support the landlords in promoting their properties and making them safer for their tenants rather than just criminalizing others behaviors and placing that burden on the landlords?" Jacobson said.
City staff has said they needed to use Monday's input to gather input before proceeding with crafting the ordinance in its final version.
Landlords are currently allowed to ban the guests and invitees of tenants who are believed would engage in conduct counter to the Crime-Free Housing Lease Addendum, city documents show. In addition, tenants are informed of the potential for rental space inspection should they be deemed chronically disorderly under municipal code or in violation of the no-trespass agreement and banned list provisions of city code.
Landlords who fail to follow the regulations set forth by the Crime-Free Housing Lease provision must pay a $250 fine, city documents show. That fine would be subject to increase to $1,000 per day for every day that the rental agreement fails to include the Crime-Free Housing Lease provision.
The proposed ordinance is expected to go before members of the City Council at their next regular meeting in October for further consideration.