DEKALB – An 18-year-old DeKalb man was fatally shot in the head outside an apartment complex Wednesday, and a DeKalb man has been charged with his murder, police reported Thursday.
Michael H. Howard, 25, of DeKalb, is charged with first degree murder in the Wednesday fatal shooting, the third in a string of unrelated gun violence this week, according to a news release from the DeKalb Police Department.
DeKalb Police Chief David Byrd confirmed the death Thursday shortly before 1 p.m., and more details were released by the police department around 3 p.m.
The victim's identification has not yet been released. The DeKalb County Coroner's Office confirmed the victim was also from DeKalb.
The shooting occurred around 4:15 p.m. Wednesday outside an apartment building at West Ridge Apartments in the 900 block of Ridge Drive, Byrd said. When officers arrived, they found a man lying on the sidewalk outside an apartment building suffering from an apparent gunshot wound to the head. Officers began to perform CPR life-saving measures until paramedics arrived. The man was taken to Northwestern Medicine Kishwaukee Hospital in serious condition, where he later succumbed to his injuries.
Officers were alerted to a suspect – identified as Howard – after he left a vehicle in the area, though he evaded police capture until Thursday, according to the news release. Howard was located in Chicago, where he was arrested and detained by the Chicago Police Department Thursday morning, the release states.
As a result – mirroring responses to a separate, unrelated shooting midday Monday during which a teenager was shot blocks from an elementary school – nearby DeKalb High School and Jefferson Elementary School were placed on a brief lockdown Wednesday evening "out of an abundance of caution," DeKalb District 428 officials wrote in a social media post.
Nearby schools in District 428 brought anyone outside into school buildings, and no one was allowed to enter during the community emergency protocol, which was lifted about 6 p.m.
DeKalb police, including Byrd, and officers from Northern Illinois University remained on the scene for several hours Wednesday.
"I believe this was more of a targeted incident," Byrd said Wednesday.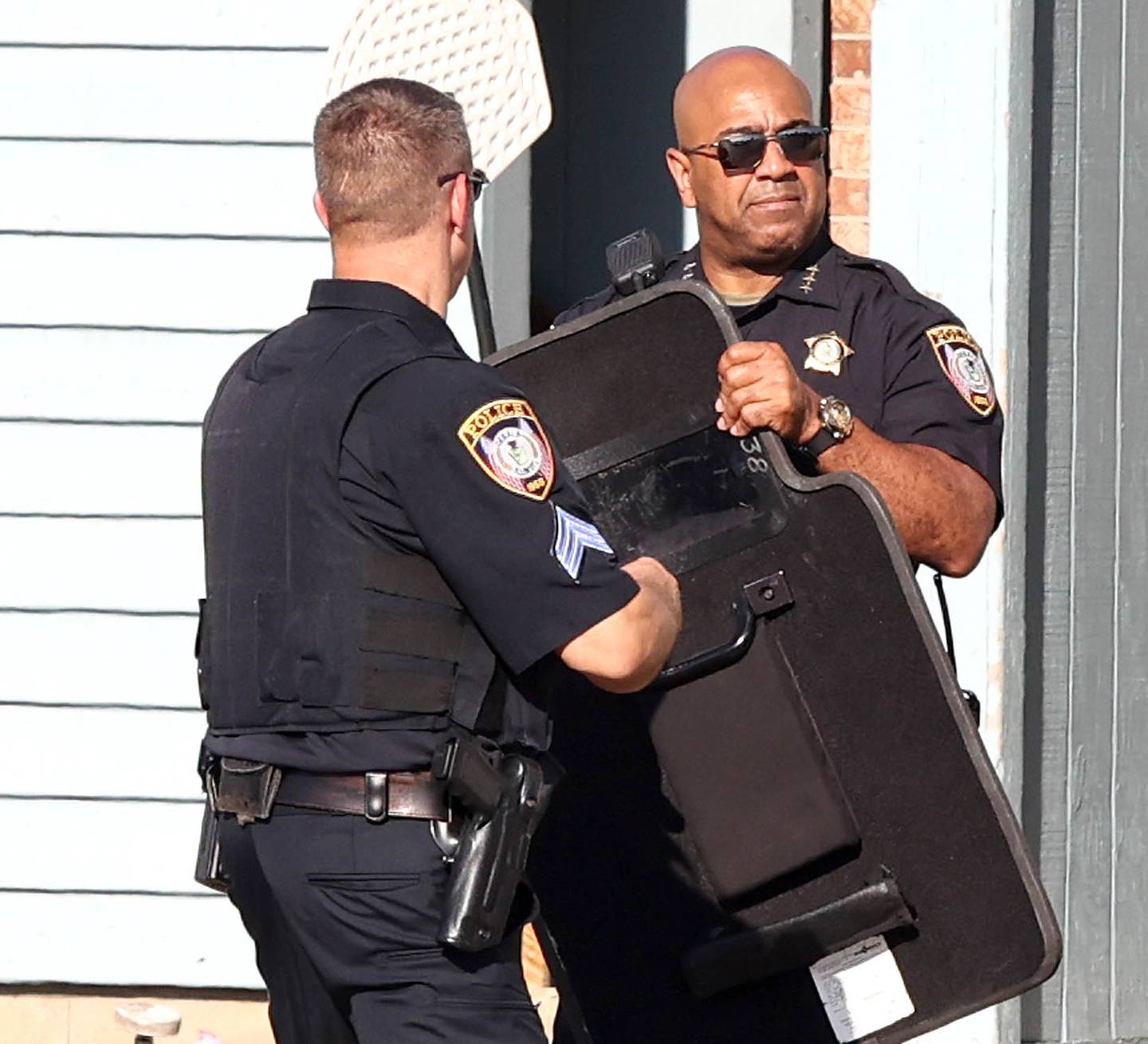 It's the third shooting where injuries have been reported throughout DeKalb's north side since Monday. A male teenager injured on a sidewalk near Eighth and East Taylor streets – near Founders Elementary School – was taken to Kishwaukee hospital and then transferred to OSF Saint Anthony's in Rockford. Two DeKalb teens, aged 13 and 14, face criminal charges from the incident, police announced Thursday. The 13-year-old is charged with attempted murder, authorities said.
And on Tuesday night, a woman was shot just a block over on Ridge Drive during an incident initially reported as domestic in nature. However, Byrd said Wednesday that police believe the shooting occurred after an isolated argument. A suspect in that incident also remains at large.
DeKalb's top cop said authorities have increased police patrols in the area, although that's not a new protocol. He said the DeKalb Police Department is in the process of hiring more officers to help increase police visibility.
This story was updated at 7:45 p.m. Aug. 25, 2022.